Bagging rights: The five cult bags every collector should seek out
From a Chanel perfume bottle-shaped clutch, to a sublime Hermes Kelly in black, here is our edit of the five essential bags to add to your vintage shopping radar.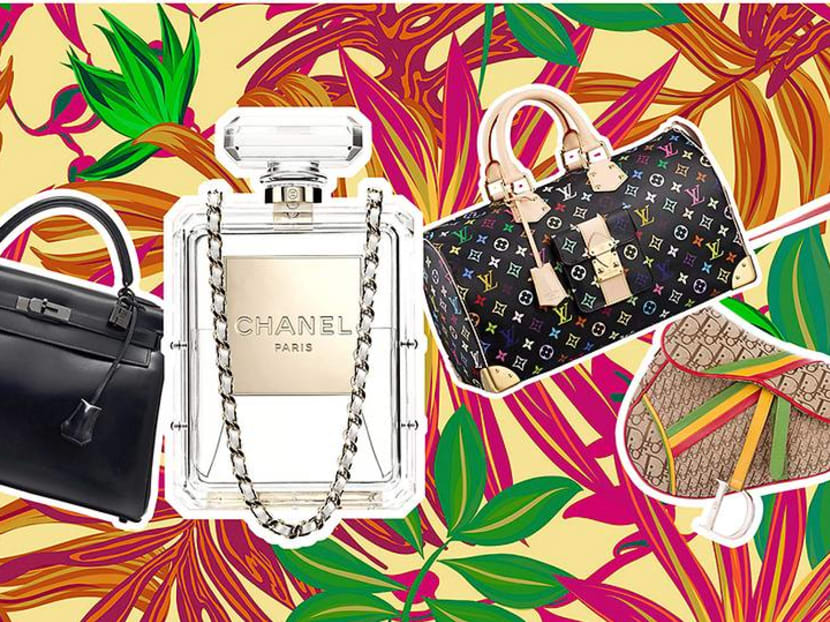 There are trendy bags, seasonal designs crafted to pander to fickle tastes, and then there are bags that are institutions in their own right. Think: The Hermes Birkin or the Chanel 2.55 – heavyweight designs that have transcended fashion and time altogether.
Occupying a middle ground between the two ends of this bag spectrum, however, are a class of bags that aren't exactly juggernauts, but are no less iconic. Released at various points during the last two decades, they were once It bags that dominated the pages of fashion magazines, but have since faded away from the limelight.
Not for long, though. Fashion's cyclical nature means anything and everything can make a comeback. And with Instagram darlings such as Kim Kardashian and Bella Hadid spotted out and about with these era-defining bags on tow (Louis Vuitton is a clear favourite), we're guessing it won't be long before the demand for these pieces shoots through the roof once again. Whether you're hoping to score more likes on Instagram or simply expanding your own collection of highly sought-after bags, here's a shortlist of five collector's items to add to your radar.
THE CHANEL NO. 5 PERFUME BOTTLE CLUTCH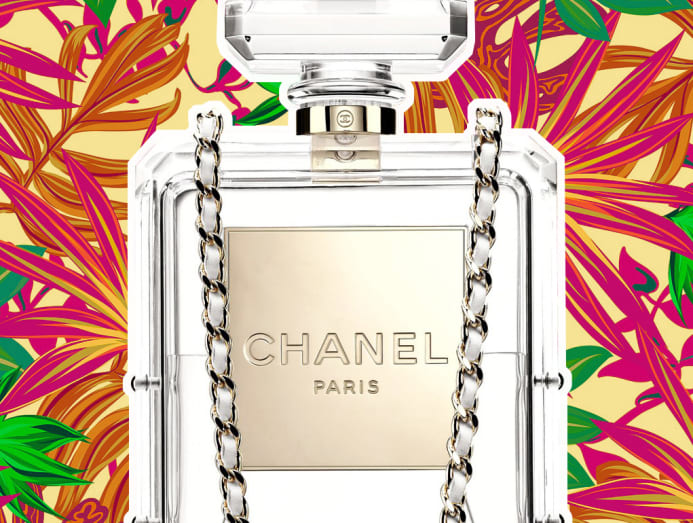 A space rocket. A lifebuoy. A robot. A cable car. Was there anything the late Karl Lagerfeld hadn't turned into a novelty clutch at Chanel? One whimsical iteration remains particularly memorable: In 2013, Chanel remade its classic No. 5 perfume bottle into a plexiglass clutch. Replete with Chanel's signature chains, the clutch gave Lagerfeld's turnout of lace dresses and slouchy knit ensembles a playful and irreverent touch. More importantly, it was a genius move that sealed the perfume's prominence in fashion's vernacular.
THE DIOR SADDLE BAG BY JOHN GALLIANO
Sure, Maria Grazia Chiuri's interpretation rekindled interest in the Saddle, but what John Galliano achieved with the original will never be eclipsed. The bag was an instant hit when it was released in 2000 and became one of the icons of the designer bag craze that gripped the world. Galliano followed up on the bag's success with plenty of variations that attested to his talent: One version was decorated with a Christian Dior newsprint, while another boasted Rasta colours.
THE GUCCI BY TOM FORD DRAGON BAG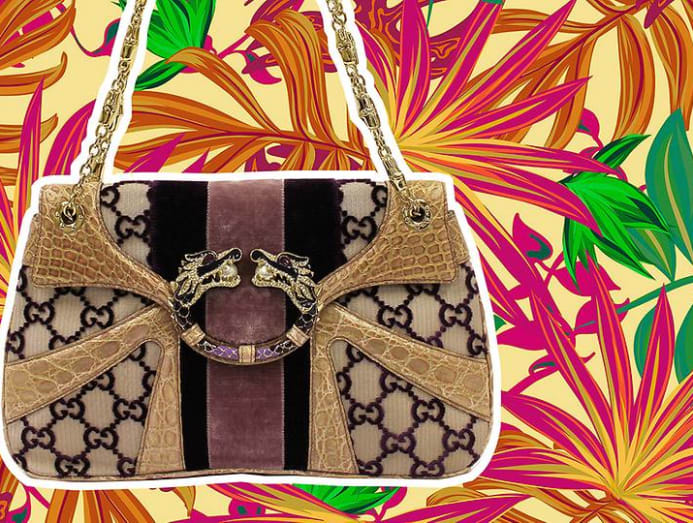 Tom Ford's reign at Gucci was unapologetically glamorous and sexy, so it was only natural that the accessories exemplified his bold – and at times, controversial – take on sexuality. A standout from Ford's stint, the Dragon shoulder bag is one part exotic, many parts audacious. Its most distinctive feature is, of course, an opulent clasp which features the mythical creature. We can't help but wonder if Alessandro Michele, Gucci's current Creative Director, had a part to play in its creation (Michele cut his teeth in Gucci's accessories department before working his way up). Or if the bag's instantly recognisable clasp inspired the one found on the Dionysus, one of Michele's most recent creations.
THE HERMES SO BLACK KELLY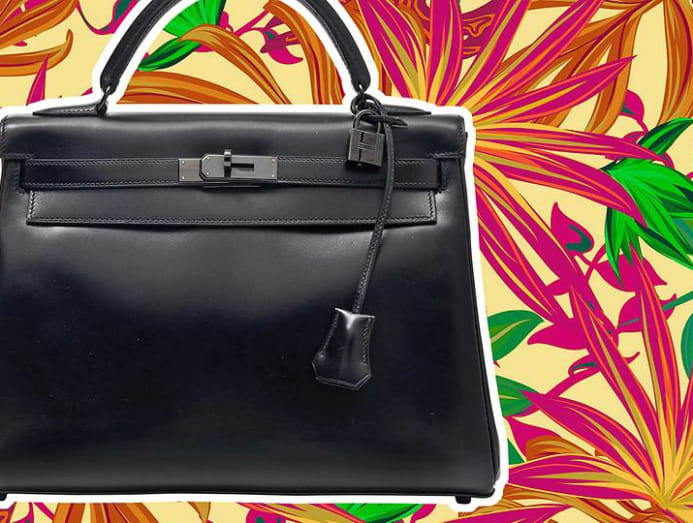 The Birkin may be the flagship design at Hermes, but the Kelly is also a firm favourite among discerning consumers who prefer its boxier and more structured shape. Under the charge of Jean-Paul Gaultier, the luxury goods powerhouse gave connoisseurs another reason to include the Kelly in their collections when it released an all-black version of the bag in 2010. Part of a range aptly titled So Black, every component of the newfangled variant is coloured in the timeless shade, from the hardware to the box the bag arrives in. In short: Class and sophistication of the highest order.
THE LOUIS VUITTON X TAKASHI MURAKAMI BAG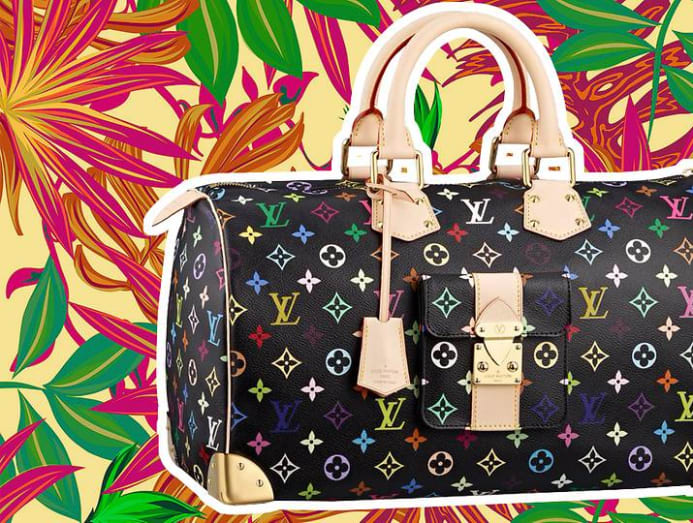 Before Supreme's bold typeface was plastered all over Louis Vuitton's bags, there was Takahashi Murakami's colourful anime drawings that sparked a wave of frenzy among diehard fans. An ingenious project masterminded by Marc Jacobs, Murakami's game-changing partnership with the French Maison is widely considered as the textbook example of a successful fashion-meets-art collaboration.
The brand dropped the first collection in 2003 – a series which saw the Japanese artist transform Louis Vuitton's Monogram pattern into a multicoloured kaleidoscope. Over the next decade, Murakami treated Louis Vuitton's bags as if they were his personal canvases, painting kawaii cherry blossoms, cherries or camouflage motifs on them. Following the departure of Jacobs, the brand subsequently ended its partnership with the artist in 2016.