Why De Bethune's futuristic-looking sports watches are like nothing you've seen before
Better known for its spaceship-like timepieces with starry, blue dials, the independent watchmaker shows how well its signature look works within its sports line, with the DB28GS JPS and Grand Bleu.
In partnership with The Hour Glass.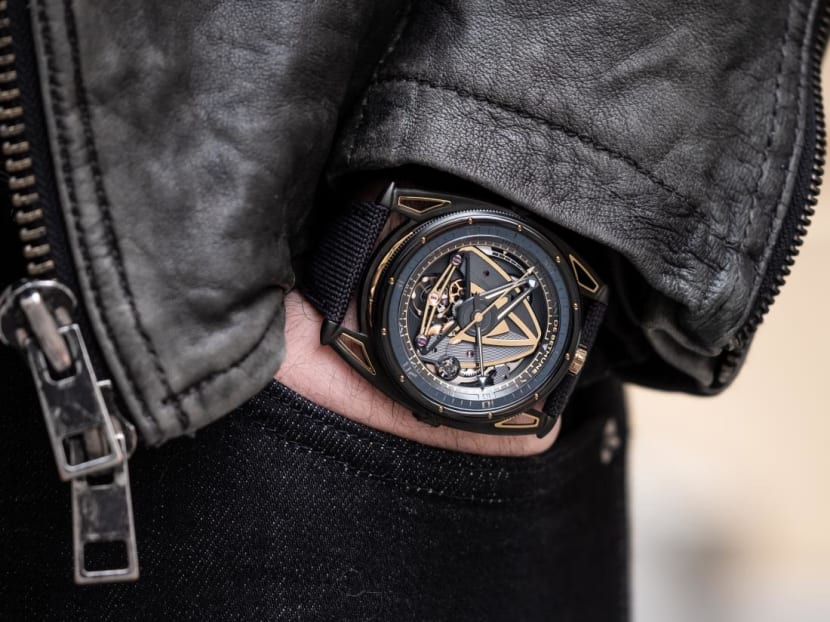 Sports watches tend to follow a certain formula. They're often robustly designed, stainless steel affairs with chronographs as the preferred complication.
De Bethune's DB28GS sports watches don't fit this mould, but then again none of their watches have ever really looked like anything else on the market to begin with. And it's exactly why we love them.
The newest addition to the DB28GS collection, where "GS" stands for "Grand Sport", is a limited edition that deviates from the brand's copious use of blue and silver accents. Inspired by the world of racing, the DB28GS JPS follows the livery of the John Player Special-sponsored Lotus race cars from the 1970s.
This new, regal colourway was achieved by oxidising titanium and zirconium to attain the watch's gold and black hues, respectively. Zirconium is a material similar to titanium in terms of lightness, durability and corrosion resistance, but by heating it to form its black oxide layer, it also gains incredible scratch resistance. On the case middle and certain parts of the movement, the black zirconium has been engraved with a grooved "Microlight" decoration.
Apart from that, the JPS still carries many of the futuristic hallmarks of contemporary De Bethune watches. Its exposed dial shows off the familiar delta-shaped bridge and balance wheel, while the spring-loaded "floating" lugs continue to ensure a comfortable fit on the wrist.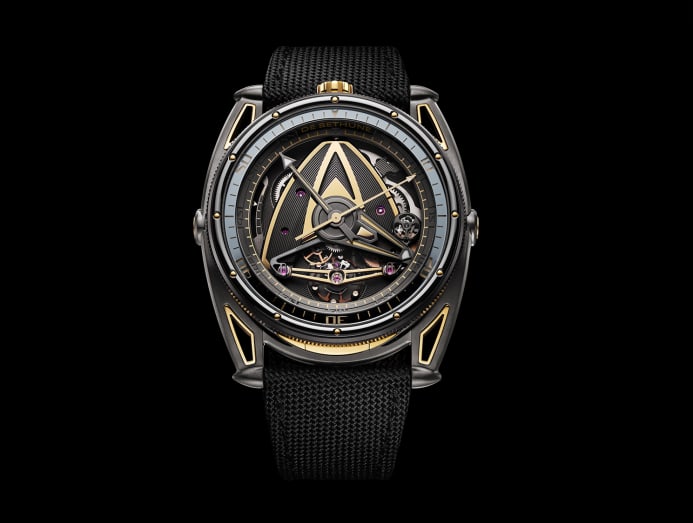 At this level of haute horologerie, watches like the JPS are rarely just cool to look at. The hand-wound calibre DB2080 is packed with the brand's innovations, including an optimised titanium balance wheel with white gold inserts, a De Bethune balance spring with a flat terminal curve, silicon escape wheel, and patented pare-chute shock absorbers. Much of the finishing is done by hand, from the Microlight engraving, snailed barrels, and the polished and chamfered components. 
The innovative, 400-part movement allows four LED lights placed at the quarter hours to light up without the use of a battery. By using a small gear train driven by double barrels, it generates enough electricity to activate the lights for a few seconds when the pusher at 6 o'clock is pressed. But because of how much power this function consumes, it will be blocked when the power reserve of five days runs down to one.
Only 50 pieces of the JPS have been made, but there is an equally impressive, non-limited (and non-conformist) sport option for those who end up missing their shot at the JPS, and that is the DB28GS Grand Bleu. It is a dive watch that, of course, looks nothing like one, but still adheres to official dive watch specifications in the most space-age way possible.
Because the Grand Bleu shares the same DB2080 movement, it looks nearly identical to the JPS in terms of layout. The crown is located at 12 o'clock, the hours, minutes and seconds are centrally mounted, and the power reserve indicator is situated between 9 and 10 o'clock.
The key difference is in its case. Measuring 45mm wide and crafted in titanium with a black zirconium case middle, the Grand Bleu features a unidirectional dive bezel, and a scale for elapsed dive time printed on the underside of the crystal.
The watch doesn't just get its name from its blued titanium hour and minute hands. De Bethune partnered with industrial design consultancy Black Badger Advanced Composites and Super-LumiNova to develop a proprietary lume called "Blue Moon" that appears blue even in daylight.
With these two DB28GS, De Bethune offers collectors eccentric alternatives to the standard sports watch formula without compromising on technical and horological expertise and daring.