Spruce up your kitchen countertop with Dolce & Gabbana appliances
The Italian fashion house collaborated with Smeg to create a line of brightly-coloured kitchen appliances including a toaster, hand blender and coffee machine.
With the ongoing pandemic causing people to stay home more often, many of us have found the time to redecorate our living spaces. 
If you're looking to beautify your kitchen countertop, these colourful kitchen appliances from Dolce & Gabbana double up as both decorative accents while serving their function.
Dubbed "Sicily Is My Love", the collection is a collaboration with Italian appliance company, Smeg. As its name suggests, the collection draws inspiration from the Italian region of Sicily, an exciting, vibrant and culturally unique destination known for its food, architecture and ancient archaeological sites.
The collection was first unveiled in 2017 at Salone del Mobile, Milan's yearly furniture fair, but has since expanded to include a range of small appliances, available for purchase in Singapore. 
Appliances in the collection, which include toaster, juicer, hand blender, stand mixer, coffee machine, electric kettle and more, feature distinct Dolce & Gabbana decorative motifs and vibrant colours.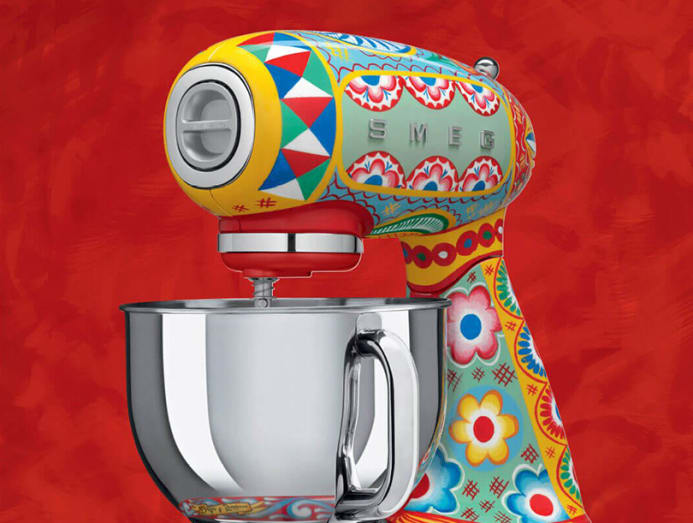 Trademark Sicilian decorations such as lemons, prickly pears and bright red cherries are woven into the designs. These elements are framed in triangular motifs, known as crocchi, along with delicate floral patterns and images of Sicily's captivating Mount Etna.
All products are made on an industrial scale, through a process of reproduction of handpainted prototypes created by master Sicilian artists and craftsmen. 
Aside from countertop appliances, the collection also features larger appliances such as refrigerators and free standing kitchen sets.