Emily In Paris is returning for season two – and the chaotic fashion is here to stay
Netflix has released the first-look images for Emily In Paris' upcoming second season, but the fashion is still just as bad. Here's a tres important takedown of the cringe-worthy outfits.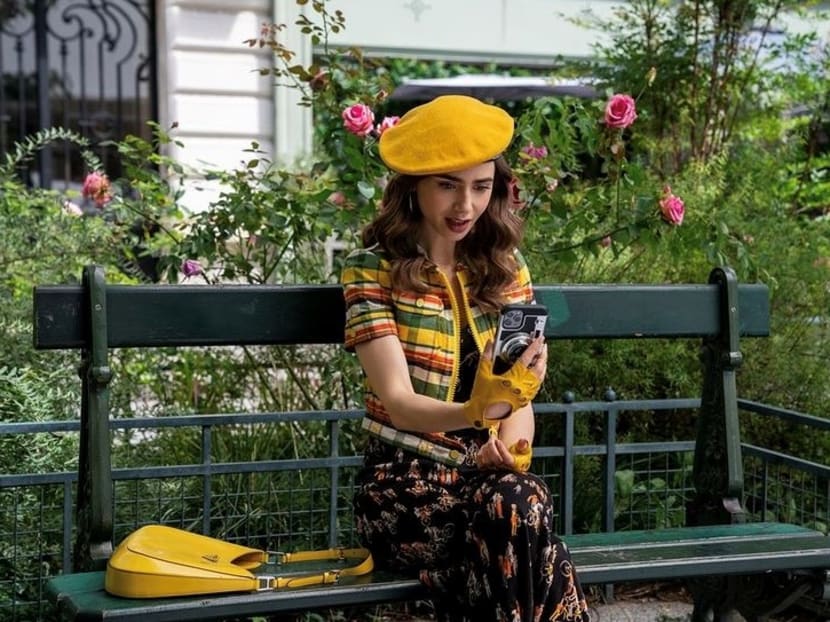 Watch just a couple of minutes of Emily In Paris Season 1 and you'll know that Emily really doesn't know how to dress for Paris.
Remember that hideous Eiffel Tower printed blouse? Or her countless berets? It's evident that the titular character, played by Lily Collins, has only two moods when it comes to dressing up – human tourism board, or walking French cliche.
So now that Emily has lived in the City of Lights for a while, you'd think that her fashion has gotten better. Surely the chic Parisian style of her friend Camille, or even her boss Sylvie, would rub off on her, right?
Wrong.
Although there's no official release date yet, Netflix has revealed sneak peeks of Emily In Paris season two, and the fashion is just as bad, just as chaotic, and just as confusing.
Take for example this patchwork and rose-printed minidress from Dolce & Gabbana.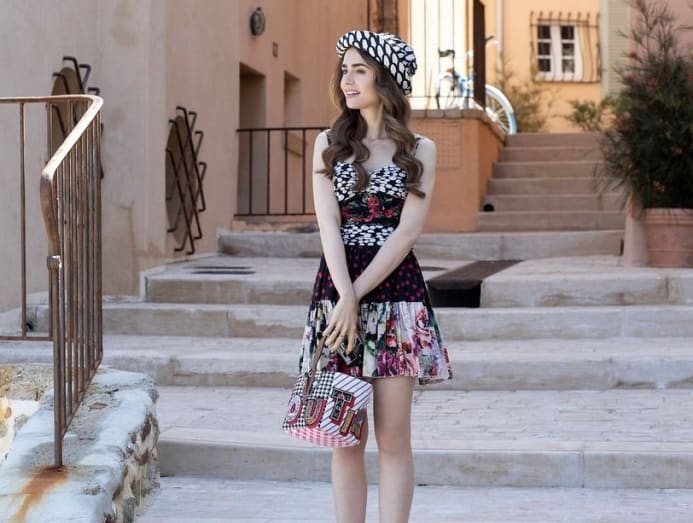 Maybe the dress alone would have been tres chic, but did she have to don that kitschy black-and-white bucket hat? And that glittery Louboutin letter-adorned handbag? Something has got to go here.
Anyone who has been to Paris would know that the French don't actually wear berets. Well, unless they're mime artists.
But Emily must be traipsing around the city with her eyes closed because – le sigh – here she is in yet another beret, this time is a bright shade of yellow.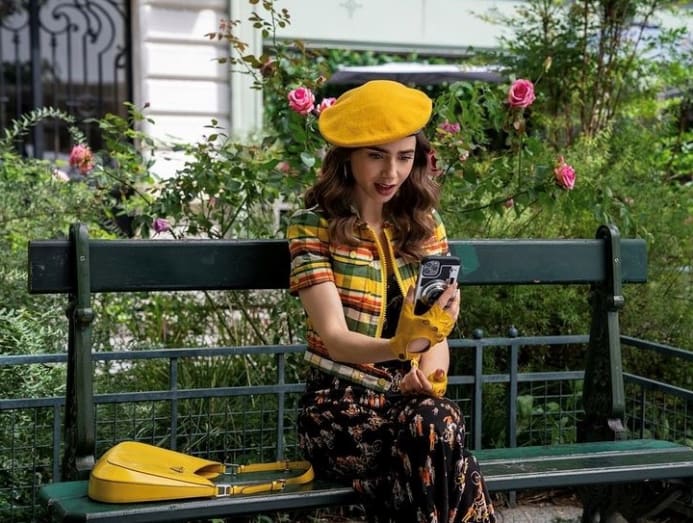 In fact, her whole outfit is in a nauseating pastiche of yellow. Don't even get us started on those gloves. Are her hands hurting from taking too many selfies? And that checkered jacket thrown over a dress printed with… people cycling? We do like that adorable Prada Cleo handbag, though. 
Now this ruffled dress in sky blue from French label Magali Pascal is a look we can get behind. Although it's a little over-the-top (especially compared to Camille's stunning white blazer-dress), at least there are no clashing prints.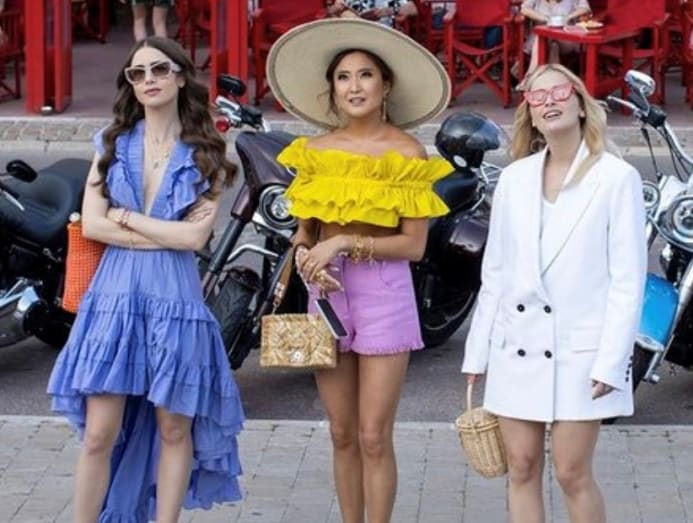 And speaking of prints, oof, this outfit is really giving us Emily In This Fashion vibes. No, throwing on a sheer jacket is not helping this look. And can somebody tell Mindy that the leopard print moment is over? Props for that cute Dolce & Gabbana Devotion bucket bag though.
Last but not least, what is with Emily's 1960s throwback look here, with that mod print jacket, white hairband and err, poofy hair? Let's hope this scene is from Emily attending a themed party.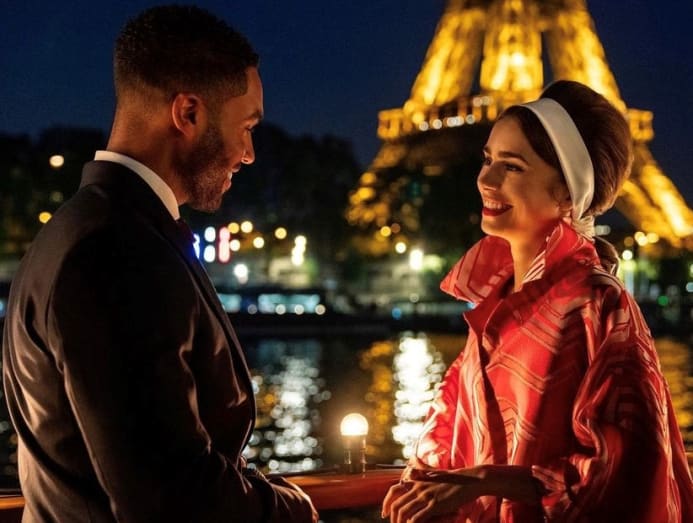 Bad fashion aside, truth be told, we're a little jealous of Emily. While it's been almost two years since we've hopped on a plane, Emily gets to meander her way around the City of Lights, spend a weekend in a French chateau, order a pain au chocolat for breakfast…
Best believe we'll still be tuning in to season two, if only to indulge our wanderlust.