Highlights from Paris Fashion Week fall/winter 2023
This season proved once again that in the endless cycle of fashion, nothing is really new, and nothing is ever truly (too) old either.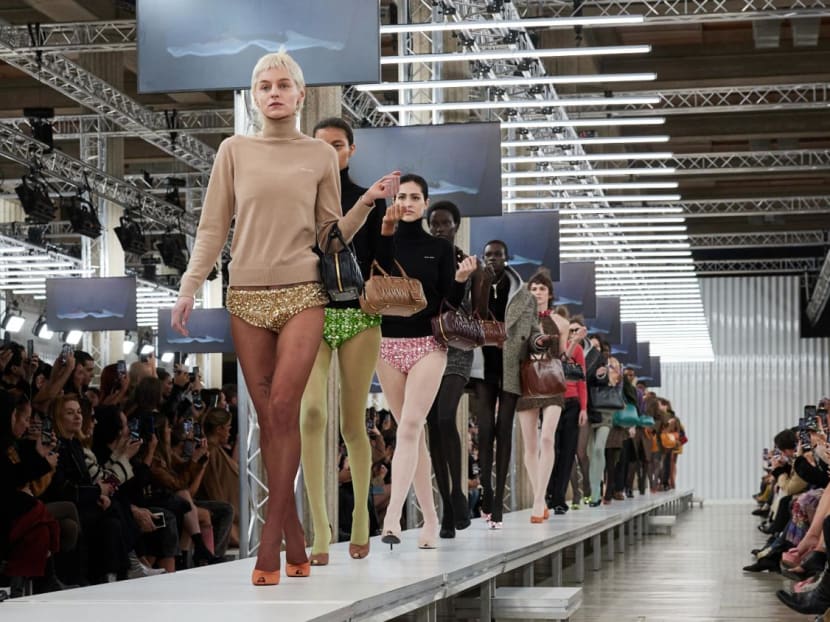 Paris Fashion Week for fall 2023 – yes, there is such a thing – is officially over, and what a season it has been. Wasn't there much hoo-ha about how outdated this whole idea of "fashion week" is, and wasn't it considered naff to show on-schedule because it was an old and creaky tradition that the new and shiny had kicked down with random, a-seasonal, "off calendar," and online-only shows? The loudest naysayers are on the front row, and the show-now-buy-now labels are back on the runway. If the sprawling on-calendar Paris shows of this season, which originated from the 1950s couture salons, have anything to say, it is this: The shows make fashion meaningful. Shown and seen collectively, trends and ideas emerge that capture the zeitgeist. Shown disparately, and ad hoc, it's just random clothes. The numerous additions to the 10-day runway schedules, the robust attendance and the celebrity clamour all say one thing – this isn't a wheel that needs reinventing.
Here are some of the best collections.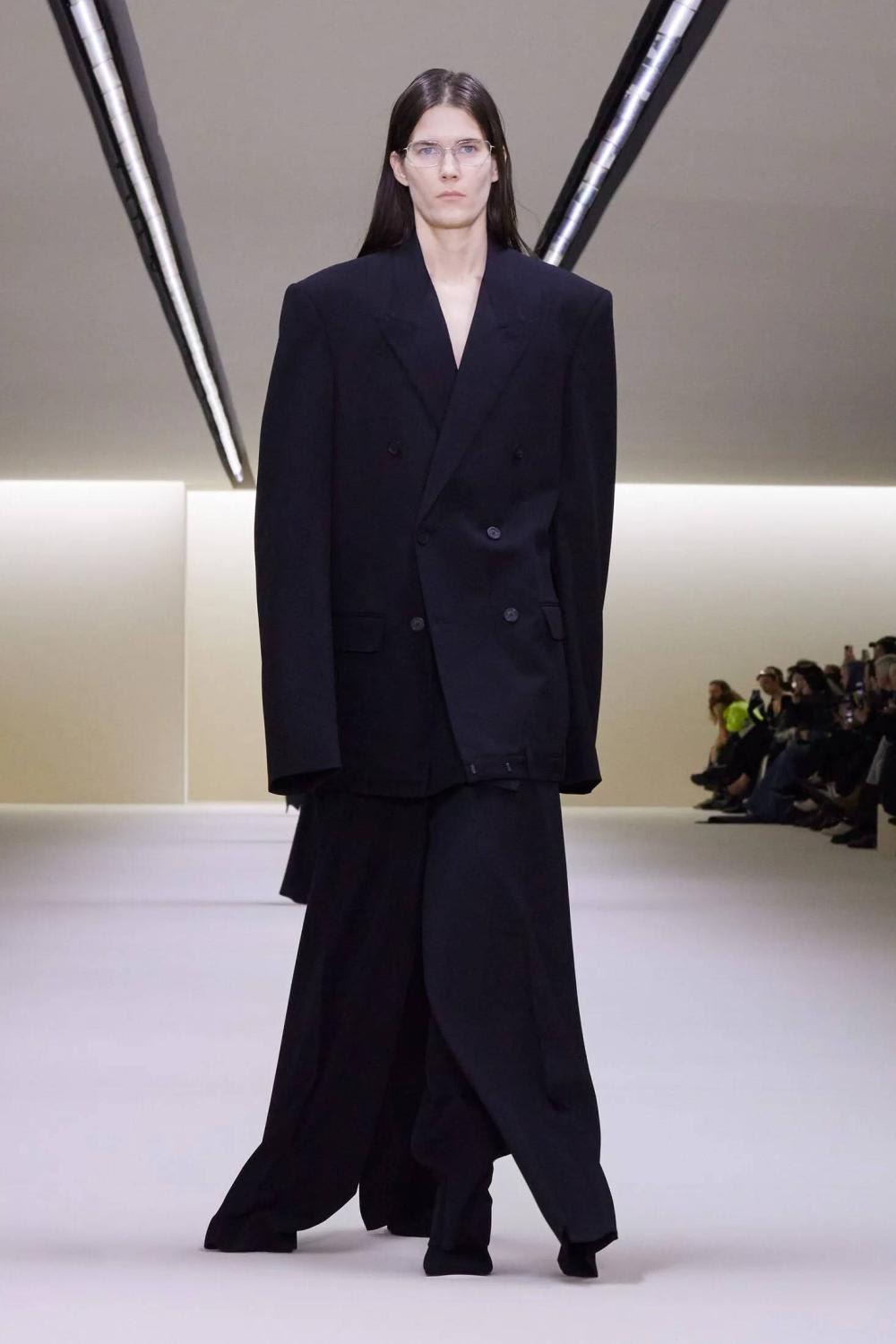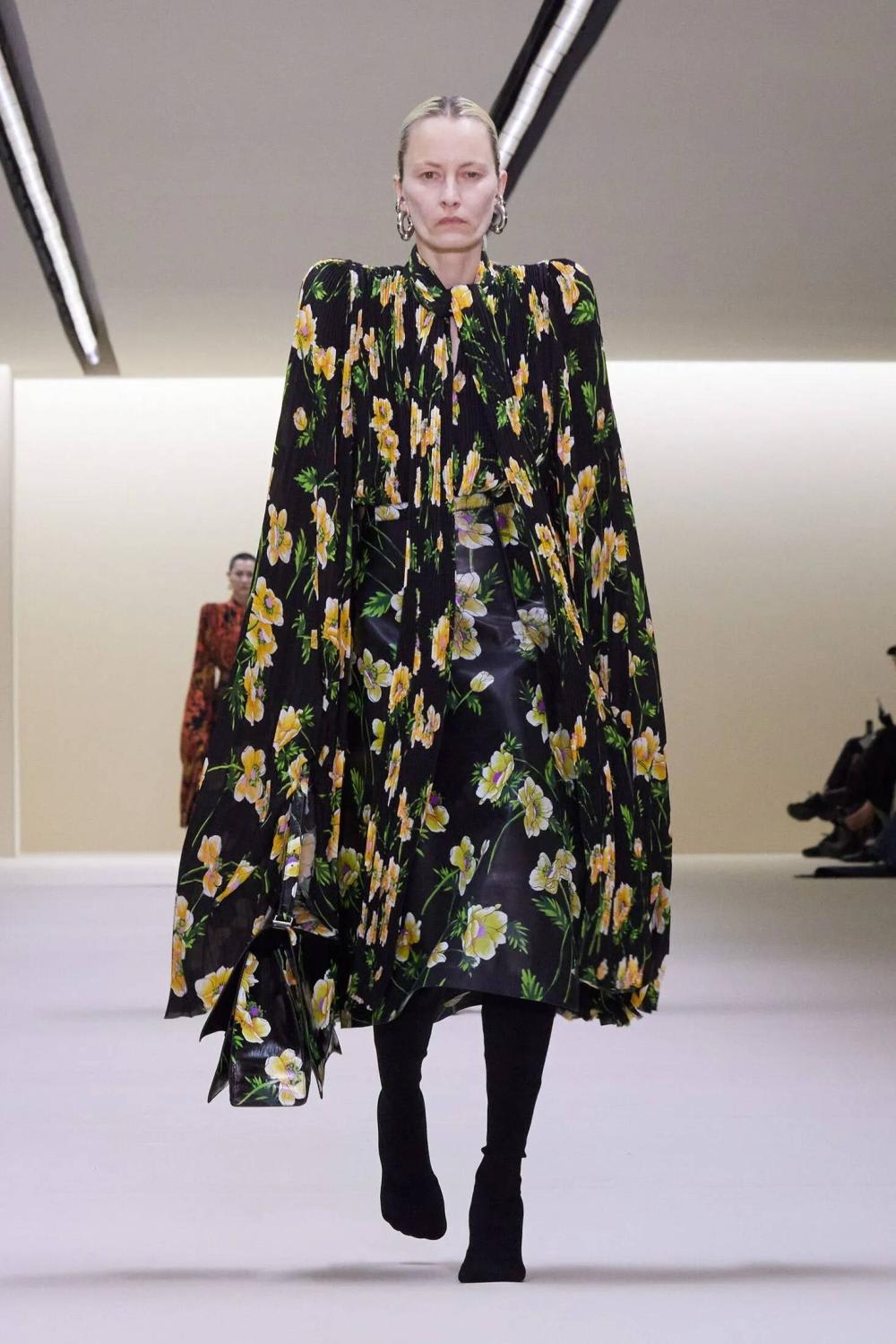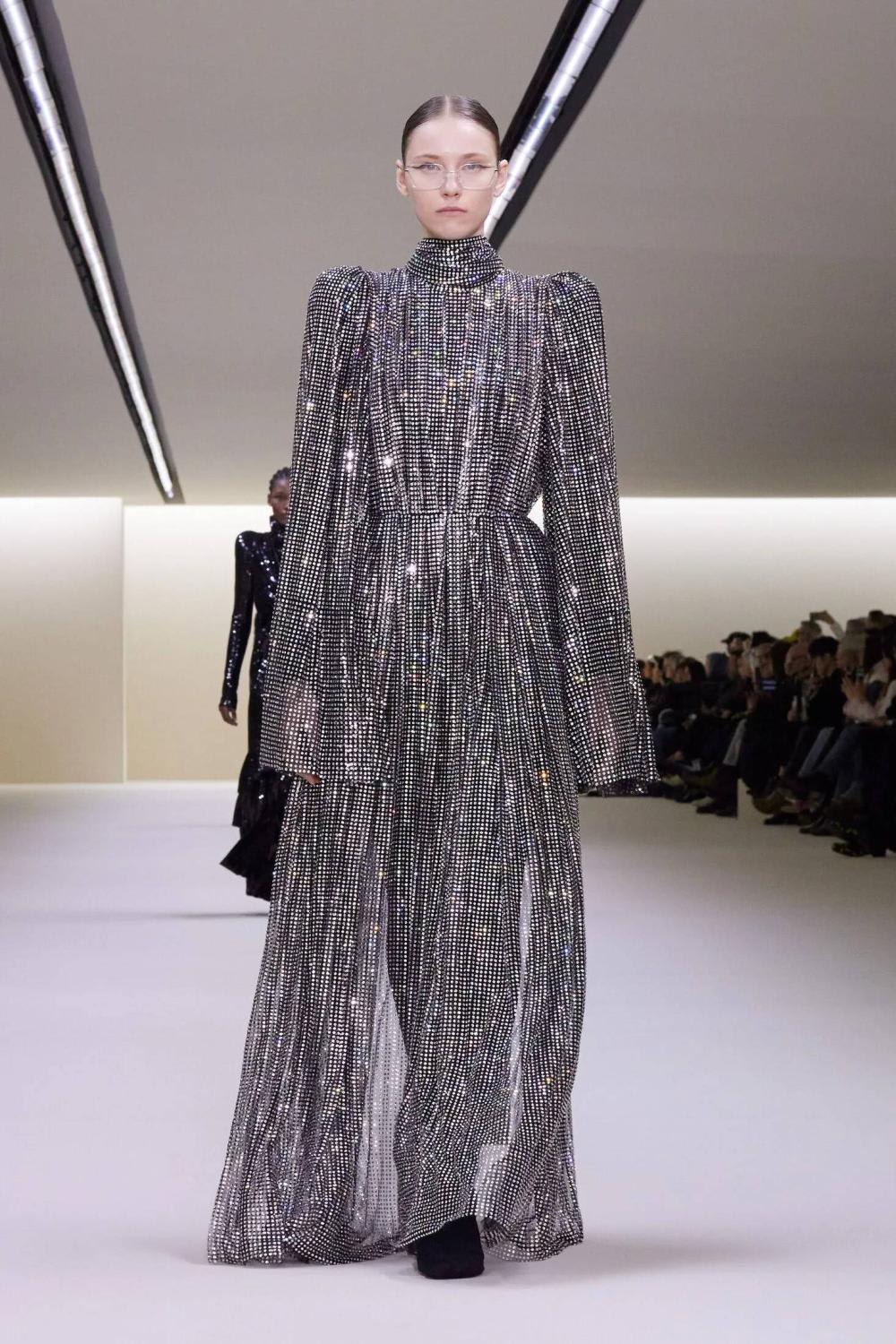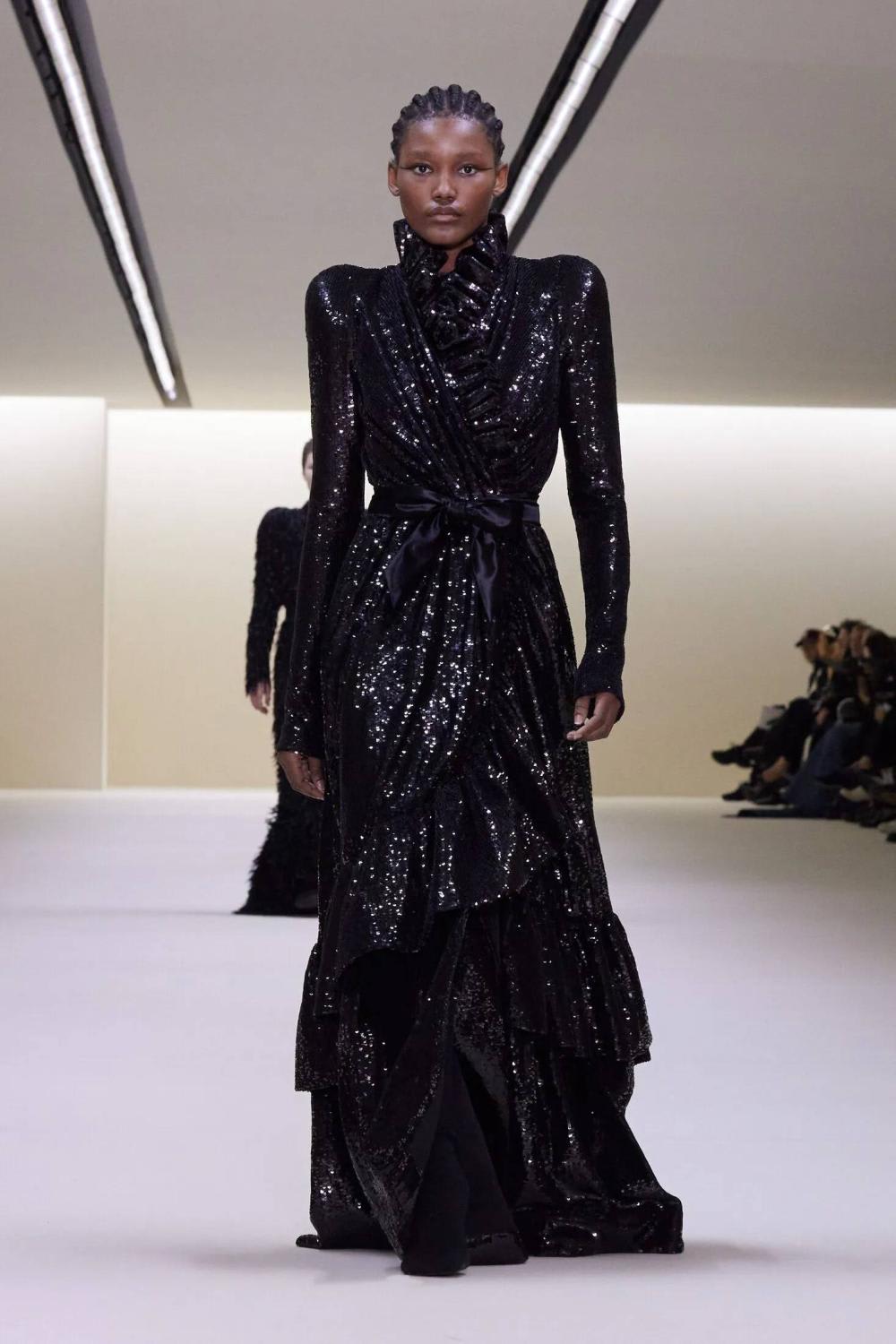 Until last year's pedophilia ads controversy, which had threatened to extinguish Balenciaga creative director Demna's unstoppable rise, his progressive and provocative vision had powered and energised not only Balenciaga, but fashion itself. This collection, the first one shown after that fiasco and subsequent mea culpa, showed Demna uncowed, renewed and in fine form. He seemed to have shrugged off his provocateur mantle, hunkered down to contemplate the very meaning of clothes, to produce a collection which is both pure Demna, and yet imbued with the old-world elegance of Cristobal Balenciaga — a hat trick — that conflates the past with the future. The focus was on a passage of precision tailoring of deconstructed pants; then a wonderful group of pleated floral dresses that Empress Michiko might have worn — but in Demna's vocabulary, wasn't twee at all. It was the shoulders – pagoda, but rounded. He also remade athleisure suits with shrunken shoulders: streetwear, with a futuristic twist.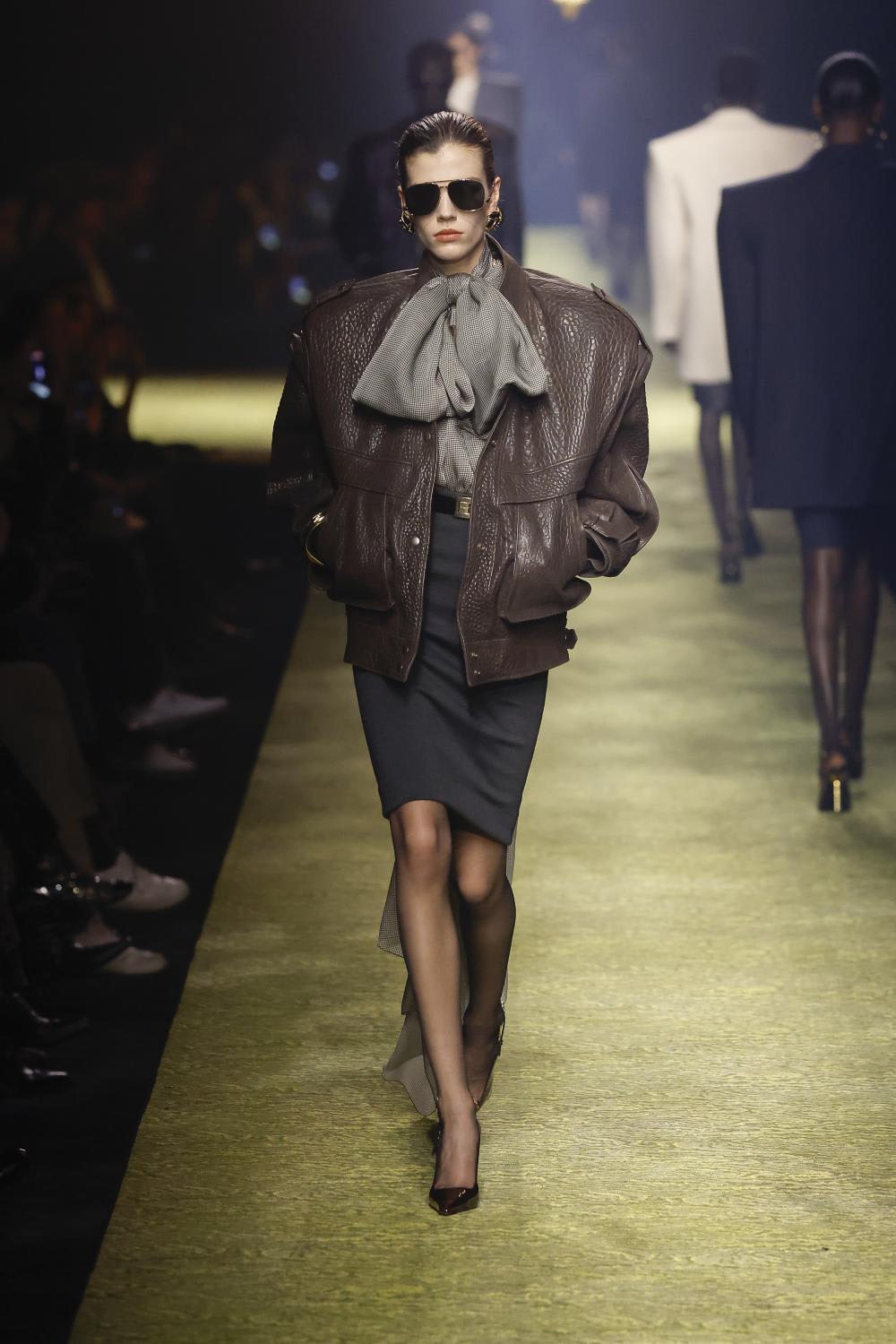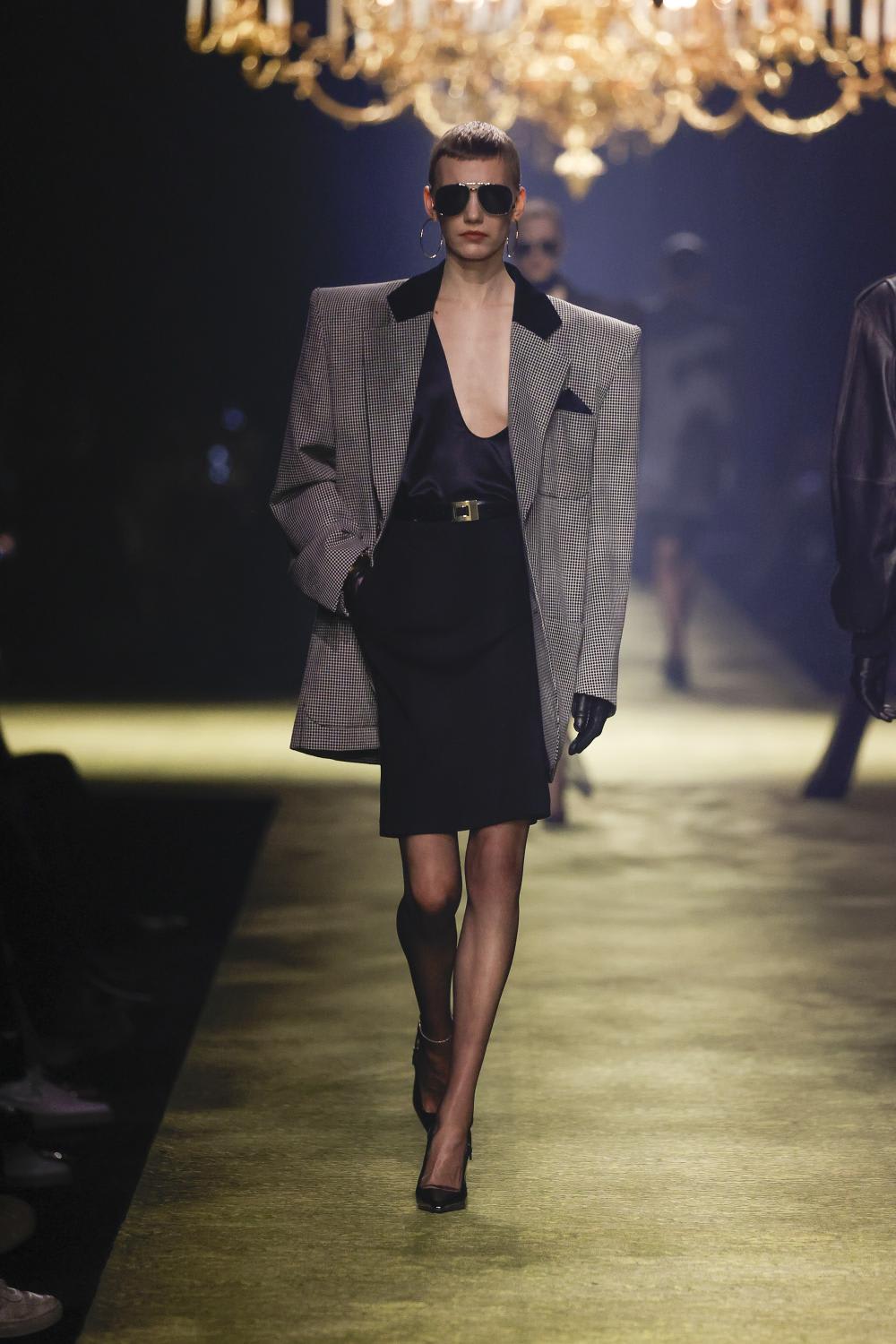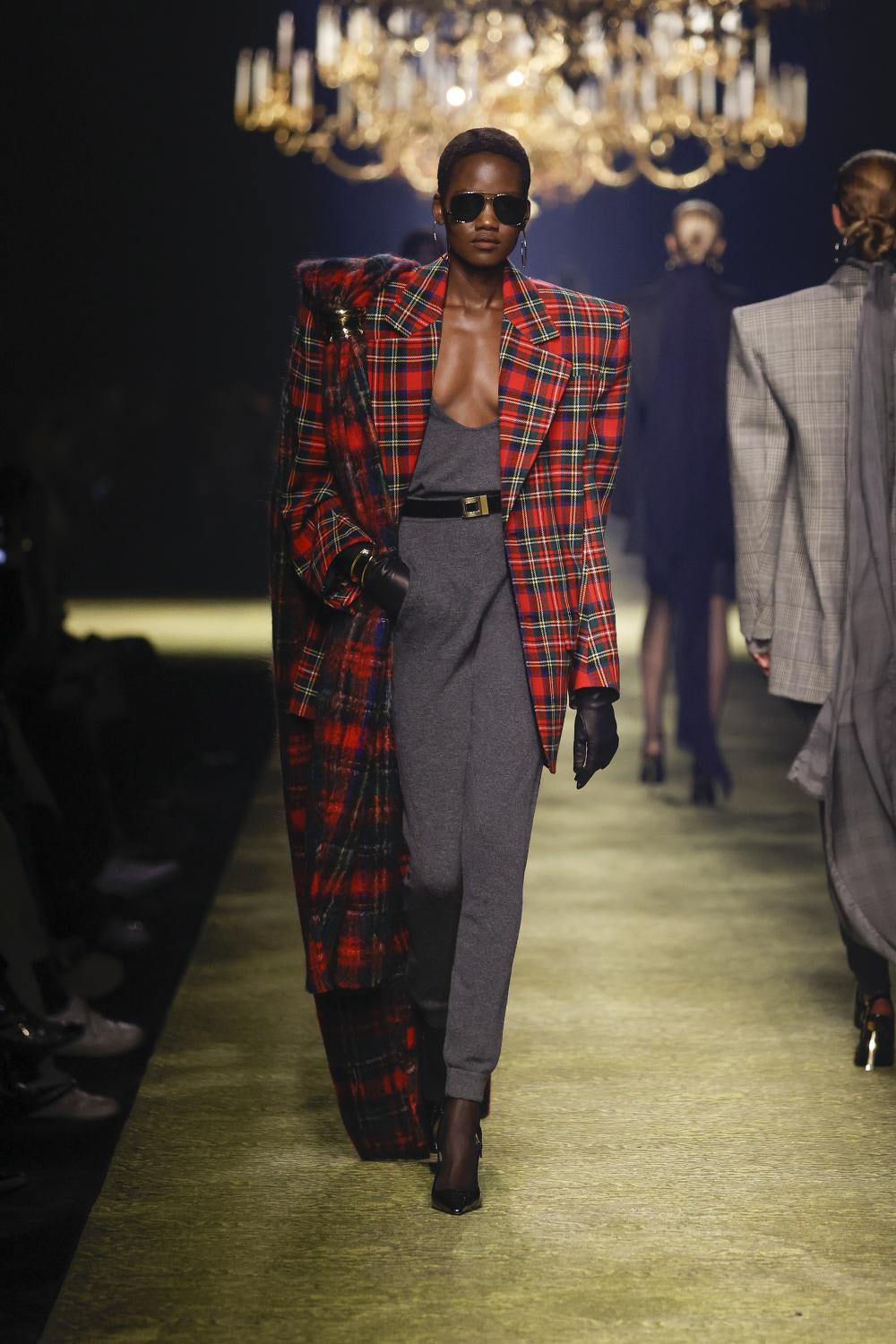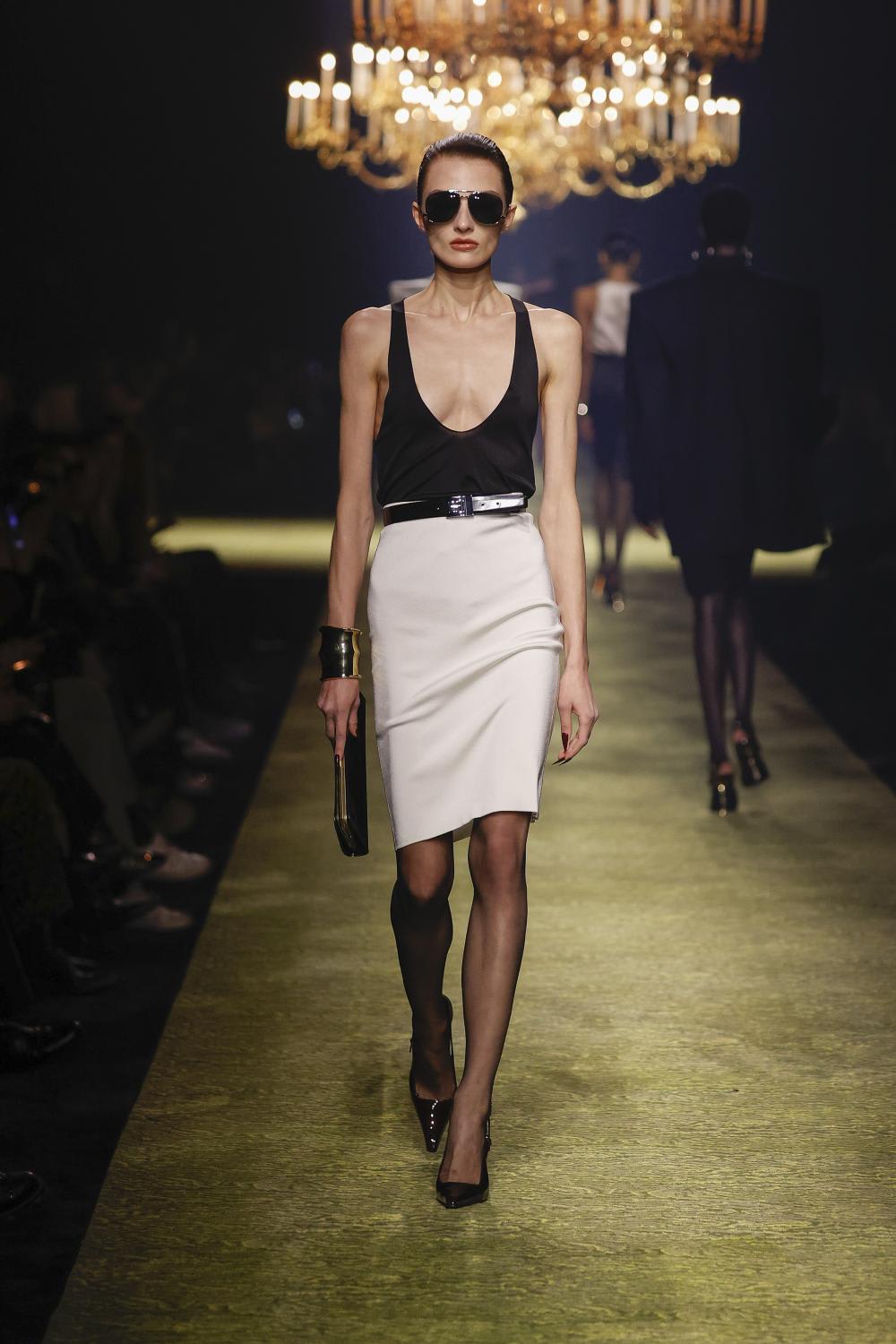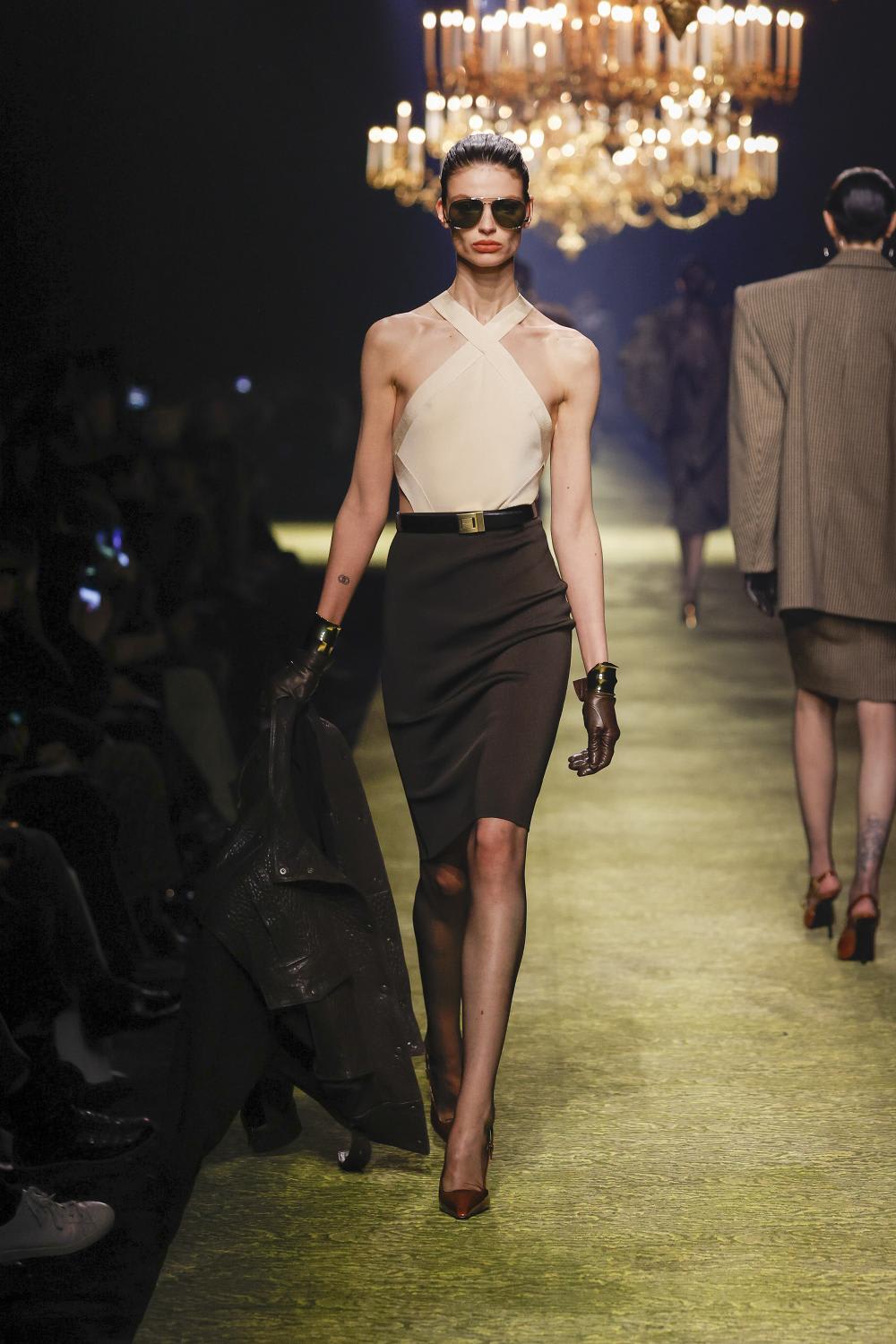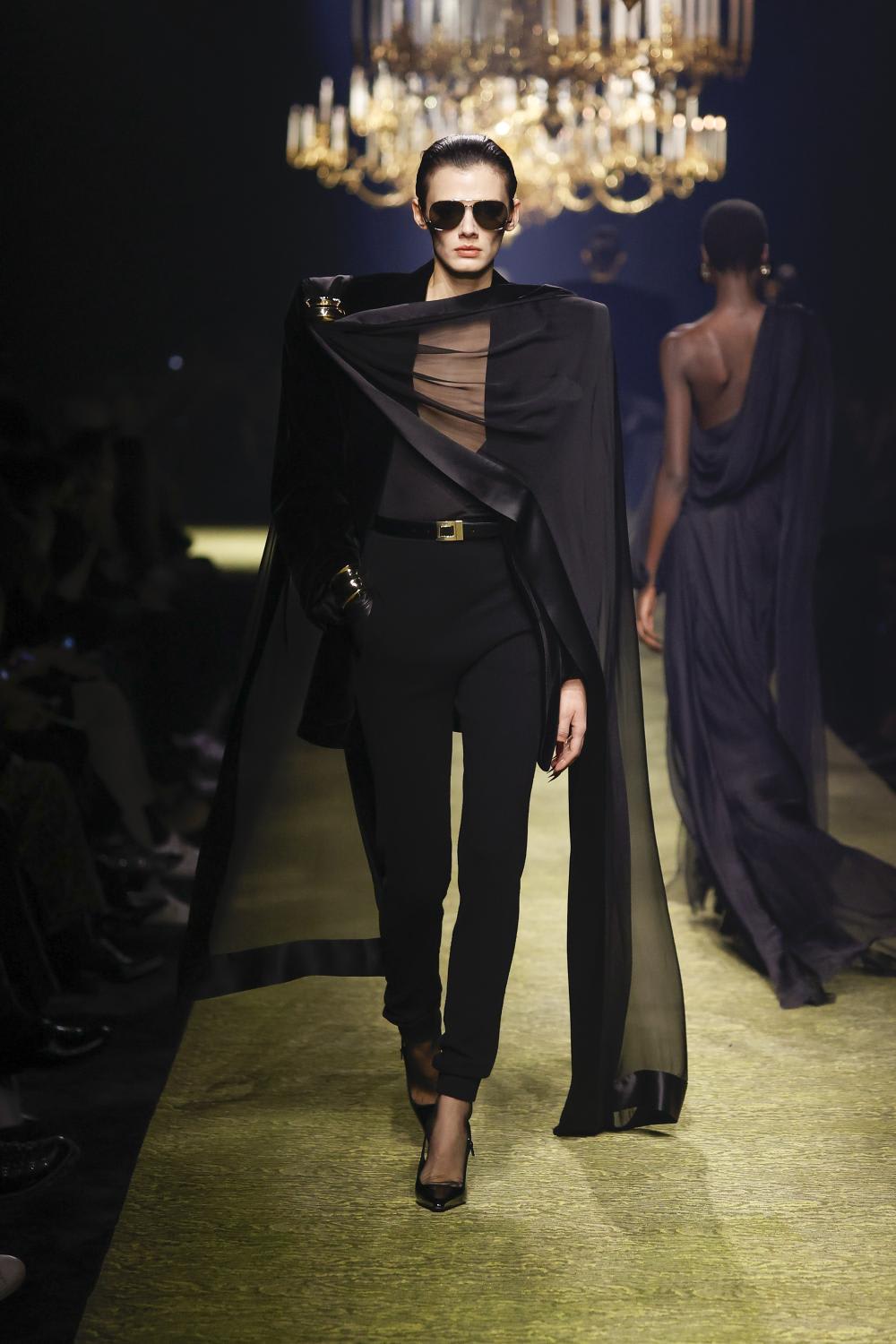 It was also shoulders that made all the iconic YSL codes come alive at Saint Laurent. Creative director Anthony Vaccarello hewed close to all the iconic house shapes – the le smoking suits and dresses all looked like what Catherine Deneuve would have worn in the 1980s, and recalled classic Helmut Newton photos – but made modern with a shift in proportions necessitated by the boldest boulder shoulder to date.
GENDER REDEFINED AT VALENTINO AND ANN DEMEULEMEESTER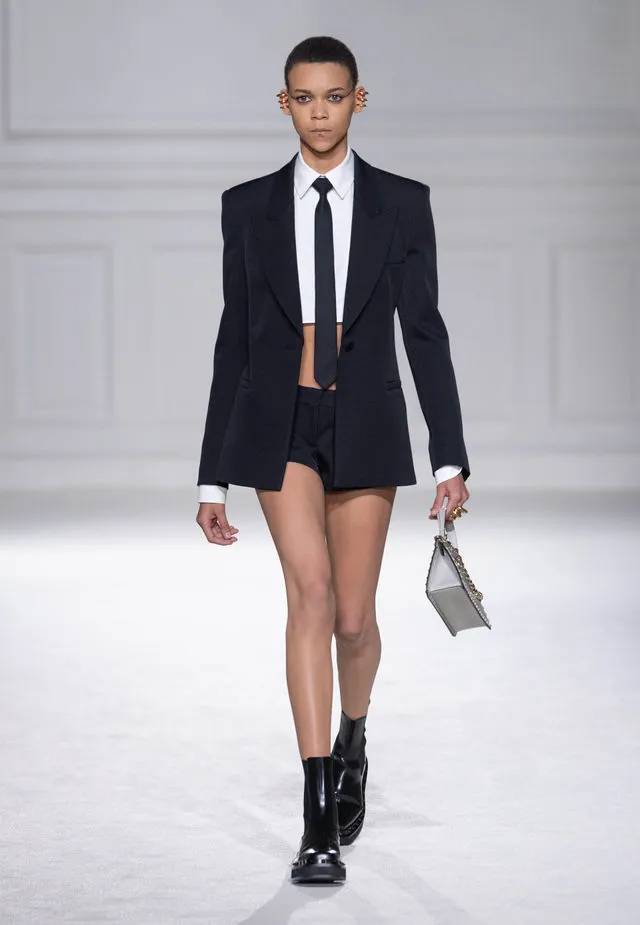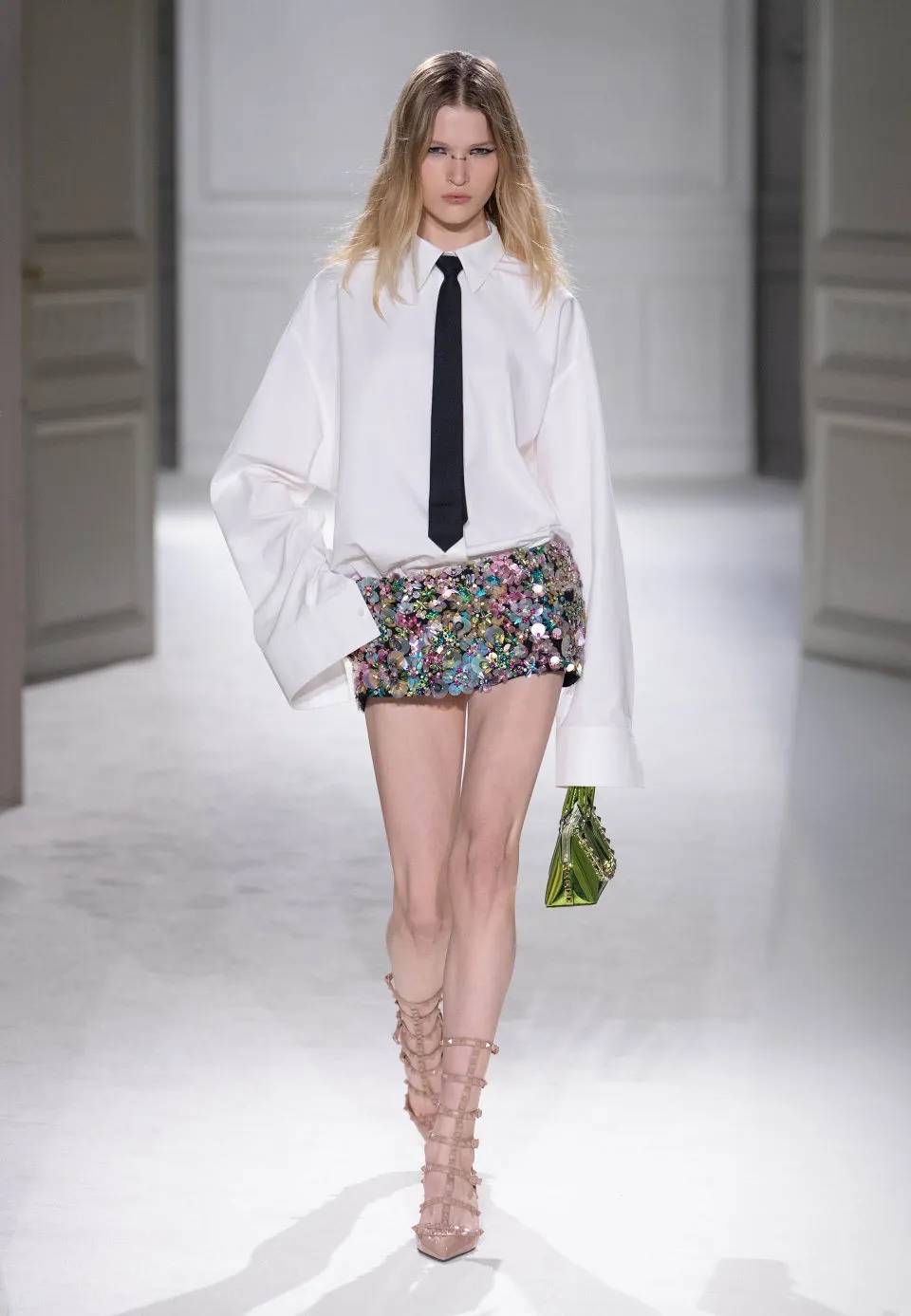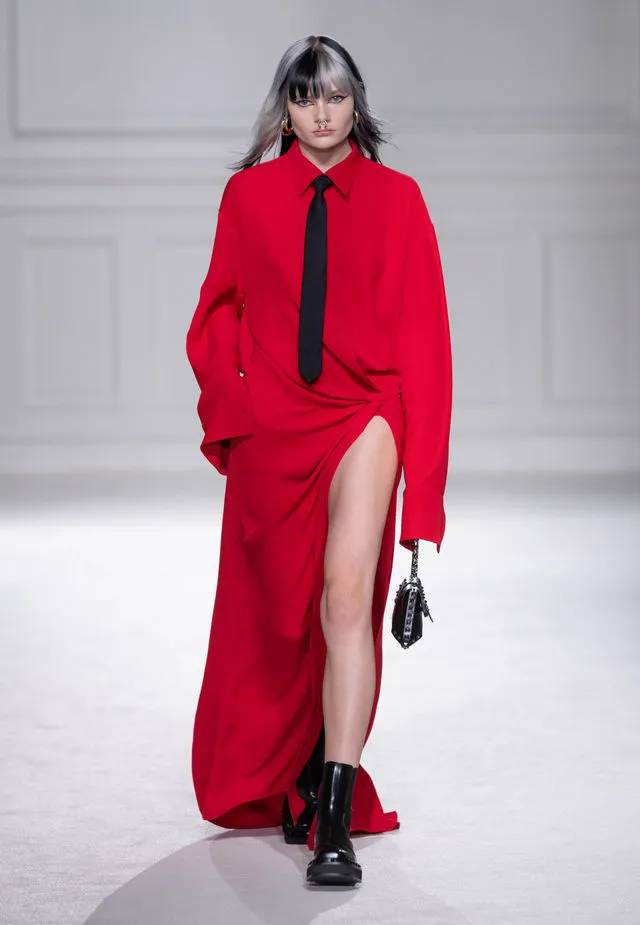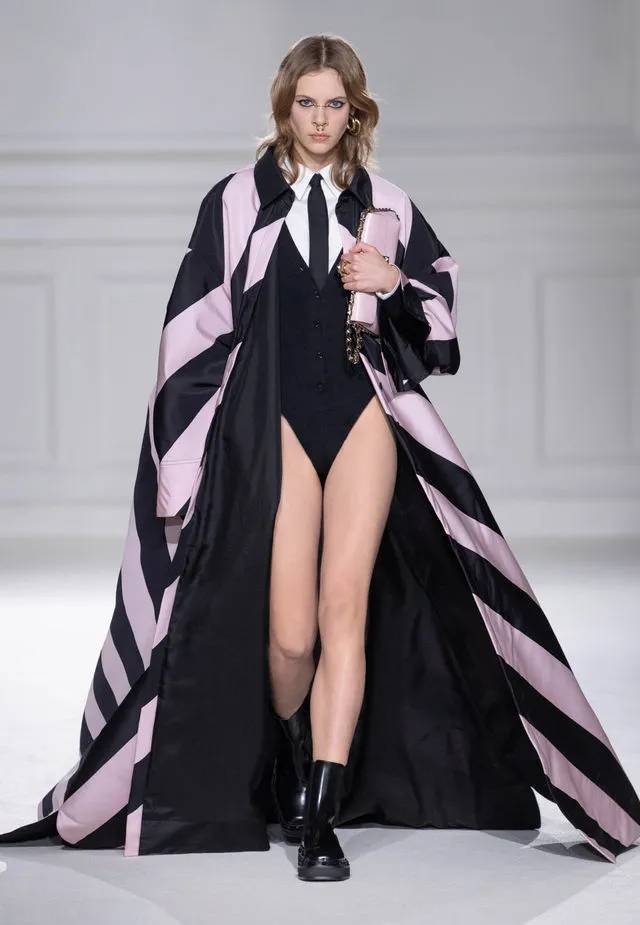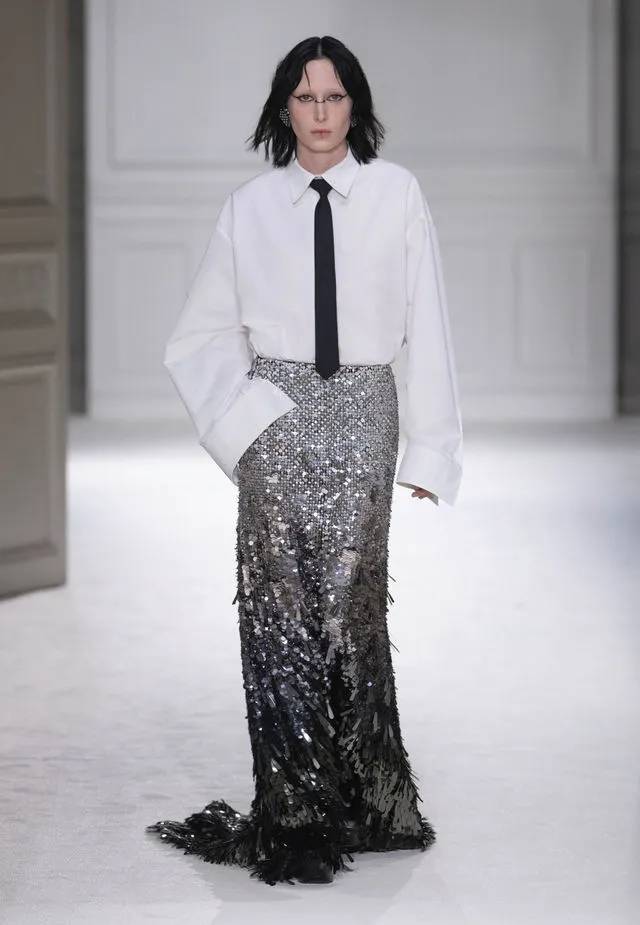 The ongoing gender norms and inclusivity debate took fashion form at Valentino, where the talented Pierpaolo Piccioli took that one age-old symbol of a man, the salaryman's shirt and tie, and put it on each of the 73 looks he showed. The looks themselves were meditations on the classic couture staples of the house of Valentino, classics that Piccioli has made into swooning signatures of his own: The billowing gown, the sweeping cape, the urbane coat that shrugged with hauteur, a bracing Valentino red ensemble. These 1950s voluptuaries were kicked resolutely into the present when grafted onto the masculine shirt collar-with-matching tie combo, and with the help of genius gender-fluid models, the case for gender-fluidity was won – this was good fashion for a boy or a girl.  
Ludovic de Saint Sernin's debut collection for Ann Demeulemeester was a triumphant statement for gender fluidity. Saint Sernin brought his sexy club kid aesthetics to the house's signature men's tailoring, rumpled white button-downs, the bias-cut satin skirt. Although quite a literal tribute to the designer whose house he inherited, this collection was saved from being pedantic by asserting an androgyny that was captivating instead of repellent, he presented a positive facet of what gender fluid could look like: Poetic yet strong, heroic yet fragile – instead of the crassly sexual, kinky and deviant. This was a graceful and promising debut for Saint Sernin.
ARCHETYPES MADE PURE AT LOEWE AND MIU MIU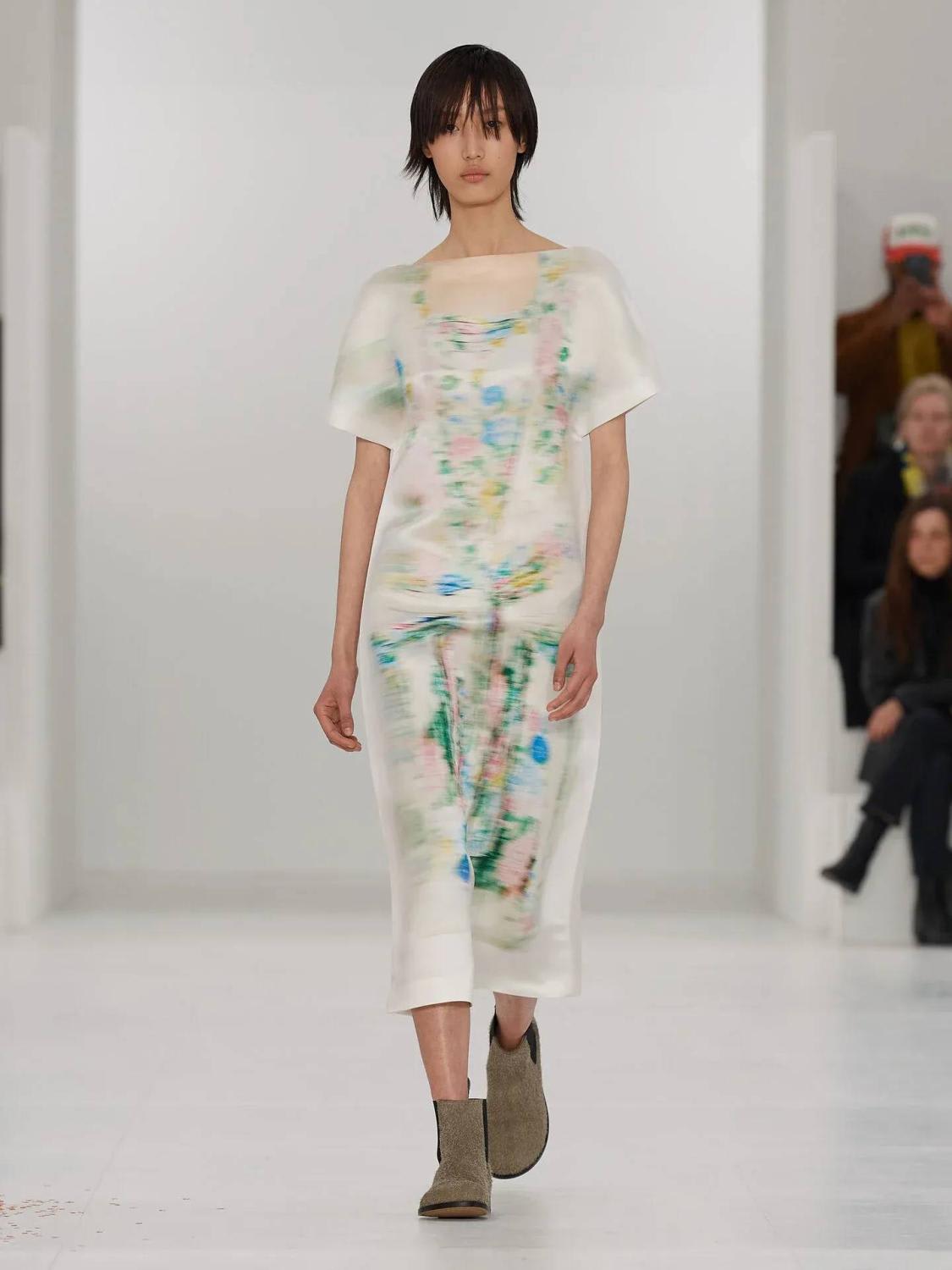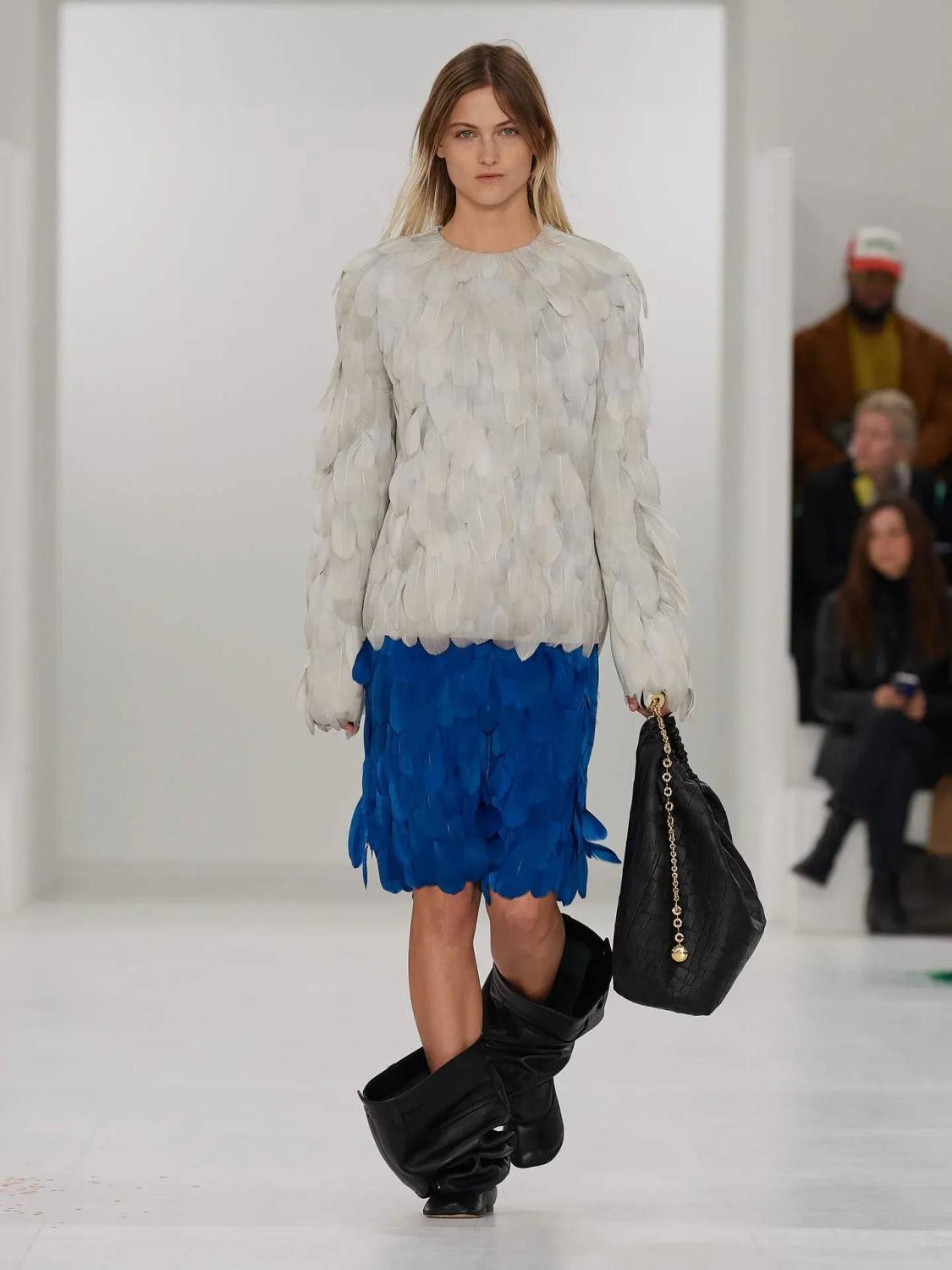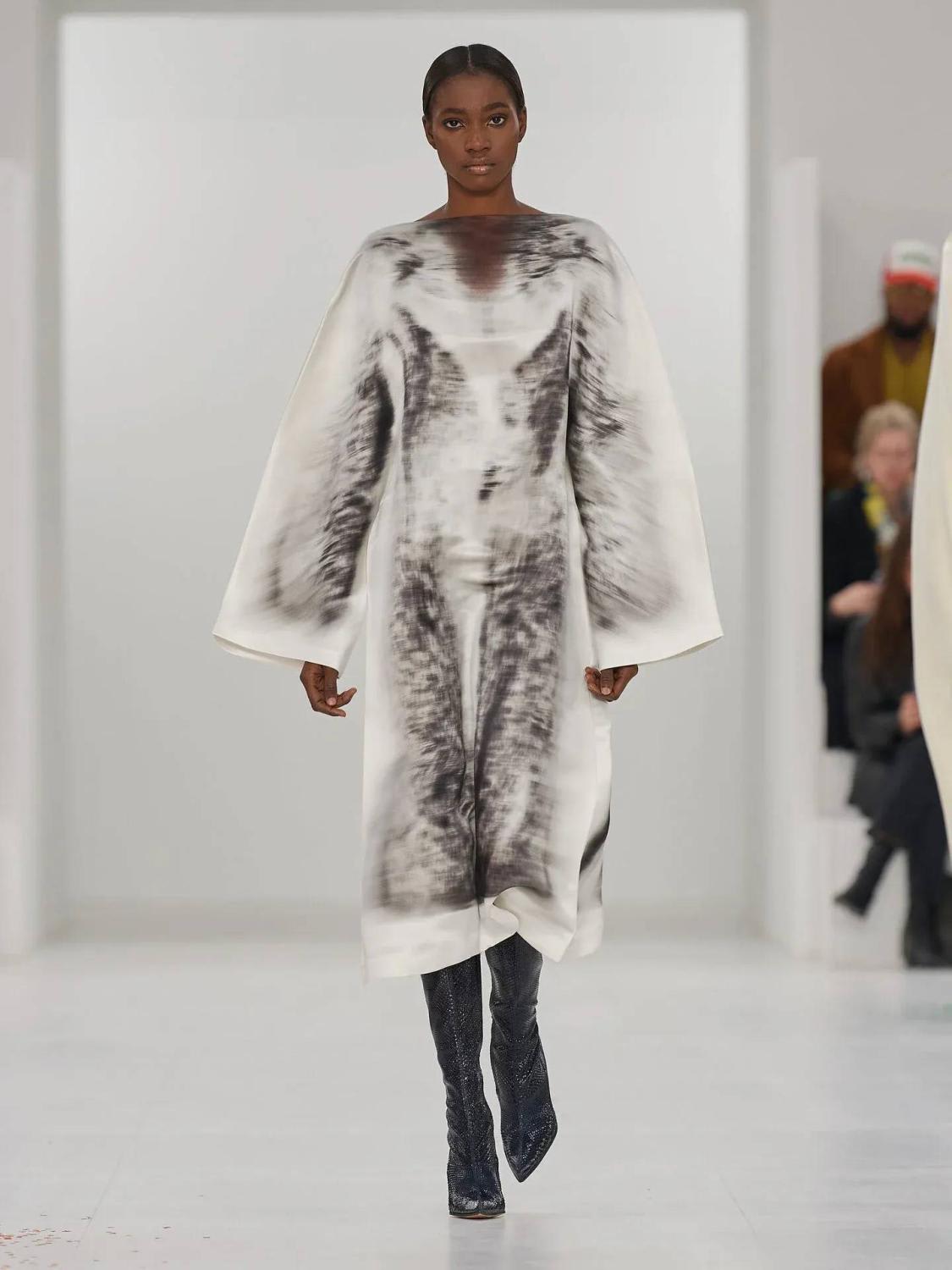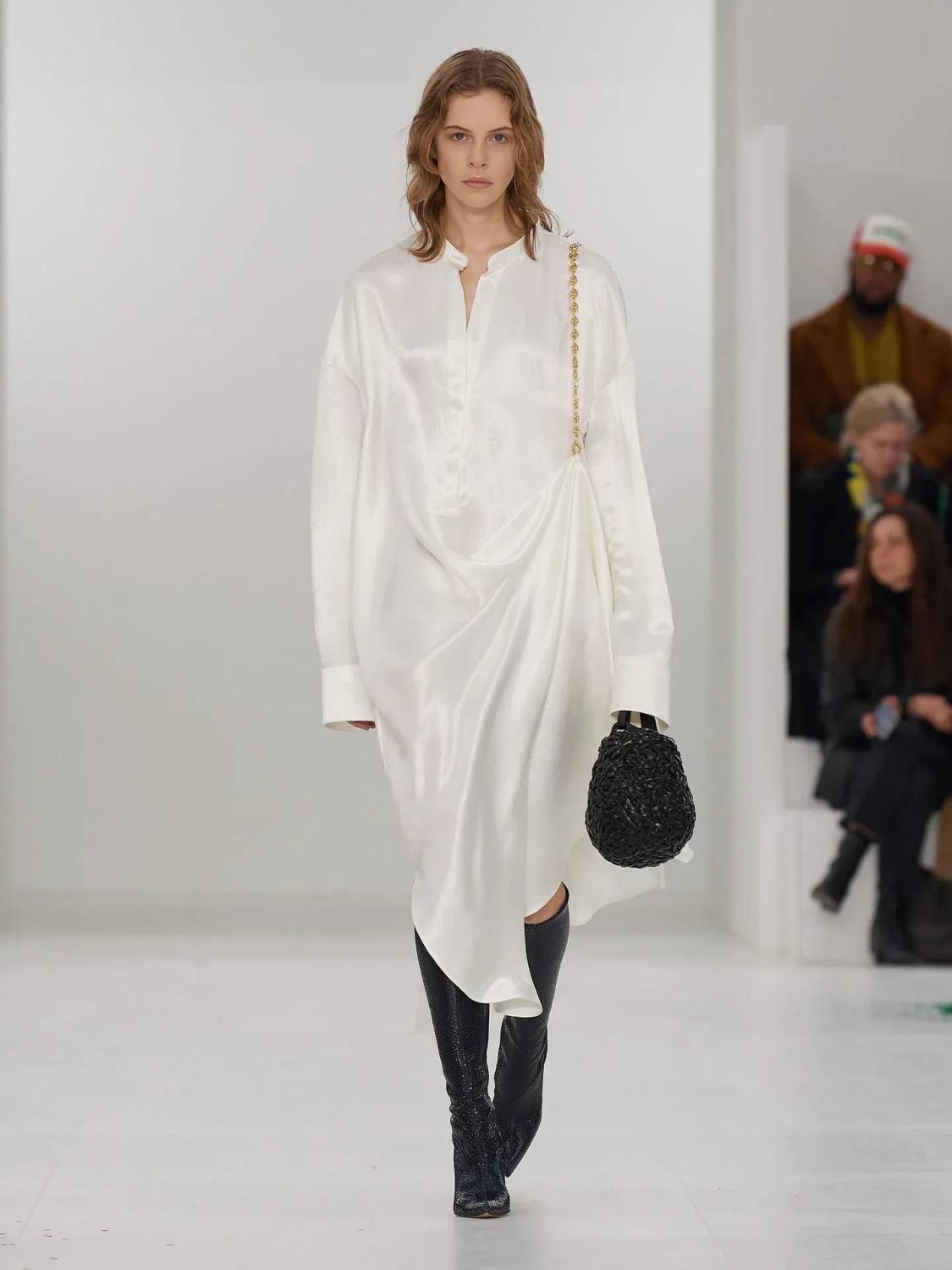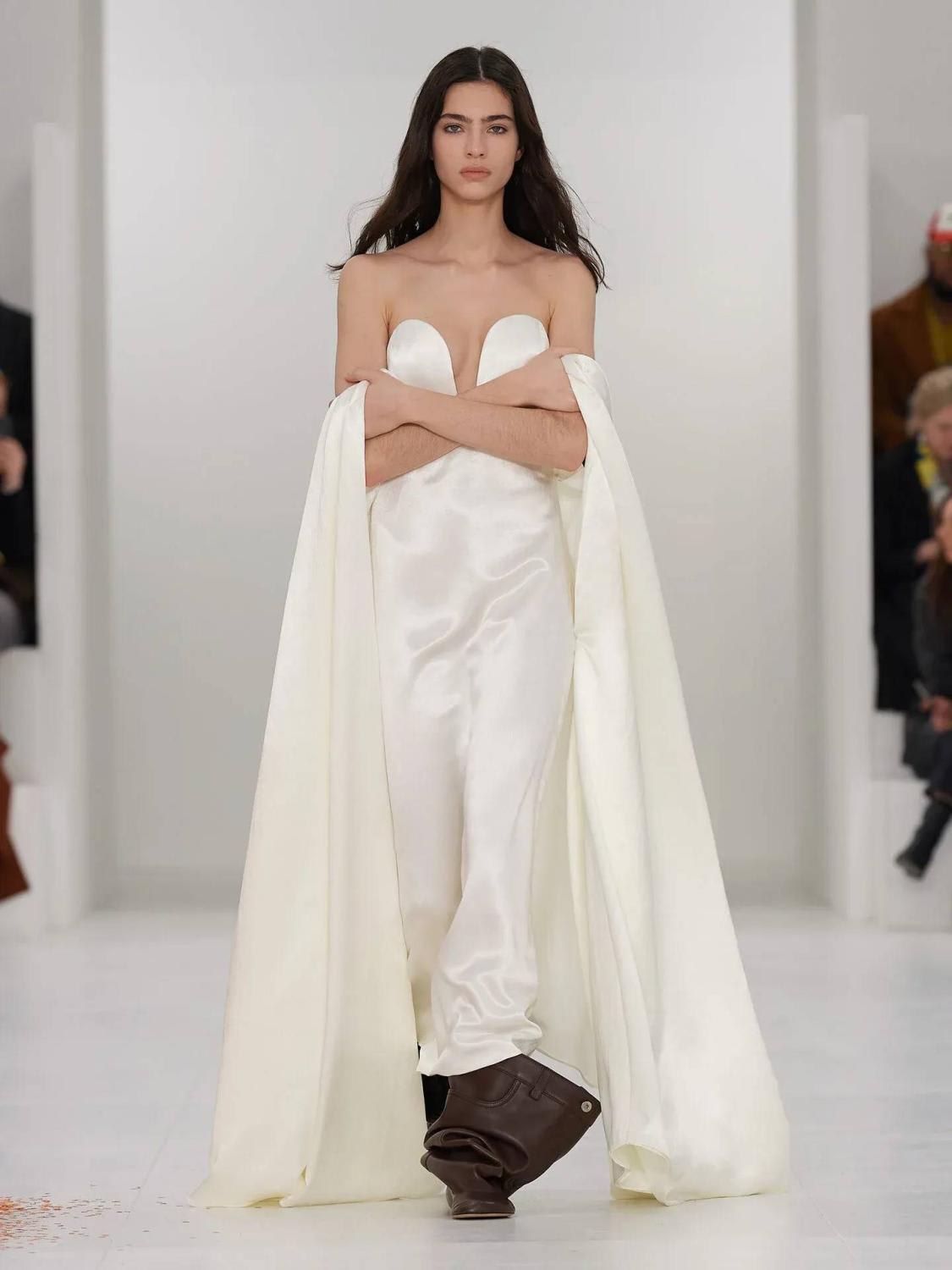 Loewe is obviously an exercise in re-seeing all the fashion archetypes in the clear light of the digital generation. We see a dress, as if for the very first time, quite purely as an outline in white, framing a ghost of a floral dress inside. We see a typical men's grey cardigan, enlarged. A plain white T-shirt is made entirely of goose feathers, and so a pair of board shorts. A leather coat, a tunic, a pleated skirt – all platonic versions of its type, it's the thing by definition – entirely stripped off adornment. We recognise these classic fashion items as what it is for the first time in decades – it's like creative director Jonathan Anderson had reached into the past and removed all the fashion gunk that had cloyed on these garments through the seasons and gave it all a good wash. It's a clean slate collection, starting from zero.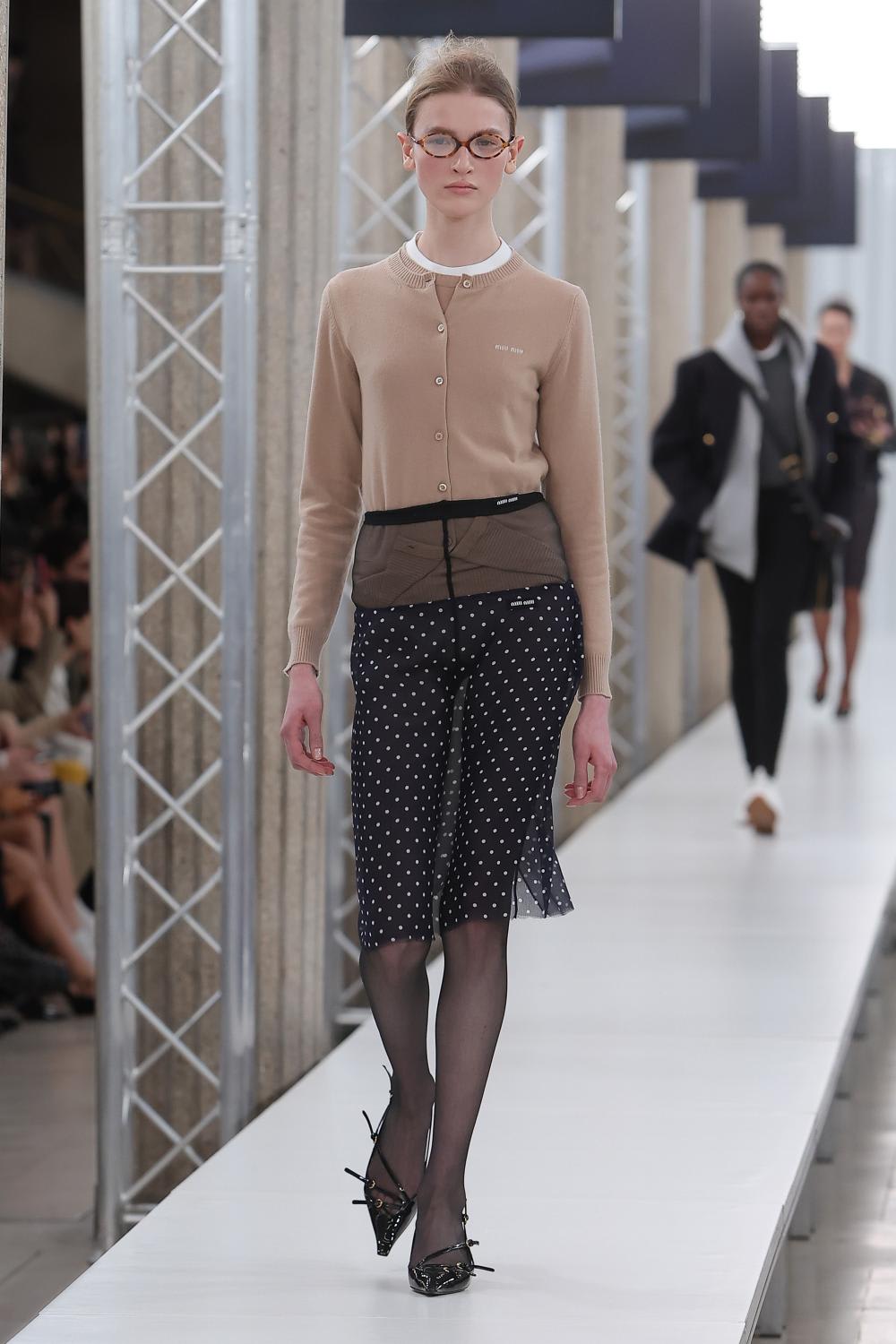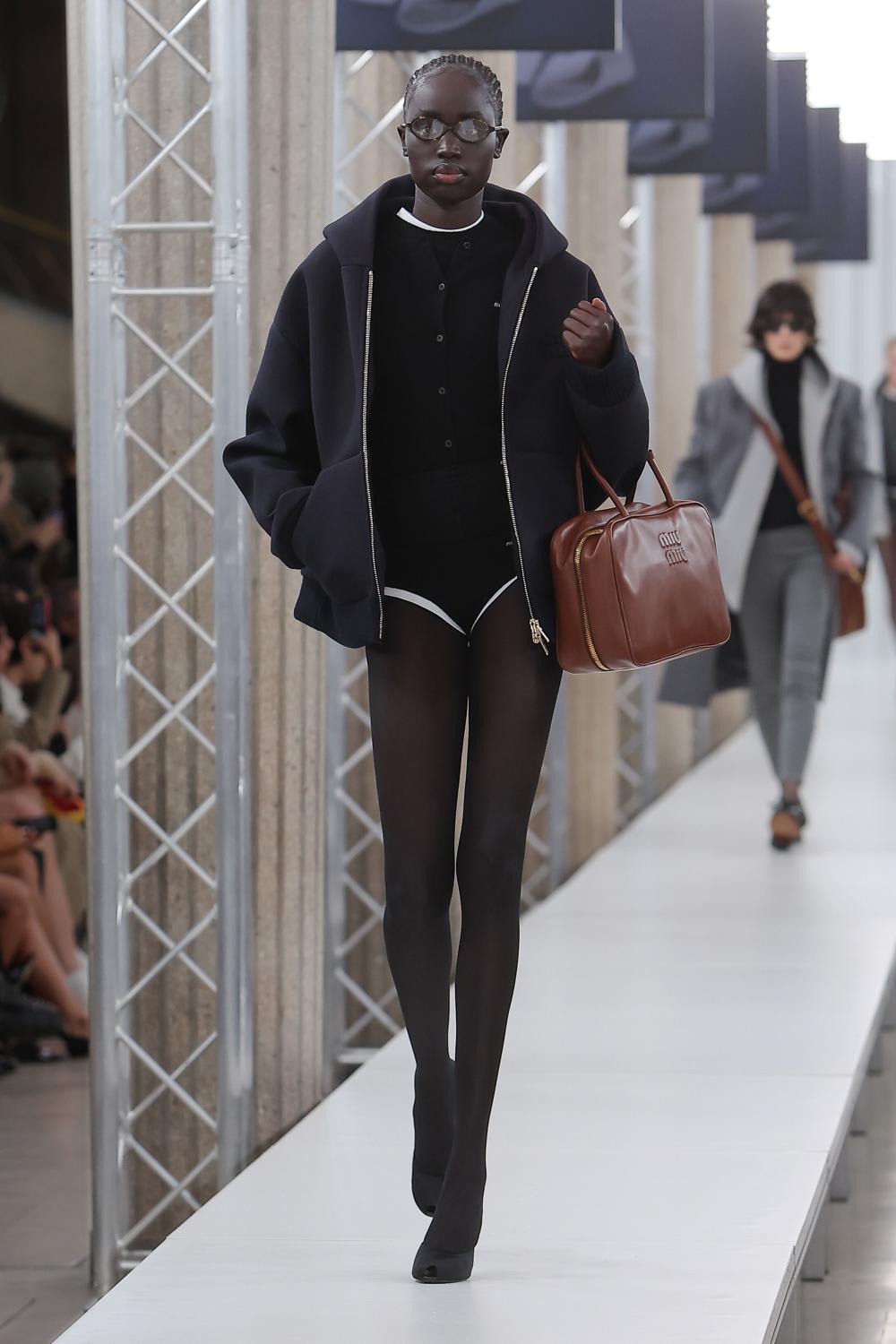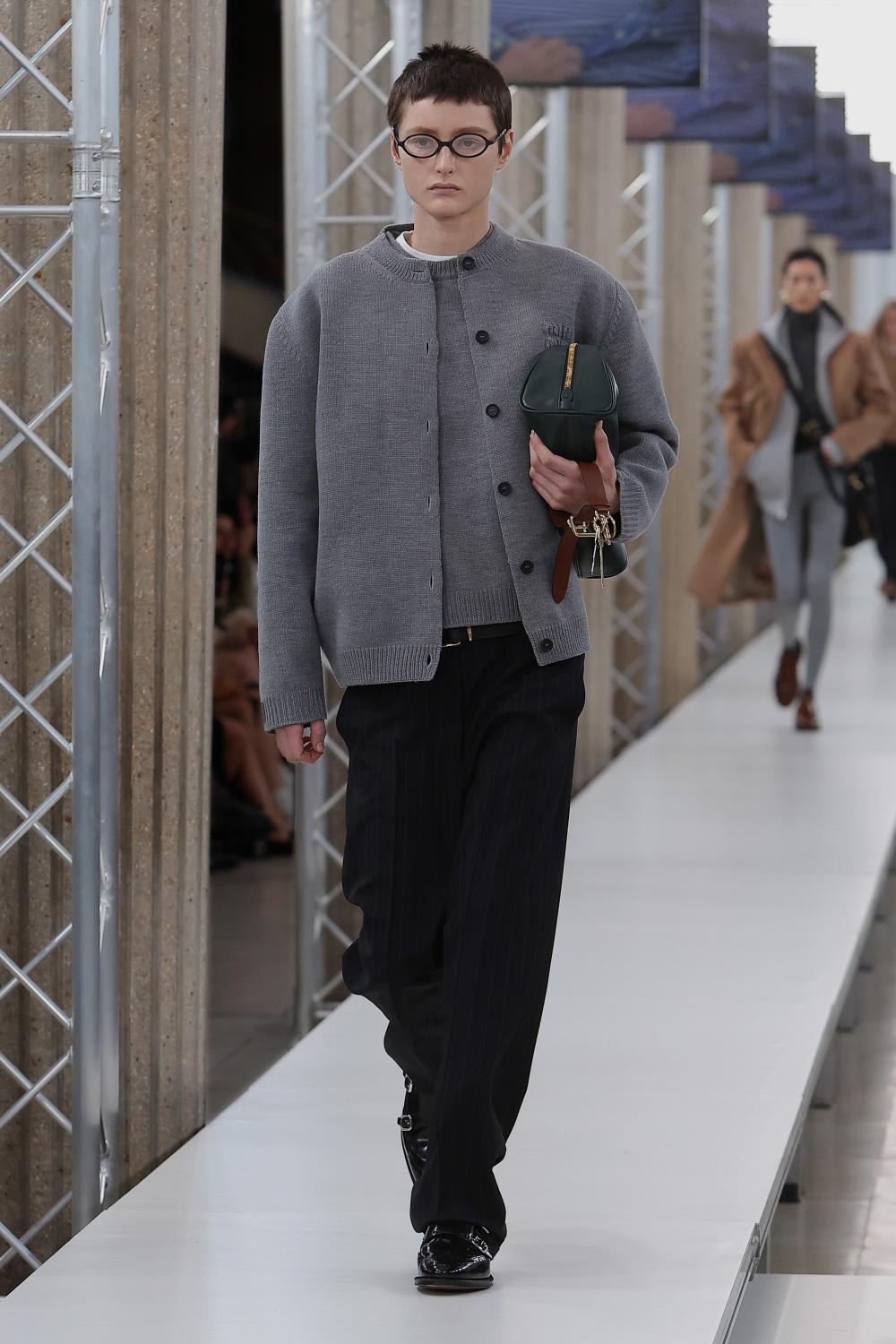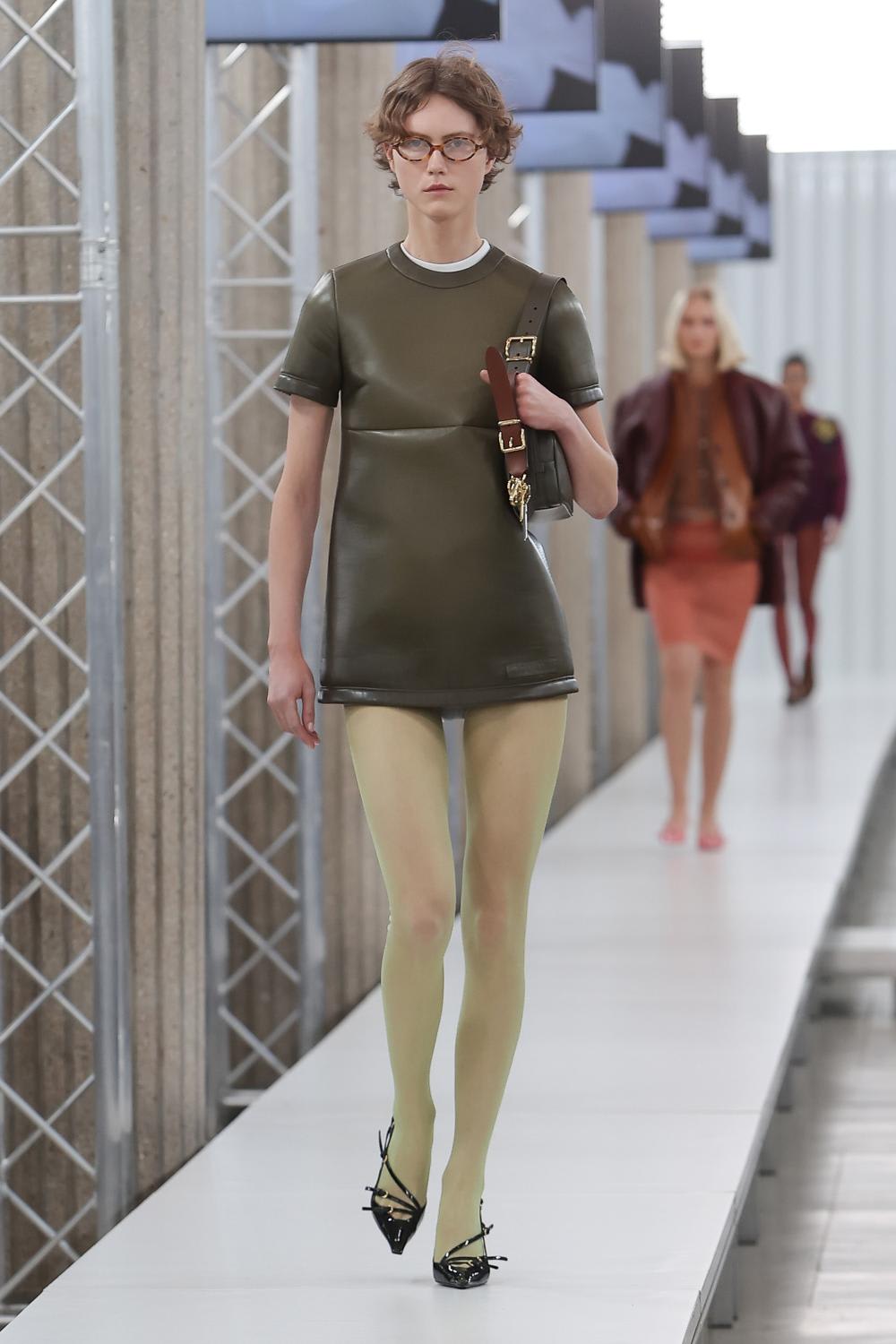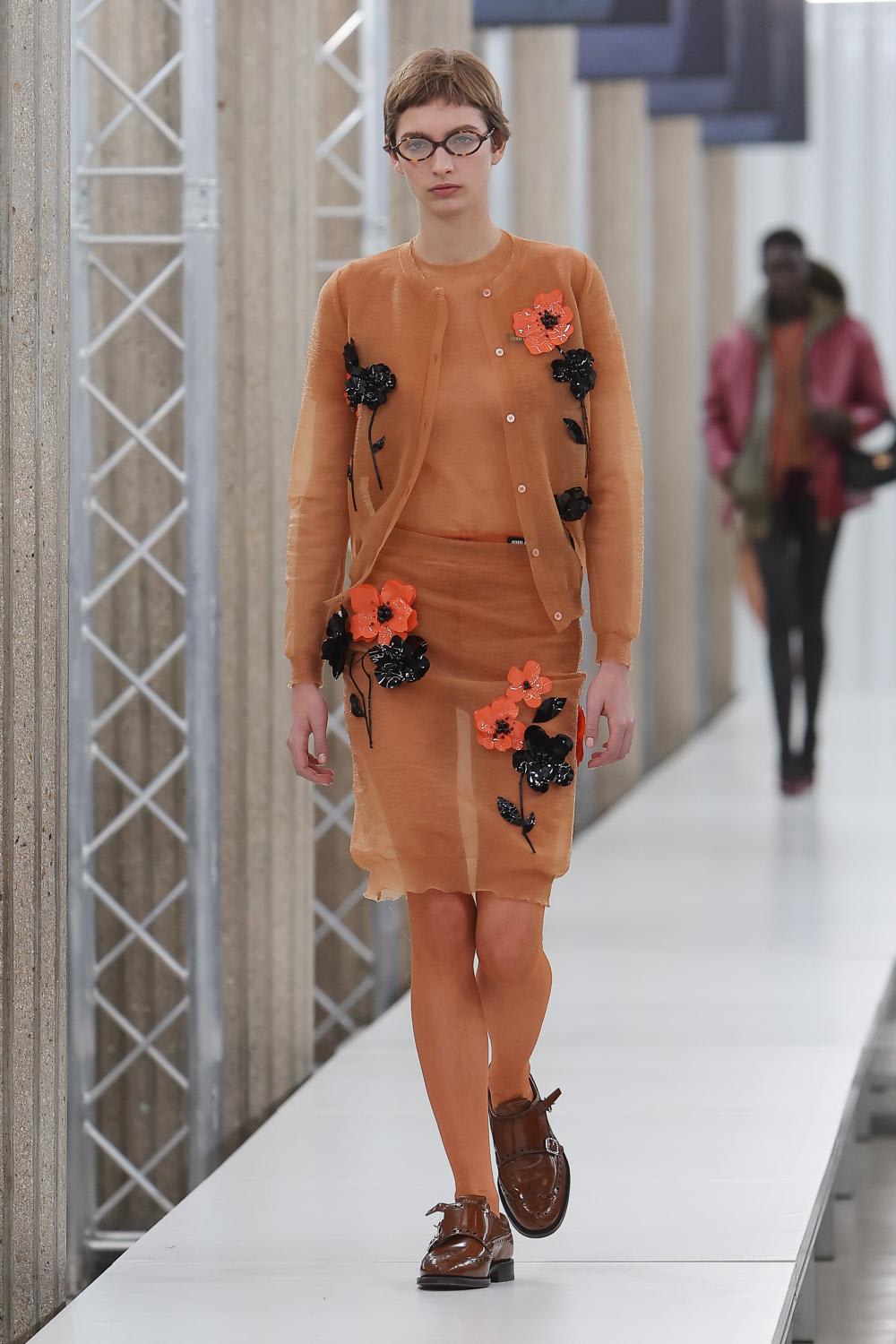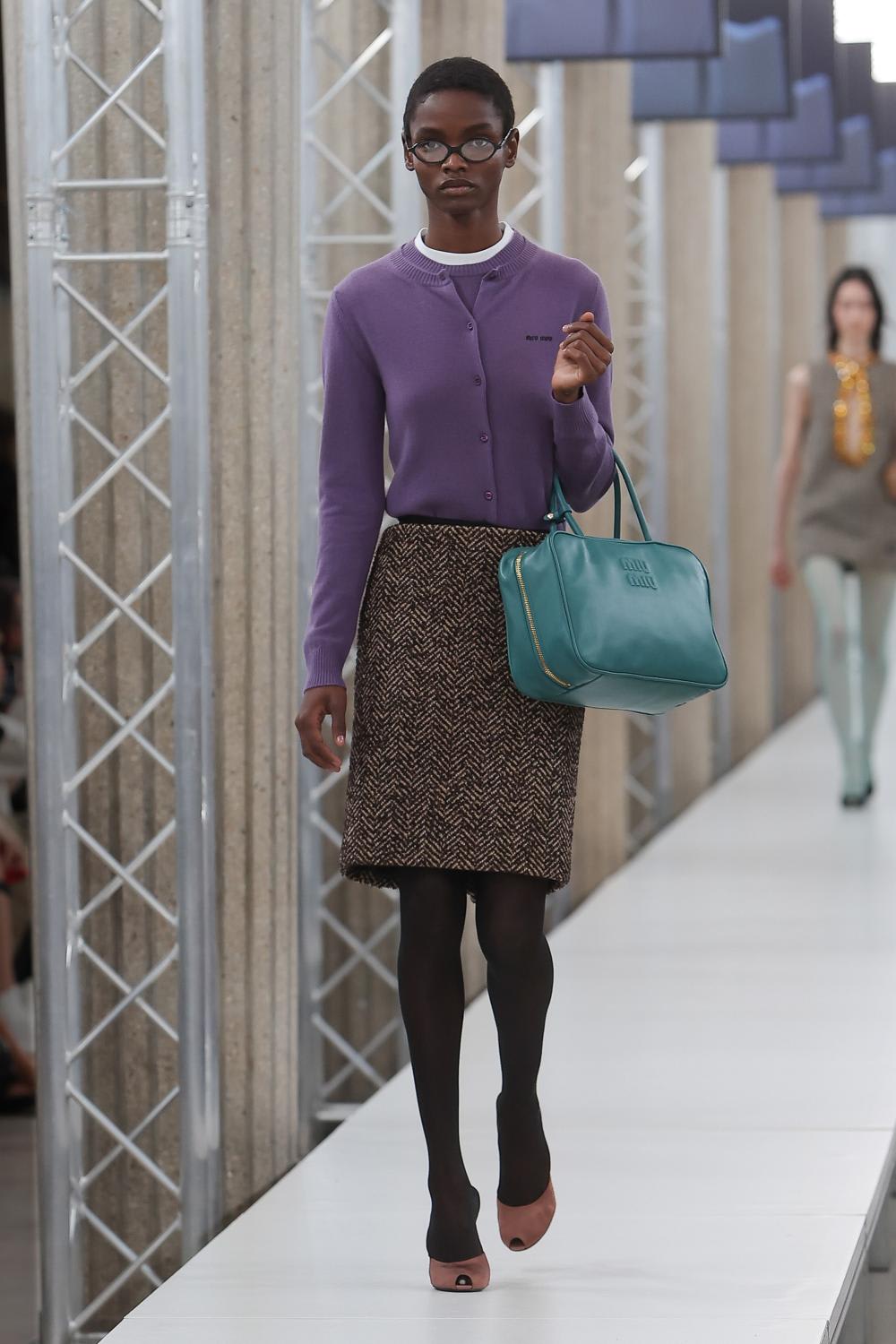 We would say that the Miu Miu collection was more Prada than the Prada collection, a study in the pure essence of what Miuccia Prada is. The reduced Miu Miu silhouette in quietly sensuous textures is something Mrs Prada has mastered since her very first collection in 1988, so is the pervasive whiff of the 1940s – how does she do it? It's a reassertion of Prada's sexy academic archetype for Gen Z sharpened and clarified: It's the librarian in granny cardigan, English brogues and embroidered panties; it's the elegance of a hedgehog tweed coat worn with dainty kitten heels, it's the infamous Prada lingerie dress – worn with a Raphael face.