Fifty Shades Of Yay: In times of doom and gloom, fashion fights back in colourful ways
Fashion's greatest appeal is the sheer escapism it offers both buyers and beholders, with this season's runways and red carpets not short on flights of fancy.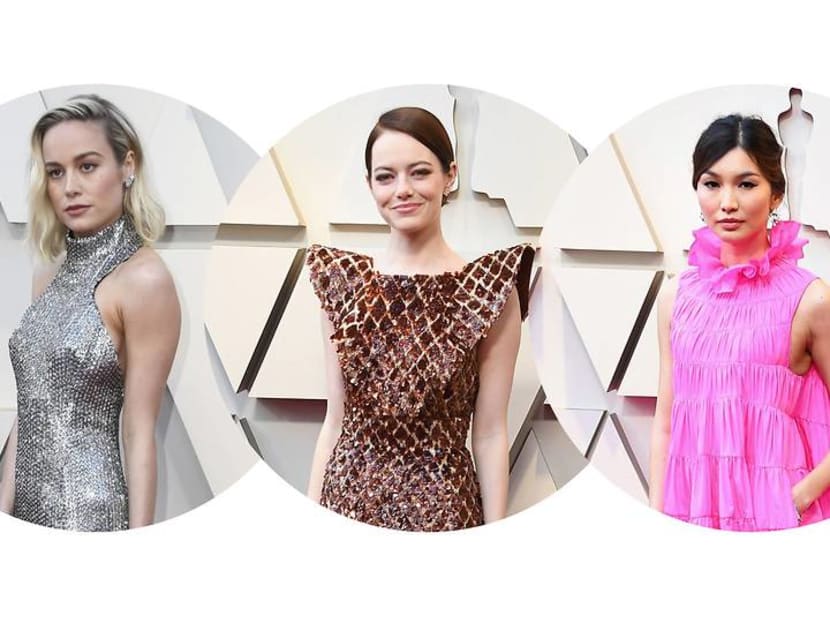 Dress like you are going to meet your worst enemy today, once said Coco Chanel. Mademoiselle probably wasn't talking about politics when she uttered this immortal line, but she might as well have been.

The world is currently not fabulous. A few weeks ago, it looked as if a full-scale war was going to break out between India and Pakistan – thankfully, it did not. But there's still Brexit to dread on Mar 29 and the UK looks no closer to a happy solution. Plus, two summits and millions of dollars and dong later, Trump and Kim are no closer to nuclear disarmament. And the International Monetary Fund has projected slow economic growth for 2019 and 2020. Oh, joy.

Fashion's greatest appeal must be the sheer escapism it offers both buyers and beholders. Even in the worst of times, fashion has always had a way of fighting back the darkness and bringing a modicum or two of joy to women (and some men).

During World War II, when fabric was rationed and could only be purchased with coupons, shorter skirts and bared legs became the fashion. When Germany was threatening chemical warfare against the Allies, women in London could buy gas protection suits made from oiled silk in a variety of colours, from Harvey Nichols.

Likewise, in this current climate of doom and gloom, it feels like fashion got its act together and decided on a feel-good party for Spring/Summer 2019. Colour explosions hit just about every runway. Gucci sent coats of pink fur and dresses of blue feathers down the catwalk, glamorous protective coverings soften any blow. Marc Jacobs dressed Kaia Gerber in a defiantly shiny yellow slicker dress, a metaphoric middle finger to the stormy world out there. Versace – which has never shied from loud – turned it up to eleven: Donatella ramped up and mashed up colours, prints and silhouettes like she was sparking joy all over the place.

The determination to stay – no, slay – positive didn't just overcome the fashion crowd, it infected celebrities too, of course. It began at the Grammys on Feb 10 with the likes of Cardi B wearing a pink peacock concoction from the Thierry Mugler haute couture archives (complete with long pink gloves); Katy Perry in a pink strapless Balmain cake; a newly-minted billionaire Kylie Jenner in pink Balmain too – and pink gloves (are you noticing a trend?); and a personal favourite: Post Malone in a star-encrusted pink jacket and pants that almost – but not quite – distracted from his face tattoos.

The Oscars two weeks later on Feb 24 was awash with ebullience in the form of more adorable pastels and sparkling metallics. The luminescent Gemma Chan stopped traffic in a pink Valentino haute couture gown (with pockets that famously held cookies), along with Helen Mirren in Schiaparelli haute couture, Jason Momoa in custom Karl Lagerfeld, Lisa Bonet in Fendi Couture and Angela Bassett in Reem Acra.

Glenn Close led the charge on the metallic brigade with an elegant gold caped gown by Wes Gordon for Carolina Herrera, while girl of the moment Brie Larson sparkled in silver chainmail (Celine), as did Jennifer Lopez (Tom Ford). Emma Stone dazzled in a glittering otherworldly Louis Vuitton gown. Other candy colours were not spared: Constance Wu wore a butter-yellow Versace gown and Tina Fey a bright blue Vera Wang.

The one image in black that scored more smiles than all of the above was Billy Porter, who stole the show at the Oscars in a dramatic black gown custom-made by Christian Siriano. He called it "a walking piece of political art" – a poignant reminder for the world to take a breather from bad news and just enjoy seeing their favourite celebrities all dressed up.