Speeding in Sepang: What it's like to unleash the full power of the Ferrari 296 GTB on a former F1 circuit
Thrills galore as the Ferrari 296 GTB savagely takes on the track at the Sepang International Circuit in Malaysia. CNA Luxury's motoring journalist Jamie Nonis reports.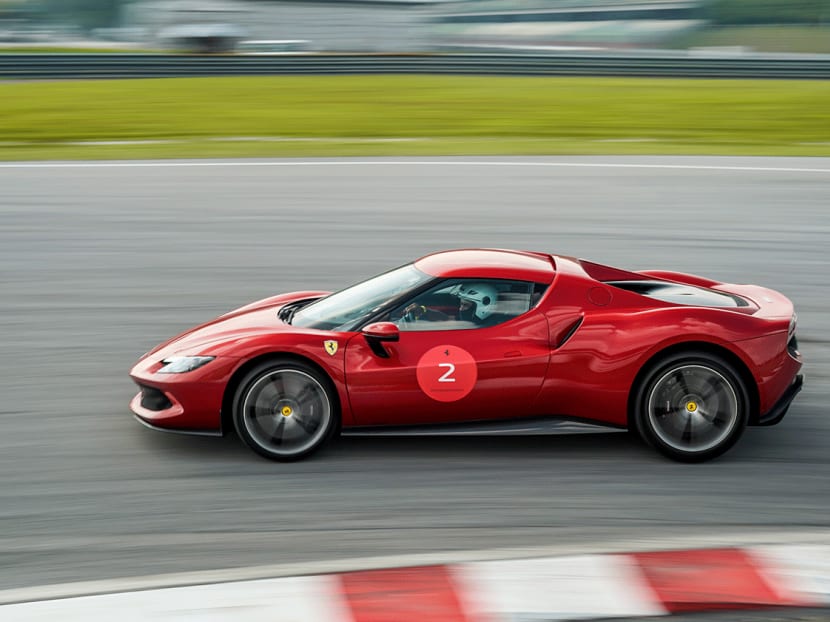 Nothing quite prepares you for your first track experience in a Ferrari. Sure, their specs are always impressive on paper. Their beautiful silhouettes and graceful forms certainly command your gaze. And the Prancing Horse badge confers a distinct pedigree and prestige that could indeed only come from the legendary Maranello.
But up until the point you have the luxury of thrusting a supercar at full throttle, your appreciation for such a powerhouse is probably superficial at best.
Which we did recently, lapping up the opportunity to extract the full power of the Ferrari 296 GTB on some hot laps at the Sepang International Circuit at the invitation of Ferrari.
BULLETTING DOWN THE TRACK
The Ferrari 296 GTB is the Italian carmaker's new mid-rear-engined two-seater berlinetta sports car unveiled mid last year.
In terms of performance, she's wedged between Ferrari's F8 Tributo and its SF90 Stradale. But in terms of fun factor, the 296 GTB (with the shortest wheelbase in the range; 50mm shorter than the F8) quite indisputably commands a position several notches above both. And having driven the former sometime last year, I can indeed attest to that after my sizzling stint in Sepang.
As the first road V6 to sport the Prancing Horse badge, the 296 GTB is fitted with a 120-degree V6 turbo engine cranking out 663cv of power at 8,000rpm. Coupled with an electric motor, another 167cv is generated for a staggering, class-leading total of 830cv of power. Torque, meanwhile, comes in at a whopping 740Nm at 6,250rpm.
So you can imagine the 296 GTB barrelling down the eight straights of the circuit like a rocket on this 2,543m-long track, especially on the two high-speed stretches.
Still, nothing quite prepares you for the exhilarating rush of burning rubber in the blistering heat on the former Formula One track in Malaysia.
She hits the century sprint in 2.9 seconds flat, and goes another 100km/h, which you can on a track such as this, in a head-spinning 7.3 seconds.
Ferrari says the 296 GTB is "easier to drive at the limit", and I reckon they're right. You could, technically, push her past 330km/h but I managed a more modest 250km/h on my virgin track outing.
Boasting a best-in-class weight/power ratio at 1.77kg/CV, this "rosso imola" bullet brakes beautifully and confidently as you enter each of the 15 corners on the circuit, with instant braking from a high of 200km/h right down to zero in just 107m – that's 10 per cent less than with the F8. What a rush!
ELECTRIC DREAMS
Like the Ferrari SF90 Stradale, the 296 GTB also features PHEV (Plug-in Hybrid Electric Vehicle) architecture and can travel up to 25km in pure electric mode. While this isn't an exciting figure to shout about based on EV standards today, it's an encouraging start to an inevitable transition to electric supercars for which such a mutinous shift is more of a revolution than an evolution.
That said, the first full-electric Ferrari is expected to arrive next year, and it will be exciting to see how it measures up to Ferrari's red-blooded ancestry – on and off the track.
NEW SEXY SPIDER
The surest way to make a sexy sports car even sexier is to turn it into a spider and at Sepang is where we caught a glimpse of the new Ferrari 296 GTS during its Southeast Asian debut.
Still retaining those beautiful lines and that sinuous silhouette (elements inspired by the Ferrari 250LM), the 296 GTS is incontrovertibly sleeker and sexier than its GTB sibling, transforming into a convertible via a retractable hardtop that retracts (or deploys) in just 14 seconds when travelling below 45km/h.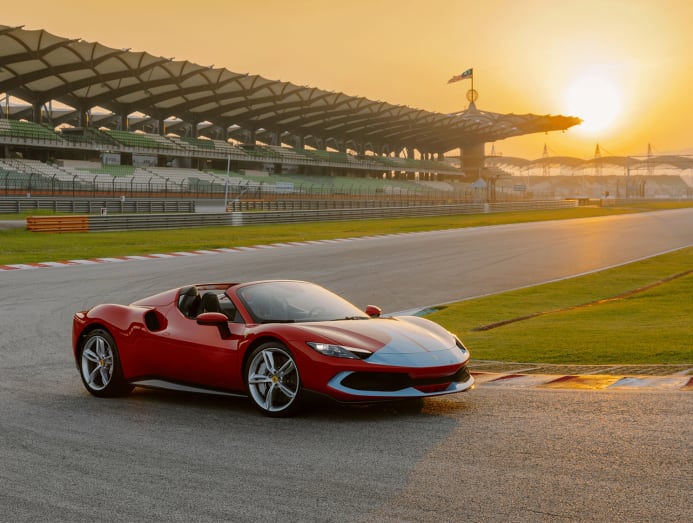 Both just as effortlessly elegant, both feature the same powertrain and equally exciting and enticing specs, and both are also available with the higher-end Assetto Fiorano package, which includes lightweight features and aero modifications.
And, as with the 296 GTB, the GTS is most certainly also engineered around the former's "fun to drive" philosophy.
Now with the ability to push a Ferrari to its limits like an F1 driver – but without the rigorous training and stress of having to bag championships to please sponsors – I'll definitely subscribe to that.