What it's like driving a S$1.1m, 720hp, open-top dream machine: The Ferrari F8 Spider
It steers with laser-guided precision and has a mechanical grip that inspires a good deal of confidence, but the best thing about the F8 Spider is that in spite of the amount of power it produces, it has the ability to flatter drivers of all skill levels.
On the surface of things, the Ferrari F8 Spider is just like any other Ferrari. In that it looks like a million bucks (it also costs that much, incidentally), goes like stink and is quite possibly the last word in sports cars.
What it is, exactly, is the convertible counterpart to the F8 Tributo, so named as a tribute to its 3.9-litre twin-turbo V8 being the most powerful eight-cylinder engine in Ferrari's history, and its multiple wins in the International Engine of the Year Awards.
The biggest difference between the F8 Tributo and the F8 Spider, of course, is the presence of folding hard-top. It can be stowed or deployed in 14 seconds, with the vehicle on the move, at speeds of up to 45km/h.
The dry weight of the F8 Spider is claimed by Ferrari at 1,400kg, which is 70kg more than the F8 Tributo. Now, you might be wondering why an open-topped car is heavier than one with a fixed roof, and the reason for that is how additional chassis bracing needs to be put in to compensate for the loss in structural rigidity.
At any rate, that's a comparatively modest weight increase, and if you have the top up, you'll barely notice the difference, such is the level of torsional rigidity and refinement on offer.
In plain English, what this means is there are no (perceptible) tradeoffs between the coupe and convertible F8, save for the fact with the latter you have the option of cruising around with the top down… and you have to pay a S$100,000 premium for the privilege.
But, should you have the wherewithal, you'll find that the F8 is a stunningly good drive and is deeply, deeply capable.
LUDICROUS SPEED
The F8 Spider is equipped with Ferrari's most powerful V8 ever – a 3.9-litre, twin-turbocharged unit that produces 720hp, which is, if you'll allow us to use the technical term, stupidly powerful.
Just to give you an idea of how far the F8 Spider has moved the game on, it's nearly twice as powerful as the F355 GTS, its counterpart from just two decades prior.
As you might expect from that much power, the F8 Spider is an absolute rocket, with the benchmark century sprint taken care of in just 2.9 seconds, and it takes only 8.9 seconds to bring it from a standstill to 200km/h.
But more than those on-paper numbers is how the F8 Spider delivers its performance. It's backed up with a complex suite of electronics, the thresholds of which are controlled through a five-position switch in the steering wheel (the so-called manettino), allowing in certain modes to enter controlled drifts.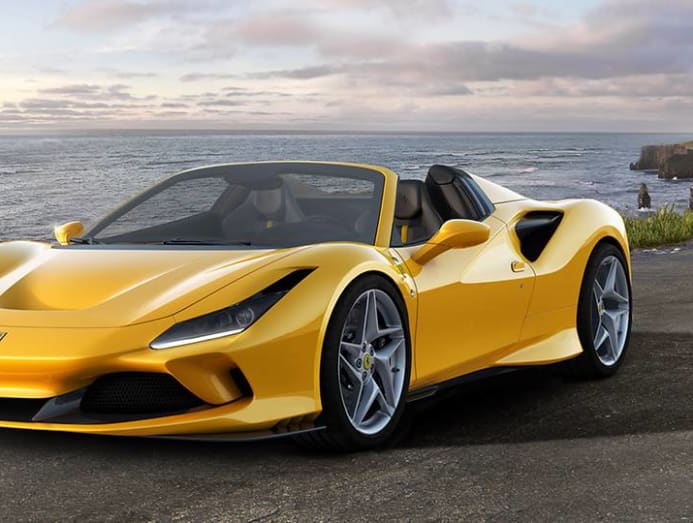 Suffice it to say, you won't be doing that too much on public roads, but even driven with the merest hint of aggression, it's pretty clear the F8 Spider is stupendously competent.
It steers with laser-guided precision, without the sort of twitchiness that afflicted its predecessor, the 458 Spider, and the sort of mechanical grip it seems to conjure up from thin air inspires a good deal of confidence.
And that's probably the best thing about the F8 Spider. In spite of the frankly silly amounts of power it produces, it has the magical ability to flatter drivers of all skill levels. Still, that probably pales in comparison to how it's…
SURPRISINGLY USABLE DAY-TO-DAY
Back in the day, Ferraris were occasional things. They were far too peaky, far too savage to be considered for the prosaic task of merely commuting from, say, home to work and back again.
The F8 Spider, however, is a completely different beast to Ferraris of old. The seven-speed dual-clutch transmission is a boon in that department, taking all the guesswork out of shifting gears.
The gearbox, which is whip-crack rapid when being driven hard, is just as happy to crawl through city traffic, making the F8 Spider no more grating than any other mid-sized executive saloon.
Of course, you'll have to watch out for its prodigious width – a fraction under 2m –which makes negotiating certain multi-storey carparks a bit of a tricky affair, but that's about it.
The F8 Spider can also perform double-duty as a perfectly serviceable daily commuter, which again sounds terribly mundane, but the fact it can do that, and still perform as a Ferrari should, is commendable.
A STUNNING, DRAMATIC INTERIOR
As with its daily suitability, an interior to match its million-dollar price tag wasn't always a given in a Ferrari. Even Ferraris from as recent as a decade ago had interiors with wobbly panels and garish, hard black plastics.
The F8 Spider's cockpit, on the other hand, is as stunning as its exterior. A yellow-backed rev counter takes pride of place in the instrument cluster, flanked by a pair of screens that can be configured to monitor such telemetry data as tyre pressure, engine oil temperature, turbocharger boost, or even navigation data and multimedia playback.
The quality of the cabin trim is also beyond reproach, with crisp, tactile feedback on all switchgear, plus leather and carbon fibre (if you so choose to spec into it) as far as the eye can see.
Adding to its daily suitability above is also a remarkably airy cabin, and that's with the folding hard-top up. The F8 Spider has excellent all-round visibility, which once again, isn't a given in cars of its ilk.
BUT IS THE F8 SPIDER A LITTLE TOO GOOD?
Well, that depends entirely on your point of view. Objectively speaking, the F8 Spider is virtually faultless. Its engine is an absolute gem, blessed with the oxymoronic traits of savage thrust and docility in equal measure.
Its chassis, too, is just about the finest that Ferrari has ever made, and that's saying something. It gives up nothing to its hard-top sibling, and if you can spare the extra S$100,000, it's undoubtedly the one to go for, given the extra visual and aural drama you get when you drop the top.
And topping it all off is an interior that's built with the same care and attention lavished on Italian designer furniture. It's a touch spartan, to be sure, but then again, one doesn't buy a Ferrari because they're expecting loads of bells and whistles. The F8 Spider has just enough equipment to get the job done, and nothing more. As it should be.
But we couldn't help but feel that something might perhaps be missing in the F8 Spider. In that – and we realise how silly this sounds – it lacks imperfections. Part of a Ferrari's mystique is that there was always this nagging feeling that the car is better than you are, with a slight hint of danger thrown into the mix.
The F8 Spider is none of those things. In spite of its massive power output, which seems tameable by no mortal (that is, mortals who aren't qualified race car drivers), its personality is as malleable and "friendly" as they come.
Now, we realise this, to most people, is a good thing. And if you are of that bent, you'll find that the F8 Spider could well be the Ferrari you've always dreamed of, made real.