What it's like to drive the Ferrari Roma alongside a Singaporean pro racer
The Ferrari Roma is said to be one of the most powerful, entertaining and fun Ferraris to drive on the roads. We took this powerhouse out for a spin, taking turns at the wheel with Ferrari GT pro racer Sean Hudspeth.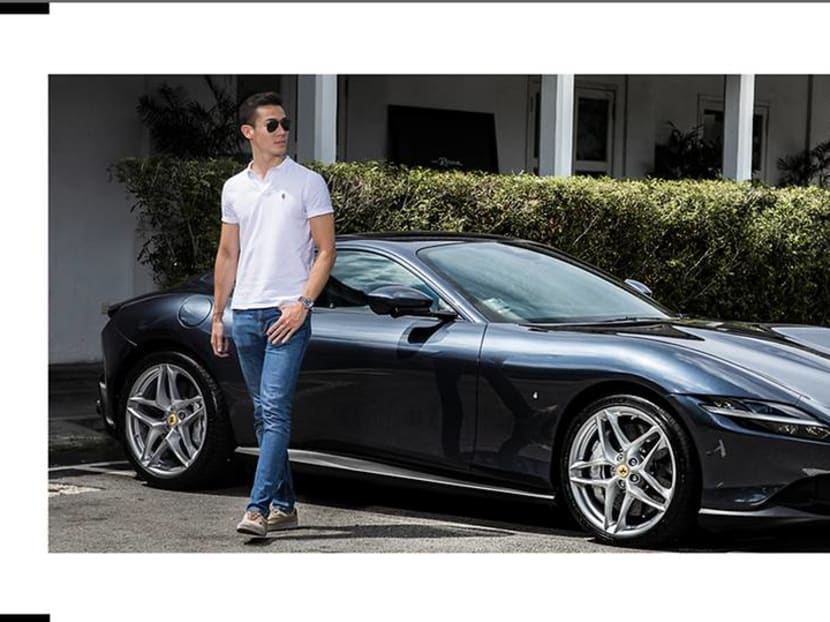 In a world where the sound of an explosive exhaust announcing your arrival or departure almost borders on the profane, the new Ferrari Roma arrives as debonair as your date for the red carpet.
The Roma evokes a sense of elegance and understated luxury that could not be more perfectly timed for this climate as the pandemic continues to rage, and pandemonium in some parts of the world persists.
This is not to say the Roma does not turn heads. She does indeed, but with a nod of appreciation rather than disapproval that super sports cars sometimes induce. She is not garish, nor does she scream look-at-me by any measure. She simply exists in self-possessed beauty, and that is the very reason that draws you to her.
She's an Audrey Hepburn even to a post-United Nations Angelina Jolie. She, if she were a he, is a Cary Grant to Leonardo DiCaprio even in Great Gatsby's finery.
Defined by refined contours and curves in all the right places, she is as regal as she is resplendent; a 620hp turbocharged V8 powerhouse robed in nobility. In short, the Roma could tear it up just as an F1 car in Ferrari livery would, just that she's dressed up for the Met Gala instead of the race track.
And so it was, as we arrived at The Dempsey Cookhouse & Bar for our exclusive tete-a-tete with the Ferrari team.
We swiftly discovered, upon our arrival, that we were to be immersed in the world of La Nuova Dolce Vita (the new good life); Ferrari's signature philosophy so beautifully embodied in the Roma.
Inside a private chamber of the restaurant, the chic black-and-white interiors were filled with red blooms and elegant tableware for a setting worthy of royalty.
But the real treat was soon to be revealed: A lanky, 188cm-tall Singaporean lad named Sean Hudspeth, who happens to be a professional GT racer for Ferrari with 13 race wins, 37 podium finishes, nine pole positions, and two championship titles under his belt.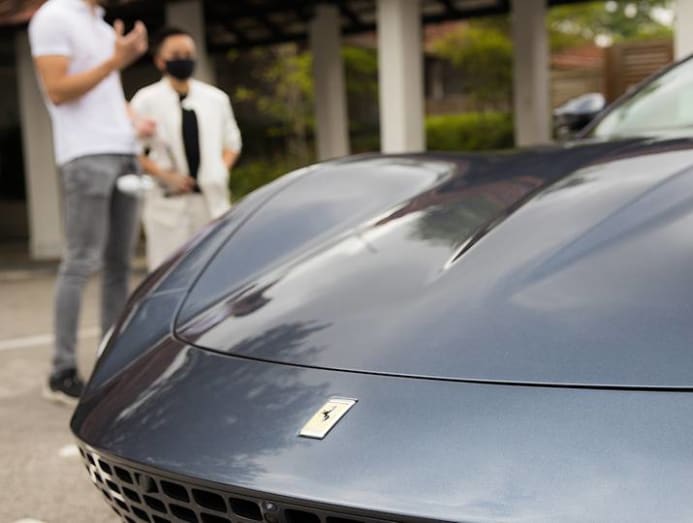 The 27-year-old is also a certified Ferrari instructor, and was to take us roaming about in the Roma. It was thrilling from the get-go, as Hudspeth headed straight for Singapore's own "99 Bends" on South Buona Vista Road leading up to Kent Ridge Park, carving up corners like, well, a pro.
Watching Hudspeth at the wheel was a sight to behold; a delightful confluence of mastery and artistry. Every flick of the paddle shift, like a stroke of brush of an Old Master to canvas. Every masterful manoeuvre through a bend, demonstrating the ferocity of this Ferrari.
ZERO TURBO LAG
Like all other turbocharged Ferraris in the range, the Roma delivers almost instantaneous throttle response in line with the Maranello manufacturer's zero turbo lag concept – powering the car from zero to 100kmh in the blink of 3.4 seconds.
The mid-front-engined V8 2+ boasts the best weight/power ratio in its segment (2.37 kg/cv) matched with a more superior Side Slip Control 6.0 system that incorporates an algorithm delivering a precise estimate of sideslip to the on-board control systems.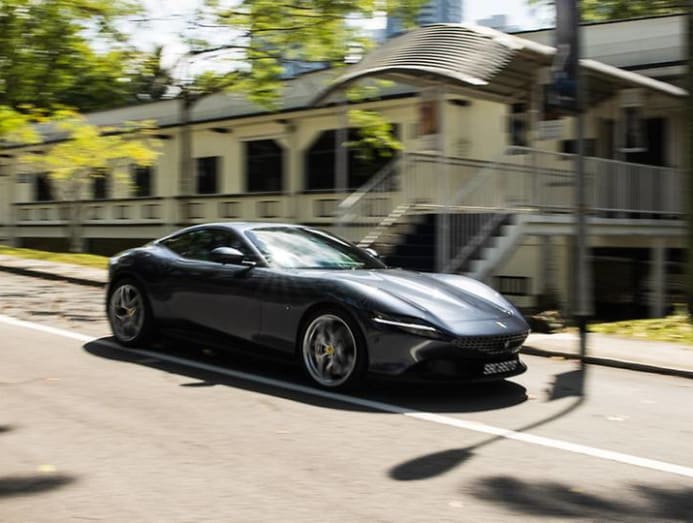 In short, you'll experience exceptional handling dynamics and responsiveness with the Roma, said to be among the most powerful, entertaining and fun Ferraris to drive on the roads.
Gear shifts are quicker, smoother and more consistent, thanks to the new 8-speed dual-clutch transmission, which is also more compact and six kg lighter than its 7-speed predecessor. The new clutch module may be 20 per cent smaller, but it delivers 35 per cent more torque than the previous 7-speed – climbing all the way up to 760 Nm in seventh and eighth gear.
Meanwhile, the Roma's Variable Boost Management system adjusts torque delivery to the selected gear, delivering increasingly powerful pick-up as revs rise, while the longer gear ratios help keep fuel consumption and emissions down.
The car's aerodynamics are further heightened by the mobile rear spoiler attached to the rear screen, which retains the Roma's formal elegance when retracted, or delivers sports car-type downforce when automatically deployed at high speeds in three positions – Low Drag, Medium Downforce and High Downforce – to optimally balance the car.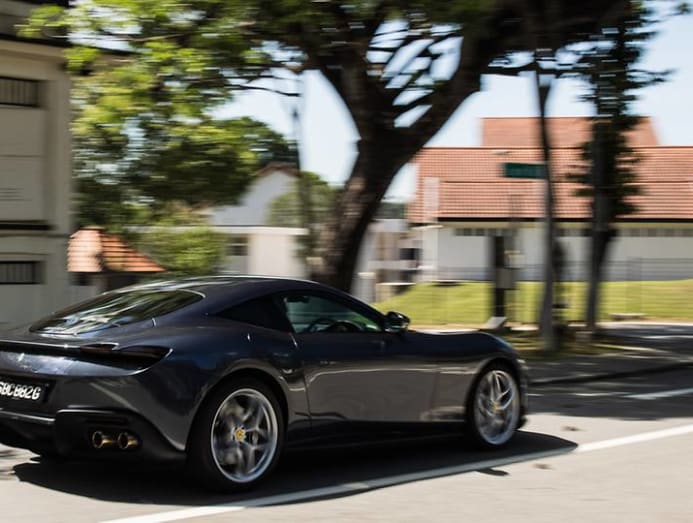 But enough of the technicalities. It's my turn to take the reins of this Prancing Horse and have some fun, as Hudspeth and I swap places.
It didn't take me more than a moment to begin feeling wistful for the days we could travel and put such powerhouses as the Roma through the paces on overseas drives. There's nothing quite like the exhilaration of pushing a high performance car to its limits through wide, open roads and winding mountain passes in countries blessed with undulating topography.
Instead, my time with the Roma was met by showers of blessing in usually-sunny Singapore, and I had to switch the drive mode to Wet shortly after taking the wheel.
The shift was immediate and well-sensed, as the car fastened itself more securely to the road without haste. There are four other modes – Comfort, Sport, Race and ESC – each calibrated for varied handling and grip dynamics, with Race mode deactivated for road driving.
For those who do harbour racing ambitions, the new steering wheel will go some way towards fulfilling those fantasies. Its new design introduces a series of multi-touch controls that allow the driver to control any aspect of the car without ever needing to take their hands off the wheel.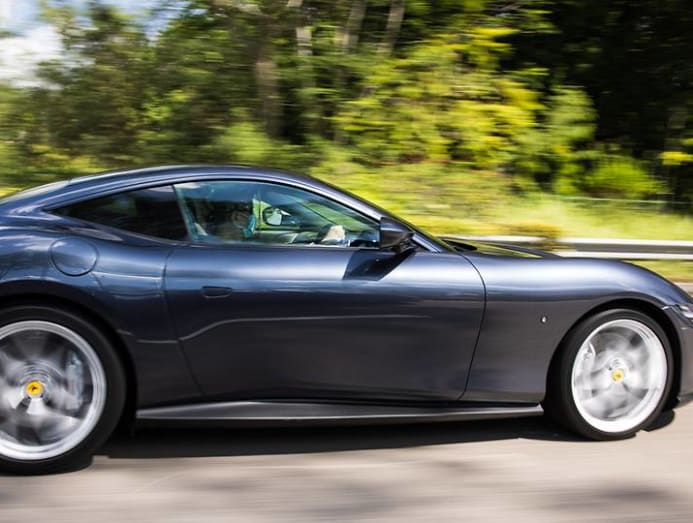 In addition to standard headlights, windscreen and indicator controls, a 5-position manettino (little switch) evocative of those found on F1 steering wheels appears for the first time here on a Ferrari grand tourer.
On the right-hand spoke of the steering wheel, a touchpad allows the driver to navigate central cluster screens. To the left, voice and adaptive cruise control functions give the driver easy and faster access to safety assists like autonomous emergency braking, lane departure warning, blind spot detection and surround view camera functions while driving.
COCOONED IN LUXURY
The two-door coupe is a picture of design purity, exuding much character and presence with its elongated, overhanging shark nose front while minimalist elegance is achieved through the removal of vents and superfluous decorations; only keeping those necessary for engine cooling.
Inside, driver and passengers alike are cocooned in luxury, an exemplar of Italian craftsmanship as full-grain Frau leather and Alcantara yield to the touch, while chromed aluminium and carbon fibre accents inject the customary sports finish.
With a push of the engine button, all digital elements spring to life in a ceremony of sorts, setting the cockpit aglow with some of the finest automotive technology at your fingertips.
The instrument cluster comprises a 16" HD screen that is curved for easier reading and an intuitive and easy-to-use new (optional) 8.4" HD central display set between the two cockpits incorporates the other infotainment functions like sat-nav and climate control.
In the Roma, the passenger plays more than a supporting role, bestowed with a greater sense of control as there's an option to include an 8.8" full HD touchscreen on the passenger side, which displays the car's performance figures and status, and can also be used to control the music, sat-nav, air-con and other functions.
By tradition, every Ferrari engine is set to its own unique soundtrack and with the Roma, this is no exception. The geometry of its entire exhaust has been redesigned: The two rear silencers have been done away with, creating a new geometry for the by-pass valves now machined to an oval shape, which significantly reduces backpressure in the tailpipes – thus improving sound quality.
So instead of an insufferable shriek, the Prancing Horse approaches with auralgasms aplenty, magnetising all in its vicinity.
FERRARI ROMA SPECIFICATIONS
ENGINE: V8 - 90° TURBO
POWER: 620 hp / 5,750 – 7,500 rpm
TORQUE: 760 Nm / 3,000-5,750 rpm
TRANSMISSION: 8-Speed F1 dual-clutch gearbox
0-100 KM/H: 3.4 seconds
TOP SPEED: > 320 kmh
PRICE: S$888,000 (without COE)