The SF90 Stradale is Ferrari's most powerful – and it's an electric car
Scuderia Ferrari celebrates its 90th anniversary this year, and the Italian supercar manufacturer's first ever Plug-in Hybrid Electric Vehicle is a fitting and powerful tribute.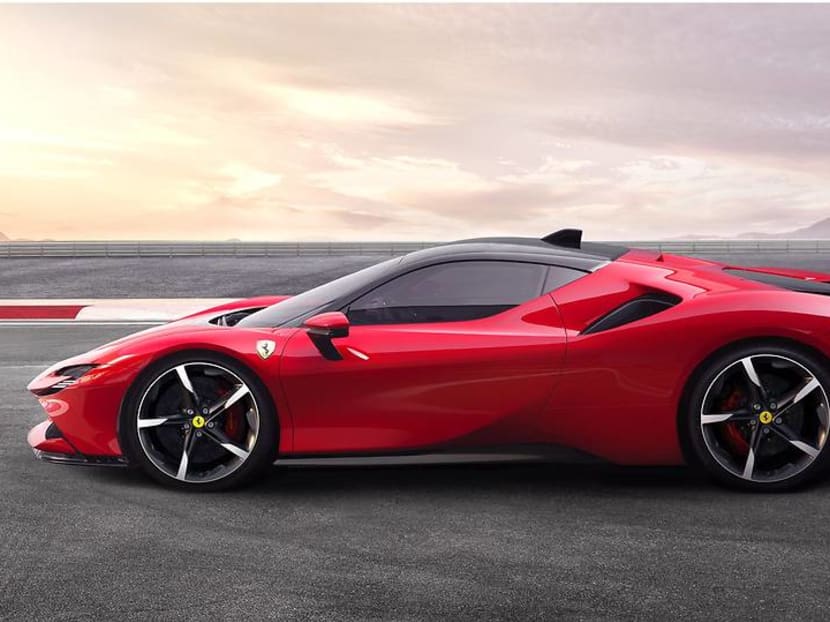 In Formula One, no other team is as old or successful – or has more ardent tifosi or fans – as Scuderia Ferrari. And with Ferrari's racing team celebrating its 90th anniversary in November this year, the Italian supercar manufacturer's latest ride, the SF90 Stradale, takes on added significance as a nod to the team's storied history, sharing its name with the F1 car.
The Ferrari SF90 Stradale – which is Italian for "road" – looks like a toned-down version of the LaFerrari or wilder-looking FXX K. A bit like a fascinating and cool-looking date you can still bring home to your parents without freaking them out.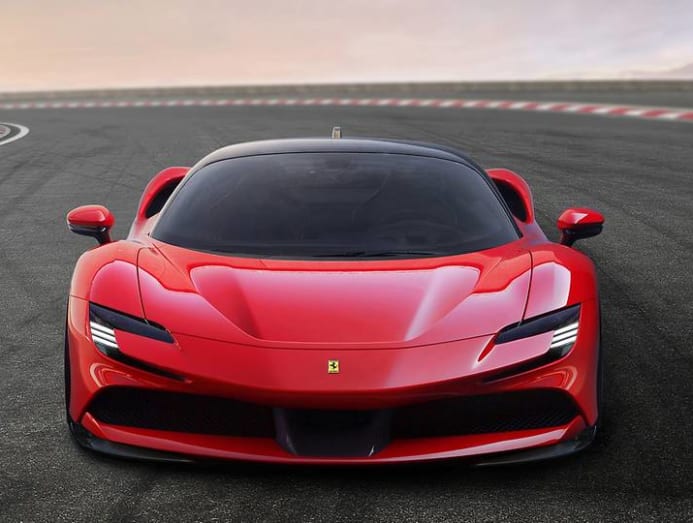 In a radical evolution of the proportions of Ferrari's mid-rear-engined production berlinettas from past 20 years, it has more compact front and rear overhangs. Its enhanced cab-forward architecture emphasises the position of the mid-mounted engine, while a very low centre of gravity allows the bubble-shaped cabin to drop 20mm.
Together with a more curved windshield, slender A-pillars and a wide track, the SF90 Stradale looks sleek and exquisitely balanced.
SLEEK OUTSIDE, POWERFUL INSIDE
But beautiful design is only to be expected of a Ferrari. What's more groundbreaking is the technology found under the hood.
As the Prancing Horse's first ever PHEV or Plug-in Hybrid Electric Vehicle, the SF90 Stradale delivers unprecedented performance for a production car.
Its 4.0-litre turbocharged 90-degree V8 engine pumps out an impressive 780hp, the highest power output of any Ferrari eight-cylinder unit ever. It is delivered to the rear wheels via a new eight-speed F1 dual-clutch transmission.
There are also two electric motors on the front axle, while a third is located between the engine and gearbox.
Combine the F1-derived trio's 220hp and the V8's 780hp and that's a total of 1,000hp. Combine that with its weight-to-power ratio of 1.57 kg/hp and 390kg of downforce at 250 kmh and you've got, for the first time in Ferrari's history, a V8 that's a top-of-the-range model.
SUPERCAR DRIVING MODES
But if it sounds a bit too much to handle, don't worry, it's not. Far from being complicated, the driving experience is pretty straightforward – at least for a supercar.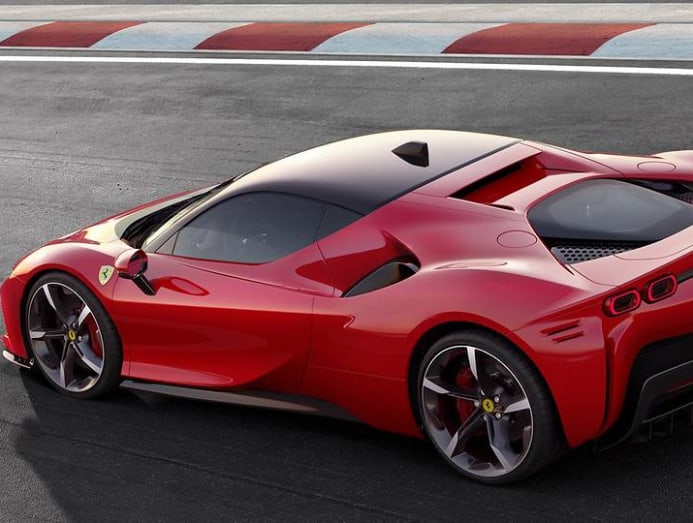 Using the steering wheel-mounted eManettino selector, you've got four power unit modes to choose from: eDrive (in pure electric mode and front-wheel-driven), Hybrid (the default setting when the car is turned on); Performance (which keeps the engine running to charge the battery for instant power and more driving fun); and Qualify (where the electric motors work at their highest potential of 162kW for maximum performance).
Once a driving mode is selected, the sophisticated control logic takes over to seamlessly manage the flow of power between the petrol engine, the electric motors and the batteries. 
The 1,570kg SF90 Stradale has a front/rear weight distribution of 45:55 and is the first Ferrari sports car to be equipped with a four-wheel-drive, which results in accelerations of up to 100km in 2.5 seconds, all the way to a top speed of 340kmh.
FUTURISTIC COCKPIT
With all that power propelling you forward at warp speed, it may be difficult to concentrate on actually enjoying the SF90 Stradale's futuristic-looking, F1-style cockpit.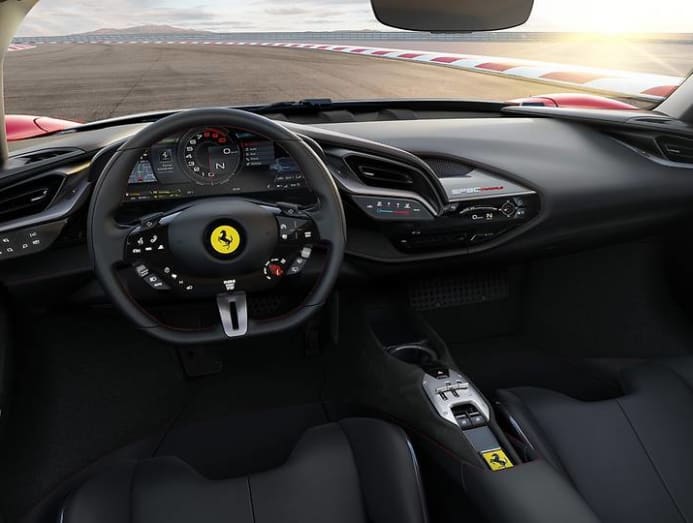 Inspired by aeronautics and employing all-digital technology with an updated Human Machine Interface, the central instrument cluster uses a single 16-inch digital HD screen that curves towards the driver. It's a Ferrari first for a production car, and when the engine and motors are switch off, the onboard instruments go black for a minimalist, and very luxe Italian, look.
Just as in a Ferrari F1 car, all the necessary dynamic controls are found on the steering wheel, including the engine start button.
Breathtaking styling, breakthrough technology and eye-popping performance – it's a combo that makes the SF90 Stradale stand out, even for something that's already proudly wearing its Prancing Horse badge.
SPECIFICATIONS
Engine: 3,990cc, V8, turbocharged
Gearbox: 8-speed F1 dual-clutch transmission
Power: 780 hp at 7,500rpm
Torque: 800Nm at 6,000rpm
Motors: 220hp
Total system output: 1,000 hp
Top speed: 340 kmh
Distributor: Ital Auto, tel: 6475 1118