Forget plug-in hybrids. Rolls-Royce is rolling out its first fully-electric car – Spectre
It promises even more of that trademark 'magic carpet ride' glide, said Rolls-Royce CEO Torsten Muller-Otvos when CNA Luxury caught up with him in France.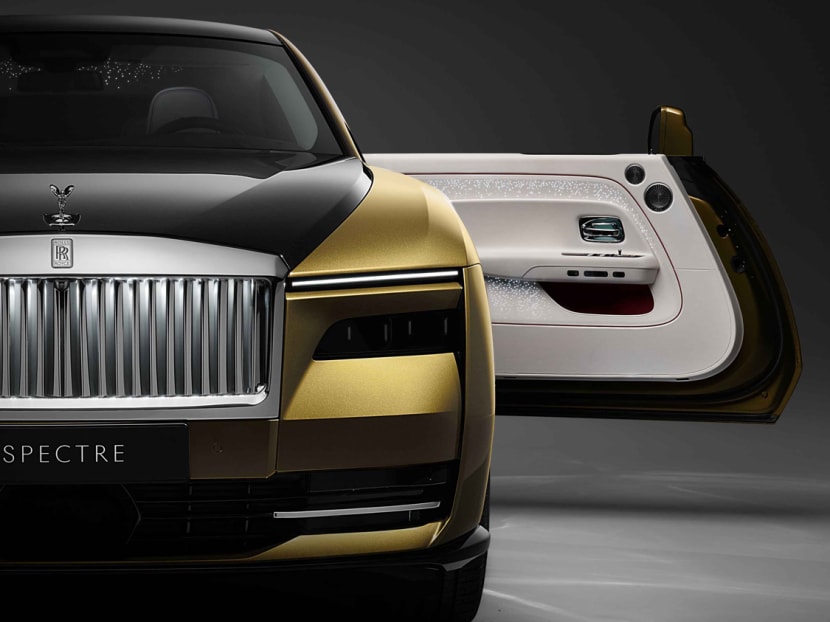 Rolls-Royce is having a stellar year. Make that phenomenal post-pandemic years, to be precise. So if, like me, you've been noticing more Rolls-Royces on Singapore roads of late, it's not just your imagination.
The ultra luxury British carmaker last month reported record annual results for 2021 that certainly corroborate the anecdotal evidence. The company shipped 5,586 Rolls-Royces to clients around the world – 49 per cent more than in 2020, amounting to the highest-ever sales results in the marque's 117-year history.
"The pandemic was quite surprising for us," Torsten Muller-Otvos, chief executive officer of Rolls-Royce Motor Cars, told CNA Luxury.
"It was interesting to see that whilst being locked at home, many of our clients and ultra high net worth individuals accumulated even more wealth. And there was no chance to travel so the spending on luxury goods increased quite dramatically during the pandemic times. This was not only true for us, that was true for all luxury brands worldwide," he continued.
According to Muller-Otvos, sales volume has surged back up to pre-pandemic levels three years ago and is continuing to grow. "I can also report that we have an order book which is fine until 2023, even though we have discontinued our business in Russia overnight and there's zero volume coming from Russia. It's great to see this compensated by a strong order book all over the world; be it the Americas, Europe, the Middle East and Asia," said Muller-Otvos. 
Complementing these geographical shifts is another fascinating phenomenon that bears observing: The changing demographics of the Rolls-Royce customer.
It's fair to say the Rolls-Royce badge has today evolved far beyond being the ubiquitous leitmotif of the British royal family to becoming the ultimate emblem of one's arrival, regardless of where you came from or how you earned the money to pay for everything the Spirit of Ecstasy figure on the bonnet represents.
"We've seen dramatic changes over the last 12 years," noted Muller-Otvos. "When I joined [Rolls-Royce], the average age [of our customer] was 56. It was very much a chauffeur-driven brand – 80 per cent chauffeur-driven, 20 per cent self-driven – and it is now very much the other way around," he shared.
As a reflection of the current zeitgeist, Rolls-Royce clients are also getting younger and younger.
"The reason is that it is far easier to generate money in today's times than it used to be 20 or 30 years ago. With tech businesses today, it is far easier early on in life to develop mind-boggling business ideas to really earn money. The average age of our customer today is 43 years. This is unbelievable," Muller-Otvos remarked.
In another trend paralleled by the growing segment of young, successful women smashing it in pop culture, Rolls-Royce is reporting more female customers than ever.
"Twelve years ago, it was 1 per cent. Now, the female share is 15 per cent. We are not chasing certain numbers but having seen the growth over the last few years and knowing what we have in mind for the future, which includes going electric – and that very much attracts female clients – I'm very confident this will go up to 20 per cent to 23 per cent in the next five to seven years," Muller-Otvos added.
THE SPIRIT OF SPECTRE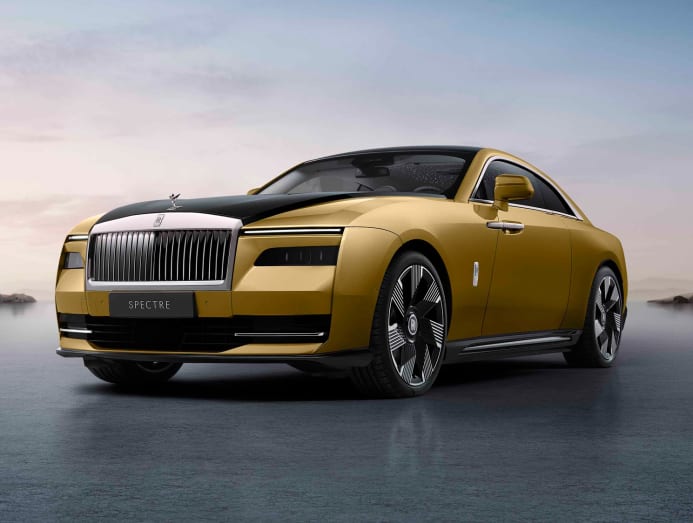 When you already inhabit a league of automotive luxury that's all your own, the race towards electrification is not something you're easily seduced by.
Instead, it's a carefully calibrated move.
Unbeknownst to many, Rolls-Royce co-founder Charles Rolls had already in 1900 prophesied an electric future for automobiles after he encountered an early electric motor car then.
The company had also been experimenting with an electric powertrain since a decade ago that resulted in the 102EX and 103EX, fully operational, all-electric one-off prototypes.
"There was very good feedback but the charging time as well as the range of the car was not to our standards so it was not possible [to launch it] at that time," Muller-Otvos recalled.
"But the technology has evolved massively over the last few years and we are now in a very good position to bring an electric, true Rolls-Royce to the market," he explained.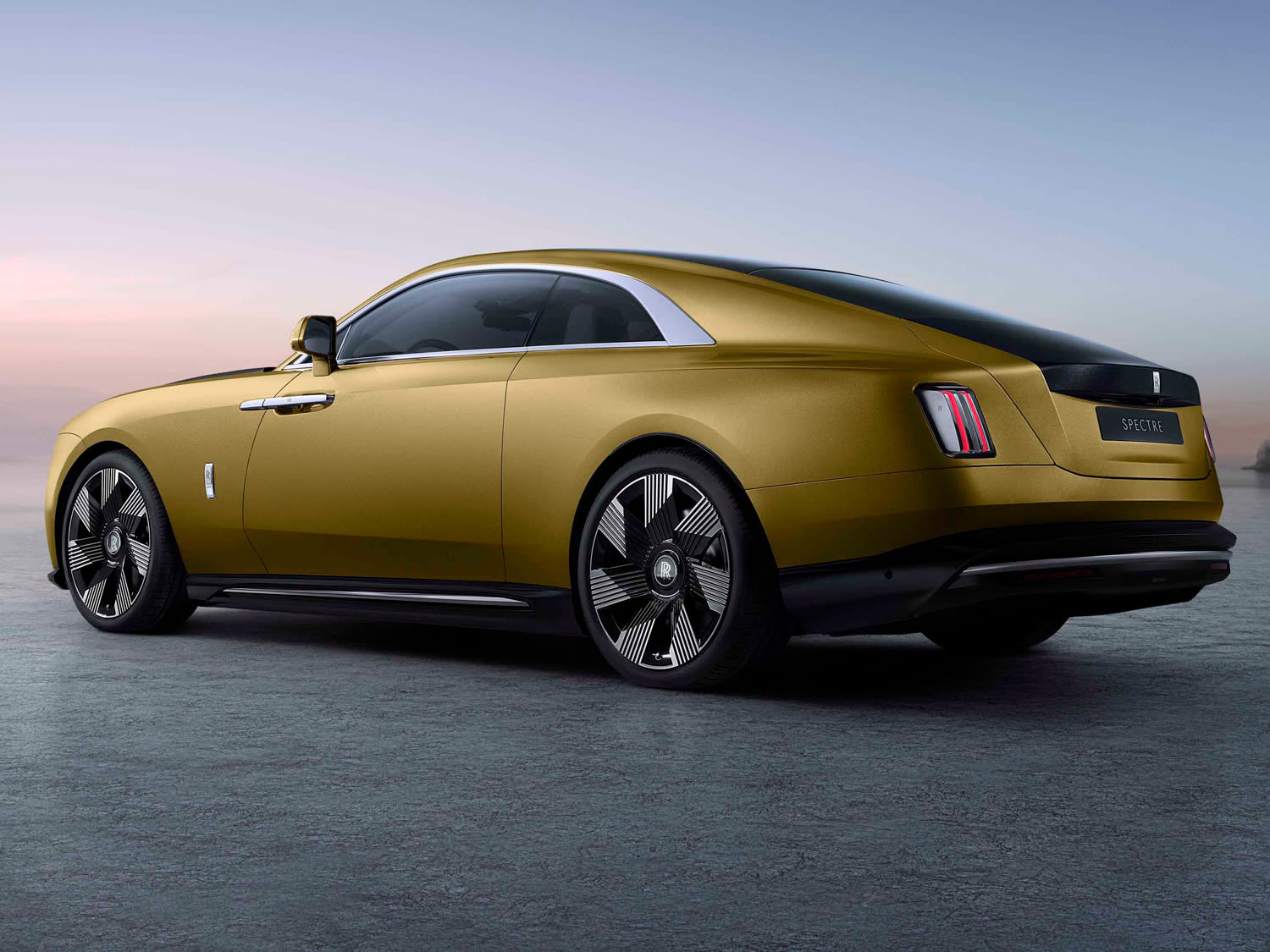 In September, Rolls-Royce officially unveiled Spectre, its first all-electric car with deliveries slated to begin in Q4 of 2023.
"We made the decision not to go into plug-in hybrids as an in-between solution, but to roll straight into a fully-electric Rolls-Royce," he said.
Not one to roll with market trends, Muller-Otvos further commented on how the electric revolution is impacting the carmaker: "Electric fits well with the brand. Rolls-Royces have always been very silent; we are not defined by loud engines and exhaust noises."
"Electric propulsion is torque-y, powerful, and its effortless acceleration gives you this flight-on-land feeling so it's going to be even more of that magic carpet ride feeling [Rolls-Royces are known for]. So what you will see at the end of next year is that this is a magnificent Rolls-Royce first, and a brilliant electric car second."
THE MOST CONNECTED ROLLS-ROYCE IN HISTORY
Rolls-Royce, which is owned by BMW Group, has pledged that its entire product portfolio will be fully electric by 2030.
Spectre, its first fully-electric vehicle to roll off the production line, boasts several other 'firsts', too.
Its form is collectively inspired by modern yacht designs, haute couture, modernist sculpture and contemporary art, featuring a fastback sloping roofline that recalls the dramatic silhouette of some of the most evocative automobiles and watercrafts in history. The two-door, four-seater will be the most aerodynamic Rolls-Royce ever produced, with a drag coefficient of just 0.25.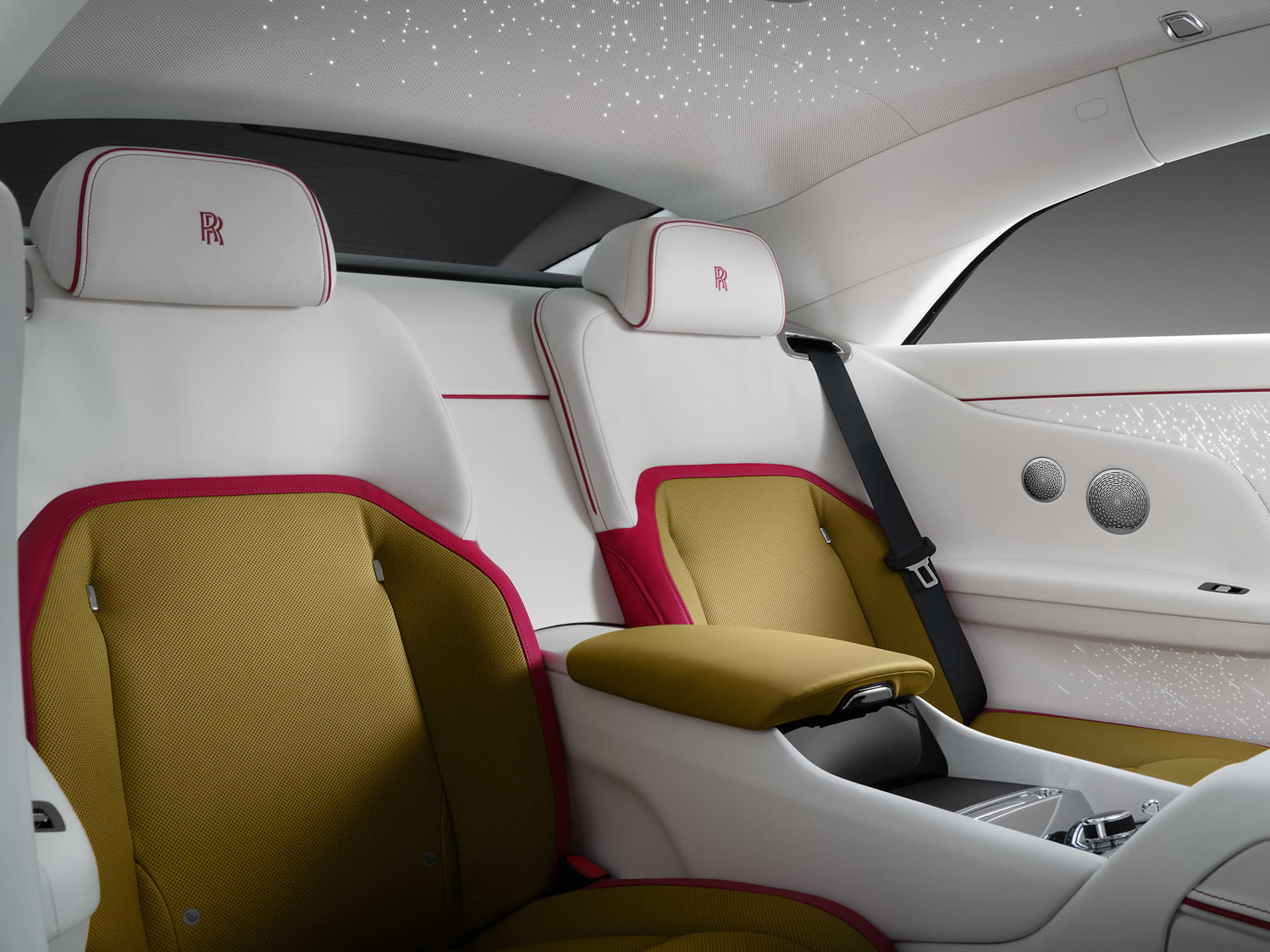 While Spectre's interior suite offers clients near-infinite bespoke possibilities as with all Rolls-Royces, this is the first time that a series production Rolls-Royce is available with Starlight Doors (an extension of its signature Starlight Headliner ceiling concept), featuring 4,796 softly illuminated 'stars'.
Unsurprisingly, Spectre will also be the most connected and digitally-forward Rolls-Royce in history.
The company is still in the midst of finessing performance figures but preliminary data shows that Spectre is expected to have an all-electric range of 520 km and offer 900Nm of torque from its 430kW powertrain while completing the century sprint should take just 4.5 seconds.
As for pricing, Rolls-Royce hasn't released such figures but says Spectre will be positioned between its Cullinan and Phantom models.
"VOLUME IS CONTRARY TO LUXURY"
While there is certainly great prestige and bragging rights to being one of the first to own the first electric Rolls-Royce in history, one niggling question remains: Will the technological leap that Spectre heralds end up alienating traditionalists and Rolls-Royce loyallists?
"Our clients never buy a Rolls-Royce for sheer, 'A' to 'B' transportation purposes. It's an object of art and a collectors' item for many. And for that reason, that's not an issue, as long as it is a true Rolls-Royce," Müller-Ötvös offered.
First reactions and deposits paid for the Spectre so far have been "extraordinary", he added.
So, how many such orders for Spectre has the company collected so far?
"I'm shy about [revealing] numbers," he said. "You would never hear Hermes talking about how many Birkin bags they have sold. Volume is contrary to luxury and for that reason, I am not talking volume. I'm talking price position; I'm talking exclusive, limited numbers. We sell about 5,000 cars every year. That indicates the exclusiveness."
Well, that is certainly how Rolls-Royce, well, rolls.