This S$1.6 million Franck Muller watch is the only piece in the world
Franck Muller launches the Vanguard Revolution 3 Skeleton Cortina Watch 50th Anniversary Special Editions – a collection of five unique timepieces you won't find anywhere else in the world.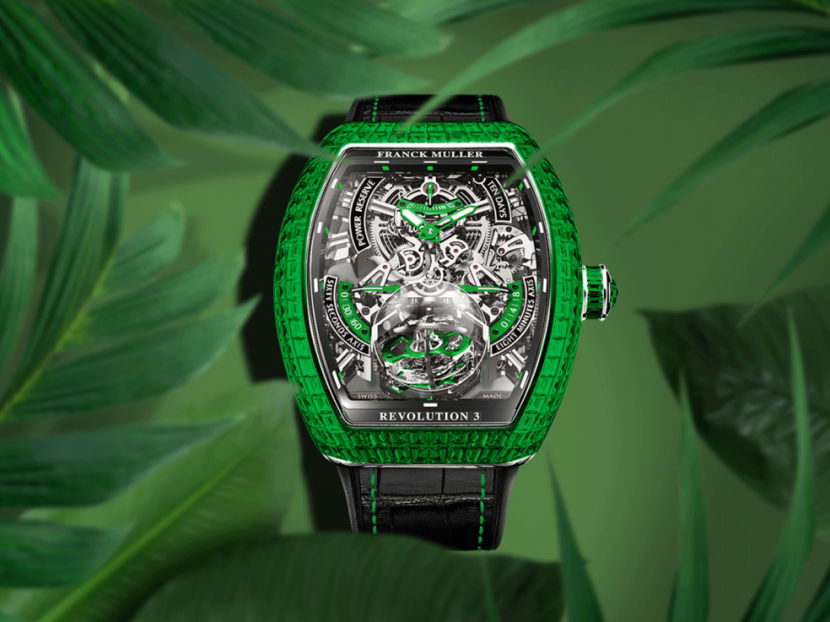 It was, perhaps, never any surprise that Franck Muller watches would do well in Asia. Or in Singapore, a small but savvy market known for its disproportionately high ratio of highly knowledgeable watch connoisseurs.
Franck Muller watches are vibrant and even flamboyant, perhaps; often diamond-encrusted timepieces that command the attention of an entire room. They flaunt a rather signature aesthetic that pairs eye-popping design with eye-watering prices, as each houses the highest level of technical mastery in mechanical complications you'll find in the Swiss watchmaking industry. In short, they're for characters with larger-than-life personalities that echo that of its eponymous founder.
"Franck Muller has always been different. The DNA of Franck Muller has always been about the colours, the sizes and the complications. We were the first to bring colours into watchmaking, Franck was the first to put the tourbillon front and centre of a wristwatch, Franck was the first to do a double-axis tourbillon, Franck was the first to do a triple-axis tourbillon, and we continue to evolve within those complications, and with new creativity within the different shapes and designs," said Nicholas Rudaz, CEO of Franck Muller.
This is Rudaz's second market visit to Singapore since taking over as CEO from co-founder Vartan Sirmakes in January this year.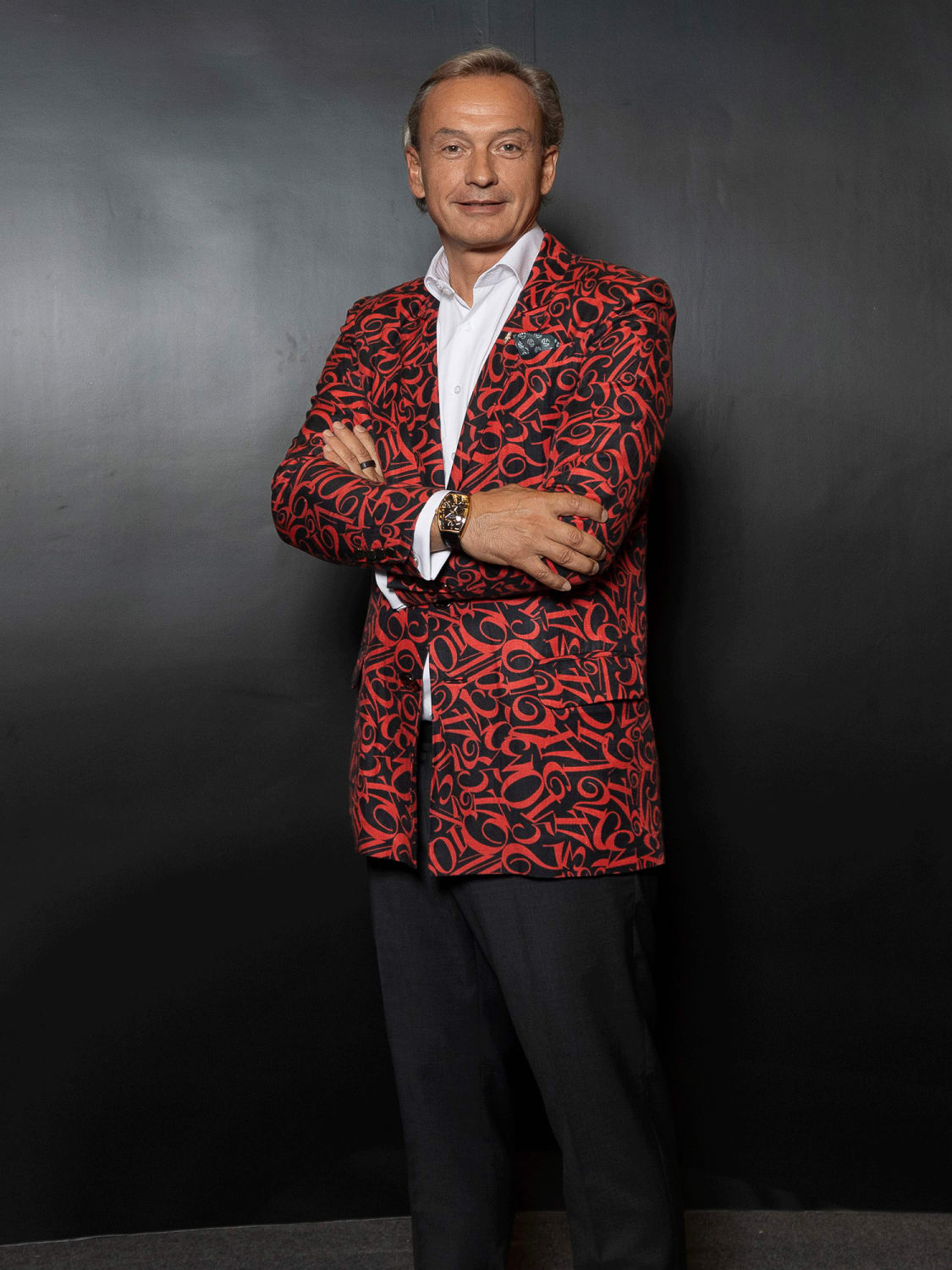 As for Muller himself, the trailblazing watchmaker has retired from the business and has not been involved in the brand for the past 17 years. He's also no longer a shareholder. But he did, however, make a recent cameo at the company's 30th anniversary celebrations in April this year at Watchland, the maison's manufacture in Geneva.
"Franck is a character-and-a-half as you know, and we all love him. He is still a friend of the company, of course, and it's good to bring him back from time to time," said Rudaz.
AN ENDURING LEGACY
We are seated in the boardroom of Cortina Holdings, together with Cortina Watch CEO Jeremy Lim, as the mainboard-listed luxury watch retailer had acquired former competitor Sincere Watch for S$84.7 million in March 2021 – and inherited with it, the distributorship rights to the Franck Muller brand in 13 countries within Asia Pacific.
Much has changed for all involved but what endures is Muller's creative spirit enshrined by an enduring legacy on display in the form of the Vanguard Revolution 3 Skeleton Cortina Watch 50th Anniversary Special Editions, designed to commemorate the golden jubilee of the homegrown watch player.
There are only five timepieces in the series, marking each decade Cortina has been in business, and each rendition is a unique piece, festooned with either baguette-cut diamonds, rubies or emeralds, paired with either rainbow-coloured or sleek black dials.
And they'll only set you back between S$1.51 million and S$1.68 million each.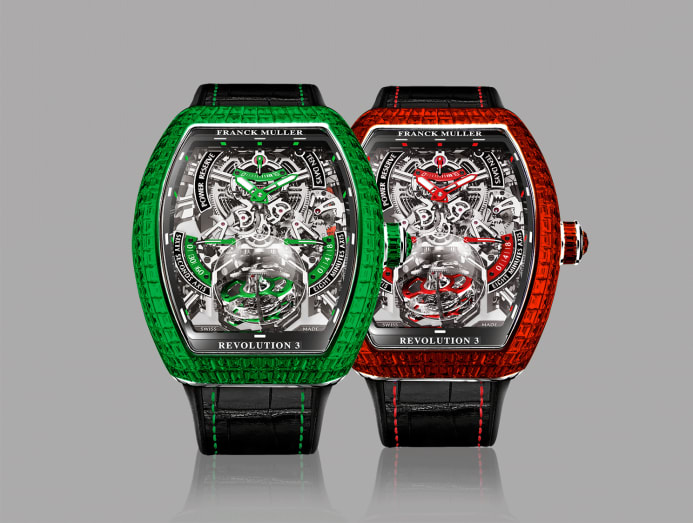 The five-piece series is based on Franck Muller's groundbreaking Vanguard Revolution 3 Skeleton model, which was the first watch to feature a tourbillon that rotated on three axes, thereby countering the effects of gravity from all directions, when it debuted in 2004.
"This watch includes all the complications and DNA of Franck Muller; the new Vanguard tonneau shape where it's curved in only one direction instead of being curved in two directions like the regular Curvex; it has the triple-axis tourbillon, and it has got the Color Dreams colours within the movement. It's a stunning, unique piece topped off with incredible baguettes," Rudaz enthused.
This extraordinary piece will be showcased at Cortina's special anniversary exhibition at Paragon Shopping Centre's main atrium from Sep 1 to Sep 13, along with a handpicked selection of 56 of the most impressive grand complications and the finest examples of high jewellery watchmaking from the Cortina portfolio worth a total of S$12 million.
In addition to its collaboration with Franck Muller, the watch retailer also created special editions with seven other luxury watch brands including Chopard, Patek Philippe, Cartier, Blancpain, Corum, TAG Heuer, and independent brand, Moser, which have been released throughout the year as part of its 50th anniversary celebrations.
"Franck Muller, being the masters of complication, has the most complicated watch in our series of collaborations with the eight brands. Among our special editions with the various brands, none of them compete with each other as we want to bring out each of their strengths," Lim offered. 
MORE EXPENSIVE DIAMONDS
According to Rudaz, the pandemic changed a lot of things in the watch business – including the price of diamonds and precious gemstones.
"The whole industry has been affected in many different ways, from scarcity of gems to the difficulties in producing and delivering the watches. To find emeralds or rubies that are all the same colour and of similar, large size is incredibly challenging today," he noted.
Rudaz assures, however, that the company has "taken the hit directly", instead of passing on these price increases to the customer.
This is also why the remaining four timepieces of the 50th anniversary edition will only be ready and delivered to their eventual owners by November this year. 
In the meantime, ladies who love Franck Muller are likely to obsess over the new black diamond version of its Skeleton Rose just unveiled. 
"Our Skeleton Rose collection has been very successful and this version is even more striking. There's a lot of contrast – very different, just like Franck Muller has always been," Rudaz said.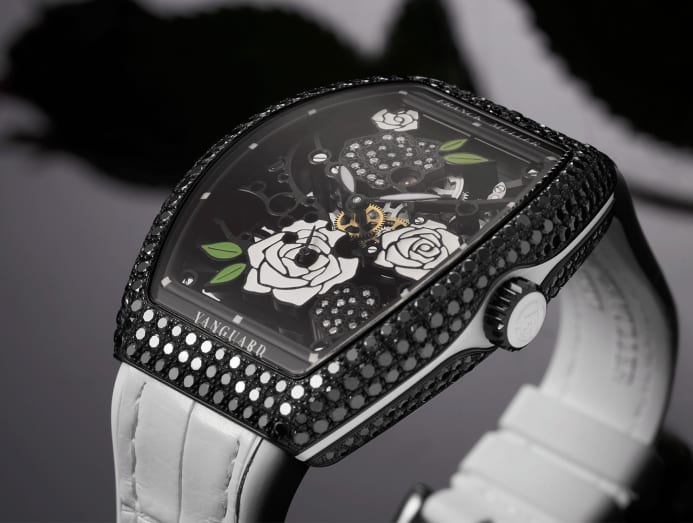 And in the world of luxury watches, it's the ladies who benefit the most, Lim believes.
"There are only ladies watches in the world now," he announced. "There's no such thing as men's watches. Because my wife will wear my watches but I cannot wear her watches. So, sorry men, Skeleton Rose is only for the ladies," he quipped. 
MARKET WATCH
As both Franck Muller and Cortina enter a new chapter in their respective histories, there's a sense of an easy, comfortable rapport between the two gentlemen in this blossoming partnership.
It has only been 18 months - the honeymoon stage, if you will. And most of this relationship has transpired over Zoom, with the two men only meeting in person thrice to date. They will reunite once more for Cortina's 50th anniversary gala dinner in Singapore this November.
Meanwhile, plans are afoot to expand the Franck Muller brand in Thailand, Vietnam and possibly Sydney. Cortina is also looking to relocate its Franck Muller boutiques to a "better" location in Marina Bay Sands, as well as in Melbourne.
"Historically, Japan has been our number one market and it's still consistent," shared Rudaz.
What has been surprising, though, is the fact that the watchmaker's business has been quite resilient these two years even though Chinese customers, which represented a large proportion of Franck Muller's clientele in the pre-pandemic era, have not returned in a significant way.
"The Chinese are no longer travelling to Europe and that has had a huge impact on the industry. We had thought that it would create a big decline in business but we've seen the brand growing quite well in places like France and Germany with the local clientele, which is the most surprising. We're still doing well with the Chinese across Asia, and Singapore is by far the most dynamic market," he affirmed.
FROM WATCHMAKER TO CHOCOLATIER
When business is slow, what's a Swiss watchmaker to do? Start making chocolate, of course.
During the pandemic, Franck Muller's Watchland manufacture was undergoing some physical restructuring and they were left with 500 sq m of space, which co-founder and former CEO Sirmakes decided to convert into a chocolate factory.
"In Switzerland, you have banks, you have watchmaking, and you have chocolate. It's the natural evolution. So we now produce chocolate because of COVID," Rudaz declared.
Thankfully, demand for Franck Muller watches has since picked up.
"Everything has been very challenging with this COVID situation during these last two-and-a-half years. It's been complicated, but we adapt and the creativity at Franck Muller remains both in design and complications. Demand is very positive right now, and the only problem we have is delivering [the watches]," he said.
Watchland produces 40,000 watches a year, and the company has been expanding its headcount, which numbers around 900 in Switzerland, including 450 workers in the factory.
This October will mark Rudaz's 16th year with Franck Muller.
"I love the brand and it's still got a lot of potential. Watchmaking is a booming industry and I think we do the most sexy, unique watches in the industry."