The allure of demi-couture: Halfway between pret-a-porter and haute couture
The fashion world is seeing a growing market for accessible yet unique couture pieces. What's the future for demi-couture?
In a fashion world that's looking for new things within shorter and shorter time spans, it's no surprise that, even as luxury streetwear, athletic leisurewear and fast fashion brands have transformed the ready-to-wear (RTW) scene in a few short years, there is a counter movement taking place.
The roots of demi-couture began growing a little more than a decade ago, when fashion began seeing ready-to-wear designers put out exquisitely handcrafted pieces in a collection, pieces that cost more than the average RTW piece but came with a lower price tag than haute couture, which is usually privately decided between the customer and the atelier and can easily go up to six figures.
Designers that were creating these less-inaccessible pieces of wearable art included Alexander McQueen, John Galliano, Valentino and Mary Katrantzou. Intricate handiwork, exquisite – often otherworldly – shapes and silhouettes, rare materials all featured in these demi-couture offerings. Fuelled by ecstatic fashion spreads in glossy magazines featuring these almost-unattainable dresses, coats, suits, an audience that liked to collect these special pieces began to grow.
McQueen had been doing demi-couture for years – way before the term was trendy – and Sarah Burton has so beautifully continued the late designer's couture-like creations year after year, pushing the limits on ready-to-wear.
However, it's Vionnet that has been credited with being the first to formally launch demi-couture – by simply being the first to outright call it that. Vionnet owner Goga Ashkenazi hired Hussein Chalayan to create the brand's demi-couture line to show at the Haute Couture Spring shows in 2014 – an enchanting collection of bespoke apparel made with high-level craftsmanship but costing much less than an haute couture piece because they are essentially "off the rack".
Her gamble paid off – Vionnet cemented its reputation as a must-have brand, even though the brand has since stopped showing at Couture Week due to the lack of financial viability. Chalayan was then hired to work on the brand's ready-to-wear collections, while Vionnet's demi-couture business continued behind the scenes, serving private clients.
This past January, Olivier Rousteing of Balmain followed in the footsteps of the house's founder Pierre Balmain and launched his demi-couture collection for the house. Balmain has not shown at Couture Week for 16 years. It was a natural progression for Rousteing: already his sensibilities veer towards couture-style finishing and detailing. His futuristic couture collection showed off the finest of his talents: one jumpsuit he dreamed up took six people and 1,200 hours to create –painstakingly crafting a "fabric" from ostrich feathers!
Singapore designer Thomas Wee also offers a demi-couture outfit with his pret-a-porter collections of distinctive hand-tailored outfits in fine fabrics like Shantung silk, each bearing strong Asian details. Tan Kheng Hua wore his kimono-inspired silk wrap gown to the Los Angeles premiere of Crazy Rich Asians last year.
Fashion expert Daniel Boey, who styled Tan for that event, explains, "Thomas creates one piece per collection, then he will make adjustments and add or tweak to make the outfit suitable for you. Demi-couture isn't just all beads – it can be bespoke but not couture. These are customised pieces from a collection."
So, what's the big deal about haute or not haute couture? Honestly speaking, to the untrained eye, many of these demi-couture pieces look practically indistinguishable from an haute couture equivalent. But for fashion purists, the distinction could not be more acute.
The very term "haute couture" – which is protected by French law, so don't go calling any other fashion from anywhere else by the same term – is defined by the Paris Chamber of Commerce. The regulating body that determines which fashion houses are eligible to be authentic couture houses is the Chambre Syndicale de la Haute Couture; a fashion house has to be a member of this body and adhere to very strict rules to earn the right to call itself a couture house.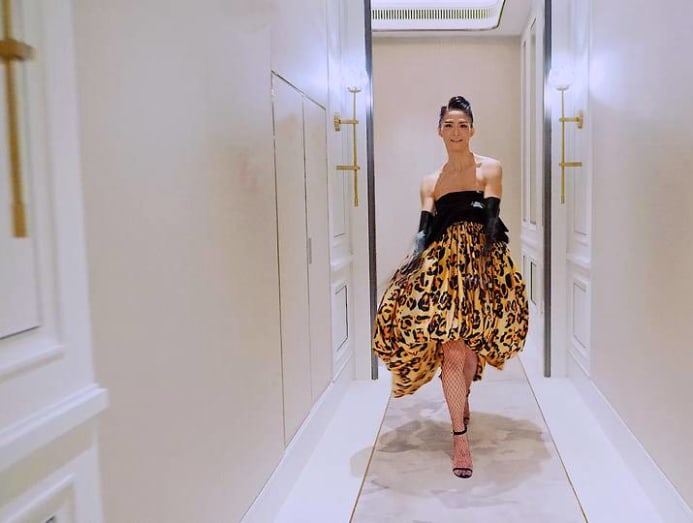 The rules include showing a full collection of at least 50 designs – comprising daywear and eveningwear – every January and July at the Paris Couture shows, have an atelier located in Paris, employ at least 20 full-time technical people, all to design made-to-order clothing for private clients, requiring one or more fittings. Think about it: One ready-to-wear dress takes about three hours to produce; one haute couture gown takes upwards of 200 hours. Phew.
While we all love our haute couture houses – from legends like Chanel and Dior to relative newcomers like Guo Pei – in this age of conservation and sustainability, there is an increasing amount of criticism about the wisdom of keeping haute couture going.
Demi-couture appears to be a refreshing answer to this: it has no organisation to join and no strict rules to follow. By offering off-the-rack couture-quality pieces that come in standard sizes, demi-couturiers can get away with showing just a handful of pieces on the runway instead of 50 outfits, tagged on to their ready-to-wear shows (saves time, effort and much cost!), while still earning the oohs and aahs and Instagram posts of admiring fashion journalists and influencers, and eschewing the pain of many, many, many rounds of fittings.
For the customer, demi-couture is an alluring option. That divine beaded gown you saw on the runway can be yours for less than a third of what you'd be paying in an haute couture atelier, plus, it's mostly one-of-a-kind, and you can have it crafted to fit you and only you.
It looks like fashion's middle ground is growing ever larger by the day. Even as the world's love for normcore shows little sign of abating, the two extremes – disposable fast fashion and haute couture – are suffering. Demi-couture could well keep growing, eventually filling that sweet spot between what's too normal and what's too formal.
Shot on location at Caroline's Mansion at The St Regis Singapore. Dancer: Jacqueline Yap, styling by Joshua Cheung, assisted by Anthea Tan and Brian Cheong, hair by Ken Hong/Evolve Salon using Goldwell, makeup by Rick Yang using Shiseido, assisted by Aung