In a post-pandemic world, will you be able to purchase more watches online?
For an industry so heavily reliant on the physical experience, will switching to e-commerce save watchmakers, distributors and retailers?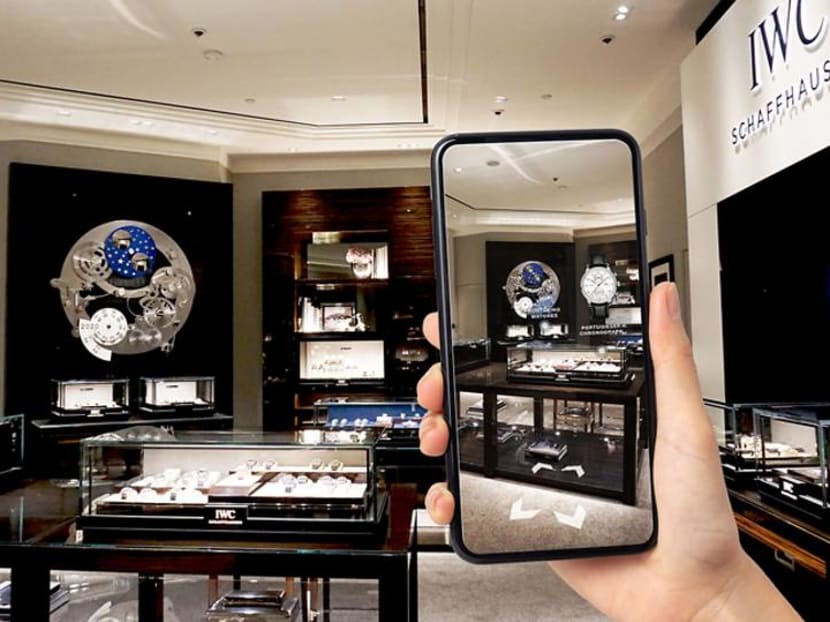 The luxury watch industry has endured a lot. The quartz revolution was just the first of several modern-day crises, including SARS and the 2008 global financial meltdown, that have sent analysts into spirals of pessimism. Now it's happening again. With COVID-19 shuttering innumerable businesses and crippling tourism, how ever will haute horlogerie survive?
The obvious answer, in a time where digital interactions aren't just convenient but necessary, is e-commerce. What's less clear is whether it's too little too late for an industry that's been comically slow to move into this space. One of the reasons for this has to do with the very tenets fine watchmaking has been built upon.
"The watch industry is obsessed with making things last," said Tom Chng, founder of the Singapore Watch Club. "This hand-made quality must last. The 'moon watch' story must live on. This watch has to be passed down to the next generation. For a culture so focused on heritage and tradition, it's natural for the watchmaking realm to be slow in adopting the fast-moving pace of e-commerce."
"The Speedmaster has been a long-standing icon of the watch industry, and has a relatively accessible price point. Furthermore, the Speedy Tuesday editions were based on existing production models, so consumers could try on something similar in stores. These factors reduced the uncertainties from the purchasing process."
That hasn't stopped other brands from doing their best to adapt, whether it's expanding their social media presence or dipping their toes – however gingerly – into the world of e-tail.
IWC launched a virtual boutique (modelled after the one in ION Orchard) in which visitors can browse the various collections. While not strictly an e-commerce platform, you can engage in a live chat with a retail advisor, make a purchase, and enjoy a white-gloved delivery service.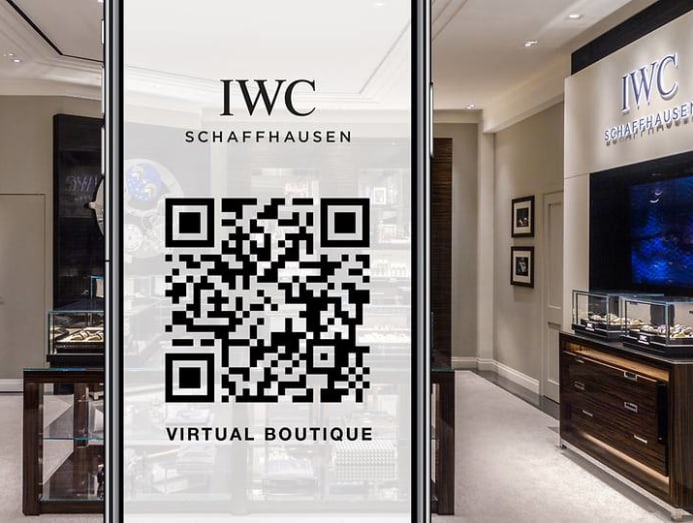 IWC also recently partnered with Facebook to launch a virtual chatbot that will let customers learn more about this year's new Portugieser collection, get recommendations, book future appointments at selected boutiques, pre-order watches and more.
Brands that are part of large and arguably more savvy corporations, like Zenith, Tag Heuer (LVMH) and A. Lange & Sohne (Richemont) now offer similar services, too, but nothing speaks more to the times than the fact that the ultra-conservative Patek Philippe finally caved in March by temporarily allowing some of their retailers to sell their existing stock online. (This practice stopped on May 1, five days after the manufacture resumed operations in Geneva).
It's not just the watchmakers and their distributors. Auction houses have started to host online auctions, with Phillips realising HK$18,569,125 (S$3.3 million) at its recent cross-category Refresh: Reload auction, the highest total ever achieved for an online sale there. 
Among its top lots was a stainless steel Rolex circa 1980, which went for HK$687,500. Over at Sotheby's, a collaboration with watchmaker Ressence led to a creative #WatchesAgainstCovid19 design competition where the winning design would be turned into an actual working timepiece.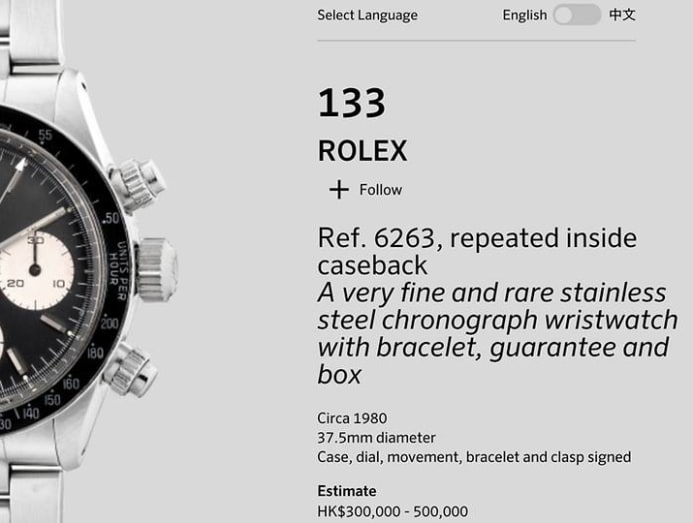 To be fair, the remaining holdouts can't simply be accused of stubbornness or lack of dexterity. Jumping on the e-wagon isn't as easy for sellers as it is for us buyers. 
"Brands have had to navigate complex business arrangements – stock allocation, pricing strategies, exclusive editions, shipping and deliveries, etc – between distributors, retailers, as well as their self-managed boutiques," offered Alvin Wong, editor-in-chief of Crown Watch Blog.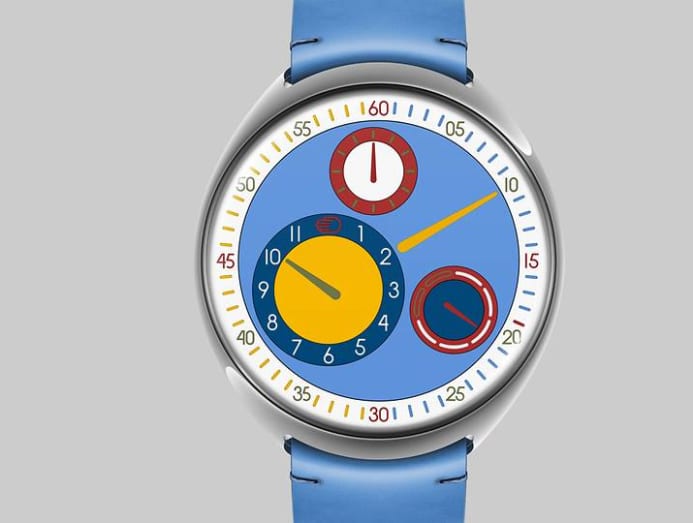 "Speaking to the sales staff in a tailored environment, trying out watches, weighing options, walking out the boutique feeling pleased with the purchase – this is an irreplaceable experience," added Wong. 
"That said, if increased and prolonged safe distancing is the new normal, brands might have to negate that by offering even more innovative off-line services, whether by-appointment-only shopping, or extending what was previously VVIP services like bringing watches to homes for private viewing to a larger pool of customers."
For collectors like Dr Bernard Cheong, whose watches number in the thousands, physical presence is a non-negotiable. Considering the number of watches he's bought online contribute to less than five per cent of his impressive collection, e-commerce will never really be his platform of choice.
"The problem lies with the actual feel of the watch… You cannot feel the weight of a watch or judge how they'll look on your wrist from Zoom." – Dr Bernard Cheong
Said Cheong: "The problem lies with the actual feel of the watch. When you're talking about watches priced way into the stratosphere and exist in small numbers, many revisits to the store to handle them are needed. You cannot feel the weight of a watch or judge how they'll look on your wrist from Zoom." He cheekily added that what the watch industry actually needs to survive is a healthy grey market to act as a sump for both online and traditional retail.
Now that e-commerce is here, be it planned or reactionary, and for better or for worse, it's safe to assume it's here to stay, albeit in varied capacities. It's a long overdue add-on to the traditional shopping experience, but not one that will replace it, no matter how bleak some might paint the post-virus future.
Veteran industry observer Su Jiaxian of watch blog watchesbysjx.com agreed: "Traditional retail will still be the most important avenue for the strongest brands, though they will surely do some sort of e-commerce. So retailers that carry the most important brands, like Rolex and Patek Philippe, will no doubt continue to prosper as brick-and-mortar outfits while weaker brands will be trying to sell their products in every other way possible, since it is increasingly difficult to get representation in physical stores."
Not to mention there's no telling how many physical stores will be left standing after this challenging period is over. In the meantime, all watchmakers can do is beef up their online presence, be it through digital marketing or e-commerce, but it's far from the magical cure-all that will save the industry.
In fact, Su is quite confident the industry never really needed saving to begin with. "Weaker players will go bust," he admitted. "But online presence doesn't matter if the products are desirable. That's what makes the best brands industry leaders. As a very simplistic example, it doesn't matter how Hermes sells a Birkin or Ferrari its latest V8-powered car – they will sell well regardless."
"Traditional retail will still be the most important avenue for the strongest brands, though they will surely do some sort of e-commerce." – Su Jiaxian