Why this designer in Singapore launched her first genderless high jewellery collection
Are Asian men splashing out on high jewellery? For jewellery designer Simone Ng, who recently launched a collection inspired by tattoos, the answer is a resounding yes.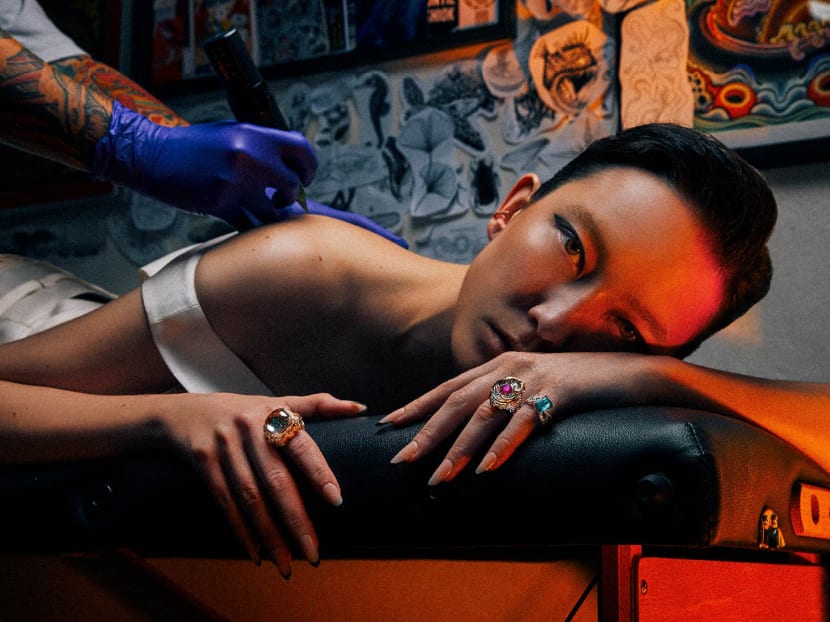 A few years ago, jewellery designer Simone Ng underwent a major surgery, which left her with a three-inch scar. The scar was meant to lighten over time, but every time she glanced in the mirror, she noticed that it was still visible.
It was then that she contemplated getting a tattoo to cover it up. After all, it took courage to go through the surgery, and Ng was thankful to have made a full recovery. "I thought that I should find a tattoo with a meaning to cover the scar, as a symbol to remind me of that episode," said Ng, who founded her own eponymous label, Simone Jewels, in 2006.  
The brand has a by-appointment only studio in Singapore, and is also available in the UK, Paris and US. In 2020, it became the first Singapore jewellery label to showcase at Harrods.
But Ng was met with resistance from her family members towards her desire to get inked. "I realised that very few people actually understood what a tattoo is. The older generation associates tattoos with underground vices and rebellion, but from my research, that was not its origin. In medieval times, it was quite common for people to have tattoos on their faces to differentiate which tribe they were from," Ng mused.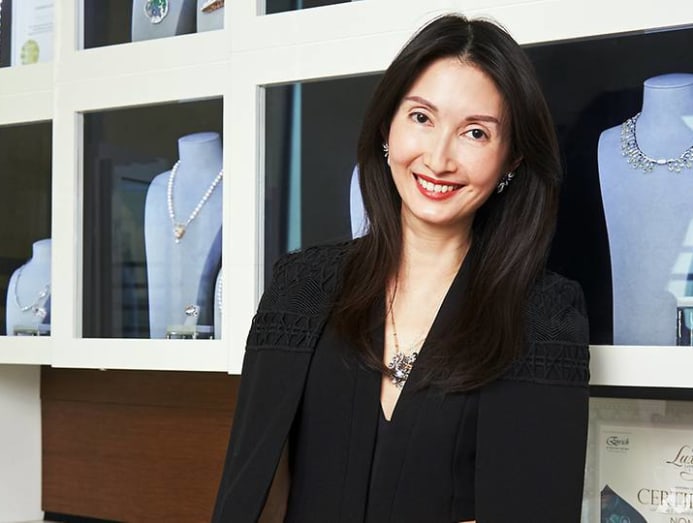 Over time, people have gotten tattoos for various reasons, she noticed. But most of the time, it was never purely for an aesthetic reason. "Some people have gone through a dramatic period in their lives and they want a tattoo to remind them of what they overcame. Some get a tattoo as a reminder of a happy occasion."
Ng became curious about the different tattoo symbols people ink on their skin. She saw a parallel in how tattoos express individuality the same way that jewellery does, hence inspiring her next high jewellery collection.
LOVE, BEAUTY, COURAGE, LIFE
Simone Jewels' collection for 2023 is thus inspired by the intricate world of body art. Tattooists have long illustrated different sentiments with significant motifs, and the collection revolves around four themes commonly found in tattoo design – love, beauty, courage and life.
Different motifs are used throughout the collection to bring these themes to life. Roses, for example, are used to symbolise love. The sword and anchor is used to symbolise courage, while the butterfly is used to symbolise beauty. The skull is used to symbolise life.
While Ng admits that some may find the skull a little too morbid, it is a symbol tied to the popular "memento mori" tattoo design. The latin phrase translates to "remember that you must die", and is a reminder to live life to the fullest.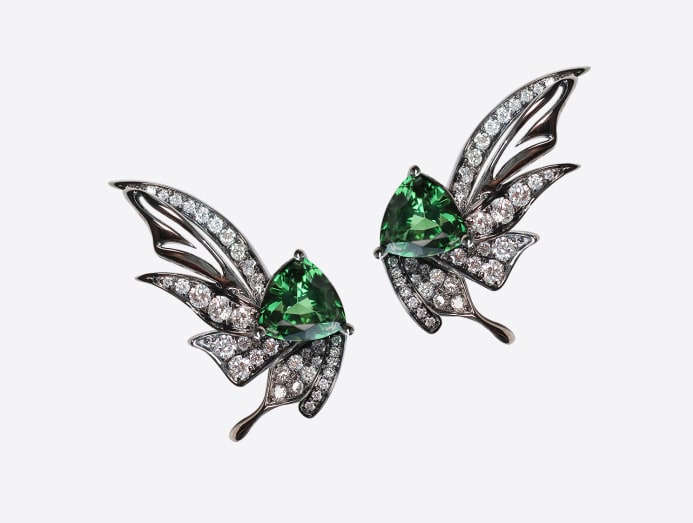 Although the Tattoo collection is a departure from past offerings – they are usually inspired by historical stories – it stays true to the Simone Jewels brand DNA in several ways.
"In every one of our collections there is a story. That's number one. After that, it's really the intricacy of the designs and its details. We also finish off everything in the highest quality of gemstones and workmanship," Ng shared.
Every piece is also a "one-in-the-world" design. In addition, several pieces in the collection are transformable, and some even have hidden elements of surprise. The Beauty of Life cocktail ring, for example, can be opened to reveal an 18k rose gold skull, set with a Colombian emerald and surrounded by a halo of diamonds.
FOR HIM AND HER
Right from its conceptualisation phase, Ng knew that she wanted the Tattoo collection to be genderless. "Both men and women have tattoos, and I've always wanted to do a gender neutral collection. Given that the style of this collection is a lot more edgy, I think both men and women can wear it," Ng explained.
Through the years, Ng has noticed a lot more men shopping for high jewellery. "Men have a lot more options these days when it comes to shopping. Back in the day, they did have options for clothes and shoes, but not so much for jewellery. They were shopping in the women's section to see if there was anything less feminine that they could wear."
In the US and UK, Ng's designs have also been picked by male celebrities to wear on the red carpet or at events. These include rapper Machine Gun Kelly, and actor Henry Golding.
Ng is certain that this trend will also take off in Asia. Here in Singapore, male clients have increasingly approached Simone Jewels for bespoke pieces. "They come in and they are a lot more detailed in sharing exactly what they want," said Ng. "They don't just say they want something chunky or trendy. It's all about storytelling, like making something that reminds them of their alma mater, or incorporating their children's initials."
In fact, the first jewellery piece sold in the Tattoo collection was purchased by a male client. The piece is the Beauty of Courage brooch cum pendant, which can also be worn as a necklace. It features an unheated chrome tourmaline, tanzanite and diamonds in 18k white, rose and black gold.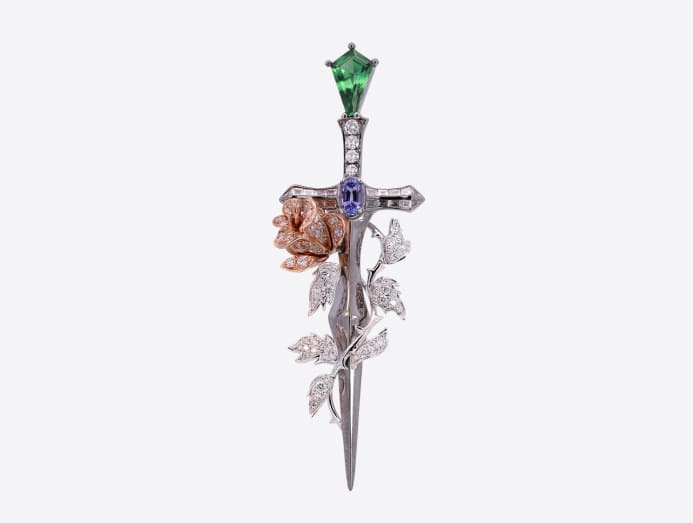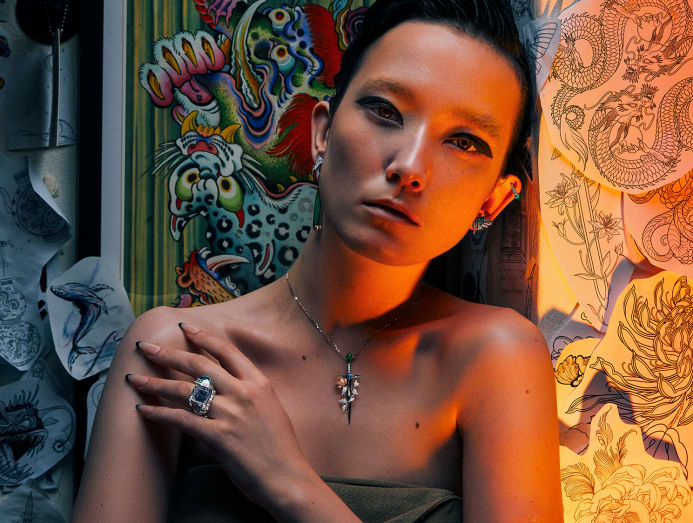 "He bought it without his wife, who happened to be travelling at the time. They communicated through Whatsapp and he said, 'I'm going buy this pendant because I love it and I think you will too. And this is our first piece of jewellery that we can share'."
When it comes to how much men are willing to spend on jewellery, Ng says that for both male and female clients, it depends on their knowledge of jewellery and gemstones, as well as their lifestyles. "We have knowledgeable male clients who buy into rare gemstones at up to six digits, and also those who are still learning and spend on smaller, everyday wear items to enjoy," she said.
THE LASTING APPEAL OF JEWELLERY
Although the Tattoo collection is remarkably different from other collections Ng has designed in the past, it has been well-received by clients so far.
"A lot of our customers are working professionals. Initially, the team was unsure if they would be open to a collection that's so dramatically different and rebellious because of the professions that they hold. But we were surprised that at the preview, people shared that they had a tattoo, or are thinking of getting one!" said Ng.
"Everyone has a different side to them but now they can indulge in that in the form of just wearing a piece of jewellery," she added.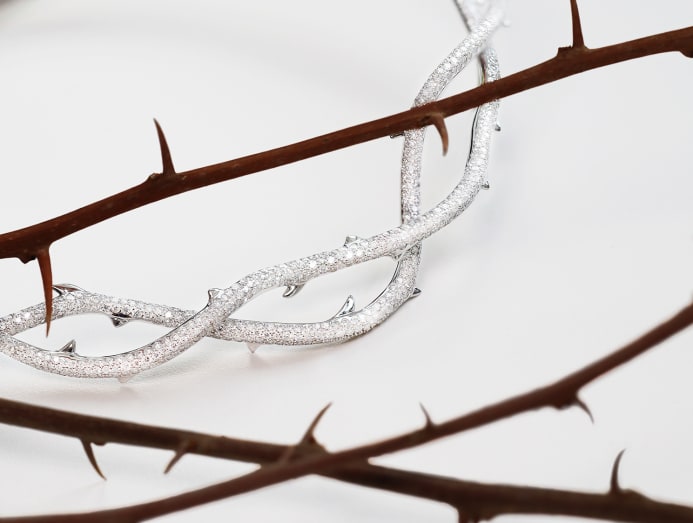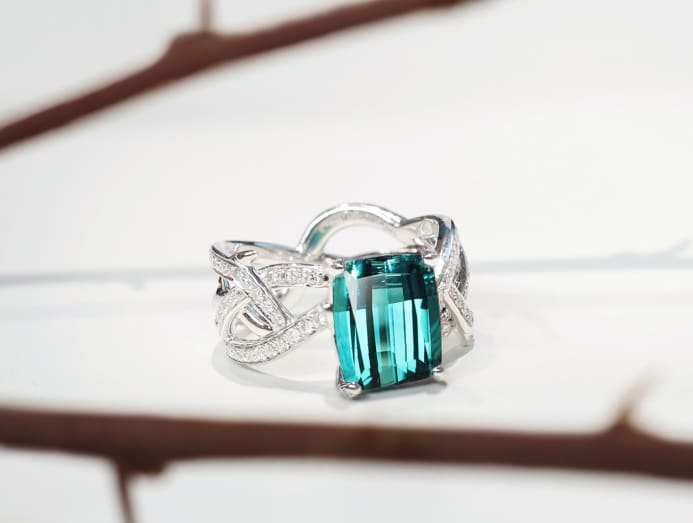 The Tattoo collection will be released throughout 2023 in stages. Ng teased that there will also be an upcoming capsule collection designed in collaboration with a Japanese artist based in the US.
Ng also shared that Simone Jewels will potentially be holding several pop-ups around the world, including in the US and one in Paris.
Throughout the COVID-19 pandemic, despite the unprecedented challenges, the sale of jewellery continued to thrive. And now, in a post-pandemic world, the demand for jewellery will continue, Ng believes.
"So many things are happening in the financial world and people are looking for safe havens to store their money," she said. In this aspect, "jewellery hasn't failed, because it has always been used as a form of currency since the olden days."