Japanese watchmaker Grand Seiko turns 60 this year. What's in store?
Making it to 60 is a worthy milestone to celebrate, so the Japanese watchmaker has put forth a slew of commemorative pieces for its fans to hunt down.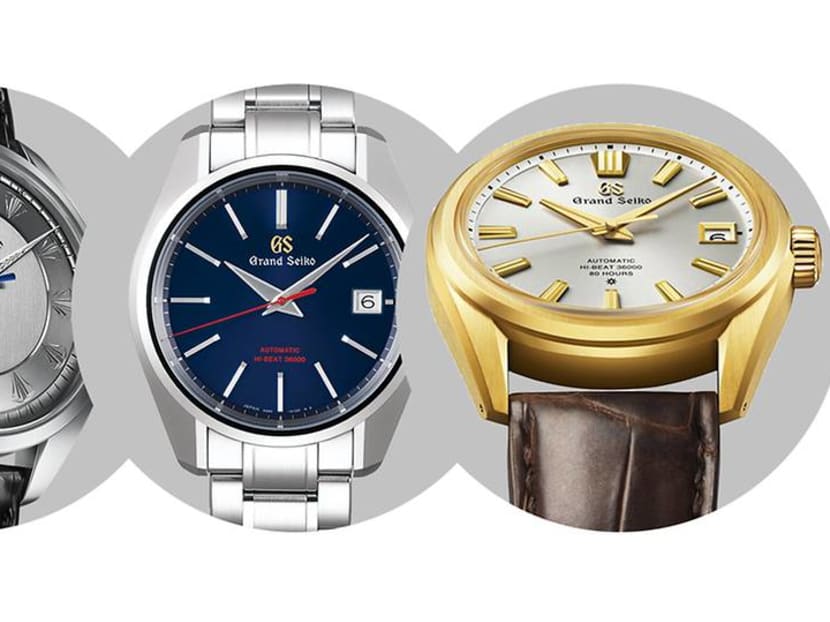 It's not easy for an outsider to break into an established circles. Especially when that circle is backed by centuries of flowery tradition and history. But that didn't stop Grand Seiko from trying to gets its name whispered in the same crowds as those wearing Patek Philippes and Jaeger-LeCoultres. It's been 60 years since that crazy ambition was put into motion, and we dare say the Japanese watchmaker has succeeded.
To celebrate more than half a century of innovation and the pursuit of excellence in the face of seemingly unfair competition, Grand Seiko has released a series of special editions that prove it still has what it takes to stand on the same stage as the big boys.
HERITAGE COLLECTION HI-BEAT 36000 LIMITED EDITION SBGH281
The first in a quartet of watches that bear Grand Seiko's signature blue on the dial, the SBGH281 – which you will ordinarily find with a black or silvery white face – takes inspiration from a 1967 model known as the 44GS.
The 44GS was the first to incorporate the brand's now famous design codes (that had requirements such as flat surfaces, faceted bezels and no generic round case shapes), which the modern remake clearly retains. It gets its Hi-Beat name from a movement that ticks at 36,000 vph, and is limited to 1,500 pieces.
ELEGANCE COLLECTION WOMEN'S AUTOMATIC LIMITED EDITION STGK015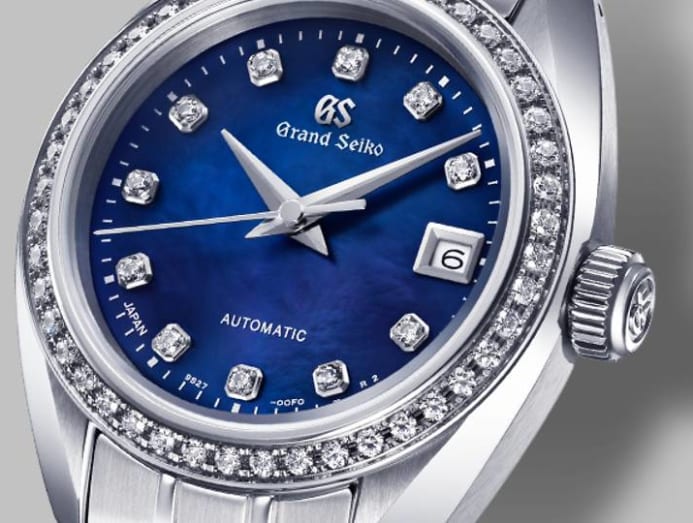 That blue hue also looks great in mother-of-pearl, as seen in this range's other mechanical offering, the STGK015. The 27.8mm women's watch is powered by the self-winding 9S27 calibre, and is adorned with 45 brilliant-cut diamonds on the bezel with another 11 on the dial for the hour markers. Limited to 300 pieces.
HERITAGE COLLECTION QUARTZ LIMITED EDITION SBGP007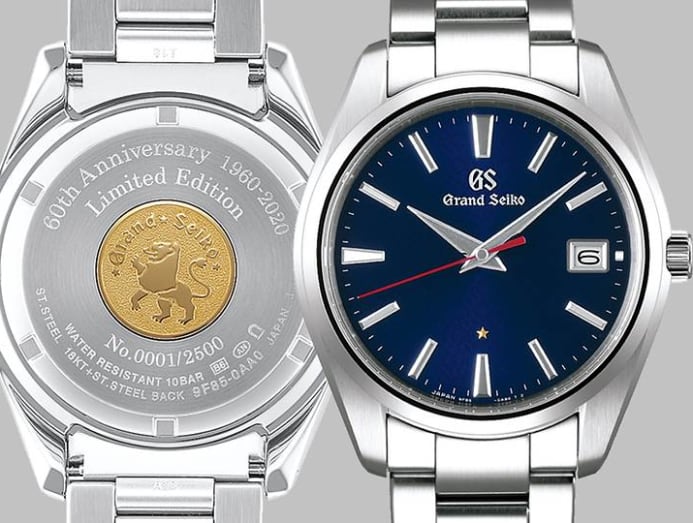 Don't be too surprised to see a quartz model here; Grand Seiko makes quite possibly the best quartz movements on the planet, after all.
Based on the insanely accurate 9F movement, the 9F85 calibre is also accurate to +5/-5 seconds a year but adds the ability to adjust the hour hand without stopping the seconds. If you look closely, the texture on the blue dial is a geometric pattern made up of repeated "2020" motifs. Limited to 2,500 pieces.
SPORT COLLECTION QUARTZ LIMITED EDITION SBGP015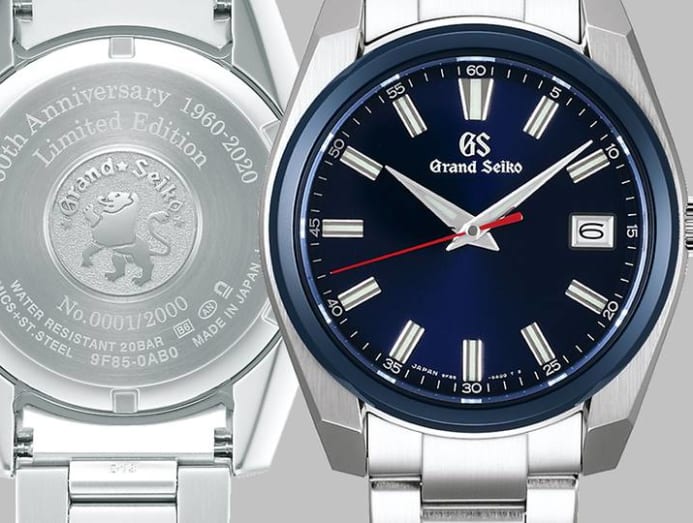 The SBGP015 also houses the 9F85 quartz movement but its standout feature is its blue ceramic bezel. As a sports watch, this limited edition comes with a considerable water resistance of 200m (and a screwed down crown), magnetic resistance up to 16,000 A/m, and luminous hands and indices. Like the previous men's models listed so far, the case measures 40mm in diameter. Limited to 2,000 pieces.
60TH ANNIVERSARY HI-BEAT 36000 80 HOURS
And now we've come to the even more limited and (thus eminently collectible) anniversary editions. This classically designed, 44GS-inspired reference may look like a vintage throwback but what beats inside is an entirely new movement: The 9SA5. On top of its high frequency, the movement also provides 80 hours of power reserve (up from 55 hours of the current 9S85) and is 15 per cent slimmer than its predecessor. Only 100 pieces of this superbly finished yellow gold watch will be made.
60TH ANNIVERSARY LIMITED EDITION PROFESSIONAL DIVER'S 600M
Grand Seiko's celebrated Spring Drive movement has also gotten an upgrade this year, and it debuts in this brawny 46.9mm titanium dive watch. It's now slimmer, more resistant to shock, has a longer power reserve (five days) as well as improved accuracy (+/-10 seconds a month).
Even the titanium case, which the brand describes as "high intensity", is a proprietary alloy that is 40 per cent lighter than steel and more impervious to scratches. Limited to 700 pieces, it is presented with a titanium bracelet with an additional interchangeable blue silicone strap.
MASTERPIECE COLLECTION SPRING DRIVE 8 DAYS SBGD205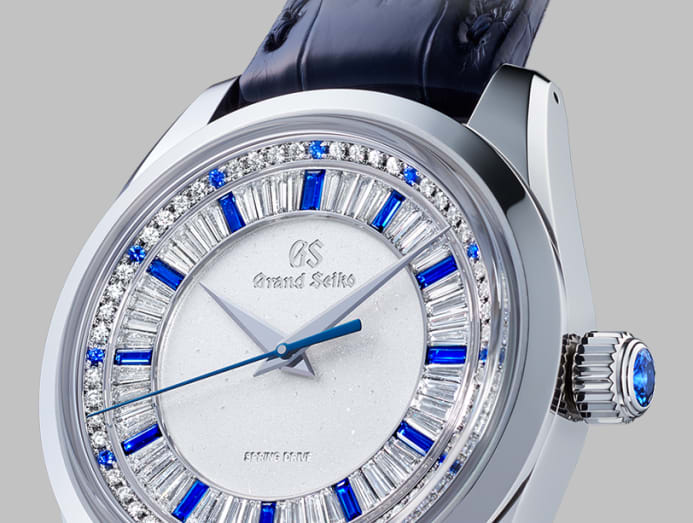 The Spring Drive's highly technical DNA makes it an easy fit for tool watches like the diver above, but that shouldn't mean the ladies don't get to enjoy cutting-edge engineering with a sprinkling of glamour.
The calibre in this reference is the 9R01, which combines an accuracy rate of +/-10 seconds a month with eight days of autonomy. But the watch is just as impressive on the outside – the case and dial is set with 96 diamonds totalling 2.25 carats and 25 blue sapphires, and the shimmering "diamond dust"-finished dial has an ever-so-subtle imprint of the Leo constellation in the centre. Just 10 pieces will be available.
ELEGANCE COLLECTION 60TH ANNIVERSARY LIMITED EDITION SBGW264
While Swiss manufactures often rest in mountainous valleys, Japanese ones like Grand Seiko get to enjoy forest views, and it's the very birch trees that surround the manufacture in Shizukuishi that inspired this anniversary model.
The 39mm rose gold case has the warmth to match its deep green dial, which features a radiating pattern that's been machine-engraved by hand. An exhibition case back allows views into the manual-winding calibre 9S64, a highly precise movement with a three-day power reserve and magnetic resistance of 4444,800 A/m. Limited to 120 pieces.
ELEGANCE COLLECTION 60TH ANNIVERSARY LIMITED EDITION SBGW263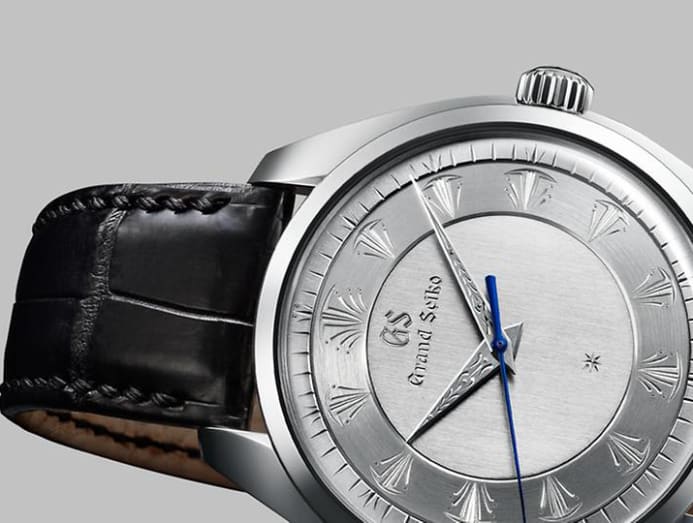 With only 20 pieces made, the platinum SBGW263 is the more exclusive but just as artisanal sibling to the SBGW264. The entire dial is made of white gold, and its various hand-engravings (courtesy of master engraver Kiyoshi Terui and his team) are inspired by the legend that gave the region its name: It was the sound of water droplets ("shizuku") falling onto rocks ("ishi") that led an old man to discover a seemingly bottomless cave. Those droplets have been realised as hour markers and patterns on the hour and minute hands. Unlike the SBGW2644, the back is closed, but features a gold medallion.
RE-CREATIONS OF THE FIRST GRAND SEIKO CALIBRE 9S64
Seeing as remakes of the original model from 1960 has been done three times before for different anniversaries, followers have been anticipating another series for this year. This trilogy is sized at 38mm and, for the first time for a 1960 re-creation, features a transparent case back.
It's amazing to see how well a 60-year-old design holds up, and this time in platinum, 18K yellow gold and titanium. Of particular interest is the "brilliant hard" titanium used in the blue-faced reference, which the brand declares is even harder than "high intensity" titanium and can be polished to a more brilliant sheen. The good news is that all three are not limited and will join the regular collection.