Awkwafina, Harry Styles show off Gucci handbags in James Corden 'talk show'
The luxury house is celebrating its most beloved handbags with a fictional late-night talk show.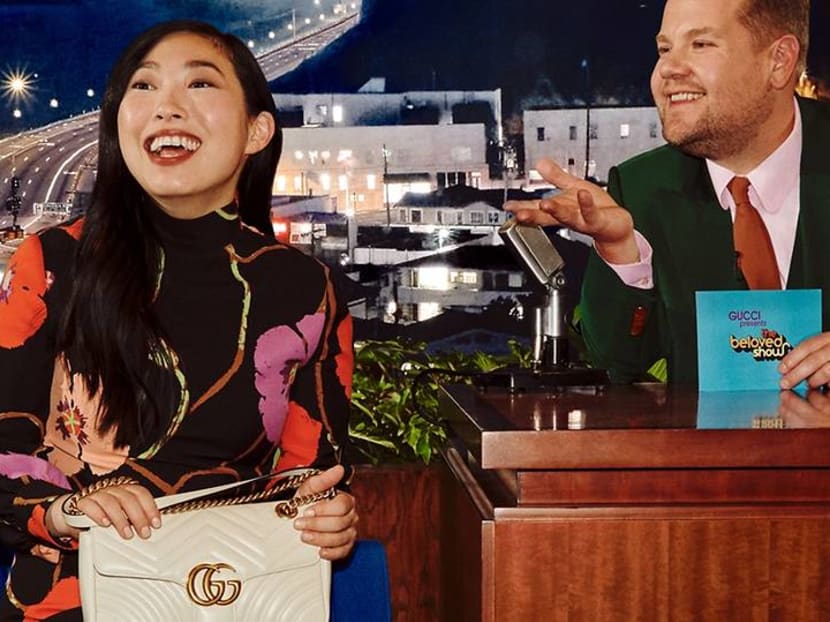 Some of Hollywood's biggest celebrities – Awkwafina, Dakota Johnson, Harry Styles, Serena Williams, Sienna Miller and Diane Keaton – are in the hot seat. But it's not what you think.
Italian fashion house Gucci is showcasing its most-beloved handbags with a parody of the late-night talk show, where celebrities drop by for a couch conversation with host James Corden. Their Gucci handbags are placed front and centre of the TV frame.
The Gucci Beloved Talk Show is a campaign celebrating Gucci's new Beloved Lines, a collection of four iconic handbag styles inspired by the fashion house's archive designs. 
It includes the Jackie 1961, Horsebit 1955, Dionysus and GG Marmont, designed by creative director Alessandro Michele with a contemporary approach.
To bring the "talk show" to life, Michele partnered with cult artist, photographer and director Harmony Korine. "We went back in time to the original TV talk shows, where the protagonist is the bag itself, the big star. Very often these creations are named after influential women who conditioned the habits and customs of many," said Michele.
"It is precisely because they have great personalities that in the industry we gave them these powerful names; and now we have them in a show and twisted with the idea that there were two stars: The bag and the actual talent."
Arriving on set, Awkwafina is dressed in a black floral dress, the GG Marmont handbag slung over her shoulder. Defined by the double G, the handbag is an archived-inspired styling of the initials of the house. 
Dakota Johnson banters with Corden, the Dionysus handbag on her lap, which features two tiger heads shaped in the form of a spur, an ode to the Greek god who in myth is said to have crossed the river Tigris on a tiger sent to him by Zeus.
Harry Styles brought with him the Jackie 1961, known for its curved half-moon shape and emblematic piston closure.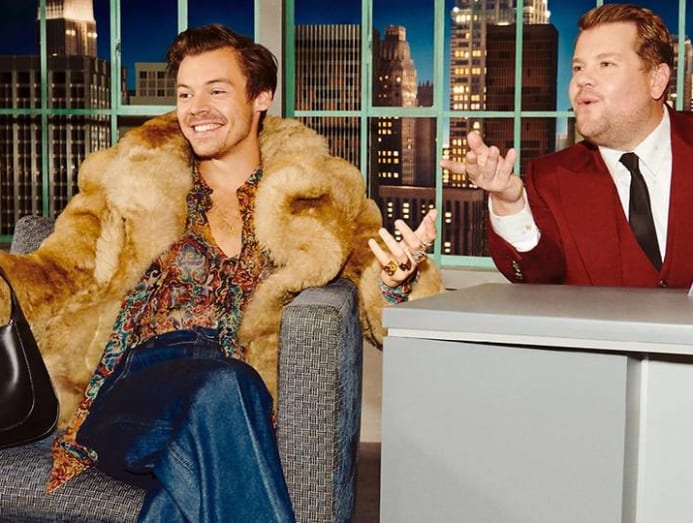 Meanwhile, Diane Keaton shows off the Horsebit 1955, distinguished by a double ring and bar, a motif that encapsulates the house's equestrian heritage.
"I truly love and adore my handbags. Perhaps they will always be my greatest love, my favorite accessory," Michele said of the handbags. "It was therefore natural for me to call some of the ones I created 'Beloved'. The name comes from my own personal experience and my love for them."
The celebrity interviews can be viewed on the fashion house's YouTube channel. The channel describes the Gucci Beloved Talk Show as "a playful ode to the Hollywood late-night talk show that shines the spotlight on an all-star lineup of celebrities and the house's signature handbags".