Why are Rebecca Lim, Ni Ni and Sammi Cheng toting Gucci's new handbag?
The Gucci Diana is a modern interpretation of the classic bamboo handle tote bag once loved by Princess Diana, and is now finding new fans among celebrities across Asia.
Back in the 1990s, royal style icon Princess Diana was often seen toting around a Gucci bamboo handle handbag. Now, the bag has been brought back from the archives, reimagined by creative director Alessandro Michele.
The current iteration of the bag sports a removable, neon leather belt, a nod to the functional bands that once came with the original bag to maintain the shape of the handles. There are a total of seven colours across three sizes (medium, small and mini) – black, white, timeless cuir, emerald green, striking red, poudre light blue and light rose.
The medium version sports a roomy interior, ideal as a working tote. The small is perfect for daily use, while the mini is an adorable everyday companion.  
Every Gucci Diana bag is paired with three matching coloured belts in either fluorescent yellow, pink or orange. These leather belts can also be customised by embossing letters or symbols on the inside.
Celebrities have already been spotted toting this handbag. Local star Rebecca Lim, while out and about at Gardens by the Bay, posed with a mini Gucci Diana in black.
Hong Kong singer Sammi Cheng is also a fan of the modern tote, and she matched her bohemian-style floral dress with the small version in light blue.
Meanwhile, Chinese actress and Gucci ambassador Ni Ni is pictured here with the small Gucci Diana in black.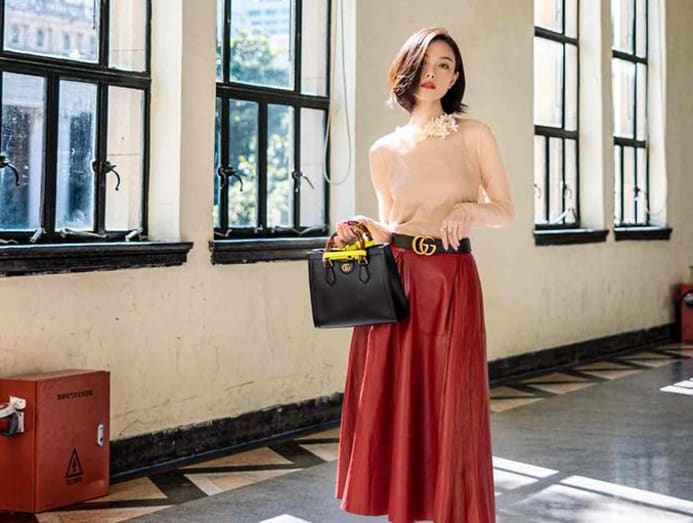 The handbag can also be slung over the shoulder, as carried by Chinese actress and singer Song Yanfei. Song is seen here with the mini version in white.