Fake? Or not? This playful Gucci collection pokes fun at counterfeit culture
How can fashion houses combat the issue of fakes in the market? For Gucci, it's by slapping the motif "Fake Not" on an entire collection.
Imitation products are a real issue in the luxury industry, but fashion house Gucci has found a cheeky way to beat counterfeiters at their own game. Creative director Alessandro Michele is known for his maximalist creations, but the Fake Not collection is perhaps Gucci's boldest one yet.
Emblazoned on either side of shoes, outerwear, scarves and other accessories are the words "Fake" and "Not" in yellow, along with a bicolour stripe in green and red.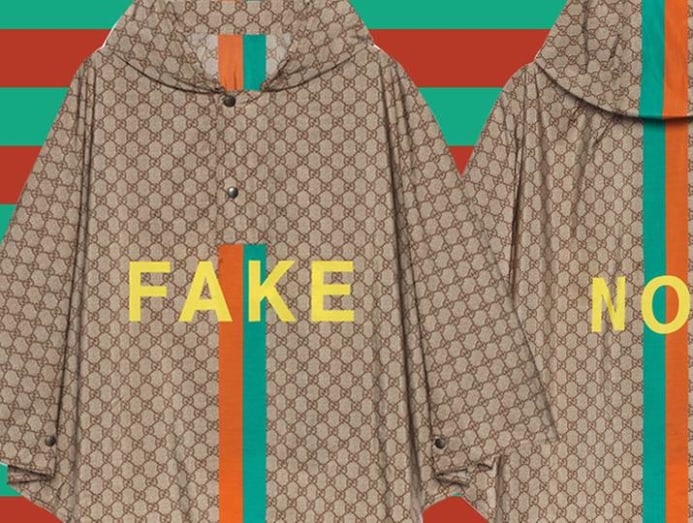 The "Gucci Fake Not" motif was first seen on the runway at the Gucci Autumn/Winter 2020-21 men's fashion show. It draws inspiration from the appropriation of logos that began in the 80s and has since become part of the language of streetwear.
The fake Gucci logo with bicolour stripe was first seen in the 80s, and this latest collection from Gucci is a playful, tongue-in-cheek commentary on the idea of imitation.
It's not the first time that Gucci has done this either. In 2017, models at Gucci's Spring/Summer show walked the runway with clutches, bags and other accessories printed proudly with the word "Guccy", reflecting a trend where imitation goods feature misspelled names. Since then, the logo has featured in several collections.
The two-sided use of the Fake Not lettering has also been applied to luggage in the collection, where beige-ebony GG supreme material has been used as a base with brown leather trim. An East/West top-handle tote, backpack, belt bag, medium-sized duffle, small, hard suitcase and hard beauty case all come in this material and all feature the vertical red-green bicolor stripe, with the word "Fake" on one side and "Not" on the other.
The same design adorns small leather goods including wallets, a pouch and a cosmetics case.
Gucci has become a victim of counterfeit culture, and the Fake Not collection is indeed a clever mockery of the issue. The question is – would anyone be bold enough to rock the collection?