The fall 2023 haute couture season in review
The good and the wacky at the fall 2023 haute couture runways.
The fall 2023 couture week will go down in fashion history for happening against the backdrop of Paris burning from violent. Celine had cancelled its menswear show after days of rioting sparked by the shooting of Nahel, a teenager of North African descent by a French policeman in a Paris suburb.
To say that it was an unlikely headspace to watch a fashion show would be an understatement: Teargas bombs were lobbied; vehicles overturned and set on fire; street battles were fought around the city centre; violent dystopian looting.
The very French-ness of haute couture is also being besieged. Of all the titans in today's high fashion, only Virginie Viard, the creative director of Chanel is French. The new generation of couturiers come from all over the world. (And they say fashion isn't inclusive?)
Among the newbies, Iris Van Harpen is Dutch, and American designer Thom Browne debuted his first-ever haute couture collection to celebrate the 20th anniversary of his eponymous ready-to-wear brand. Mohammad Ashi is the first Saudi designer to show as part of the official haute couture roster, and Daniel Roseberry from Schiaparelli, the darling of fashion Twitter, is American.
It's obvious that the old ways are long gone in this season. The age-old tradition of haute couture was Big-Banged into being when Marie Antoinette appointed her dressmaker Rose Bertin her "Minister of Fashion" at the court of Louis XVI. Antoinette, who reigned as the original KOL was the tragic queen (she lost her head!). She left behind the enduring legacy of celebrating fashion as art, which continues to this day as the haute couture shows: The ritual seasonal unveiling of the most expensive, artisan-made expressions of fashion.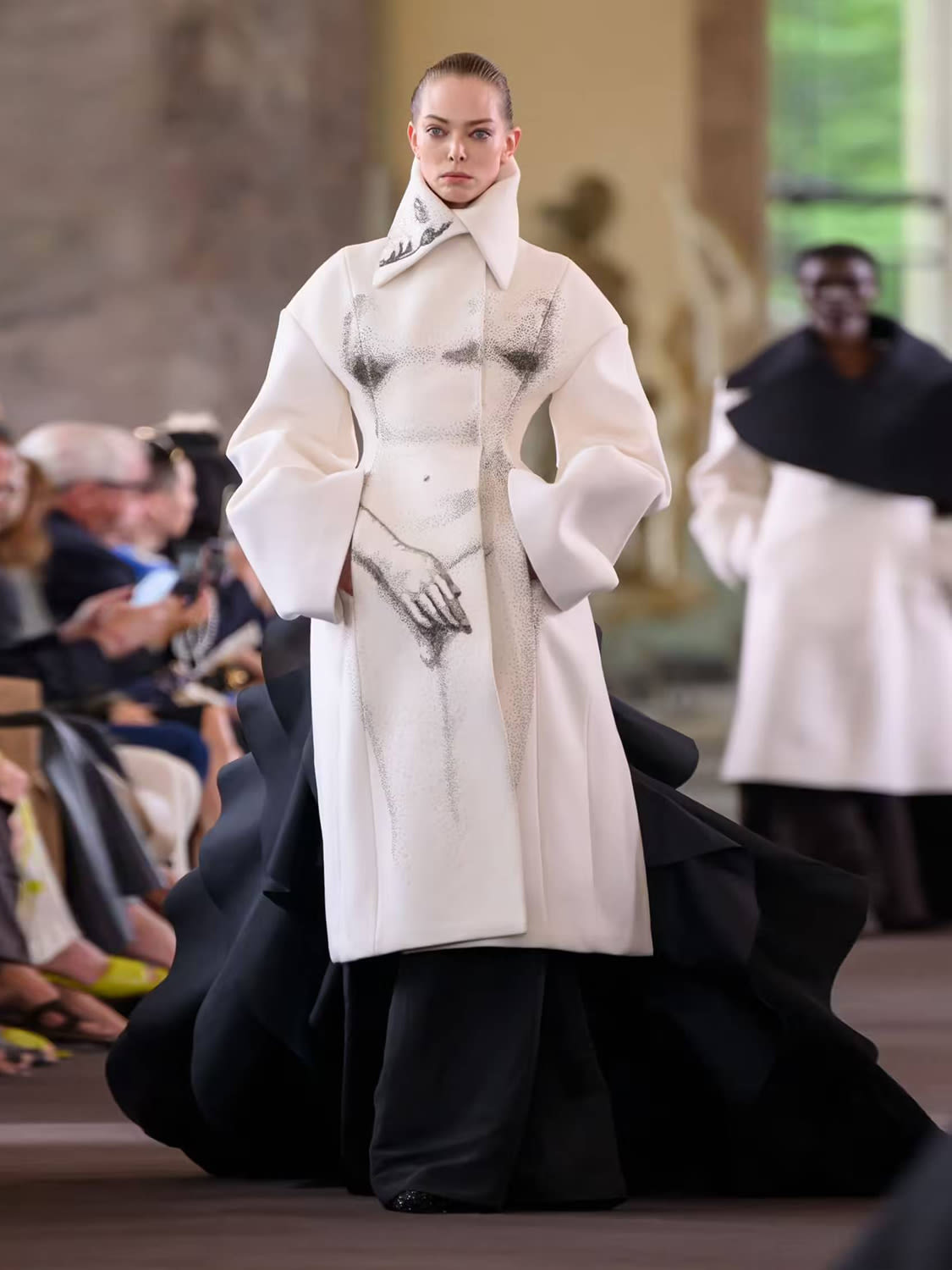 This collection proved to be the social media meltdown that fashionistas have been living for since the last one, which featured fake animal head dresses worn by the likes of Kylie Jenner. In just 30 looks, Schiaparelli's artistic director Daniel Roseberry, once again caused the Internet to combust, helped no doubt by the visitation of rapper Cardi B, whose every appearance heralds the arrival of carnival. 
Although Roseberry said he was inspired by iconoclastic artists spanning Salvador Dali, Lucian Freud, and Henri Matisse, the looks recalled less lofty muses. Sharply tailored coats worn with fine corsets and lingerie, will always strongly recall Jean Paul Gaultier; the trenchcoat of Look 2, worn with a Victorian bustle, looks like Yohji Yamamoto updated, while the romantic pile-it-on ornamented robes and two duvet coats recall the ghosts of Galliano's past.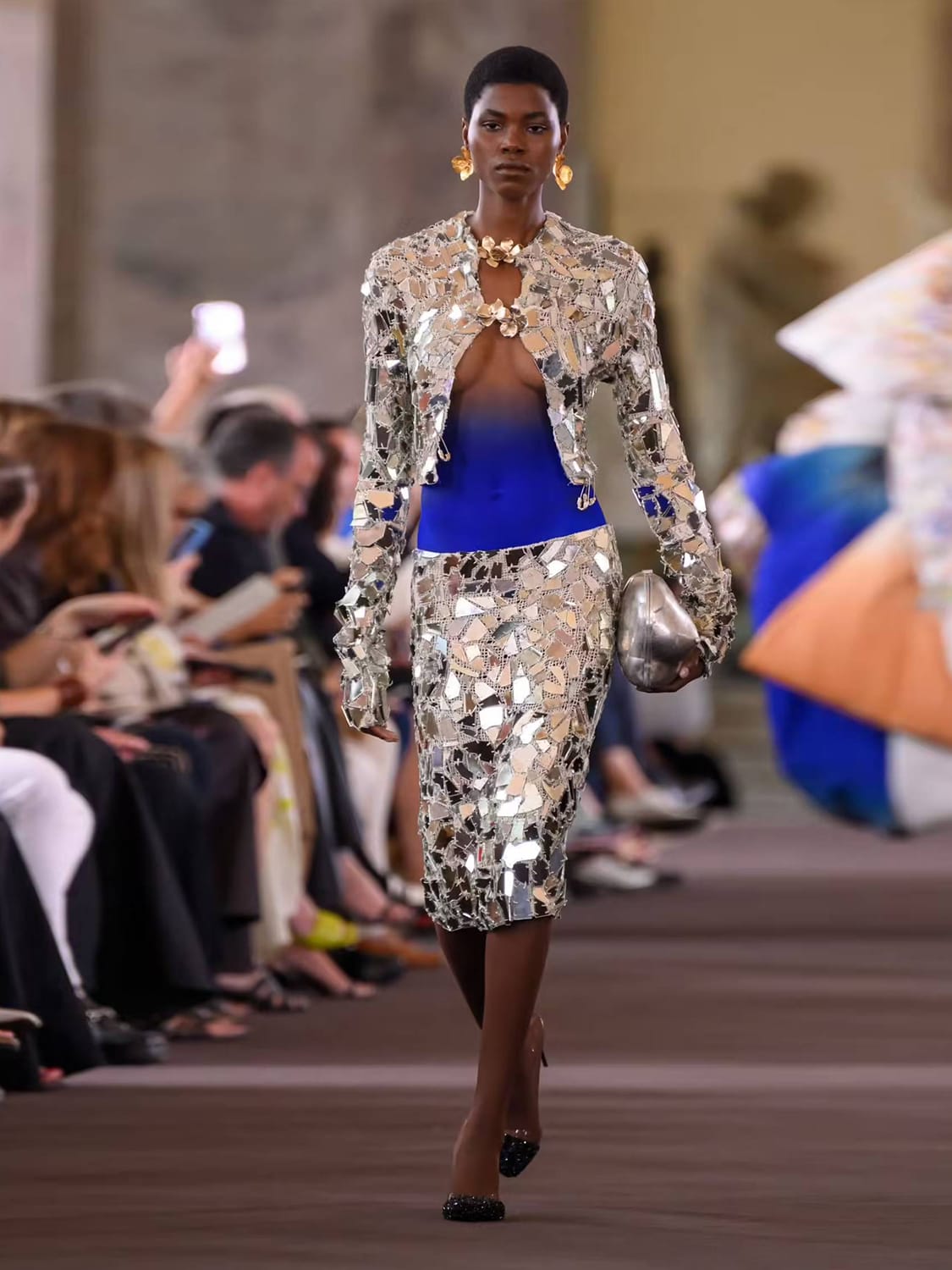 Each look, however, was Schiaparelli-ed by touches of "Surrealism," here interpreted as a pair of wooden hands as choker, shards of broken mirror on a Gaudi mosaic collar, a face painted Yves Klein blue, and a single gold Monstera Deliciosa leaf – quite enough to get the Twitter sphere in full-foam mode – but whose effect was akin to a graduation show. Look 14's wonderfully chunky coat looked like one of those heavily overgrown ewes that Texan YouTube sensation Katie McRose would wrestle to the ground, and tear into with electric shears and great gusto.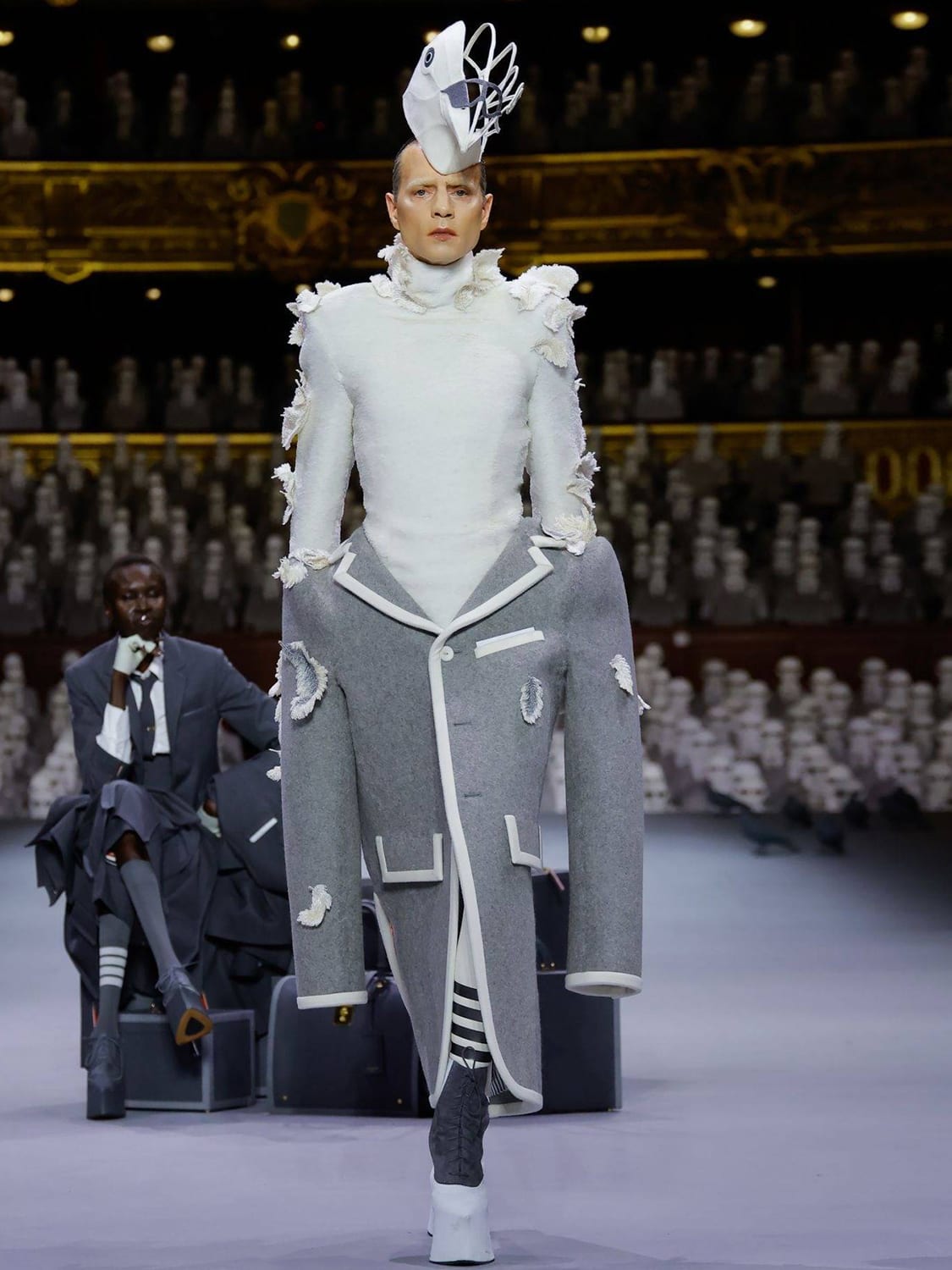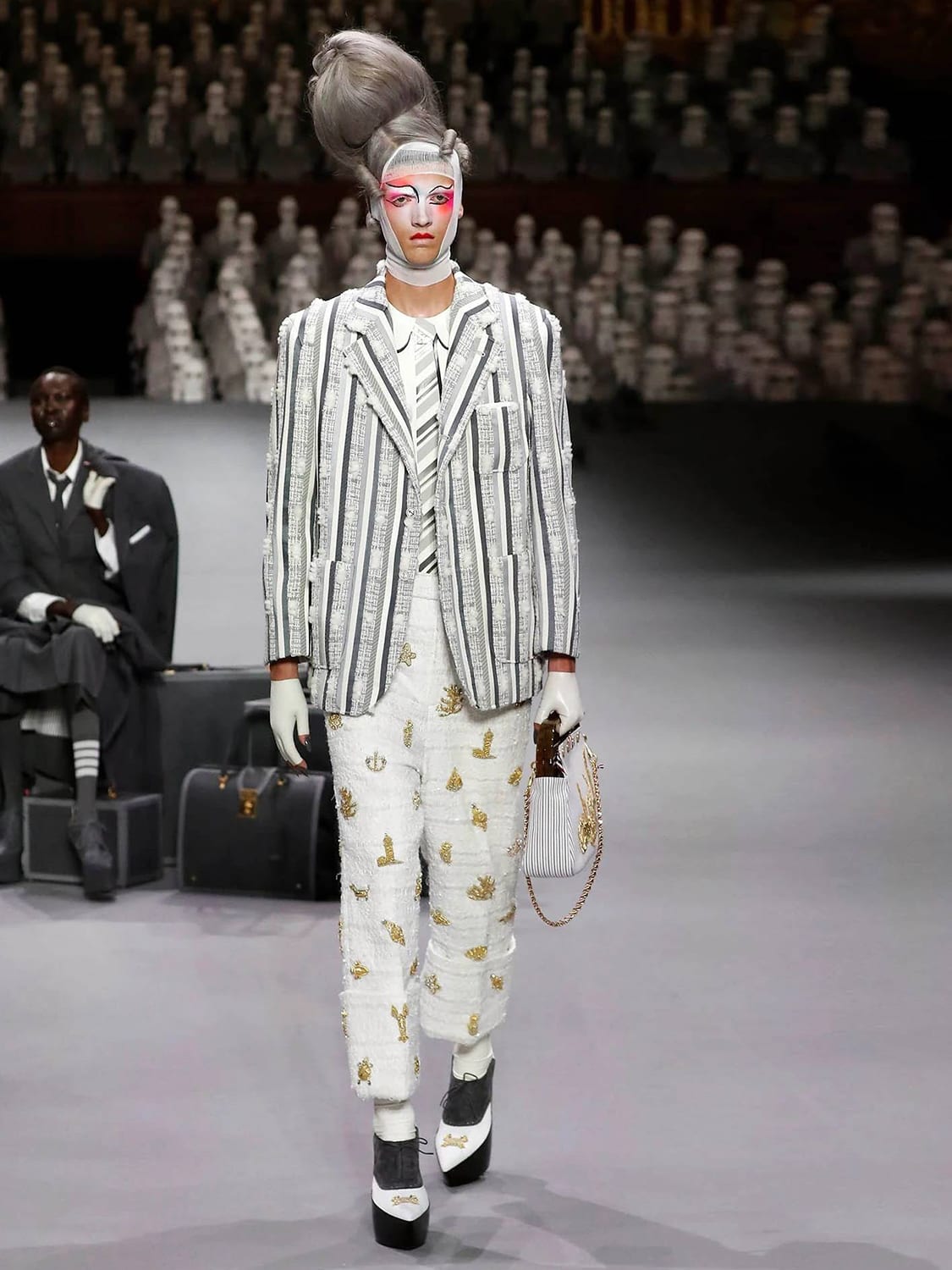 Thom Browne's debut haute couture collection was also another instant rave. It succeeds as both entertainment and fashion, and so it pleases the fashion aficionado at every tier of understanding.
Presented with great drama on the stage of the Opera Garnier, the show certainly played to those in the peanut gallery with all the bells and whistles that have come to signify "fashion" for online critics – a revue of awry powdered wigs; makeup like a painting by Jean-Michel Basquiat; bells; leering satyr headpieces (by Stephen Jones); pigeon-shaped coats; jellyfish embroidery; anchor motifs and gold rope; dog bag; falling pigeon feather applique, and hoof platform boots came trooping out in laborious train.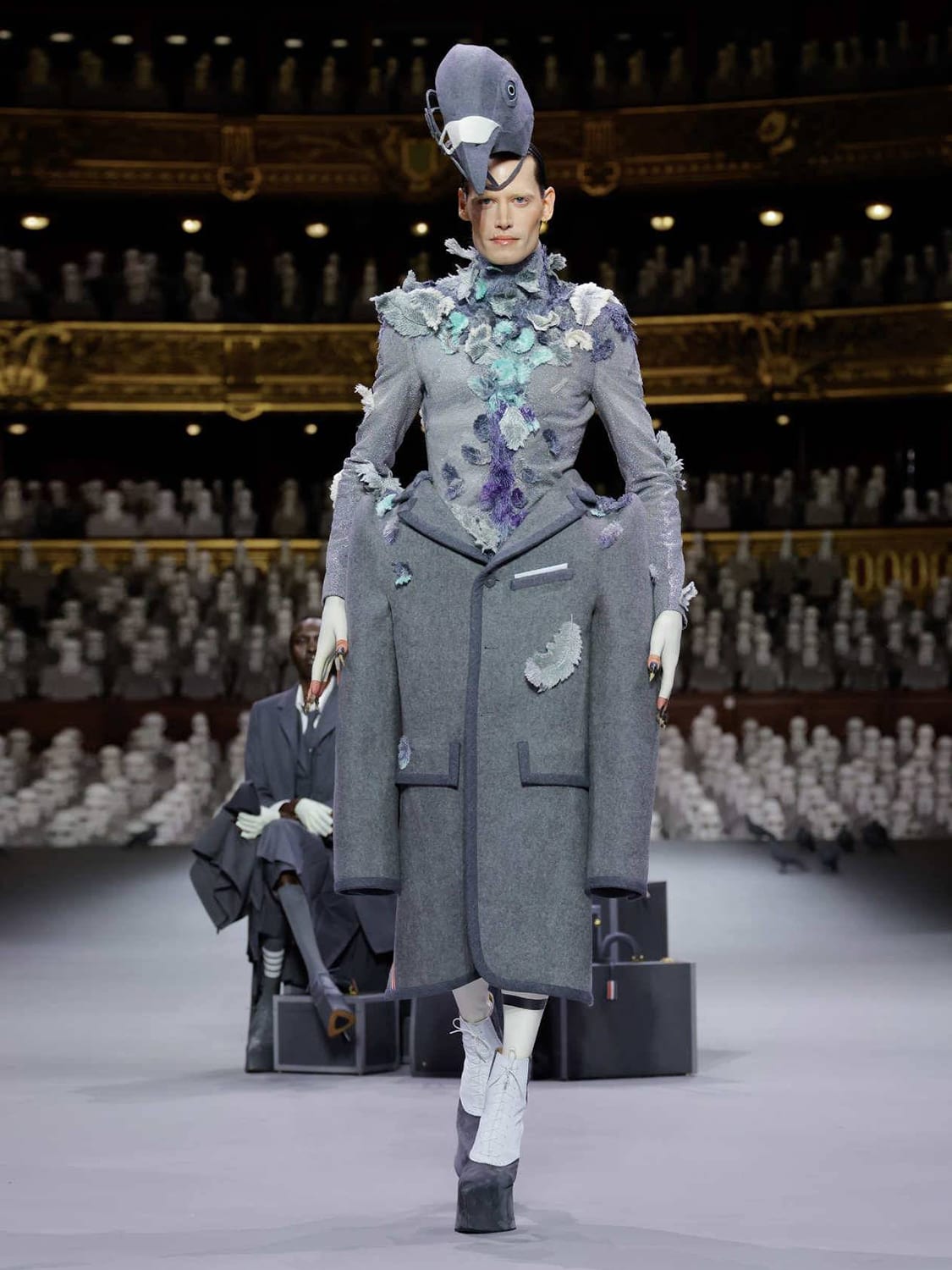 Underneath it all lurked Browne's signature American sportswear, in spectacular all-grey tailoring, and artisanship immense and minute – layers of draping, immaculate stitching, beading, embroidering, a veritable siege of fashion virtue-signaling. In effect, the sheer weight of its droll dressmaking merits, the deconstruction of the human figure in its extensions (the ubiquitous hoof boot, the eunuch manicure) and displacements (the off-head hair, the coats on the hips) render the collection curiously abstract and alien – you can already see it entombed in a fashion museum of the future.
It is an immense joy to see Mr Armani, one of fashion's legends, return to glorious form. In this collection, he remained true to his brand's seductive elegance and yet kept completely in step with the times, and with his loyal clientele. How else would you define relevance?
The collection featured that long, sinuous silhouette, sensual tailoring, and a sophisticated and reserved glamour that he has honed to perfection in 40 years. Jaunty little jackets, no less recognisable than a Chanel jacket, with its narrow shoulders, and demure peplum; unusual, luxurious fabrics, some with a lacquered shine; classic ornamentation and a refined palette; graceful Zouave pants; a sense of the Asian that never veers into cultural appropriation – these have become Armani's signatures and are here in full force. This level of confidence comes from an absolute mastery of the metier, and a refusal to succumb to the silliness of algorithm-approved fashions. Mr Armani is the adult in the room of fashion's playpen.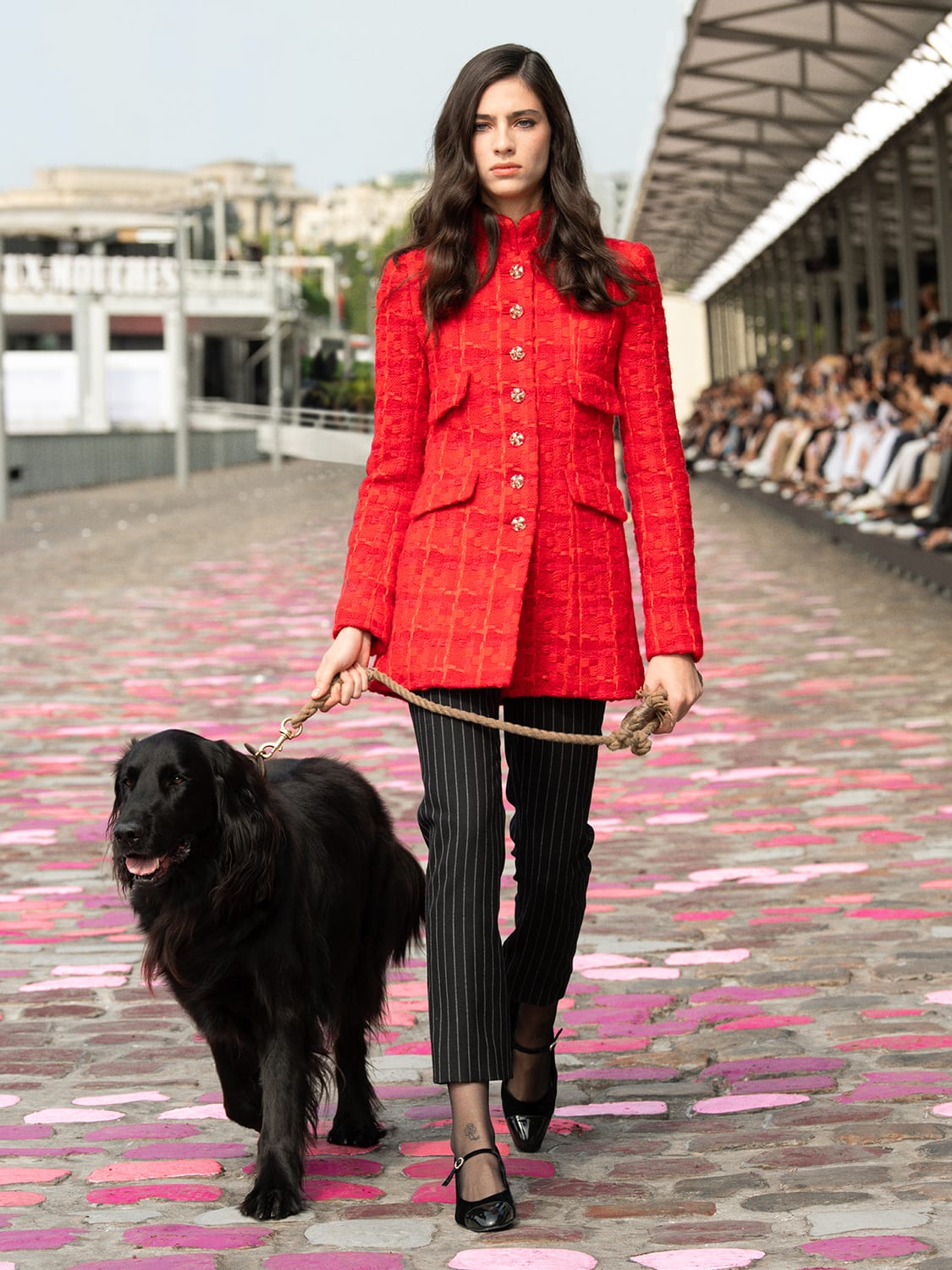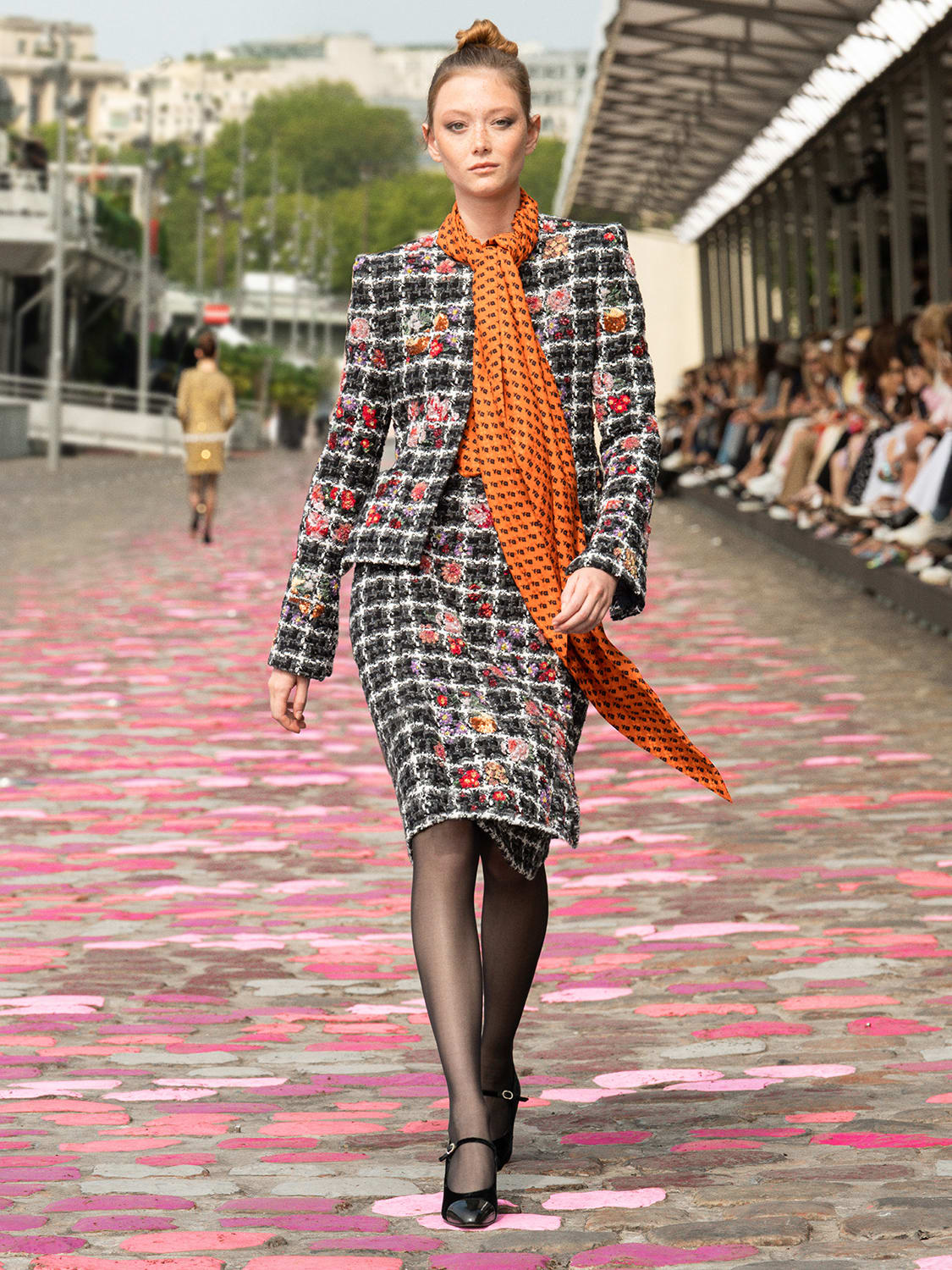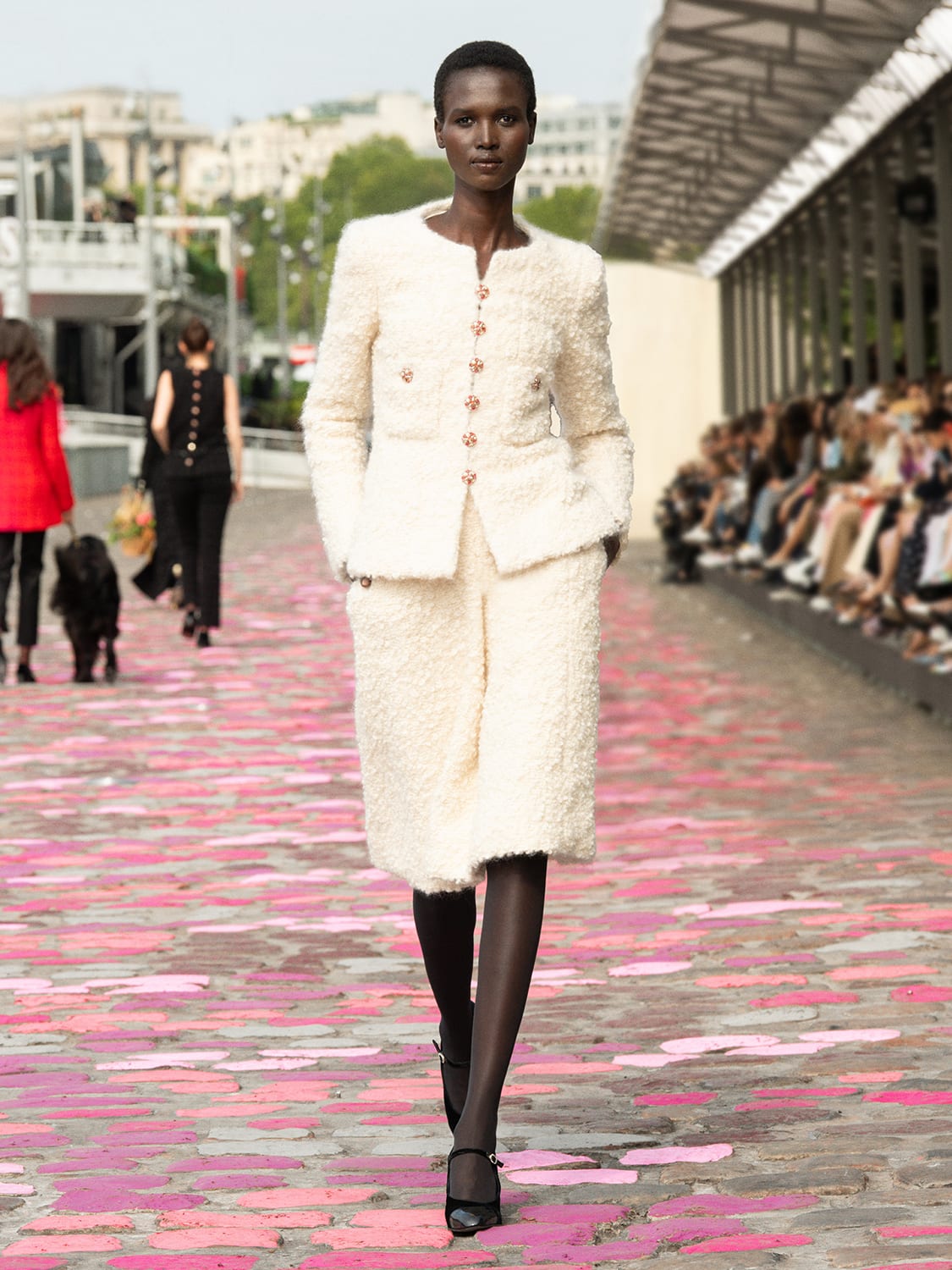 This is Virginie Viard's best outing for Chanel to date. This collection presented a stripped-down couture made relevant for every day and every woman, and focuses on capturing the essence of "Frenchness" for a global audience. Sans exotic locales and theatrical gimmicks, the looks were all adult sophistication, a meditation on the beauty of good, albeit rumpled style.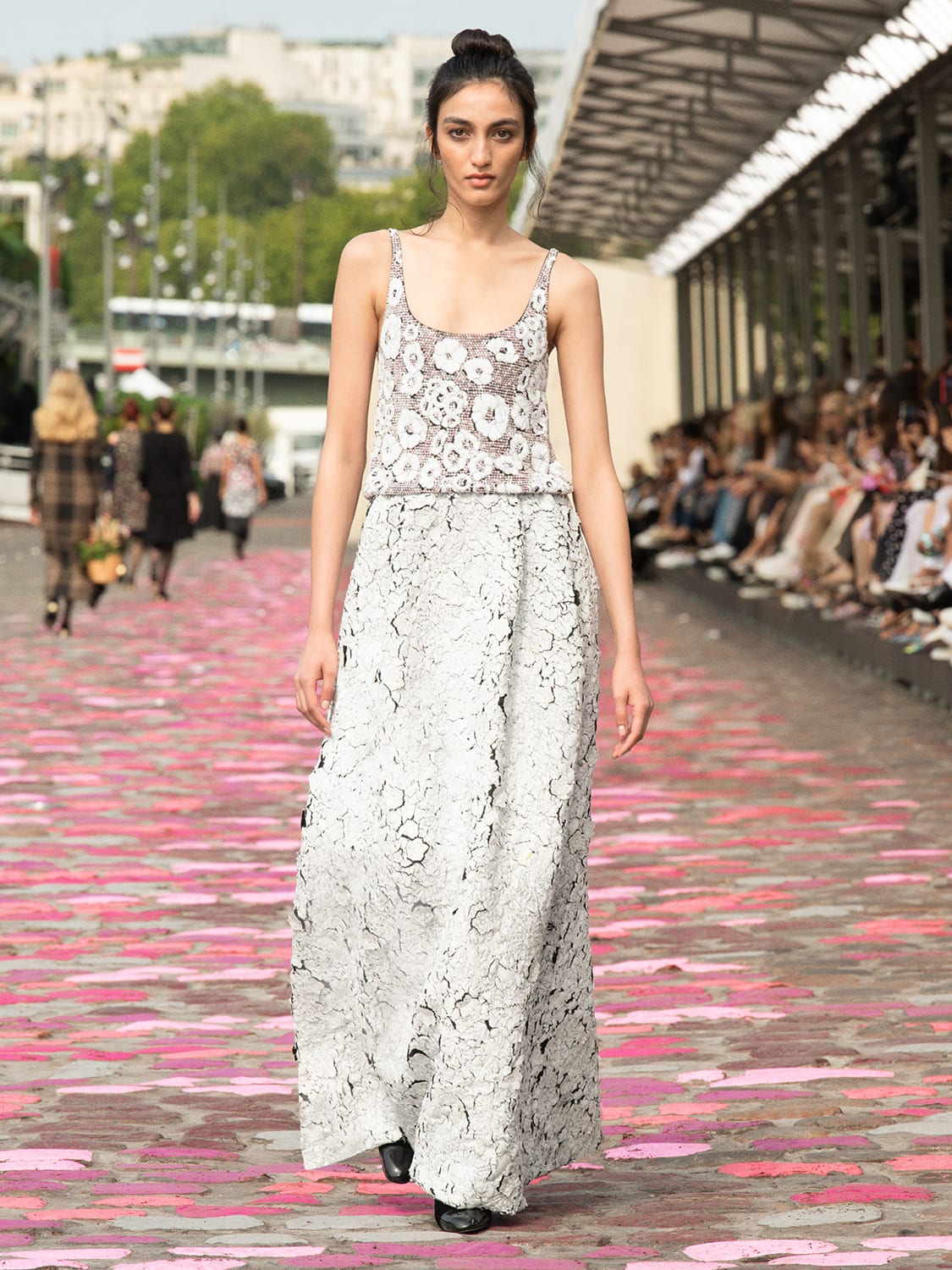 Led by Caroline de Maigret, a self-styled fashion guru specialising in Parisian charm, the Chanel warhorse and long-time spokesperson for the brand, is the epitome of who Viard is designing for. With her less than perfect looks and a make-do style, de Maigret enlivens a classic charcoal coat, or a tweed jacket, or a long black dress of tulle and velvet.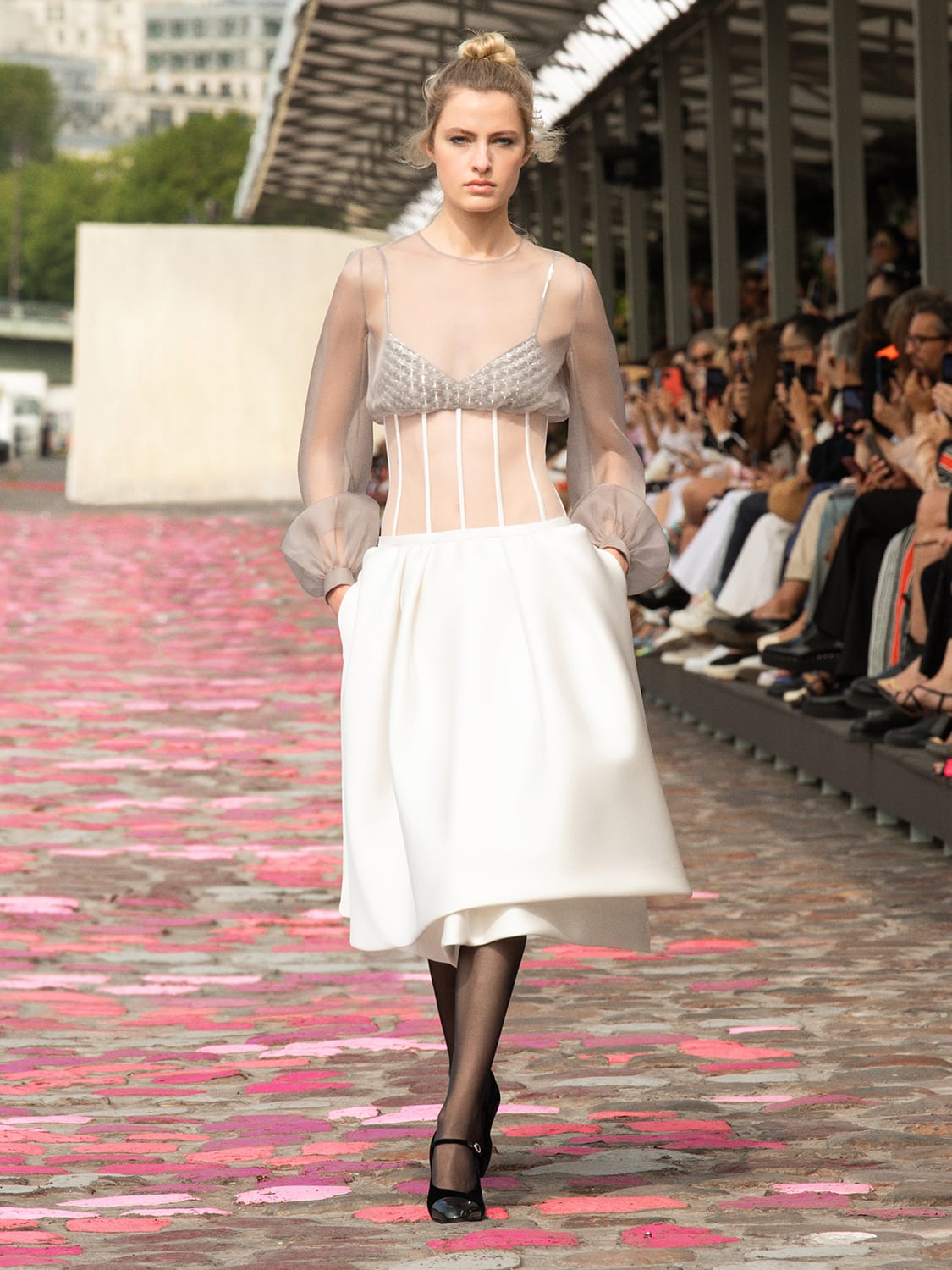 Velvet is dear to the heart of Viard. Attention is trained onto the handiwork of the Chanel artisans, and, without the usual jangle of multiple logo chains, pins and multi-bags, one sees the heirloom tweeds and matching braid, the rows of delicate feathers, the little jewel flowers, the intricate embroidery and etc. An example is the painstakingly embroidered jacket with the swagger of a denim jacket which one can easily envision on some of the Chinese actors that Chanel dresses, such as Cai Xukun, who was recently embroiled in a massive abortion scandal. The one pair of Mary Jane shoes shown throughout is enough to send one into rapture, not to mention several ethereal, drop-waisted Jeanne Lanvin dresses that had wafted straight out of the 1920s!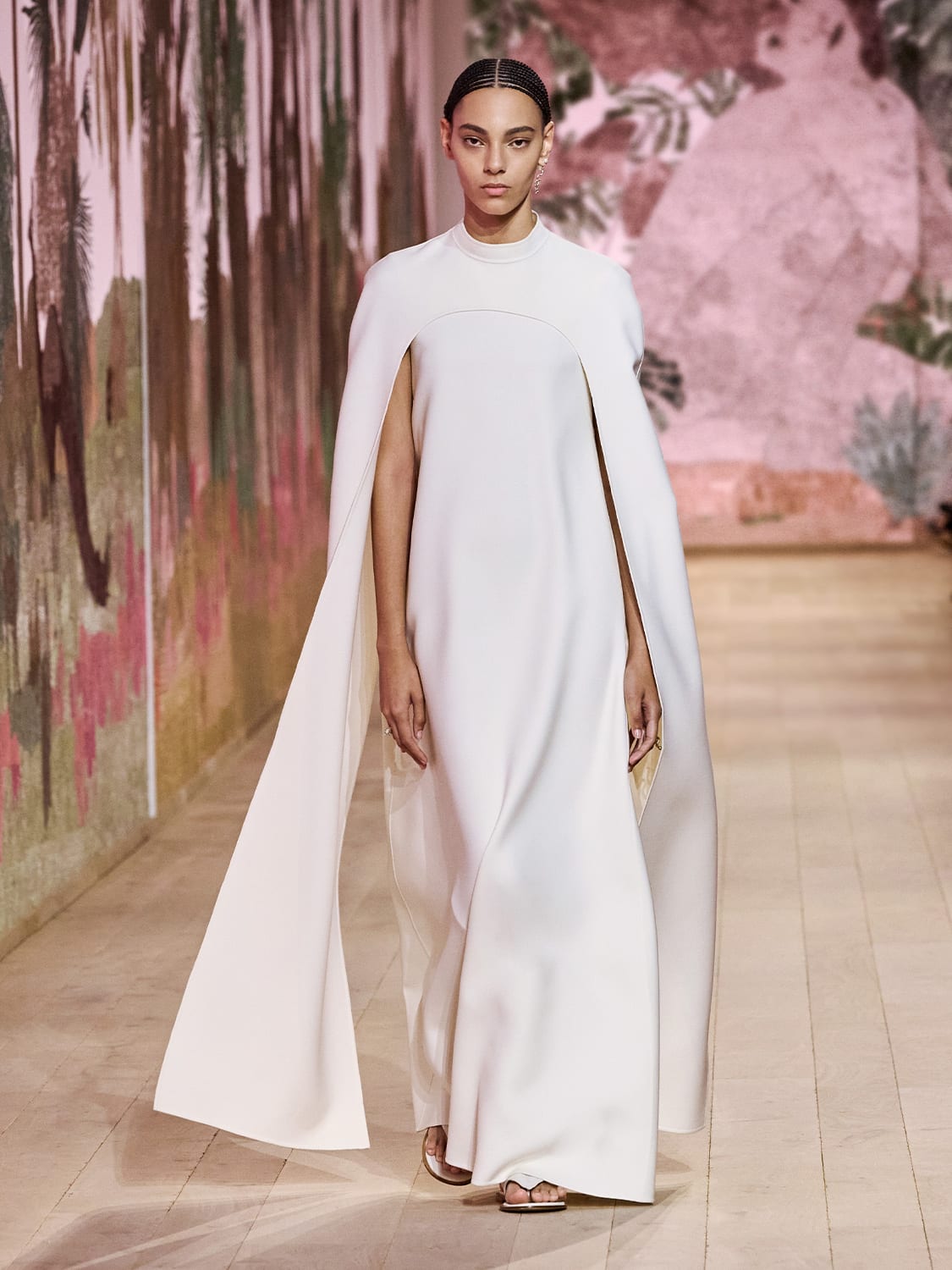 In an outstanding collection, Maria Grazia Chiuri presented a visionary procession of minimalist elegance — without a single misstep. The dignified floor-length silhouettes had the monumental beauty of an antique temple or a hinoki tree. Obviously designed to appeal to powerful women, and for empowering women, these quietly confident ensembles send out the message of gender parity more convincingly than Chiuri's slogan tees or invoking the likeness of Frida Kahlo.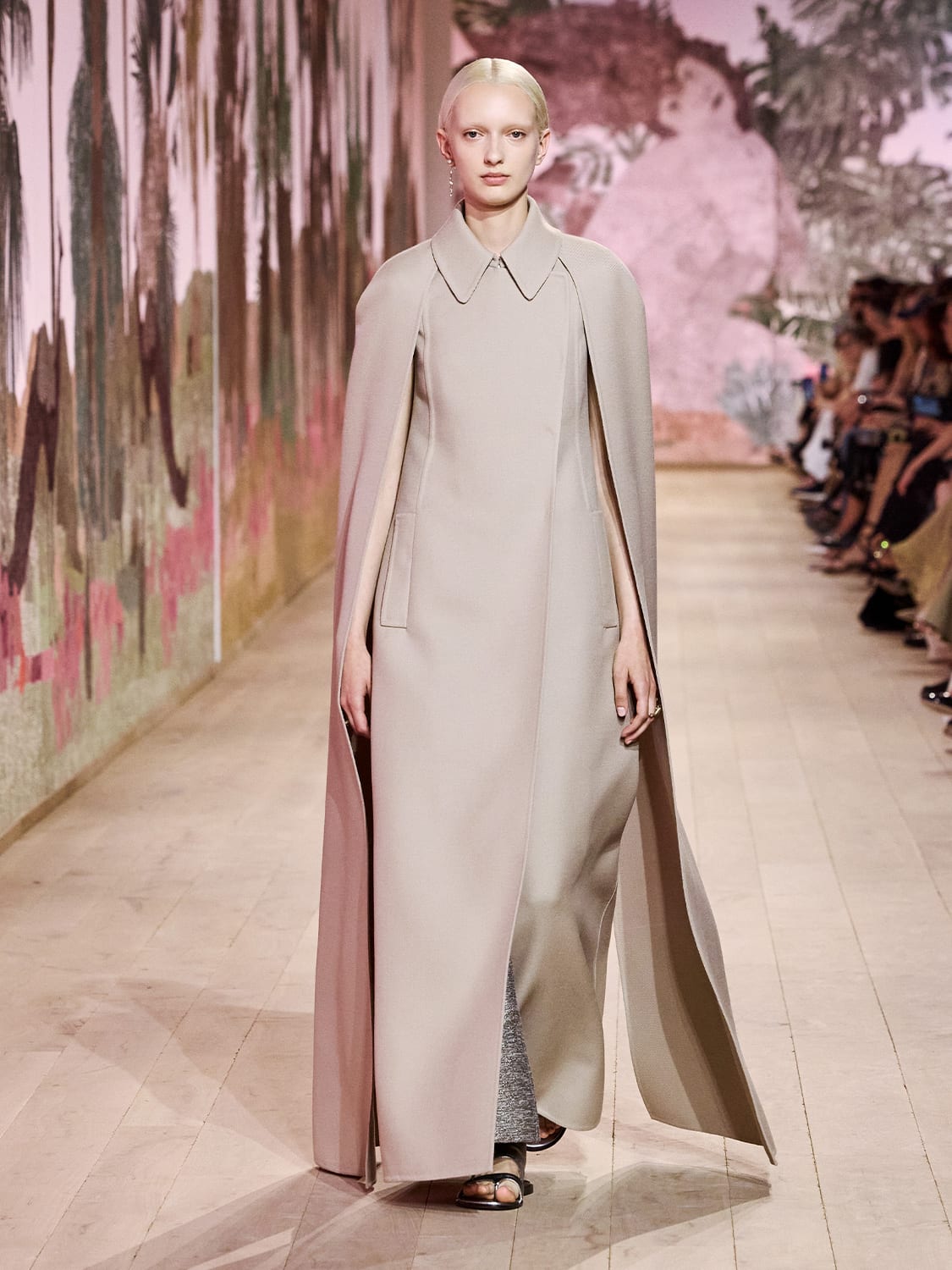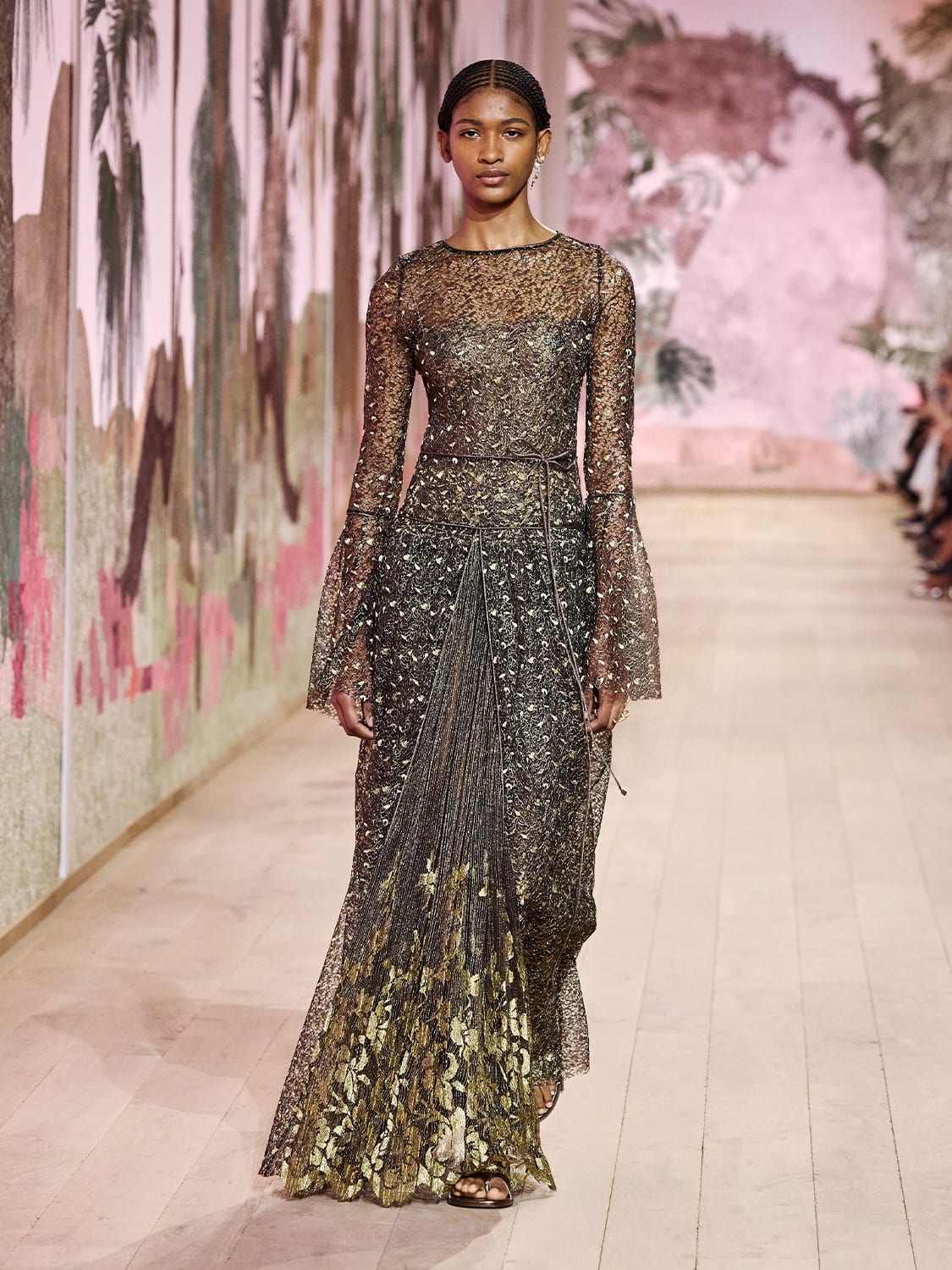 It's a shame that the alleged contract for Meghan Markle to be the face of Dior fell through – some of the looks recall similar Dior creations worn by the embattled Duchess, like the white trench dress at the Queen's Platinum Jubilee. These are pristine goddess dresses of surpassing minimalism—monolithic capes; caryatid dresses; unadorned tunics and shifts. The regal simplicity cried out for models of great beauty – so it's a shame that the usual lineup of quite ordinary faces, modest to quite-disagreeable, came stomping out.
The usual shenanigans unfolded at Balenciaga: Stately sculpted coat/gowns; windblown coats frozen in a moment in time, scarf a-flying; men's suits made sinister; gowns of feather and heavy chainmail; igloo-shaped gowns; trompe-l'oeil pieces, where canvas was hand-painted to look like tweed, fur and denim – it was a moment from A Winter's Tale. Every era of fashion was represented, reflecting how we now consume fashion online. Out wobbled cinema legend Isabelle Huppert, in a gothic bead encrusted gown. Demna's muse Eliza Douglas modelled a super-shiny bell-shaped suit or armour in stately procession. Yes, a suit of armour, to defend all the world's ills.   
 Predictable in silhouette and curiosity, the actual heavy lifting was done by a cast of star models of the past, including Edie Campbell, Liu Wen, Natasha Poly, Małgosia Bela, Iselin Steiro, Saskia de Brauw, Mariacarla Boscono, Amber Valletta, Eva Herzigova and Danielle Slavik, who was a Cristobal Balenciaga model in his last show, and the iconic Ines de la Fressange, once the face of Marianne, the personification of the French Republic. Along with Huppert, they walked out in a glacial stagger, as if in a trance or intoxicated – perhaps a comment on the fentanyl scourge that's devastating American cities.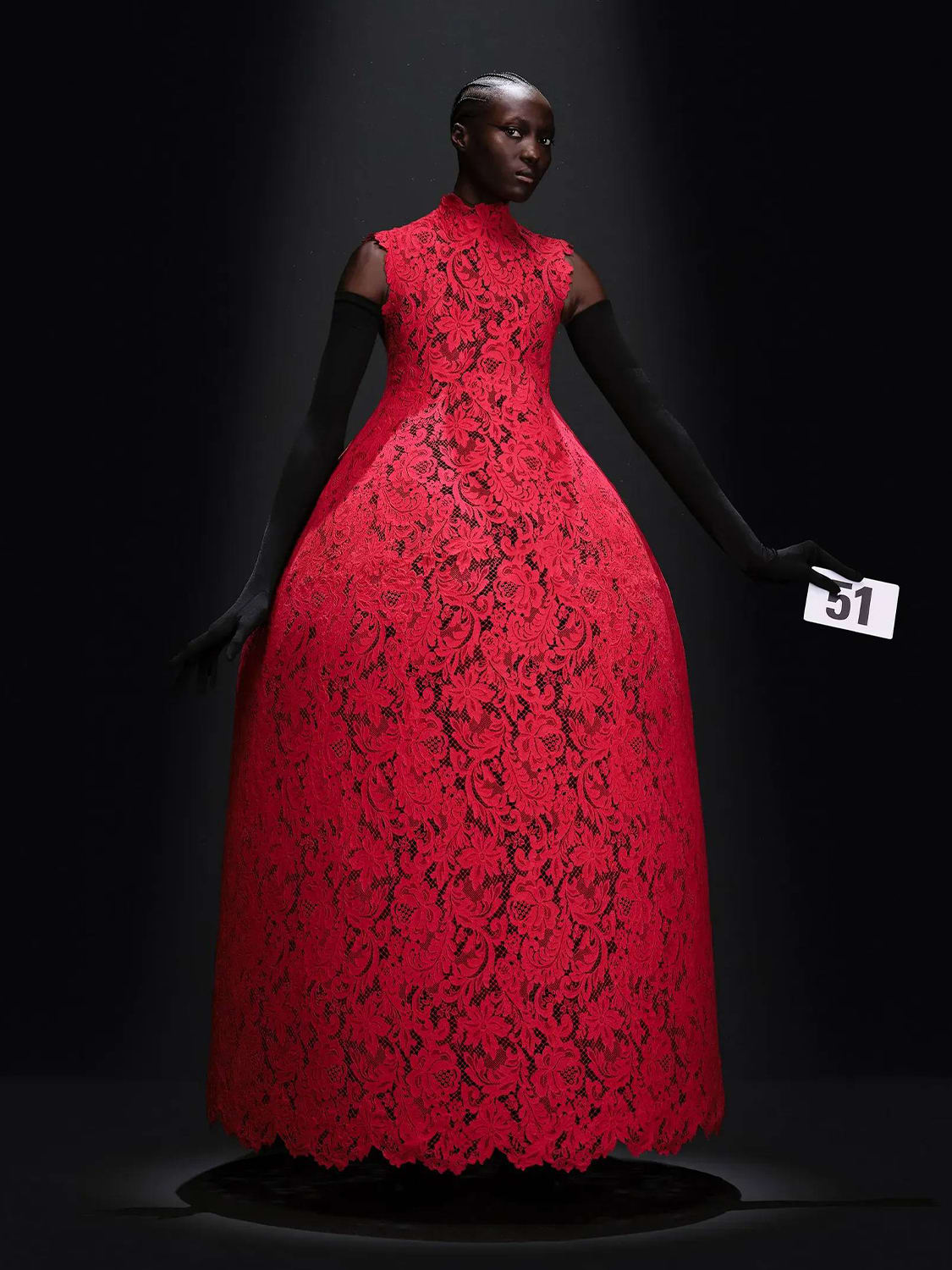 Off the runway, Demna had assembled a front row which included Anna Wintour, Michelle Yeoh, film director Baz Luhrmann, whose appearance is a developing story, and gender-fluid Thai influencer PP Krit.