Handcrafted custom guitars: The collector's item you didn't know you wanted
Whether you're a musician or a connoisseur of finely-made objects, Heritage Guitars could be the new must-have asset in your collection.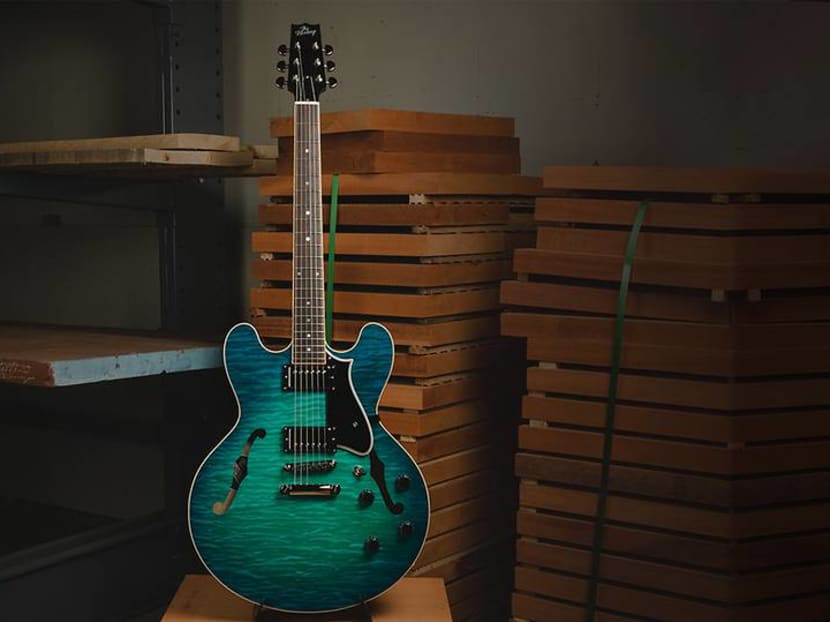 If you spotted someone playing one of these beautifully crafted, wood grain-finished guitars and thought you were looking at a classic Gibson Les Paul, we wouldn't blame you. After all, the people behind Heritage Guitars, a comparatively young guitar-making business, are the same luthiers from the original Gibson factory in Kalamazoo, Michigan, USA.
As history goes, the Gibson brand, started by Orville Gibson in the late 1800s, made some of the world's most sought after guitars at the 225 Parsons Street factory in Kalamazoo since 1917. In 1984, however, when Gibson moved their factory to Nashville, Tennessee, some of its more senior employees preferred to stay in Kalamazoo.
It was in 1985 that Heritage Guitars was born out of the passion of Jim Deurloo, Marv Lamb, and JP Moats. The trio bought a space at 225 Parsons, and the original guitar-making equipment from a fire sale, to continue their love for making handcrafted guitars in the traditional way.
The beginnings of Heritage were all about custom-built guitars. You couldn't just walk into a store and drive home with a new instrument. If you wanted a Heritage guitar, you would have needed to talk through choice of wood, body type, finish, inlays, and so much more, before they started making your guitar.
As every guitar is still handcrafted today, the buying journey can take anywhere from six months to two years, depending on the complexity of the design. So, it's no surprise that Heritage is only just becoming a brand to watch – and eventually own – outside of the US.
But things are about to change. In the last two years, Heritage has started making and selling standard models. Before that, there was no such thing as a set inventory of guitars.
Homegrown musical instruments retailer Swee Lee has started to carry a small selection from the Heritage Standard collection, and also helps guitarists or collectors build their custom Heritage from the By Appointment Only room of the Star Vista flagship store.
"This boutique room offers a curated selection of guitars," said David Nam, product manager with Singapore-based BandLab Technologies, a collective of music brands which includes Swee Lee. "You can't just walk into this room. You need to write in with your preferences so that the manager will be able to take care of you. This experience is very much aligned with what Heritage is all about. As it is historically a custom shop, there is a continued exchange of ideas, communicated from customer to the factory – the process of hand-selecting types of wood, or inlays, or if you wanted a specific pick-up. This happens here in Swee Lee."
A standard collection guitar starts at S$1,999, but a custom-built guitar starts at US$2,500 (S$3,408). The extent to which you can customise your instrument is only limited by your imagination – and bank account.
"People have very specific and unique ideas about where we can push the bounds of creativity," said Lauren Hendry Parsons, AVP, communications and partnerships, BandLab Technologies. "They may use a special picture or keepsake that is integrated into the design of the guitar, or people would draw something and ask the master builder to translate it into an inlay or fretwork. The possibilities are endless thanks to our relationship with luthiers at Heritage."
Do customers to get carried away with designing?

"At the end of the day it's still a guitar. It should sound good and play well," said Nam. "Whether the owner plays or just collects, it is important for us to honour the tradition of Heritage… The most important part [for sound] is the wood."
While the wood grain has aesthetic appeal, the wood itself changes the sound profile of a guitar. The iconic "tiger stripes" of the flame maple may be a sought-after design, but the maple is traditionally used for its brighter "attack-like" sound profile. Walnut, also valued for its beautiful brown hue, is a compressed wood that delivers a more mellow sound and takes a longer time to "open up" – like a fine wine.
"There are different wood grades, weight, where the wood is from, the sound profile, and how rare it is to source," said Nam. "Swee Lee is able to help crystallise all ideas and preferences into something that works."
When you're sitting in a By Appointment Only room adorned with limited edition big brand name guitars that cost anywhere from S$15,000 to S$60,000, how does the seemingly humble Heritage stack up?
"The allure of the brand is that it is unknown," said Nam. But so much more than that, "Heritage has soul. There is a feeling of familiarity, it is not high-end and sterile. When you pick it up for the first time, you feel like you've been playing it for years."
Nam has been working alongside the master builders at Heritage on strategy for the region. Ensuring that Swee Lee has a substantial inventory of standard models is an important step to introduce the brand to regional guitar players and collectors.
In fact, pre-owned Heritage guitars have started to surface in the vintage trade market in Singapore. "Someone asked me if he should buy a 1996 Heritage model," said Nam. "I said yes, buy it because it came with an old bridge that says Heritage. You can't get that anymore, because no one else is able to make the same bridge for us." The asking price of that particular guitar? US$3,500.
Like a piece of art, time doesn't diminish the value of well-built guitars. It can only keep climbing. If a 1959 Gibson Les Paul Standard, the most coveted guitar in the world, sells for about half a million dollars, what could a one-of-a-kind Heritage guitar sell for in 60 years?
But for the true artisan, the real value of a Heritage lies in the fact that it is, till today, still handcrafted. "While other brands have transitioned to machine crafting, Heritage is 100 per cent handmade," said Parsons, who had the chance to visit the factory when it celebrated 100 years of guitar making in 2017. "Every curve is carved or buffed by human hands. This is true craftsmanship."