Can't get enough of Changi Jurassic Mile? Here's a watch with a T-Rex motif
Hermes has a new unconventional pocket watch, with a Tyrannosaurus Rex as the star of the show.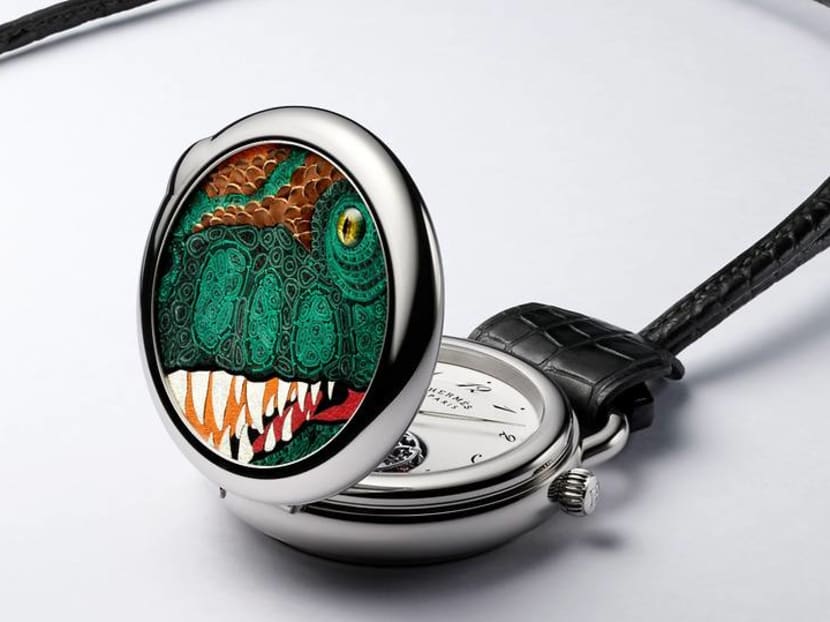 Ever since the first dinosaur fossils were discovered centuries ago, these prehistoric creatures have intrigued us. They have since made their way into everything from films and books to museums and theme parks.
In Singapore, we now have the Changi Jurassic Mile, a cycling and jogging path with dinosaur displays that admittedly, even us adults find as fascinating as children.
For dinosaur fans getting antsy while waiting for the release of the next Jurassic World movie (good news: The movie has since resumed filming after a COVID-19 production delay), Hermes is introducing a new timepiece that features the fan-favourite Tyrannosaurus Rex, or T-Rex as he's more commonly known.
This mechanical pocket watch combines the intricate complications of a minute repeater and a tourbillon, but it's the watch's bright coloured cover, featuring a complex leather mosaic of a T-Rex designed by English artist Alice Shirley, that's the star of the show.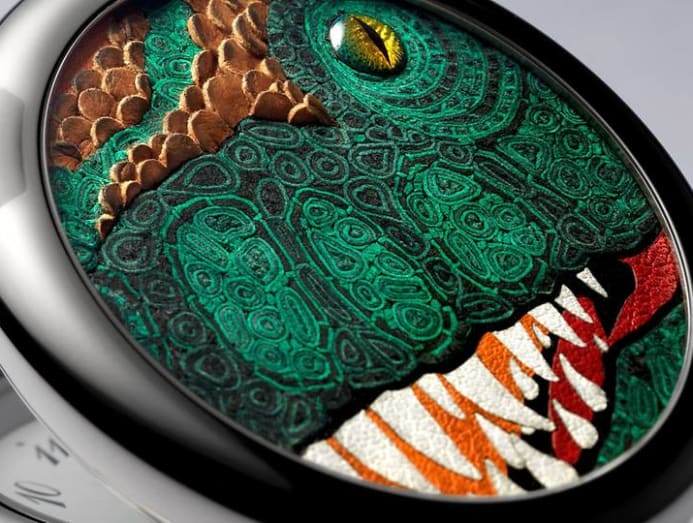 It's not an everyday occurrence to see a T-Rex depicted on a timepiece, especially one meant for adults. In fact, no major watchmaker has ever produced something like this.
In creating the cover of the playfully named Hermes Arceau Pocket Aaaaargh, thousands of individual fragments of leather are separately dyed, thinned to only 0.5 mm, and then painstakingly hand-applied to the enamelled surface to create the vibrant design. 
The domed eye of the dinosaur, visible on both sides of the cover, is made of cabochon-cut Grand Feu enamel. While the cover of the timepiece is vibrant and intricate, its white enamel dial is simple in contrast. It features Arabic numerals, with the tourbillon cage visible at the six o'clock position.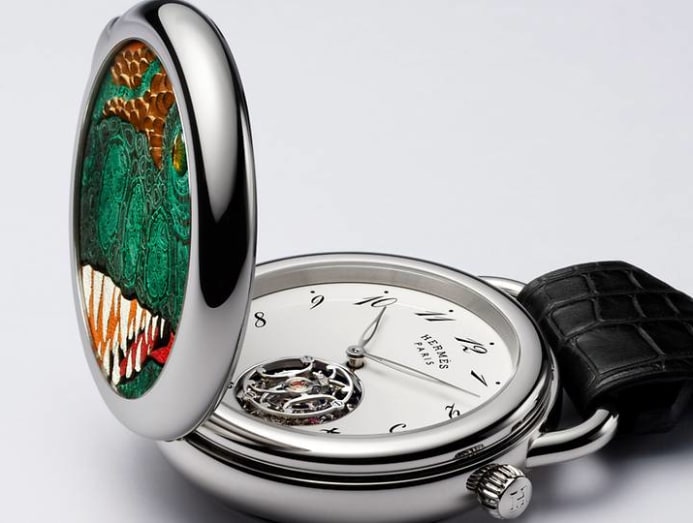 The Hermes Arceau Pocket Aaaaargh is powered by the manufacture H1924 automatic tourbillon minute repeater movement, which offers a power reserve of 90 hours and is visible through the sapphire crystal case back.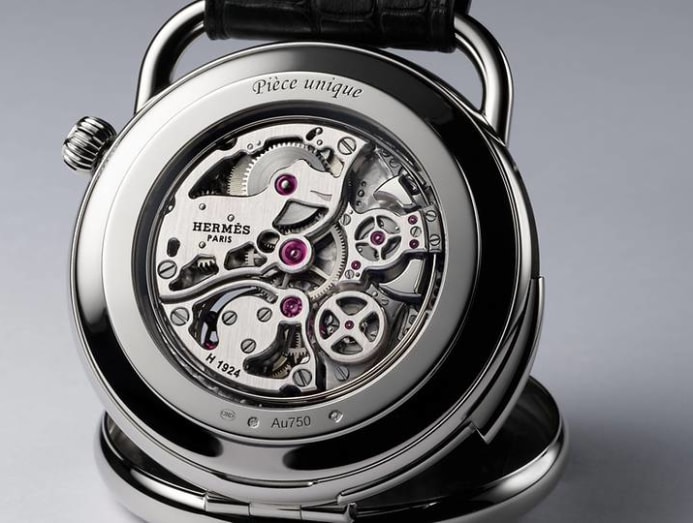 Setting the final touch to this bold timepiece, a matt green alligator leather cord-strap is secured to the lug, accentuating the overall design.