Using bangles to commemorate job promotions and professional milestones
In a market where people typically purchase jewellery for others, one fashion editor sees herself among those emancipated women happy to buy jewellery for themselves – as mementos.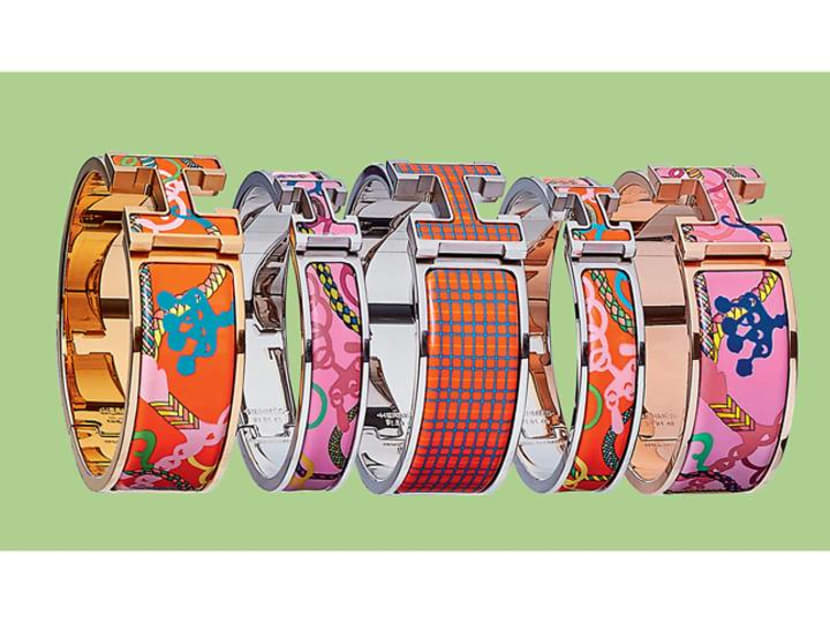 I know where it began. I was sitting at a fashion show in Paris, the heat so intense that my clothes seemed to have vacuum-suctioned to my skin, when I noticed the fashion editor Camille Bidault-Waddington sit down at her seat. I've always had an admiration for the stylist's effortless dress sense that borders on obsessive. To date, she's the only woman who, in the social media definition, has "influenced" my style: I see her and want to wear what she's wearing.
On this particular broiling afternoon, she was wearing a micro mini skirt, laced booties and a sky-blue silk shirt (see, I told you, the interest is a little bit unhealthy). But the thing that caught my eye were the enamel bangles that jangled on her arm. Shot with acid colours, orange, blue on a gold band, the jewellery suddenly made the leap from being something I had previously regarded as an essentially mumsy accessory, into a highly desirable object that I must urgently seek, and buy.
Which is how I came to find myself, days later, standing on the exquisite mosaic tiles of the Hermes flagship store at 24 rue du Faubourg Saint-Honore, with a brace of bangles in my hand. Why Hermes? No good reason, except if you are about to cultivate a habit, I feel you really owe it to yourself to go right in at the top.
Also, because there is such a range of enamel to choose from, from the scarf-print designs that were the basis for the original bangle, which launched in 1976 and was based on a Jacques Eudel print known as the Grand Apparat, to the hinged versions that fasten with a Kelly bag-style turnlock, or a ring.
I was drawn to the Clic H bracelet, a solid ovoid of enamel and gold first launched in 2000, which is fastened with a chunky Hermes "H". It has a snug, less jangly fit, feels pleasingly heavy on the wrist, and closes with a sound that lives up to the onomatopoeic promise of its name. Plus, it comes in a palette of delicious-sounding colours: Marron glace, rose dragee, craie. I bought the noir (of course), left the premises, and promptly considered buying more.
I love my bangles. Stacked on the wrist, I feel instantly glamorous and grown-up – even when I'm wearing jeans.
Over time, the bangles have come to represent small markers of achievement – entirely self-congratulatory, and almost certainly undeserved. In a market that has traditionally seen people purchasing jewellery for others (and most often men for female partners), I like to see myself among those emancipated women happy to buy jewellery for themselves.
After the fashion shows, a new bangle has become a bit of Parisian bounty I seize to mark the completion of the season, each one a memento of a month spent on the road. Some commemorate a job promotion or a professional milestone. One, a shitty week.
And, yes, they are an exceptional indulgence, but in lieu of champagne, shoes or diamonds, I love that these arm totems have longevity and are made of gold-plated hardware and the humbler glass.
All manufactured in Nontron, France, the bracelets combine a range of techniques that use the skills of Hermes's many metiers: Screenprinting, developed through the silk and textiles department; hand-applied chromolithography, which is associated with the brand's tableware division; and the leather and saddlery department, the starting place for so many Hermes's icons.
Despite their relative newness at the maison, jewellery has become a forceful commodity for Hermes as of late, contributing to a division, including fashion, that makes up 23 per cent of the group's total turnover.
Sadly, my own contribution to those earnings won't stretch very much further. After three years of collecting – I'm running out of wrist.
By Jo Ellison © 2020 The Financial Times