Across Asia, why are more men carrying women's handbags?
As fashion gets more androgynous, the legendary Hermes Birkin bag is attracting more and more male consumers. CNA Luxury digs into this trend.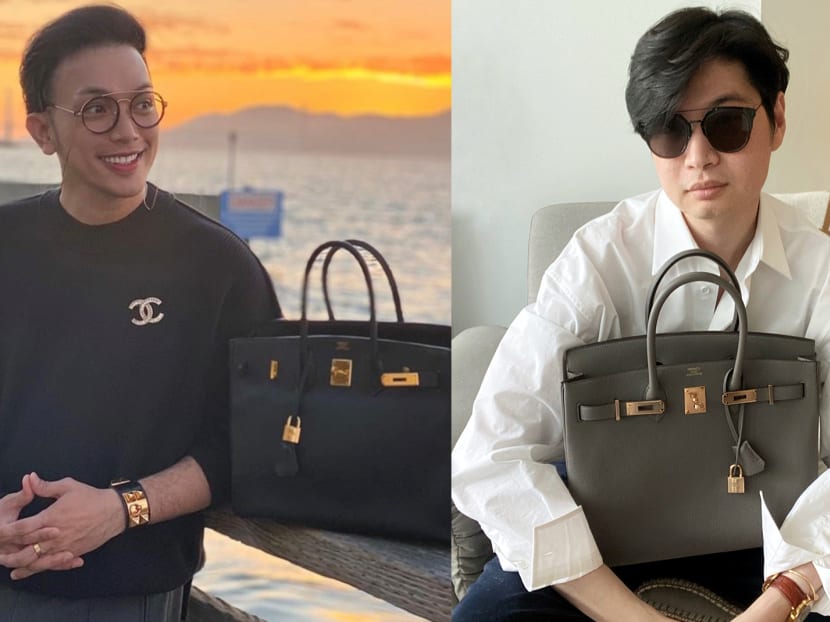 Terence Lee was recently offered an Birkin bag from a Hermes boutique. The 31-year-old Malaysian, a pediatric doctor working in Australia, has been a bag collector for many years.
"I think it's safe to say that most bag lovers who are into luxury would likely include the Birkin as one of their 'holy grails' and I am no different. I've been collecting designer handbags since I started working, and the Hermes Birkin used to seem so unattainable when I first started this mostly unhealthy journey," Lee told CNA Luxury.
To celebrate his 30th birthday last year, Lee purchased a preloved Birkin 35 in Togo leather with palladium hardware from a reseller based in Singapore. "Very recently, I was offered a Birkin 35 from my local store in Melbourne and of course I said yes before I even saw it in the flesh. It is an etain (matt grey) Birkin 35 in Togo leather with rose gold hardware and I love her so much," he quipped.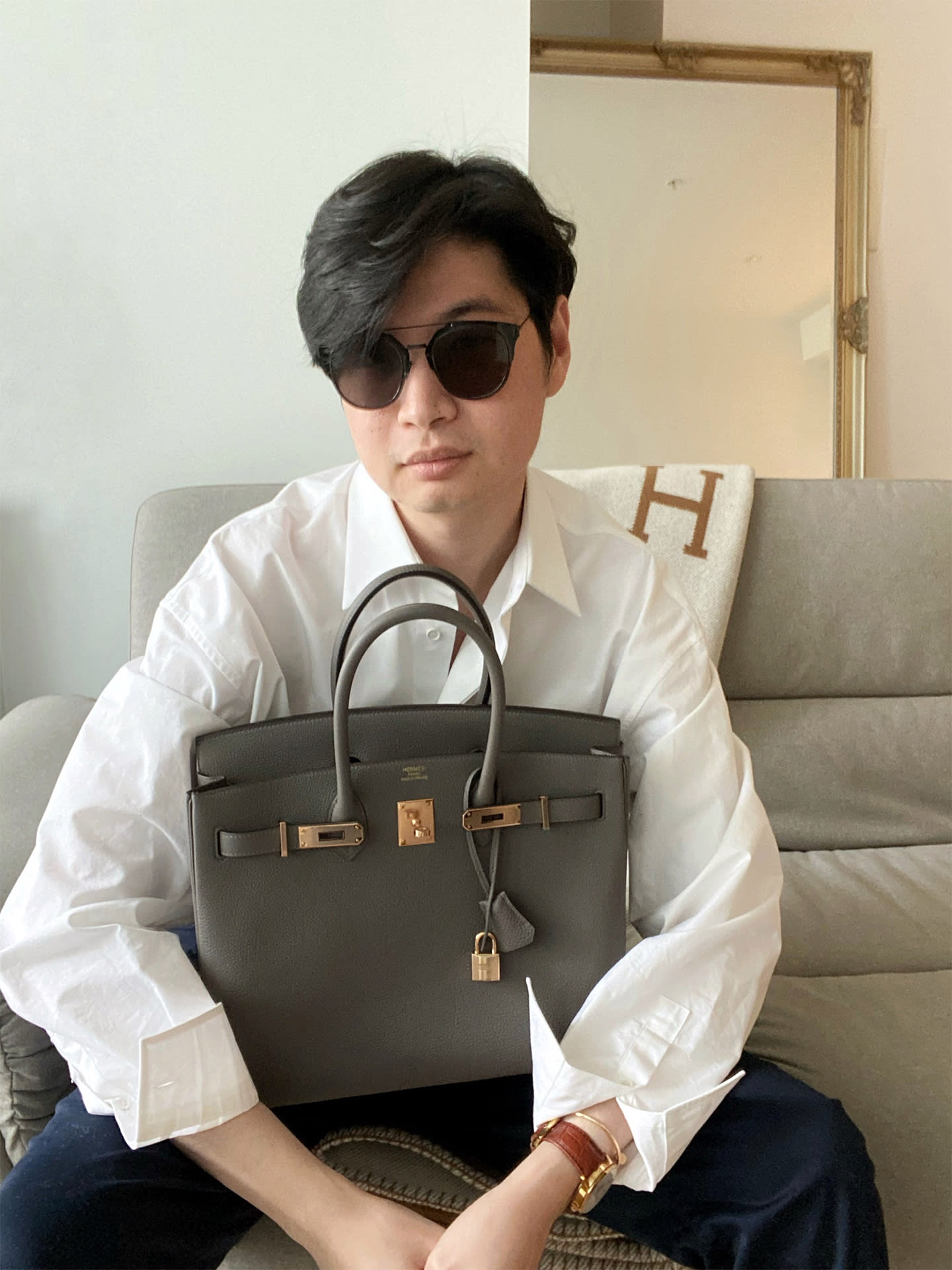 Lee is just one of many men featured on the Instagram account @birkinclub4boys. The account, which has around 15,700 followers, invites men from around the world to submit photos with their Birkin bags. 
Featured on a similar account, @birkinmen, is 38-year-old business owner and freelance makeup artist, Preston Tran.
"I am a bag lover in general and I have always been in love with Hermes," the Vietnamese-American shared.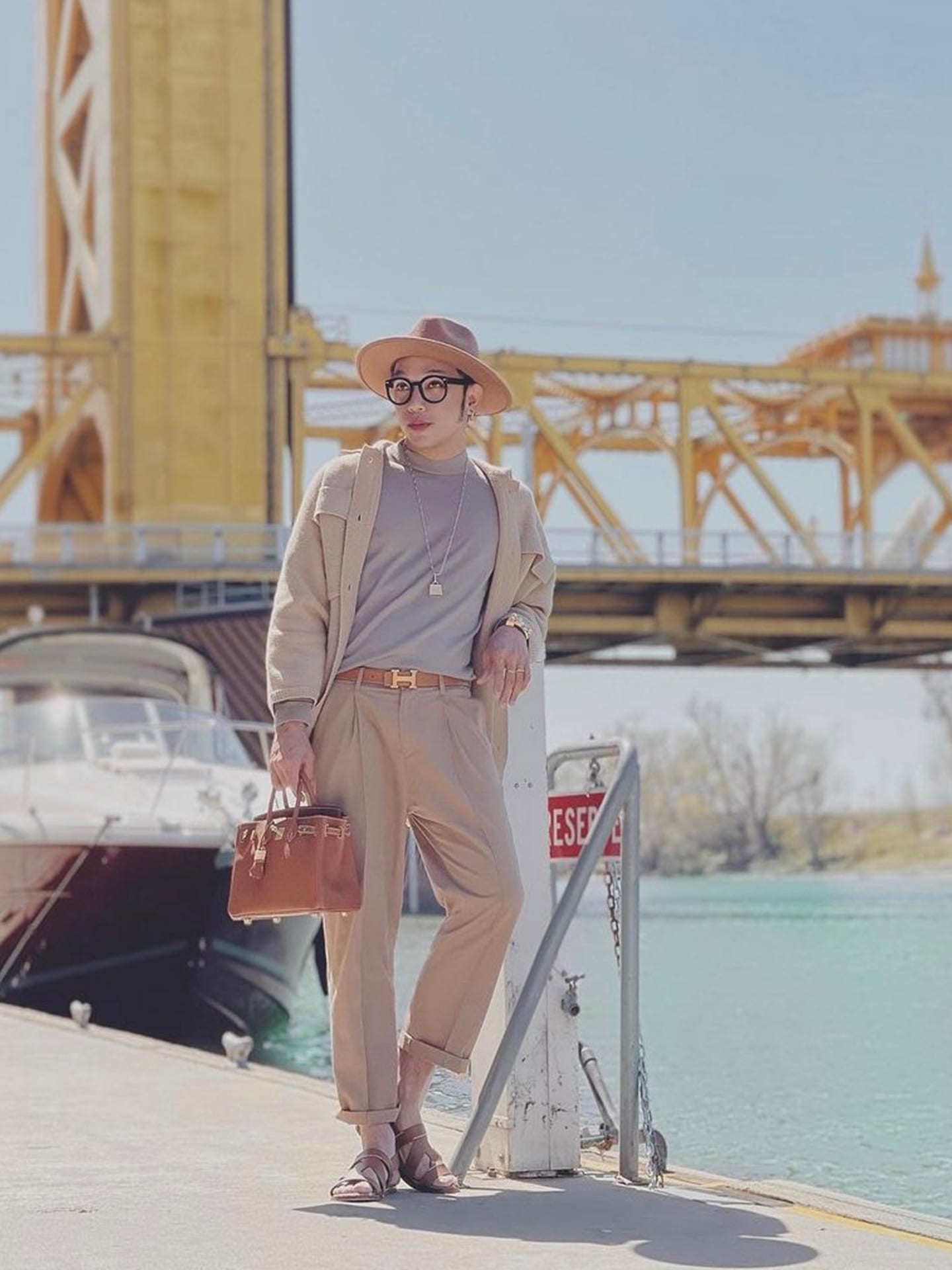 A trip to Les Ateliers Hermes (Hermes's workshop in Paris) this summer only grew Tran's love for the brand. "After witnessing how each Hermes bag is made behind the scenes, it made me appreciate their products more. All the skills and techniques that Hermes's craftsmen put into the products, such as hand-stitching, proves that the bags are given so much love. It is what makes them special not just for the craftsmen themselves, but also to all bag lovers out there."
Tran has an enviable collection of 15 Hermes bags. "Most of them are Birkins in size 40, 35, and 25. I also have one Kelly Touch in size 32, a Mini Lindy and a Constance," he shared.
The story of how the Birkin bag, arguably the most sought-after luxury bag in the world, came to be is one that's oft told. In 1981, actress and singer Jane Birkin was boarding a plane when she met Hermes chief Jean-Louis Dumas. While trying to fit all her carry-on items into the overhead compartment, she realised that her handbag could not hold all her belongings. Birkin began to rant to Dumas about how fashionable bags were never big enough to fit all of one's things.
Inspired, Dumas began dreaming up the perfect bag and the Birkin was born, crafted in supple leather with Hermes's signature saddle stitching with a buckled flap top and swivel clasp. The original design has endured ever since. "The workmanship behind the Birkin is impeccable and the style is tres chic," commented Lee. Of course, one cannot simply walk into a Hermes boutique to score a Birkin. "The fact that it is somewhat elusive makes it all the more exclusive too," Lee added.
THE INFLUENCE OF SOCIAL MEDIA
While the Birkin was first created as a women's handbag, over the years, more and more men have been carrying them too. Before becoming a Chanel ambassador, K-pop artist G-Dragon was known for toting around a Birkin 40 in red with gold hardware.
Also spotted with the Birkin on Instagram – Singaporean Bling Empire star Kane Lim and local celebrity hairdresser David Gan.
Although the trend is not new, auction houses that CNA Luxury spoke too – namely Christie's, Bonhams and Sotheby's – shared that there has been a steadily growing percentage of male Asian bidders at recent auctions.
"We have seen this trend all over the world and in Asia, with big stars such as G-Dragon initiating this trend," said Morgane Halimi, Sotheby's head of Handbags and Accessories.
Meanwhile, Jerry Chang, associate specialist, Handbags and Accessories Department of Christie's Asia Pacific, noted that the auction house has seen "active participation from Hong Kong and Southeast Asian male clients".
"Southeast Asian collectors are very strong," concurred Humphrey Cheung, Bonhams' specialist of Designer Handbags. "One reason is that social media is developing very quickly there and so there's been a bigger demand for people to be seen with rare bags."
Cheung pointed to the example of Thai influencer Bas, known for his wide collection of luxury bags and unboxing videos on his Instagram account, @bsweetintoxication.
Meanwhile in Hong Kong, dentist and influencer Christoffer Cheung, @curiouschristoffer on Instagram, has amassed almost 60,000 followers with OOTDs styled with luxury bags.
SOUGHT-AFTER BIRKINS
There are several reasons why men are attracted to the Birkin in particular. These include fashion and size, said Christie's Chang. "Men appreciate craftsmanship, quality and subtlety in handbags," Chang commented. "The Birkin also offers different sizes – particularly large ones that can best address a modern man's needs."
Sotheby's Halimi shares that "men generally look for sizes 35 or above and often in dark colours. But more and more men have been attracted by shiny or matte exotic skins that will bring a rock touch to any outfit".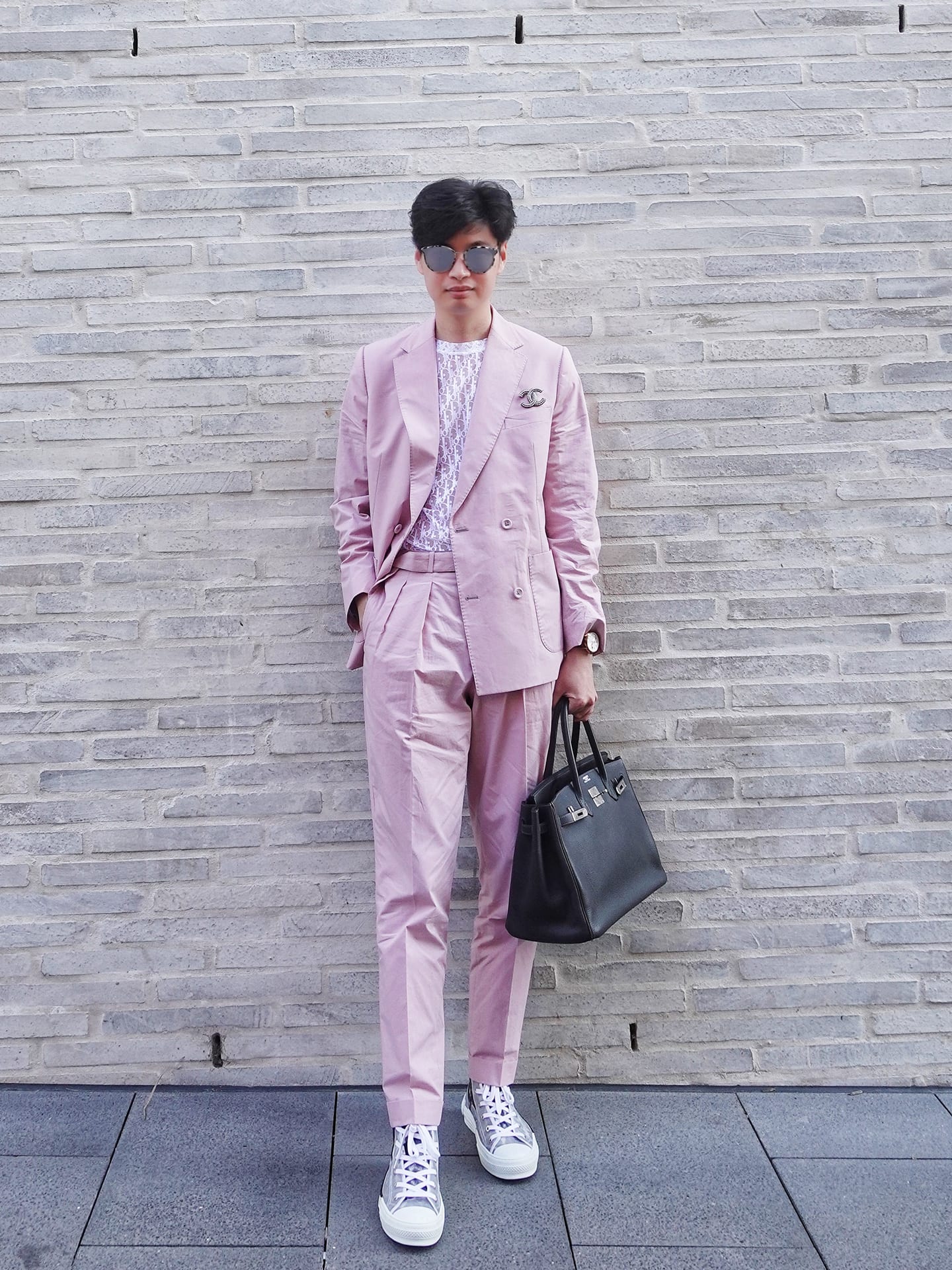 Two rare models – the Shadow Birkin and the Birkin Cargo – are very sought-after by men, Halimi shared. The Shadow Birkin was designed by Jean-Paul Gaultier in 2009 when he was creative director of Hermes. The design features the illusion of a top flap, embossed onto leather. "It doesn't have any hardware, which a lot of men appreciate."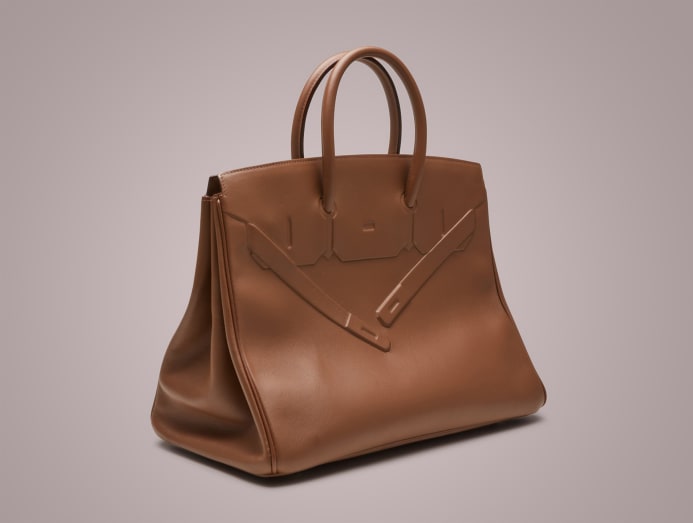 On the other hand, the Birkin Cargo "is appreciated for its multiple pockets. It is also lightweight because it is made from canvas," said Halimi.
Bonhams' Cheung, however, noted an increase in interest in the Birkin Mini. "Men go for the mini Birkin nowadays [because] we don't have the need to carry a great amount of things. Smaller bags generally have strong resale value as well."
Besides the Birkin, Cheung also noted that the Hermes Mini Lindy has become popular.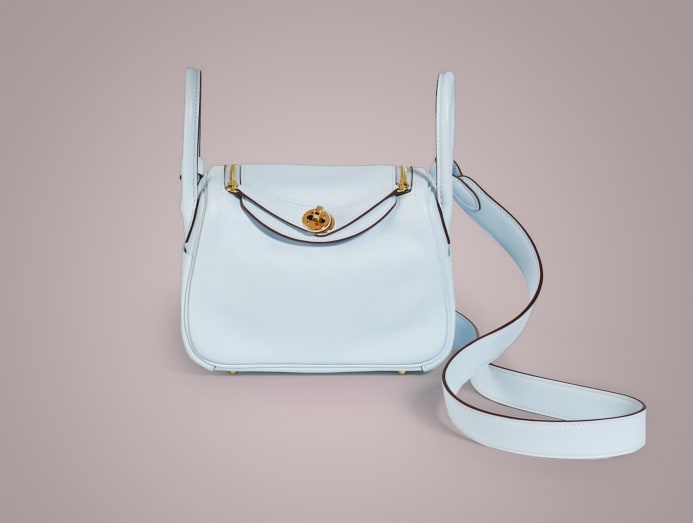 Another popular model is the Hermes Kelly in size 40, shared Christie's Chang. "It's also one of the most recognisable and classic Hermes handbags. Kelly bags come with a shoulder strap, which is more convenient for men as they can carry the bag on their shoulders," he said.
THE RISE OF ANDROGYNOUS FASHION
Bag collector Lee styles his Birkin as an everyday bag, paired mostly with casual wear from T-shirts to jeans and basic knitwear. "I guess the Birkin just elevates every look. I do draw the line at sweatsuits though!" he quipped.
It is not only the Birkin that is having a moment among male bag collectors. Some of Lee's favourite bags in his collection include the Dior Saddle and the Chanel Mini Flap, while Tran cites mini bags from Louis Vuitton and Dior as some of his favourites.
Both Tran and Lee represent a growing group of consumers embracing androgynous fashion. In recent years, fashion has increasingly challenged gender norms.
Back in 2017, G-Dragon made a stir as the face of Chanel's Gabrielle bag campaign. More recently, in 2020, Gucci reissued the Jackie handbag, aimed at all genders. Musician Harry Styles appeared in the fashion house's Gucci Beloved campaign, sporting the Jackie.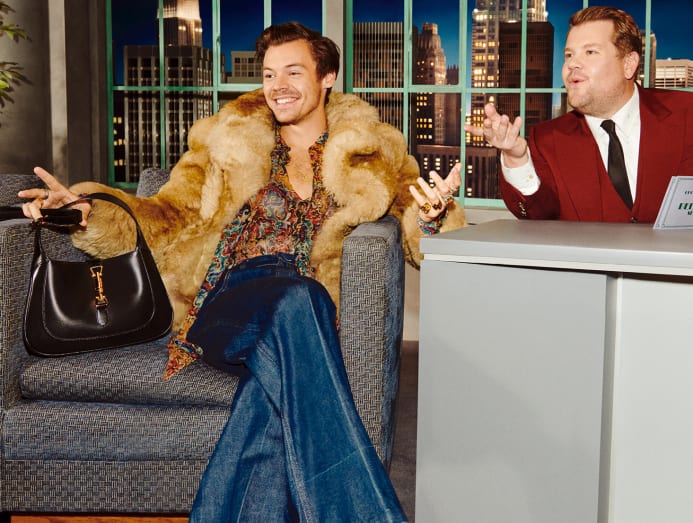 "I don't think it is just handbags but fashion in general is getting more gender-neutral," Lee commented. "I guess it works both ways. As more women wear pant suits out of love for the style, more men are carrying handbags."
At the end of day, Lee believes it is "not about what you wear, but how you wear it".
"To me, I think that it is very personal when it comes to art, fashion and beauty," shared Tran. His advice? "Just do whatever you want to do that makes you feel happy and comfortable, regardless of gender. That's all that matters!"