No runway, no fuss: Hermes unveils 2021 menswear with live performance art
Hermes kicked off the first digital Paris Fashion Week with a live film showcasing its Spring/Summer 2021 menswear collection.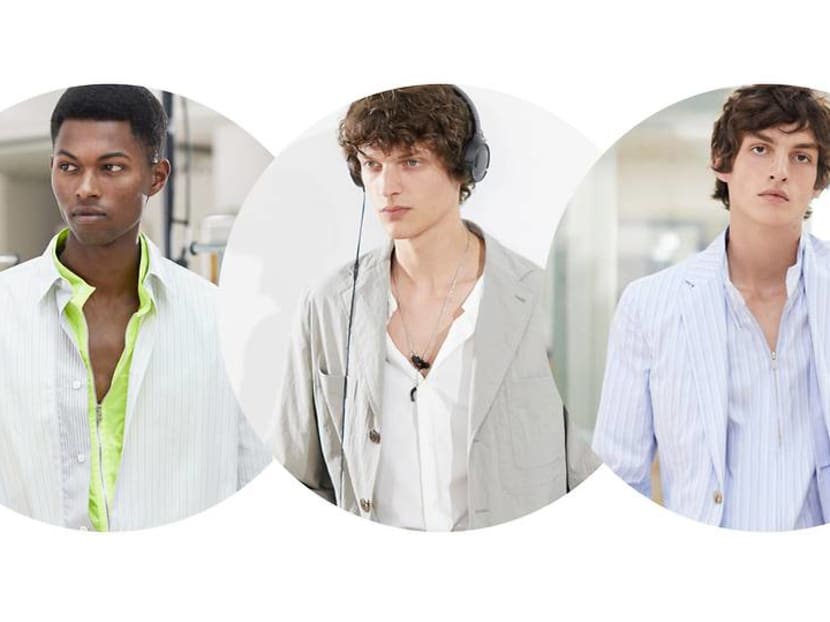 The coronavirus pandemic has thrown the world of extravagant fashion runways into an existential crisis. With international travel still on hold, crowds controlled and face-to-face interaction reduced, large-scale fashion shows have become impossible to host. How, then, can fashion houses present their latest collections?
Instead of cancelling Paris Fashion Week, show organisers instead decided to take the experience digital, giving designers a new creative challenge. Fashion shows are traditionally a grand spectacle, from the set and the soundtrack to, at times, even live performances. Can a fully digital experience completely live up to the experience?
On July 5, Hermes kicked off Paris Fashion Week by showcasing its Spring/Summer 2021 menswear collection through a live online film that was a joy to watch – to us anyway. Titled Hors Champs, or Behind the Scenes, the film was a pretend photoshoot for the lookbook of the collection. Models, photographers, stylists and even Veronique Nichanian, Hermes's longtime menswear designer, were on set.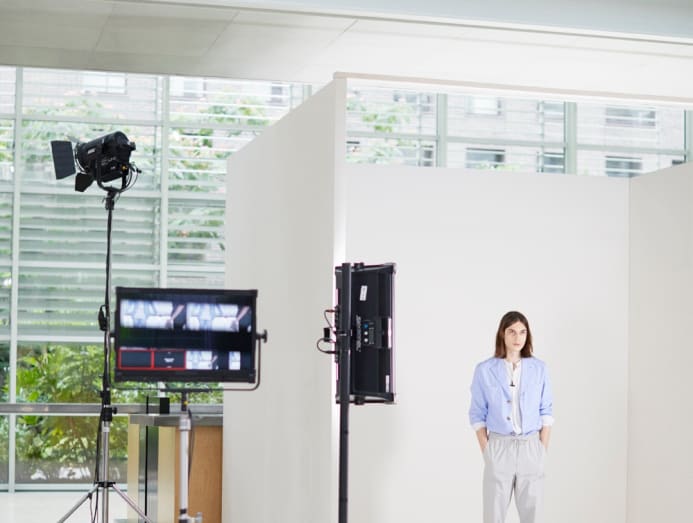 The film was a collaboration with visual artist and theatre director Cyril Teste. It kicked off with a model travelling down a glass elevator, before the camera wound through a backstage setting capturing the team at work. Nichanian adjusted the layers on a model; he walked, turned and posed. Satisfied, Nichanian moved on, as the camera then followed the other models around, from getting ready and interacting with one another, to posing for lookbook photos.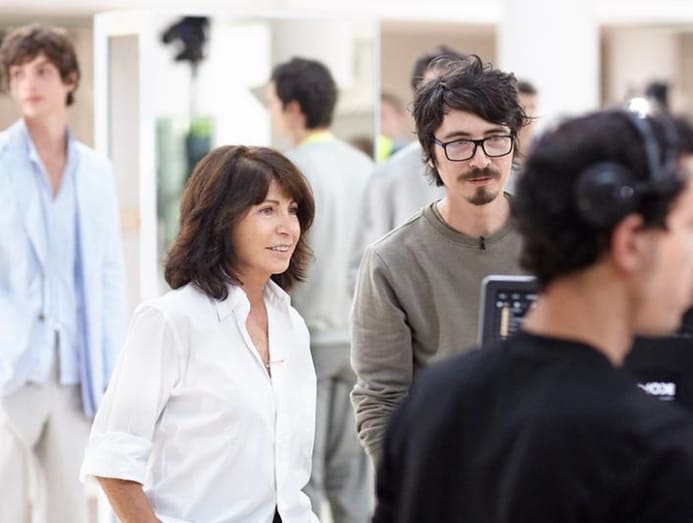 The entire film was meant to be casual. Models stopped to chat with one another, and even took selfies. One model was told he had two minutes. He asked if he could be excused, presumably to take a call – or answer nature's call. A piano soundtrack accompanied the film, interrupted only once by rock music that permeated through a model's headphones. 
"Though the current situation forbids a live audience, spectators will be able to see backstage, and thus share in those moments of creative truth. Circumstances have forced me to pare down, both in conception of the collection and in choice for this presentation," Nichanian said in an interview appended to the show notes.
"For me, these constraints are an opportunity and incentive to be inventive, to research, to recreate. It is quite rewarding to hone in on the essential, and to distill, refine, sharpen. It all pointed in one direction, the one I wanted to follow for this collection: Simplicity, nonchalance, lightness."
"For me, these constraints are an opportunity and incentive to be inventive, to research, to recreate. It is quite rewarding to hone in on the essential, and to distill, refine, sharpen." – Veronique Nichanian

The fact that all this happened in real-time made the film all that more intriguing. "I usually say that what I do is not theatre; it's real-time film. Here too, the challenge – and what I find beautiful – is doing it in real time. We are going to accentuate the instant, that vertiginous moment before the start of a show, those few seconds backstage: The Opening Night effect, when you're about to face the music," Teste said.
Nichanian is known for her understated aesthetic, and this collection is no different. The line-up consisted of light, airy pieces, ideal for Singapore's tropical climate. Jackets and blousons borrowed the characteristic stripes and suppleness of the shirt. The shirt adopted the volume of a blouson. Each look evoked timeless casualness – in tune to where fashion is headed, post-pandemic.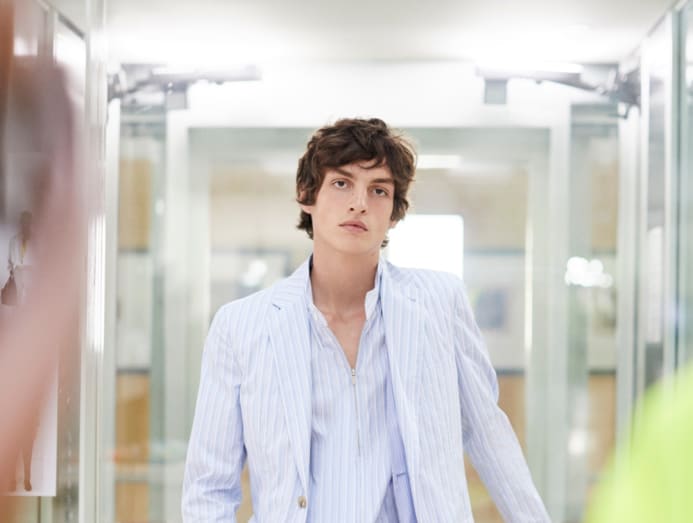 The colour palette was tightly controlled, consisting of mostly blues, greys, white and off-white, save for the occasional pops of green and fluorescent yellow.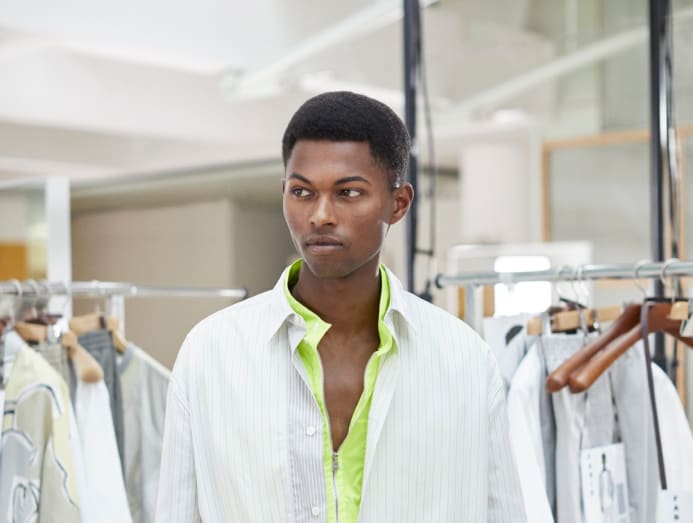 Notably, only 18 looks were presented. "This collection is smaller than usual because we were cut off from our usual means of production. I also selected eighteen silhouettes where I normally select around forty, partly due to the nature of the performance," Nichanian said.
The film also put focus on accessories. A stylist picked up the Slim d'Hermes watch and handed it to a model, who slipped it on. At one point, Nichanian asked for a zoom-in on the Haut a Courroies Cargo bag.
Just like the traditional fashion show, the film ended to rousing applause by the team. Were they acting as part of the closing of the faux photoshoot, or was that a celebration of the success of the film?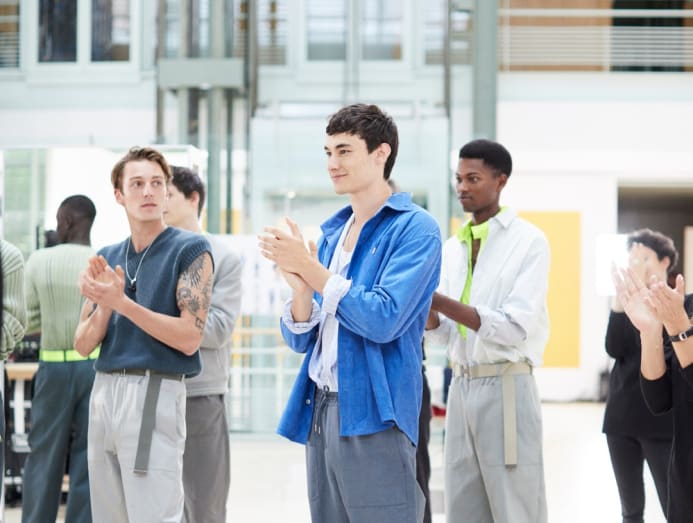 Though the film may be a step out of the ordinary, Nichanian took the challenge in her stride. "Recent events and their damaging effects on the fashion world have not gotten me down. Quite the opposite in fact; I feel like the current situation is one from which we can all extract new wisdom, and a new momentum," she said.