Redoing your kitchen or bathroom in marble? It may not be the most moral choice
Luxury design is undergoing a conscience crisis, as catering to the demands of clients to deliver interiors filled with precious materials feels at odds with environmental sustainability and a world reeling from the impact of the pandemic.
Berlin-based interior designer Marie de Beaucourt was discussing whether to use real or imitation slab marble in the bathroom of a luxury private jet for a client, when she had a thought.
"This is so f****d up," she recalled. "I have a friend in Los Angeles who can't breathe, the Amazon is burning – and this plane has to fly."
Slab marble, heavy and expensive, is also incredibly resource intensive. Marble is cut out of quarries in huge blocks, sliced into slabs and shipped across the world before being cut to fit kitchen countertops, pave gleaming floors and panel bathrooms.
For every slab of precious marble in a kitchen, an equal or greater amount of off-cut marble is left in a quarry "graveyard", or landfill.
De Beaucourt began to feel her high-end design work, much of it in luxury hotels that were perpetually redecorating to stay relevant in an Instagram age, was also generating huge amounts of waste and damaging the environment. "It was a painful realisation," she said.
Luxury design is undergoing an industry-wide conscience crisis, as catering to the demands of clients to deliver cutting-edge interiors filled with precious materials feels increasingly at odds with environmental sustainability and a world reeling from the impact of the coronavirus pandemic.
And, designers say, there is a striking lack of conversation about the problem.
In an industry that has for decades ripped out the old and redecorated every few years, young designers, raised with an awareness of climate change and sustainability, are stuck between a glossy rock and a hard place. The speed of redesign has only intensified as social media, such as Instagram and Pinterest, accelerates trends.
Slab marble kitchens are in vogue and surging in popularity, just as some high-end designers are questioning whether slab marble should be used at all.
ROCK OF AGES
Marble has been one of the most enduring materials in architecture and design for thousands of years. It conjures images of Roman antiquity, of ruins left standing after war, weather or time has washed everything else away.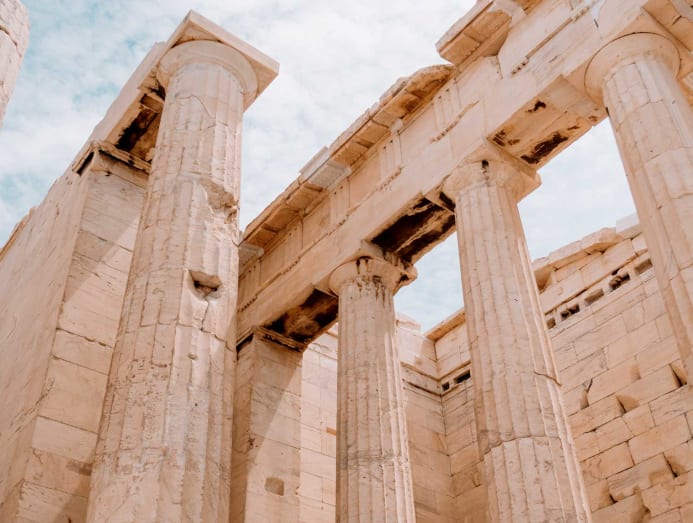 No two pieces are the same. Dappled marble blocks vary in quality, texture and "vein", the streaks of colour that wind their way through the metamorphic stone, the result of thousands of years of geological pressure. Each piece is its own work of art.
"When you buy a piece of marble you buy a piece of eternity," said Lebanese interior designer and architect Aline Asmar d'Amman. Marble is central to d'Amman's design work, which she hopes will last a generation rather than a few years. "It breaks my heart that marble is being thought of as a trend," she said.
But she is also responsible for one of the most famous and most Instagrammed marble designs of the past decade: A bathroom in the five-star Hotel de Crillon in Paris, a collaboration with the late Chanel creative director Karl Lagerfeld.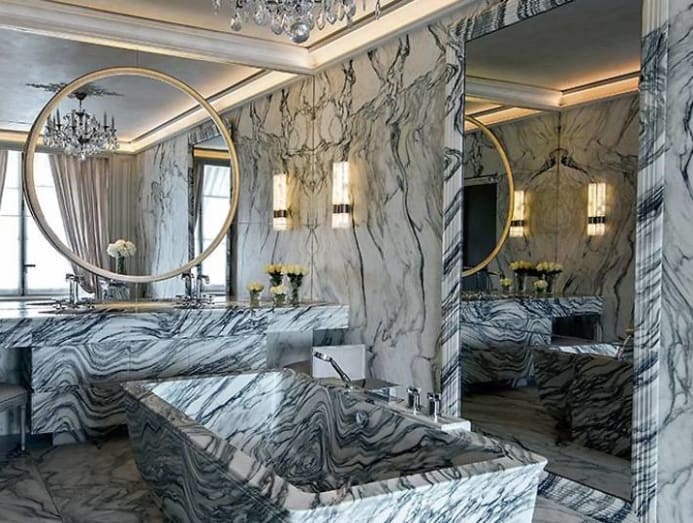 Constructed from two blocks of rare marble – from an Italian quarry that has been closed for 30 years – the interior is an expanse of white stone snaked with black veins. The bathtub is cut from a single block of Arabescato Fantastico marble.
As the affluent and design-minded get locked down in their homes, interior designers say they are as busy as ever. And marble dealers say they are doing the same, if not more, business than in 2019 despite the pandemic, as people look to bring more natural elements into their interiors.
But every piece of marble in an interior will leave a hole in the earth and, in some cases, risks the eventual extinction of over-quarried varieties, said d'Amman. Designers have an obligation to help their clients understand the materials that they are working with, and their origins. "Designers are supposed to sell knowledge, not just the design," she said.
Clients have the final say, though. More sustainable materials can carry a high price tag, or it may be more ethical to use a less trendy type of local stone, rather than import marble from abroad.
"When you buy a piece of marble you buy a piece of eternity. It breaks my heart that marble is being thought of as a trend." – Aline Asmar d'Amman
And in a visual world, materials are still usually considered for aesthetics first, rather than appropriateness. Luxury designers have a reputation for talking more about sustainability than they do for incorporating it into their work.
"If the client is demanding something – it's an uphill battle," said Grazyna Pilatowicz, professor of interior design at New York's Fashion Institute of Technology and author of Eco-Interiors: A Guide to Environmentally Conscious Interior Design. Sustainability has had less cut-through in the world of interior design compared with other fields because of its exclusivity.
"For many years [interior design] was considered a luxury item, and being luxury, it wasn't considering any kind of responsibility to the public," said Pilatowicz.
As socially conscious urbanites with a range of budgets look to source the most fashionable marble for their homes, cheaper marble of questionable origin appears in showrooms and designers are sounding the alarm bells.
A QUESTION OF PROVENANCE
"The worst worker exploitation in the world is in the raw commodity world," said Patricia Jurewicz, founder of the Responsible Sourcing Network, a human rights advocacy group.
"It is the most hidden and the most difficult to improve, because the brands consumers know and engage with are not the ones who purchase raw materials." There can be three or four links in the supply chain between quarries and dealers selling marble to consumers.
Often marble is shipped thousands of miles to be processed in China and India before being sold on again, making origins almost impossible for retail consumers to track.
International dealers point to some Italian marble vendors for the widely known and long-denied practice of buying cheap marble from quarries in Africa or Asia with fewer environmental controls than domestic quarries, cutting the marble in Italy and selling it on as an Italian product.
So who should shoulder the responsibility of sustainable design? Designers may have the responsibility to educate clients and source quality materials, but lack final say. Private clients and hotel investors may have the obligation, but lack a financial incentive.
"Everyone likes to blame the factories," said Louisa Babin, the European sales manager at Mosaic Factory, a producer of terrazzo tiles. "But it's the people that buy."
SUSTAINABLE ALTERNATIVES
Terrazzo, a poured or precast surface developed hundreds of years ago that features constellations of waste marble, is having a moment. "We're seeing people asking for more sustainable materials," said Babin.
But reusing materials can be more expensive than putting them in a landfill, and good intentions may lead to more waste. When one client wanted to ship a large marble floor to their factory to be repurposed into terrazzo, Babin said, "It's a beautiful idea in theory, but there's so much transport involved, it doesn't make sense."
Enis Akiev, a Berlin-based designer, created marble-effect tiles made out of recycled plastics that caught the light in a kaleidoscope of colours, just the way the finest stone does.
She says that she was met by immediate demand for the tiles, but walked away because she felt that the solution would distract from the larger issue of reducing plastic use.
"I don't want to make people believe that you can make nice things from waste, so they think that it's not as bad that they used all of this plastic," she said. Plastic marble, no matter how worthy its origins, cannot be recycled.
More eco-friendly materials are also not immune from the relentless churn of trends and consumer demand. As terrazzo becomes more popular as a marble alternative, some vendors are making it with virgin slabs rather than waste to meet demand. Terrazzo, like marble, leaves a lot of offcuts, and the modern stuff is often bound with a toxic plastic polymer resin.
Designers are frustrated by clients who want to save the planet while redecorating. "If people do up their kitchens every five years with materials that could last 100, that's more problematic than if a kitchen worktop is biodegradable or not," said Robin Grasby, the creator of AltRock, a London-based terrazzo producer. "People are so driven by trends they're not expecting this to hang around for more than five years."
FINDING A SOLUTION
D'Amman says designers need to take responsibility for wastefulness by knowing where materials come from, educating clients and reusing existing materials. Reuse, she believes, brings luxury design closer to its ideological principles – old materials have history and narrative, are singular and cannot be replicated at scale – "treasures", she said.
"When you love something, you keep it. That's the first most important thing about sustainability, before we even start thinking about carbon footprint," she said. "When you repair and renovate something, you're engaging with the sustainability process."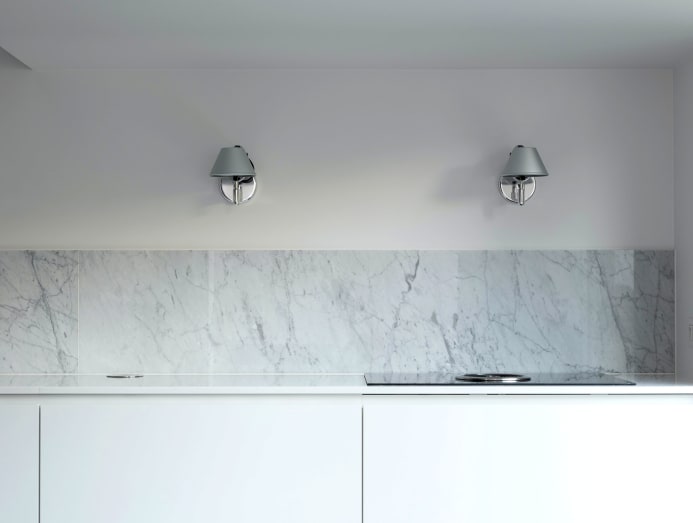 To reuse marble, it must always be broken down into smaller pieces.
Artists and designers have had some success turning marble waste into high design. Hermes' sister brand, petit h, makes jaw-droppingly expensive terrazzo using fragments of Hermes' past, ornate time capsules filled with marble, keys and metal clasps. Italian artist Paolo Ulian uses offcuts of marble to make sculptural furniture for luxury interiors.
And d'Amman recently launched a collection of marble pieces crafted from the "graveyards" of Carrara quarries. She said, "There's so much to do with what we have, instead of quarrying again."
Marble – as well as its peers quartz and granite – relies on centuries of geological compression to form. The sublime colours and markings coveted by renovators result from impurities in the bedrock such as iron oxides and minerals that draw lines and veins as they are compressed and heated: A cartography of earth's history.
In 2006, a new sedimentary "rock" was discovered on the shores of Hawaii, later named "plastiglomerate". Forged by beach bonfires, it was a stone that had layers of plastic fused into the grain, similar to the veins in marble. "A layer of plastics in the earth's sediment is the footprint of people," Akiev said.
"If people do up their kitchens every five years with materials that could last 100, that's more problematic than if a kitchen worktop is biodegradable or not." – Robin Grasby
Designers say the change must start with luxury interiors, with those with the resources to explore alternatives and set trends. "Not everyone can afford those materials, but they see [pictures] and want to emulate them," said de Beaucourt. "There is a responsibility for those prescribing those designs."
Every country has its own stone, its own sustainable timber, its own craftsmen. The solution to more sustainable design may be an ancient one. Before the pandemic, de Beaucourt used to frequently fly halfway around the world for projects. "We were in such a rush," she said.
She is now looking for artists, designers and environmentally friendly producers working near her home in Berlin for her designs. "What lockdown has shown me is that I want to stay put and find value in my local community."
By Madison Darbyshire © 2020 The Financial Times