Hosting guests at home? Spruce up your living space with new homeware
Now that we can have up to five unique visitors a day, it's time to refresh your living space.
You've missed gathering with friends and family during semi-lockdown, but now that restrictions have eased for Phase 3 (Heightened Alert), you can now invite a small group of up to five visitors a day over for a meal.
It's the perfect time to jazz up your home as well, now that more people can visit. If you're planning to host an intimate lunch or dinner with friends and family, here's what you need to impress your guests.
DIOR DIORIVIERA CANDLES

Scent is important when creating an atmosphere. Suffuse your space with fragrances from Dior's Dioriviera capsule collection, bearing the hallmark Toile de Jouy print. This set comes with three scented miniature candles – Bougainville (blackcurrant, raspberry, white musk, cedar, rose and jasmine), Long Beach (lemon, ocean spray, pittosporum, jasmine, white musk and cedar) and Lindon (bergamot orange, petitgrain, lime, rose, violet leaves and heliotrope).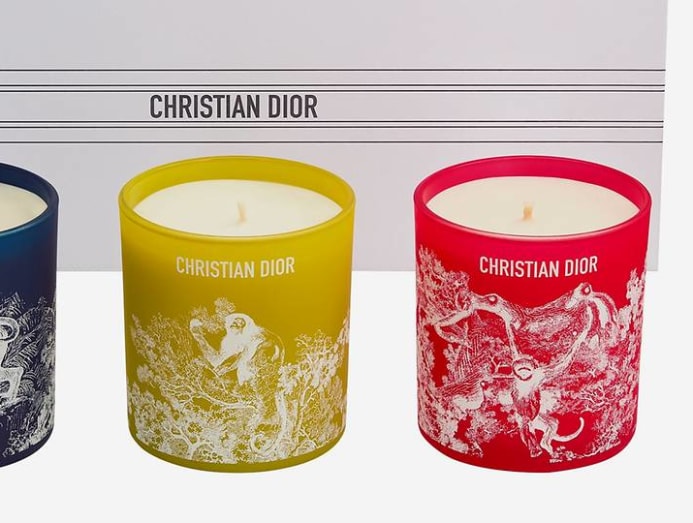 Available at Dior

GUCCI HERBARIUM TEAPOT
If you're hosting a tea party, you'll need a pretty teapot as your table centrepiece. Enter this vintage-looking, almost twee one from Gucci. Crafted from white Richard Ginori porcelain, it features Gucci's Herbarium motif, a whimsical print of cherry branches, leaves and flowers, inspired by a vintage fabric.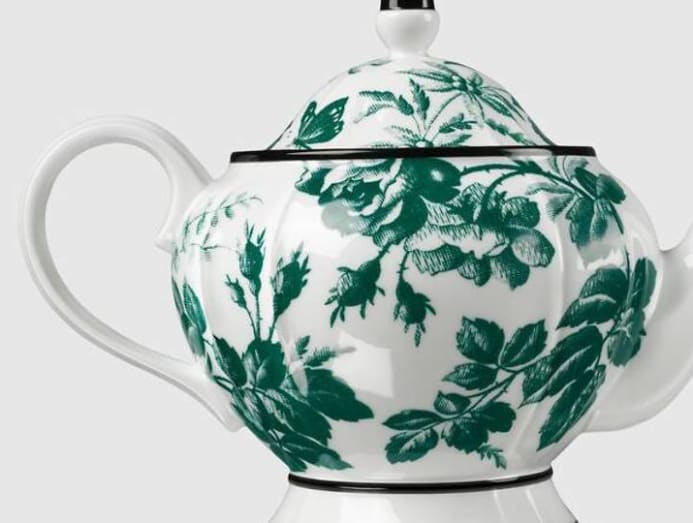 Available at Gucci
HERMES HIPPOMOBILE TABLEWARE
Food, drinks, and statement tableware – these are the essentials you need to host a dinner party. Hermes's Hippomobile collection, released this year, will add a playful flair to your dining table with cartoon-like prints inspired by Hermes's jockey-printed silks.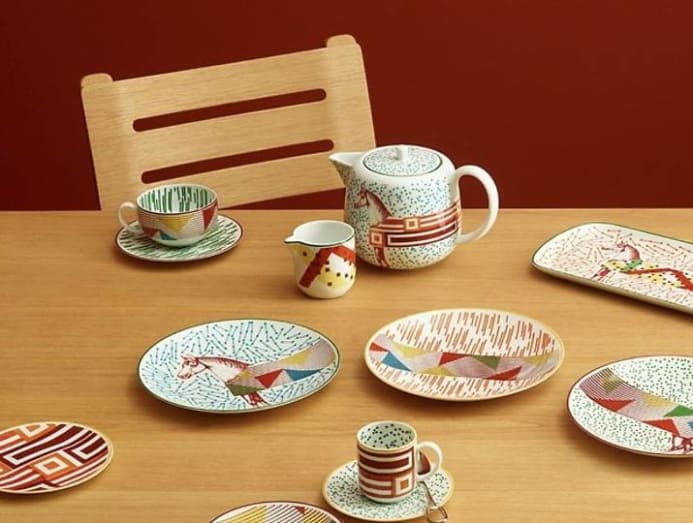 Available at Hermes
HULS GALLERY SINGLE WINE COOLER
You'll want to keep your wine or Champagne bottle chilled to perfection for your guests. This elegantly formed wine cooler, made of Japanese Sawara wood, is a sight to behold, handcrafted in Japan's Nagano Prefecture.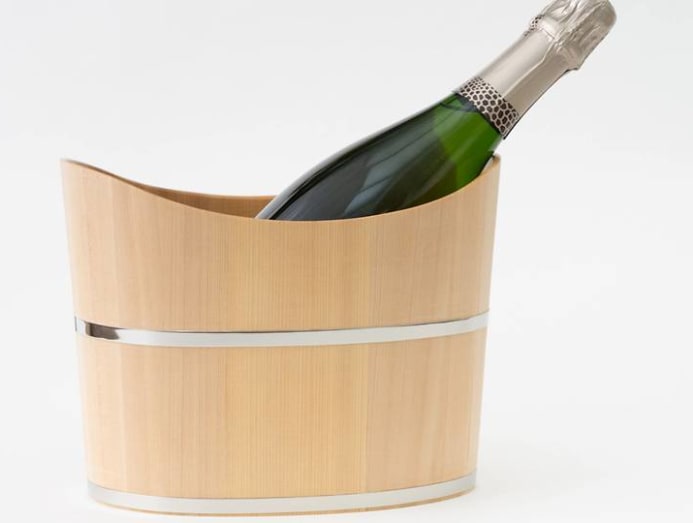 Available at Huls Gallery
LOUIS VUITTON ORIGAMI FLOWERS BY ATELIER OI
Well-chosen blooms will lift your interior instantly, but if you're not one to keep real flowers alive, how about these origami flowers from Louis Vuitton? Designed by Swiss studio Atelier Oi, these blossoms are cut from supple leather to form different floral shapes.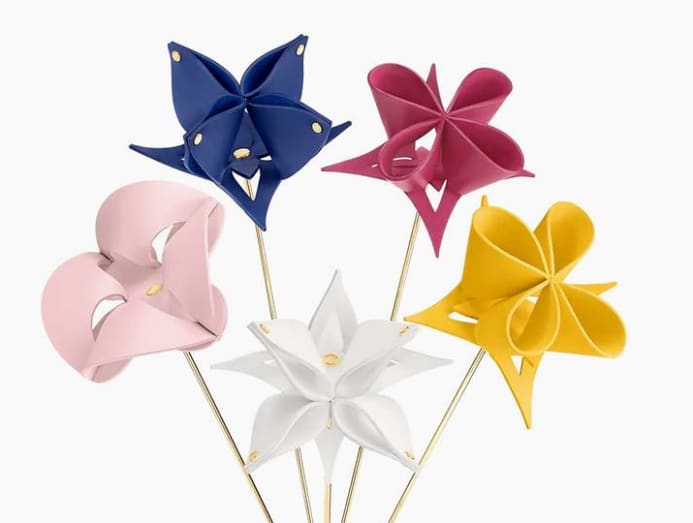 Available at Louis Vuitton
ONG SHUNMUGAM SUVARNABUMI TABLEWARE
Is Asian food on the menu for the evening? Set the table with Asian-inspired tableware by local womenswear label Ong Shunmugam. Designs in the collection draw inspiration from some of the region's most exotic flora and fauna, including the atlas moth, pitcher plants, slow loris and more. 

Available at Ong Shunmugam
ONLEWO SINGA-FLORE CUSHION COVER
Add a touch of Singapore heritage and culture to your home with this Singa-flore cushion cover from Onlewo. The Peranakan-style pattern, an abstract arrangement of Singapore flowers, will add a pop of colour to any room.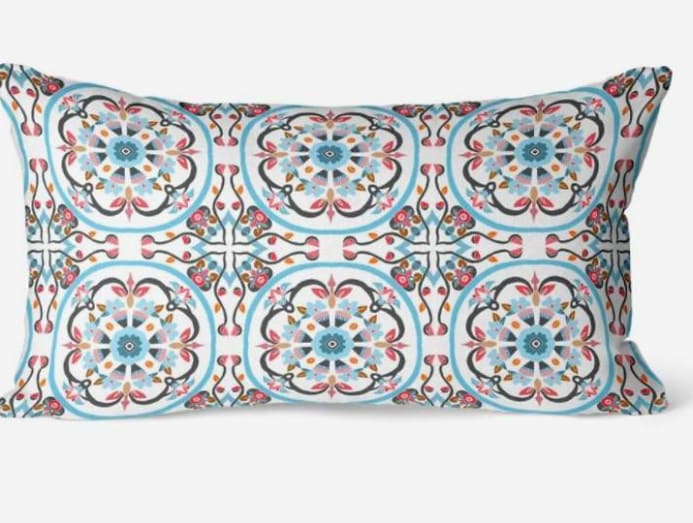 Available at Onlewo
SCENE SHANG MEDIUM LOVER VASE
Vases are a stylish way to dress up your interiors. Our pick is this Medium Lover Vase from local furniture and lifestyle brand, Scene Shang. The distinctive vase shape draws inspiration from antique Chinese porcelain wares, upgraded with a modern touch.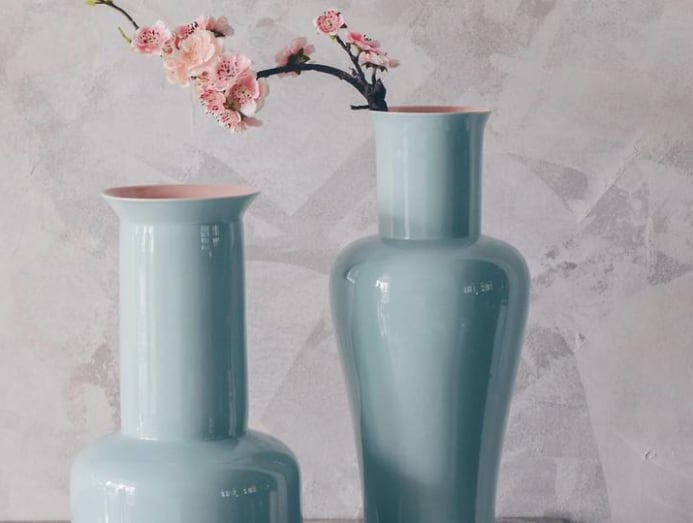 Available at Scene Shang
VERSACE BAROCCO MOSAIC DESSERT STAND
To end off your dinner, show-off family dessert recipes with this three-tier etagere from the Versace Barocco Mosaic collection, embellished with the brand's heritage prints. Vivid colours of purple, mint and gold set the backdrop for your most treasured dessert creations. Or, you know, store-bought ones. We promise we won't tell.