House tour: A Singapore home where wildlife meets Wes Anderson
Surrounded by greenery, the home of this young family blends nature with quirky retro touches and geometric shapes reminiscent of a Wes Anderson film.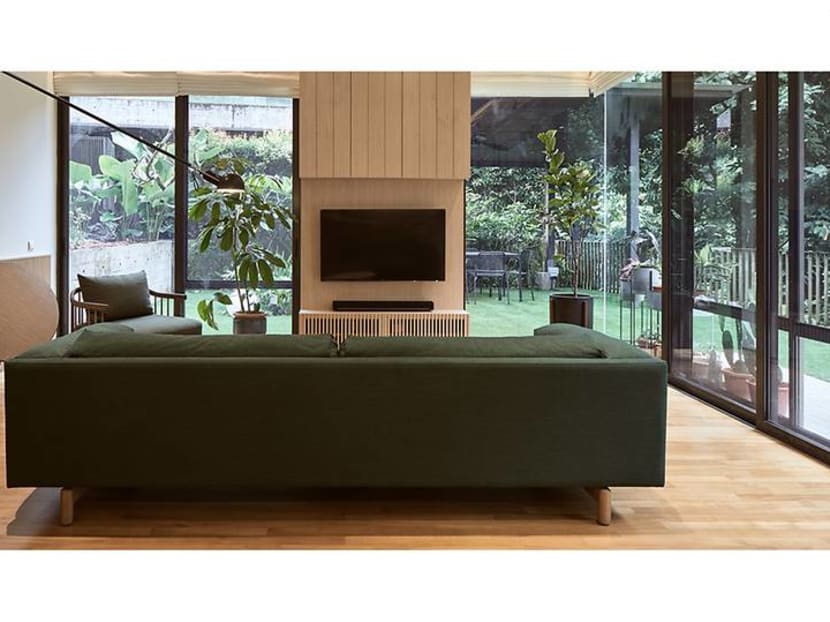 Several years ago, Royston Tay and Deng Yingzhi quit their jobs to follow their dream of travelling to far-flung places before starting a family. Tay had sold Zopim, the tech company he co-founded, to US-headquartered company Zendesk, where he was a general manager for several years. Deng was a creative group head at advertising firm DDB.
For a year, they went from one exotic location to the next. "We developed an interest in nature and wildlife on our travels in South America and Antarctica," said Deng. This governed their selection of a new home after she gave birth to their daughter.
A four-storey strata-landed house wrapped in nature ticked all their boxes. Throngs of exercise buffs and nature's sounds prelude the arrival into the estate, which is located near a nature reserve.
"The estate reminded us of our experience of living in a tree house in one of Costa Rica's remote rainforests, waking up to the calls of Howler monkeys and hanging out with toucans. A combination of the forest-facing views, accessibility to nature and the [off-form concrete] architecture blending so well with the site led us to buy the property," said Tay.
"The estate reminded us of our experience of living in a tree house in one of Costa Rica's remote rainforests, waking up to the calls of Howler monkeys and hanging out with toucans." – Royston Tay
Agreed Deng, "This home is perfect for us because we can fall asleep to the sound of singing crickets and get serenaded awake by chirping birds. The view may be all trees, but it is never boring. There'll always be something out there – a woodpecker, a family of wild boars or a party of monkeys. Wildlife watching is a matter of looking out of the windows!"
Designed by CSYA Architects, the pinwheel-like layout of each block ensures that every apartment and room have ample green views. The development offers seclusion but also convenience, with an MRT station just a 10-minute walk away.
During our visit, we spied a family of primates scampering atop the boundary fence. It makes for great entertainment for the owners' now almost two-year-old toddler.
To design the interiors, Tay and Deng called upon Mikael Teh of Monocot Studio, whom Deng had heard about from friends. Trained as an architect and having acquired experience at reputed firms like SCDA Architects, Forum Architects and Studio Milou – where he worked on the National Art Gallery – Teh brings a strong spatial sensibility to residential interiors.
It was important for the design to embrace the views, as they were why the owners bought the property in the first place. They also desired a playful vibe for their daughter.
"I wanted [the atmosphere] of a Wes Anderson film, with retro touches, geometric shapes and pastel shades but [tempered] to match the serenity of the surrounding forests," shared Deng of her brief to Teh.
Curves feature abundantly in this home. While they contribute to the interior's amiable presence, the rounded edges also make the home safer for the toddler. Doors and bathroom mirrors are arched, a porthole-like window brings light into the helper's room from the stairwell and orb-like lights pop from walls like bubbles. Even the washbasin in the powder room is round and set into a semi-circular niche.
In the first storey dining, a quartet of round lights floats above the rotund dining table and chairs from Scandinavian furniture brand Menu. As the owners like to entertain, Teh borrowed space from the large dry kitchen to create a cafe-like bar counter and shelves for lingering at and placing decorative objects.   
Kitchen appliances were tucked out of sight to reduce the area's utilitarian feel. The open-plan living and dining makes the entire first storey conducive for gatherings. Guests can spill out to the generous deck with an outdoor pavilion and Jacuzzi, which replaces a formerly large pool.
Here is where the family spends most of their time together. "It's nice to look out at the greenery while working on the laptop or lazing on the hammock, and occasionally smelling coffee or something delicious from the kitchen. And if our daughter is not in school, she would be wrecking havoc in the background, albeit in cute ways," mused Deng.
Teh applied the same material and colour palette throughout to unify all four storeys. "Kit Kat" tiles and mosaics dress the kitchen and bathrooms; timber parquet, cabinetry and half-wall cladding in the main living area echo the feel of nature outside the windows; and a gentle moss shade colours the bottom half of corridor and room walls to break the monotony of white walls, while channelling greenery in abstract.
As the owners enjoyed relaxing in steam rooms overseas, Teh replaced the existing bathtub in the master bathroom with a shower-cum-steam room. He also covered a courtyard in the basement guest room with a glass roof to turn it into a tatami room for meditation, which the owners picked up on their travels.
Indeed, the house embodies their globetrotting passion.
"We used to succumb ever so often to impulse buys. They ended up furnishing our home. For example, we lugged the carpets back from Turkey and the huge Thangka painting on the living room wall was from Bhutan," said Tay. While it resonated with his Buddhist beliefs, Deng was drawn to its graphics and tones due to her creative background.
The owners formerly lived in a five-room HDB flat with windows that also framed the tree canopy. Now they have four levels of that. But initially, they were concerned that their new four-storey home would be too big and disconnecting for their small family.
"[Over time], it turned out to be perfect, especially now that we're working form home," said Tay. After enjoying a period of "semi-retirement" and full-on early parenthood, the couple formed a travel start-up with another partner. GoTrippin.co taps into their personal experiences to create better travel journeys.
The couple appreciates that they can develop their app and engage users from home while spending time with their daughter in her early years. When she needs a spot of quiet, Deng heads to the master bedroom as her oasis of choice due to its panoramic forest vistas.
He shared that if they need to stretch their legs even more, they need not travel far. "With the nature reserve at our door step, we get our dose of forest therapy everyday, heading there for running or mountain biking."
Not surprisingly, they had no complains about being holed up at home during the circuit breaker.
"The home's multiple levels gave each of us a sanctuary to engage in serious work when necessary. If it were our old home, it would have been very tough for us to work with our daughter in the same room. We were also able to use the extra space to create different play zones whenever she needed a change of scenery. I think the surrounding nature made it feel a bit like a detoxing retreat rather than a lockdown," Deng mused.