House tour: A 4,500 sq ft apartment in Singapore for a young family
To create the perfect abode for this sophisticated, well-travelled family of three, interior design firm Studio iF used statement lighting, gold accents and natural hues to bring a luxurious Mediterranean seaside feel.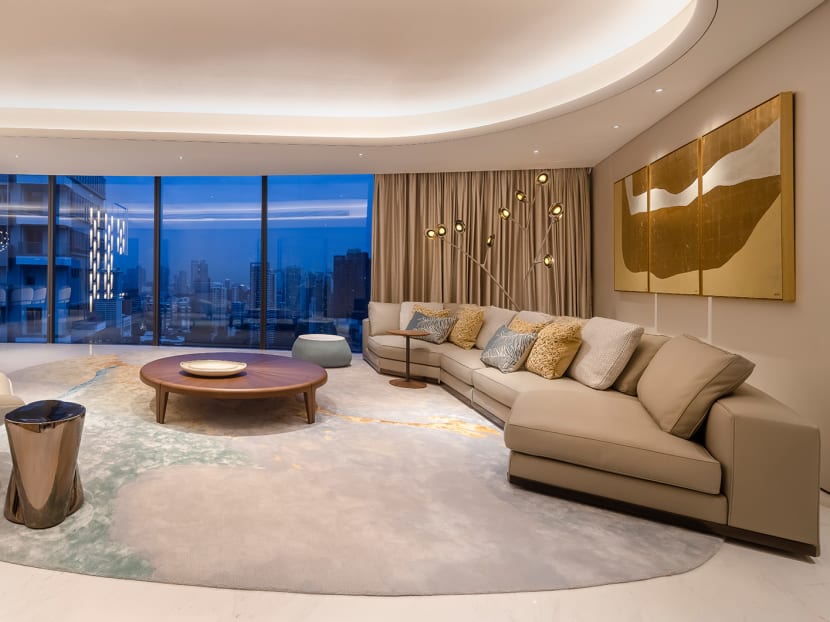 When you enjoy your Mediterranean seaside holidays so much, the only alternative to moving there is to bring its vibes into your home.
This is what one young well-travelled couple from China did to their spacious 4,478 sq ft apartment off Orchard Road. They own several properties overseas but decided to settle in Singapore for a while with their young daughter.
 
As guests step out into the private lift foyer resembling a boutique hotel entrance, they are welcomed by glass "jellyfish" hanging overhead. The wavy, hand-blown Lasvit light installation is played off by a feature wall resembling shifting sand formations. A pair of automatic screen doors laminated in copper mesh open into the expansive living room.
Gwen Tan, co-founder of Formwerkz Architects and Studio iF, which designed the apartment, shared: "Our clients were not the typical clients from China. They showed how Chinese tastes have changed for the younger generation, who is no longer interested in fancy opulent designs, but is more discerning and wants a style that is sophisticated yet distinct, with subtle touches of Chinese culture."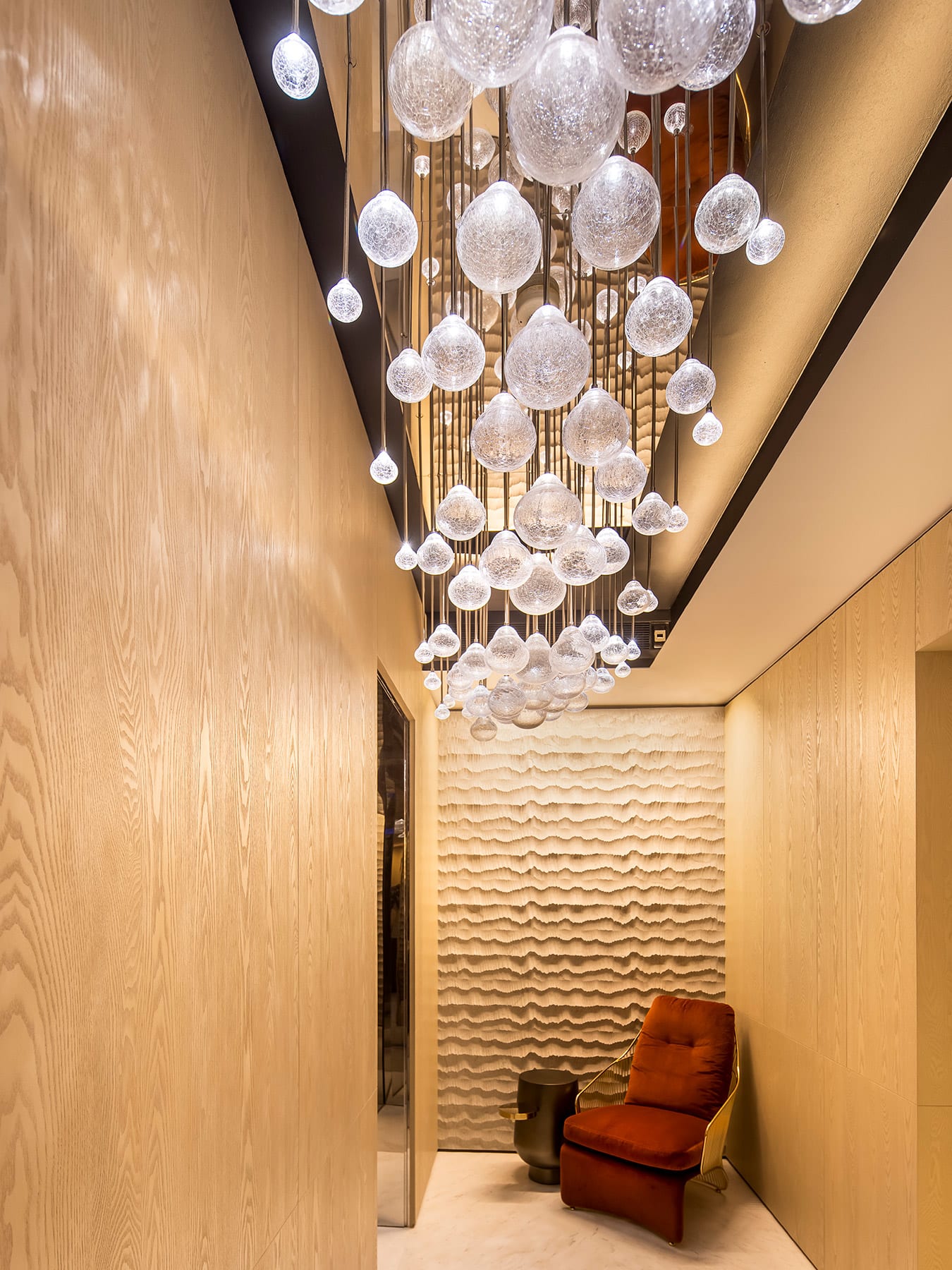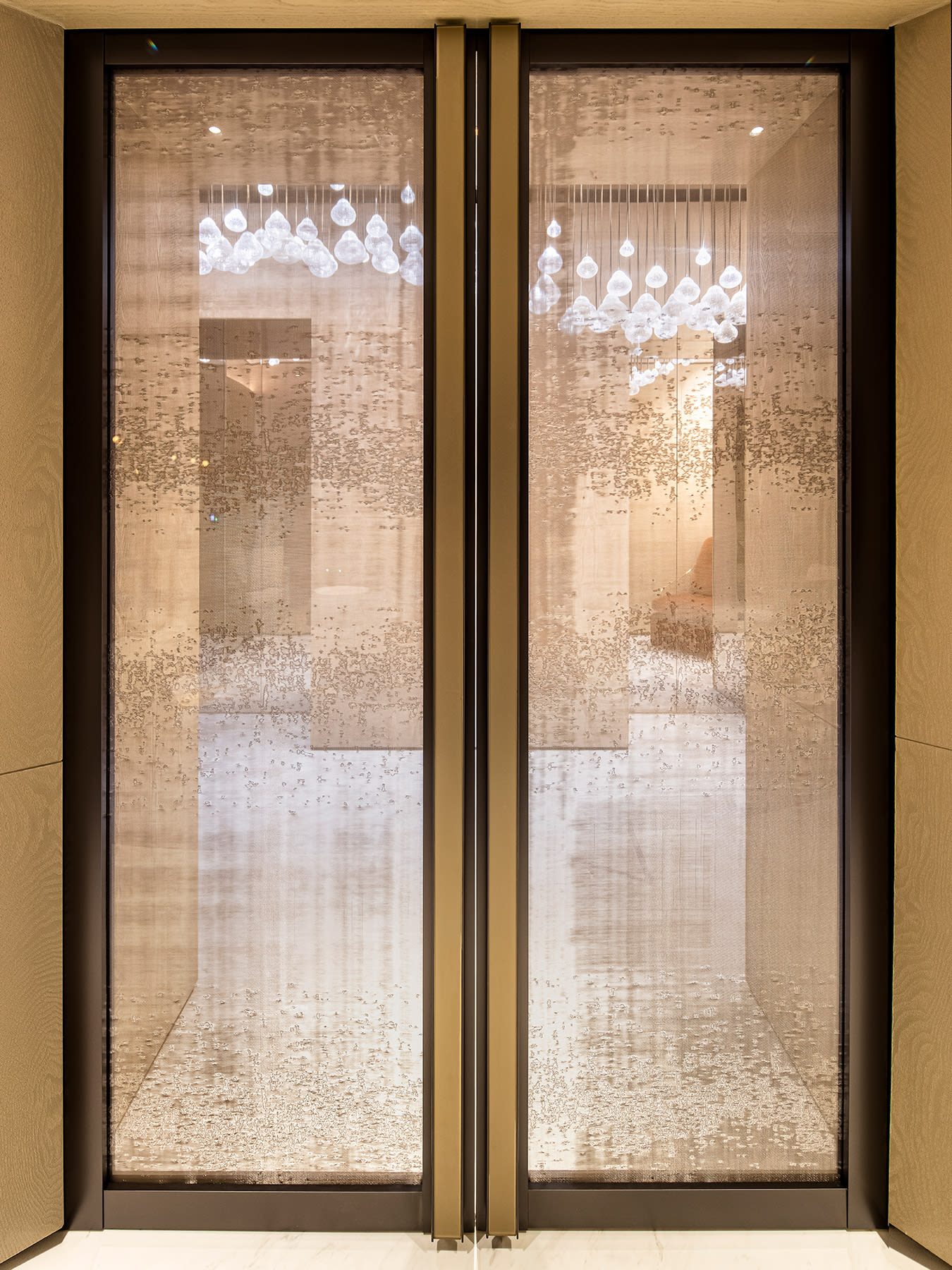 Tan and her team took a diverse approach in the curation of the apartment's art and furniture by sourcing from various international brands. The result is a tasteful and coherent design narrative that allows the family to relax in comfort while presenting a "wow" factor for the couple's equally well-travelled guests whom they often invite over.
Statement lighting energises various rooms in the home. In the living room is a Bocci "tree" floor lamp. A delicate structure of raining meteorites in fabric lampshades, a collaborative piece with French lighting firm Designheure, acts as visual separator between the living and dining areas. Suspended over the handsome Nero Marquina marble dining table that comes with a flushed lazy susan is an intriguing net of light discs.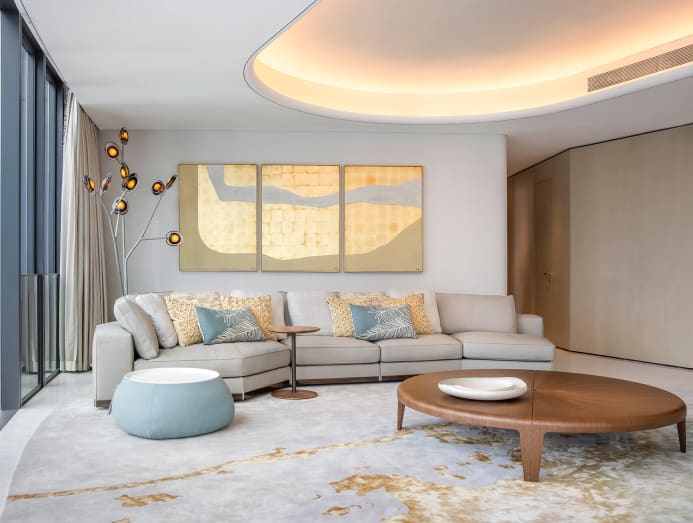 Tan explained: "Playing with lighting helped us to really play around with different spaces to see how they can be designed cohesively to evoke varying degrees of surprises throughout the day, thus amplifying the experience."
Marine hues and sandy tones dominate the rest of the apartment with gold accents for subtle touches of luxury. In the living room, an abstract triptych in gold and blue adds warmth to matching furnishings. The master and guest rooms are dressed in natural palettes with textured wallpaper and wall art from bespoke designer Calico Wallpaper adding interest.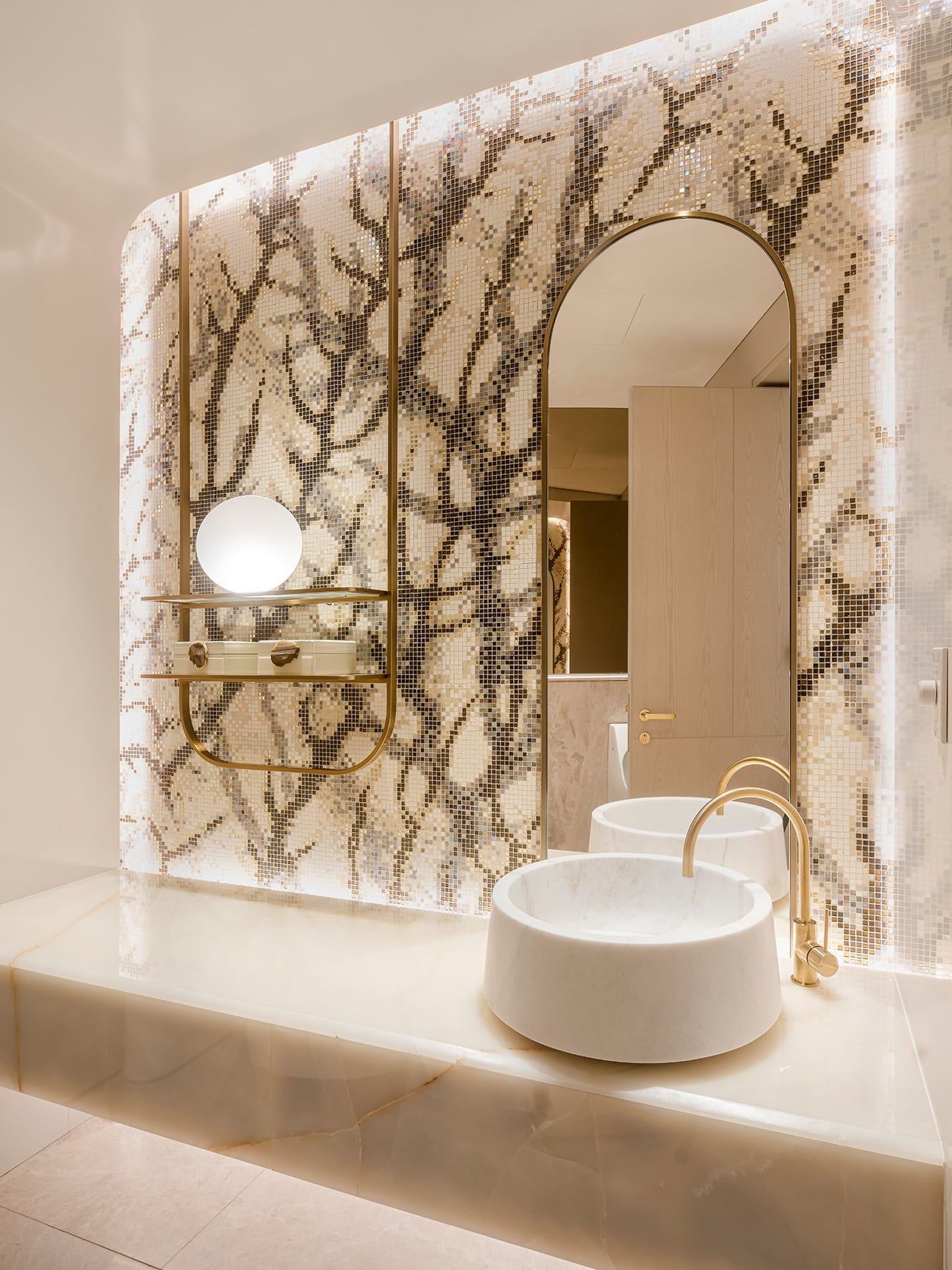 The powder room tells an underwater tale with a coral mural pieced together with Italian mosaics while a luminescent pearl-like pendant lamp serves as the vanity light. Gold finishings, back lighting and a white onyx surface complete the minimalist yet stylish look.
The designers also maximised the wide, spacious corridor leading to the bedrooms by creating a gallery with ambient lighting to display sculptural ceramics such as those by Italian artisans Paola Paronetto and Rina Menardi. Light and warmth are amplified by the gold leaf used in the bespoke wallpaper backing the shelves as well as in the ceramics.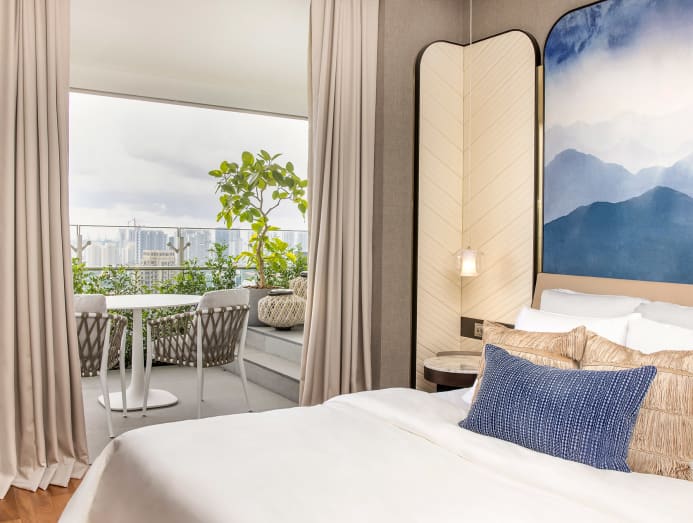 Besides the living room, the owners' other favourite part of the house is their daughter's bedroom. Muted pastel walls, arched alcove and bedheads, and a dusty pink chevron-patterned wallpaper make it a fun playground for girlie sleepovers and ensure that the room would continue to suit the daughter in her tweens. A ceiling light resembling a giant crown of flowers add an elegant touch. The owners said: "When her friends come to stay, they would say that they feel like princesses in the room!"
The couple are also pleased with the extent the designers went to include features that made them feel more at home. For example, they wanted a space for tea appreciation and a washboard for hand-washing clothes. The team installed a customised table with in-built drainage for hot water to be discarded so they could drink tea the traditional Chinese way and designed a special laundry sink to incorporate the washboard they wanted. Home for the owners also meant having the family come together for meals, and they were delighted with the large round table dining table that could fit 10 persons.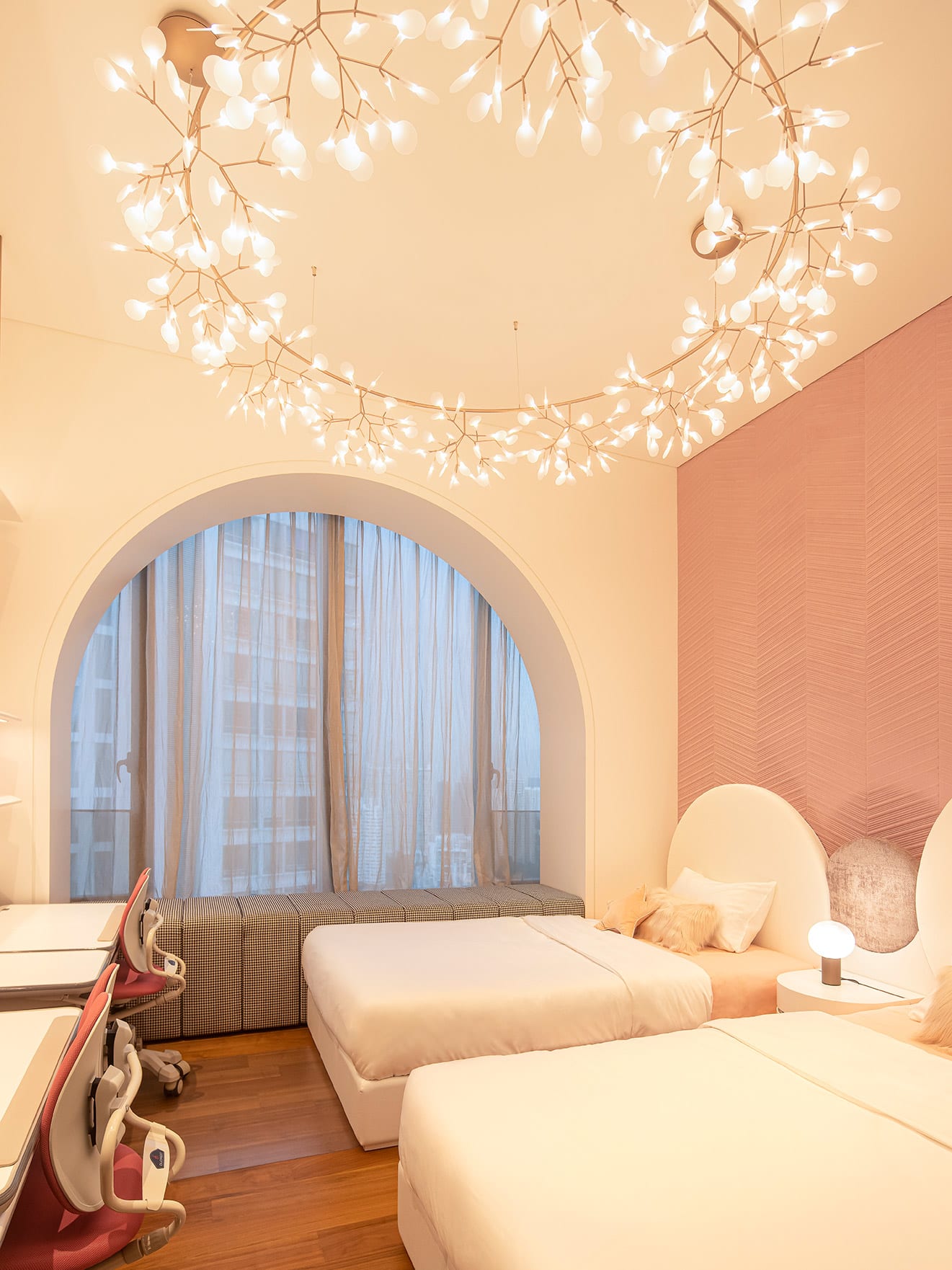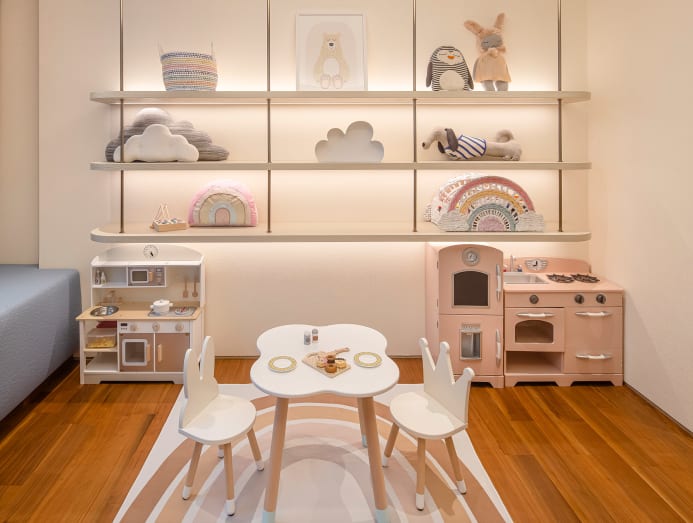 Tan said: "A home should first and foremost be a place that celebrates family life and addresses the owners' living habits and aspirations. After that, it should be a space that can be designed with growth or evolving needs in mind. This will enable the house to sustain a good quality of family life for all for many years to come."