Homeowners, here's how to choose the right outdoor furniture
With so many options – wood or metal, expansive or compact, with or without cushions – it's hard to know where to start. Here's what the experts advise.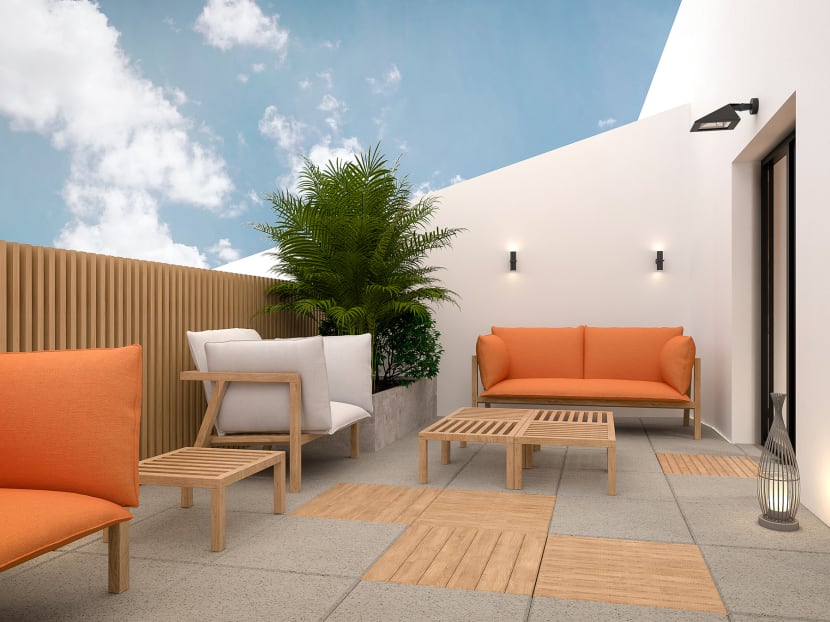 When the sun is shining and you have outdoor space, there are few things better than spending long, lazy days outside, soaking up the heat and dining in the open air.
If you have the right outdoor furniture, that is. Because lounging outside can be as inviting as kicking back in a well-appointed living room – or as awkward as trying to get comfortable on a worn-out sleeper sofa.
"An outdoor space is really an extension of your indoor space," said Martyn Lawrence Bullard, a Los Angeles-based interior designer who has created furniture for Harbour Outdoor. "So we look at decorating it as a room. I really want it to feel very inviting and very well thought out."
That means that collecting the furniture involves more than just haphazardly picking out pieces in a store or on a website. First, you need a plan – which requires figuring out how you'll be using the space and how you'll maintain it over time.
For advice, we talked to interior designers, landscape designers and furniture-industry representatives about exactly what you should consider before furnishing your outdoor space.
MAKE A PLAN
Before buying anything, it's important to think about your larger vision for an outdoor space.
"I really think outdoor furniture has three different uses," said Celerie Kemble, an interior designer based in New York and Palm Beach, Florida, who has designed outdoor furniture for Lane Venture. "There's dining outside; using your outdoor space as a living room; and lounging and pool. And each has a different set of rules."
If you have a large outdoor space, it may be possible to accommodate all three functions – a dining area with a table and chairs; a hangout space with sofas, lounge chairs and a coffee table; and an area for sunbathing equipped with chaise longues.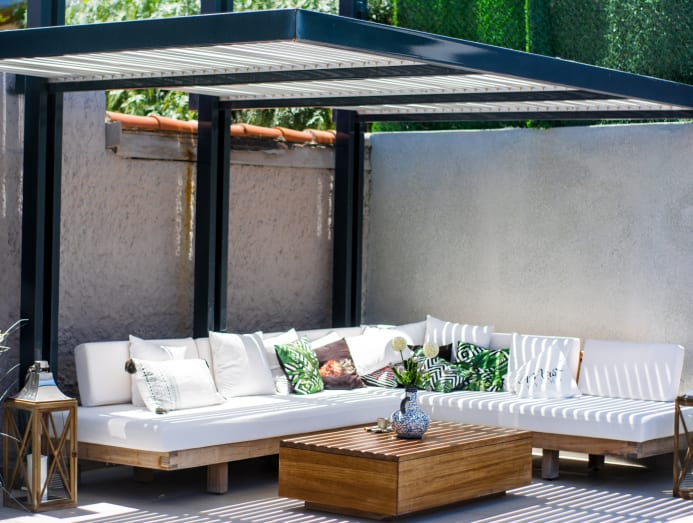 If you don't have that much room – on an urban terrace, for example – decide which activity you value the most. If you love to cook and entertain, focus on making your outdoor space into a destination for meals, with a dining table and chairs. If you prefer relaxing with family and friends, forget the dining table and create an outdoor living room with sofas.
When space is tight, Brook Klausing, the founding partner of the Brooklyn-based firm Brook Landscape, often recommends forgoing chaise longues. People tend to romanticise them, he said, but they take up a lot of space and may be used less than other furniture.
"People say they want them, but then they get crammed in," he said. "If you don't have the space, don't bother."
If you absolutely must have one for sunbathing, do what Klausing has done in some of his projects: Add hooks to a wall or fence that can hold the chaise longue out of the way when it's not in use.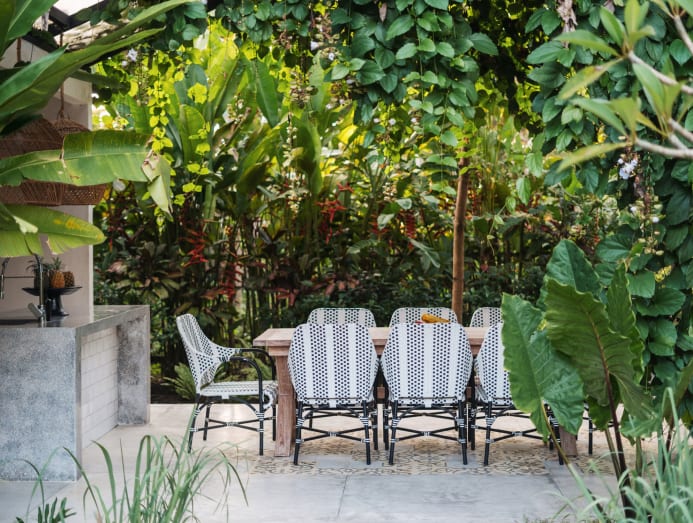 KNOW YOUR MATERIALS
Outdoor-furniture manufacturers use a wide range of durable materials, most of which fall into two groups: Those that are meant to be impervious to the elements, maintaining their original appearance for many years, and those that will weather or develop a patina over time.
If you want your outdoor furniture to look brand-new for years to come, good material choices include powder-coated steel or aluminium, stainless steel, and plastics resistant to ultraviolet light. But even those materials can change when exposed to the elements over the long term; some fading, staining or corrosion isn't uncommon.
"You can get a high-quality, UV-resistant plastic, and it can wear well and look the same for a number of years," said Noah Schwarz, the creative director of Design Within Reach and the design director of the Herman Miller Collection. "For powder-coated metals, work with a supplier or buy from a brand that uses a high-quality powder coat, because they do differ quite a bit in their quality and longevity."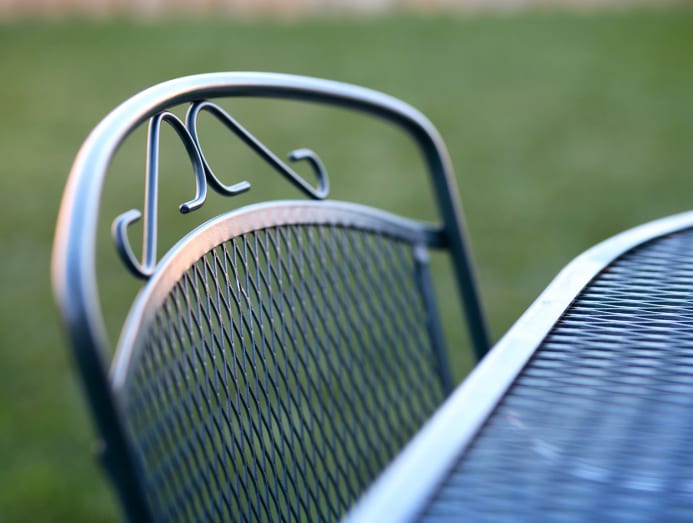 Another approach is to buy pieces made from woods like teak, ipe, eucalyptus and mahogany, which are durable but will develop a weathered look over time. Or, choose a metal like brass, which gradually develops a patina.
"Teak is called the king of woods because it has just enough silicates and oil in it to be very, very durable in the outdoors," said David Sutherland, the founder of the outdoor-furniture and fabric company Perennials and Sutherland.
While it is possible to oil or seal teak periodically to keep it looking relatively new, Sutherland doesn't recommend it. "The problem with sealing it, or finishing it, is that you always have to do that," he said, as the finish continually wears off, and you become a servant to maintenance.
Instead, embrace the weathered appearance of the wood. "I personally like it when it gets that silver colour," Sutherland said. "To keep teak looking fresh and to weather to a beautiful finish, water the furniture once a week. It's kind of like watering your plants."
If your teak develops a film of grime, he noted, it's fine to use detergents or to power wash it.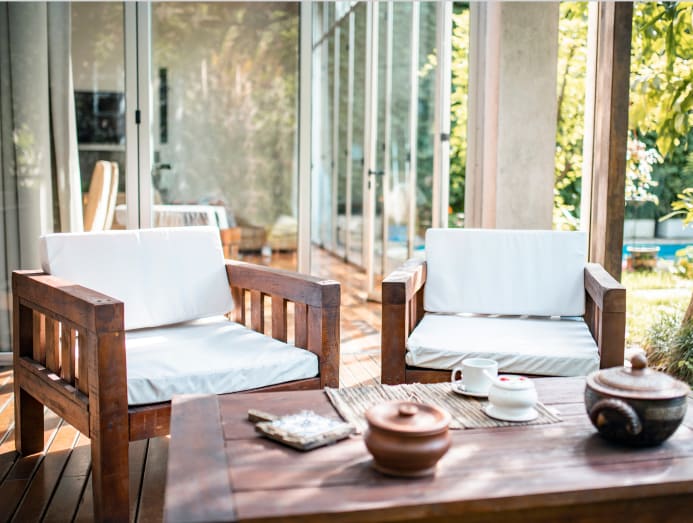 CONSIDER CUSHIONS
One of the most important decisions you'll make when shopping for outdoor furniture is whether or not to have cushions, which add comfort but come with maintenance hassles, because they tend to get dirty and wet.
One option: Avoid cushions altogether. "When we design urban spaces, we really don't advise a lot of cushions because of all the soot in the air," which has a tendency to collect on the cushions, Klausing said. "We try to select furniture that's comfortable without cushions, or that has mesh netting or something like that."
This approach works well on elevated terraces, said Amber Freda, a New York-based landscape designer: "On a rooftop or terrace, a lot of people don't want to worry about the cushions blowing around." (Ties, of course, can help with that.)
But not all designers are willing to go without. "I love my outdoor furniture to be super comfortable – that's really the No 1 ingredient," Bullard said. "I tend to use a lot of upholstery. We've got so many unbelievable options today, with all these amazing indoor-outdoor fabrics that are very soft and pliable, and come in a million colours and patterns, so you can really give character to a space like never before."
To resist fading, look for fabrics made from solution-dyed acrylic, like those from Sunbrella and Perennials, in which the colours are integral to the yarn rather than being dyed or printed later in the process. "It doesn't degrade in the sun, like the polyesters and the nylons," said Ann Sutherland, the chief executive of Perennials and Sutherland.
For cushions that won't be soggy for days after a rainstorm, look for inserts that use quick-drying foam. "It's usually referred to as reticulated or open-cell foam," and allows water to pass through quickly, Schwarz said.
If you can't decide whether cushions are for you, he recommended a middle ground: Choose furniture that's comfortable without cushions, but comes with thin pads that can be added for extended lounging.
WHAT ABOUT STORAGE?
A lot of outdoor furniture can be left out all year long, especially if it's heavy enough not to blow around in storms. But cushions are another story.
To preserve cushions as long as possible – and to ensure that they'll be dry when you want to use them – some designers recommend removing and storing them when they're not in use. Others recommend protecting outdoor furniture with covers.
Both of these strategies, however, are labour intensive and may discourage you from using your outdoor space on days when you can't be bothered to put out the cushions or uncover the furniture.
Sutherland recommended a more laid-back approach: Leave the furniture and cushions out and uncovered for most of the year, but cover or store them when you won't be using them for extended periods of time – during the winter, for instance, or when you're out of town.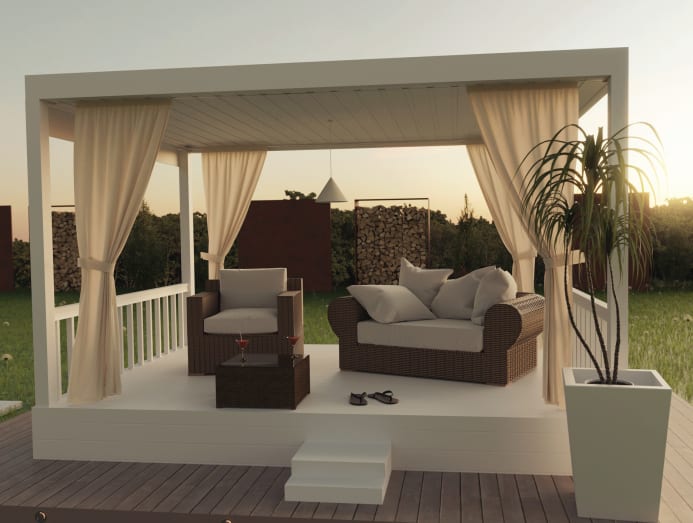 Even that is too much effort for Kemble, who prefers leaving her cushions out all the time, regardless of her schedule or the weather. "I am an inherently lazy person, so I'm not going to spend my life chasing my cushions inside and outside based on the weather," she said.
When her cushions get dirty, Ms. Kemble hoses them down, sometimes using dishwashing liquid on them. And while they wear faster than cushions that are stored when not in use, she said, "I'm prepared to accept that, over the next 10 years, I'm going to have to recover my cushions."
If her chairs are occasionally damp, so be it. "I'm prepared to get some wet bum cheeks," she said, "rather than having big storage boxes and taking on the challenge of staying two steps ahead of the weather."
Tim McKeough © 2021 The New York Times
Source: New York Times/ds