All you need to know about getting your first wine chiller
Understanding your wine-drinking habits is the first step to getting a chiller that will suit your needs.
Heat is bad for wine. Thinking of getting that fancy wooden wine rack so you can display it on your kitchen counter as a conversation starter? Don't. If you already have one, with bottles lying in them for a while now, here's the bad news — those wines are most likely spoiled by now. Wines stored in temperatures above 24 degrees Celsius end up being "cooked", a jargon used to describe an oxidised wine; the aromas and flavours have become dull, and the wine smells like stewed fruit. The damage is irreversible; at this point you can only send the wines down the purgatory of the kitchen sink, or if they still taste somewhat decent, you can cook with them.
Wait a minute, you say. You heard or read that red wines can be stored temporarily at "room temperature". This, however, refers to a Western or European home with an ambient temperature of 20 degree Celsius, something not possible in Singapore's hot and humid climate without air-conditioning. Yes, most of us have air-conditioning at home, but do you want to leave it on 24/7 just for the sake of your wines?
That's why you need to invest in a wine chiller.
If you are looking to buy your first wine chiller, you may be wondering how to start, especially with a plethora of models available in the market these days. Fret not, we are here to help.
It's tempting to pick a wine chiller based solely on its looks. But as with selecting any big kitchen appliance, practicality is of the utmost importance. Think about the time you bought your refrigerator for your new home — you looked at the size of your household; how much food your family typically ate in a week, and, last but not least, whether the appliance fitted your budget. Picking a wine chiller follows a rather similar process, though there may be a kerfuffle from a disapproving spouse who may not share your vinous passion.
First things first, understand your drinking habits. How big is your wine collection? How often do you drink wine at home? How often do you throw wine dinner parties? Kenny Khaw, director of Ares Konsultant, a wine importer and dealer for Liebherr wine chillers, said the buyer should also consider whether he intends to maintain the current size of his collection or buy more wines in the near future.
"Space is also an important consideration as most of us live in small homes in Singapore," said Khaw. "Many of my clients ask me for the dimensions [of the chiller] before buying."
Under-the-counter or built-in wine chillers tend to be popular among consumers here, noted Gerard Zhang, co-founder of Stellez Vine, a wine distributor that sells Kadeka wine chillers. To ensure enough ventilation when installing a chiller under a counter, one should choose a model with a front ventilation feature, he added. Linette Lin, a communications professional and wine collector who owns a few wine chillers of different brands, said buyers should also be careful of the advertised bottle capacity as it may be a rough gauge. "After installing the shelves [in the chiller], the actual number of bottles you can store may be less," she said, adding that models with glass panel doors may also create water droplets from condensation, causing the floor to be wet.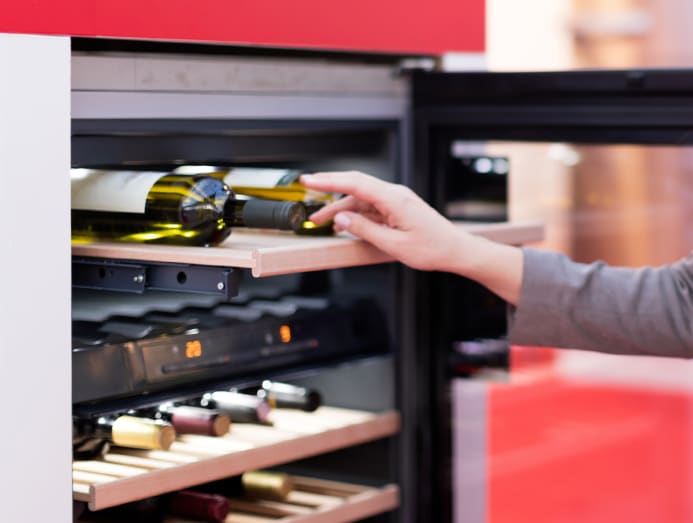 Another feature to consider is temperature zone. The ideal storage temperatures for red wines and white wines are 12 degrees Celsius to 19 degrees Celsius and 8 degrees Celsius to 12 degrees Celsius respectively, while champagnes benefit from a cooler setting of 5 degrees Celsius to 8 degrees Celsius. Some wine chillers come with dual or multiple temperature zones, while others, especially smaller models, offer just a single temperature zone. Is the latter a deal breaker? Not necessarily.
Ares Konsultant's Khaw said a dual temperature zone is the "least important for beginners". "If you have only one temperature zones storage, then the sweet spot is between 10 degrees Celsius and 12 degrees Celsius," he said. Because of Singapore's tropical climate, once a bottle is removed from the chiller, it starts to warm up pretty quickly and thus a storage range of 10 degrees Celsius to 12 degrees Celsius still works for reds, he explained. The ideal serving temperature for reds is 15 degrees Celsius to 20 degrees Celsius, while for whites it's 8 degrees Celsius to 13 degrees Celsius.
Storing wines in the refrigerator, while definitely a better option than leaving them out in the open, isn't a viable long-term solution (yes, you have some wine bottles wedged between your milk and juices in your fridge right now. That's why you are reading this article). Stellez Vine's Zhang said if a wine has a cork closure, it's advisable not to keep it in the refrigerator for a prolonged period as corks are porous and absorb aromatic compounds in the environment. "After long periods, compounds from [other foods] in the fridge might enter and alter the wine's bouquet," he said. "Think durian."
Sunlight is also wine's enemy: Ultraviolet rays cause chemical reactions with the wine's amino acids, bringing out nasty aromas reminiscent of rotten eggs and sulphur. Thus, if you don't want your precious bottles of First Growth Bordeaux to be ruined, make sure your wine chiller is in a dark place or somewhere away from sunlight. The worst location for a chiller, said Khaw, is in your balcony.
CNA Luxury picks three wine chillers that would suit the needs of different wine collectors.
KADEKA KB40WBC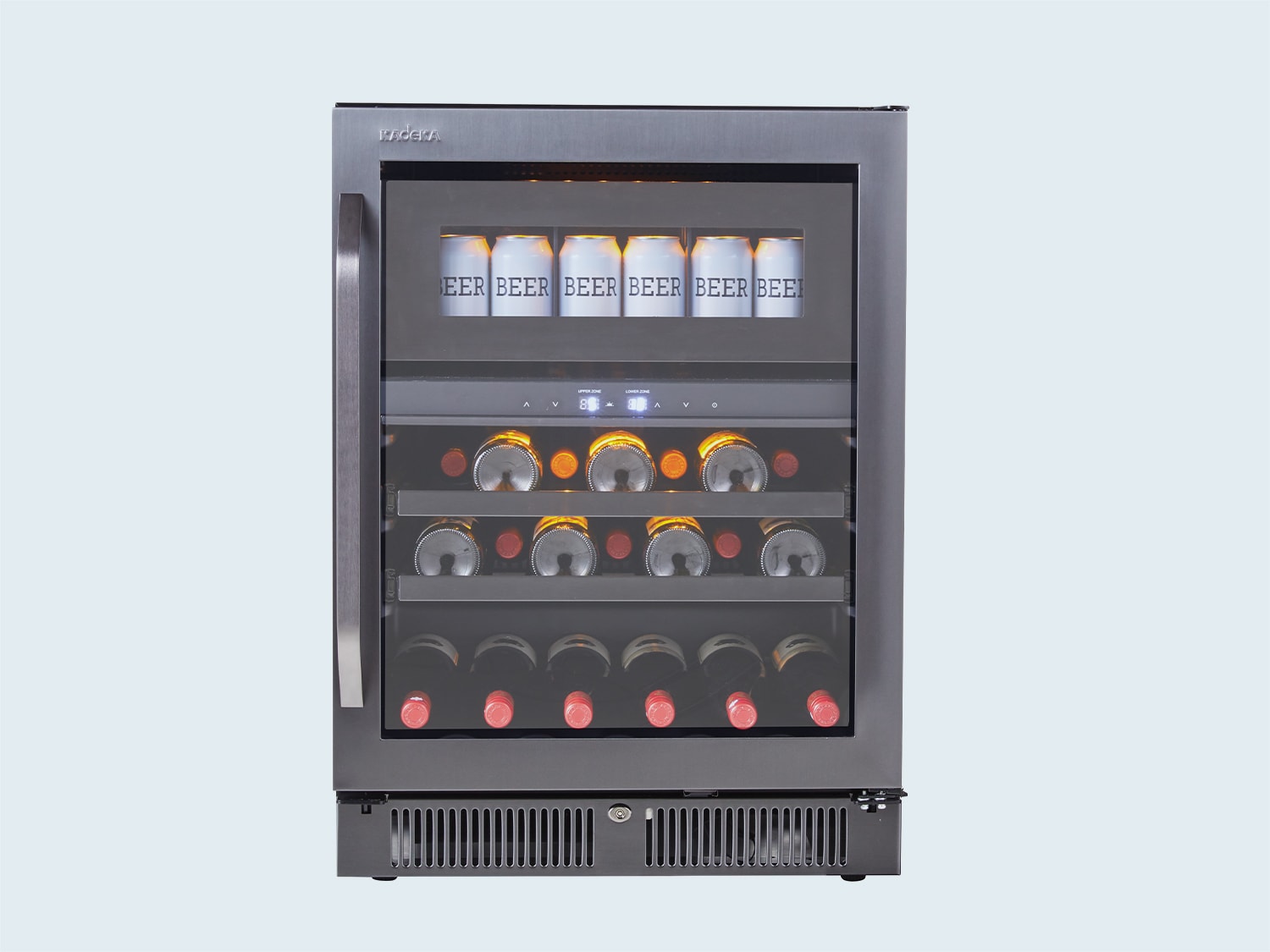 Just starting out on your wine collection? Part of Kadeka's Medley Series, this nifty wine chiller holds 25 bottles and 54 cans, a feature that would please wine and beer drinkers. The model comes with two temperature zones (5 degrees Celsius to 18 degrees Celsius) and an anti-UV glass door.
Dimensions: 595mm(W) x 822mm(H) x 562mm(D) 
S$1,708, from Stellez Vine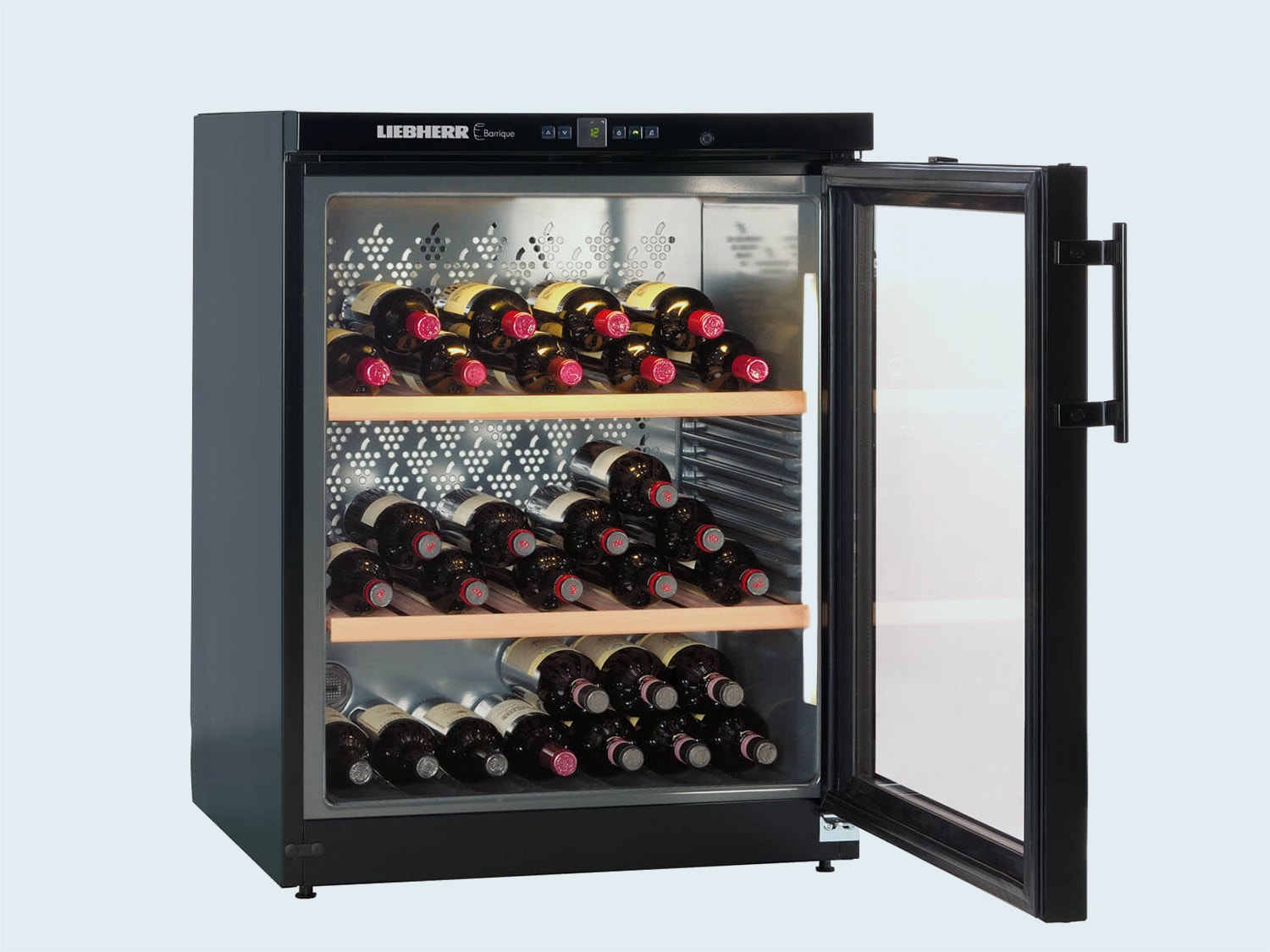 This 60-bottle chiller from Liebherr, a German manufacturer of kitchen appliances, is ideal for those who have a modest but growing wine collection. It comes with a UV-resistant glass door, a reversible door hinge to accommodate a swing radius from either side, and a door alarm that sounds if the door has been open for more than a minute.
Dimensions: 657mm(W) x 850mm(H) x 663mm (D)

Price upon request, from Ares Konsultant. Email: ares.konsultant [at] outlook.sg ()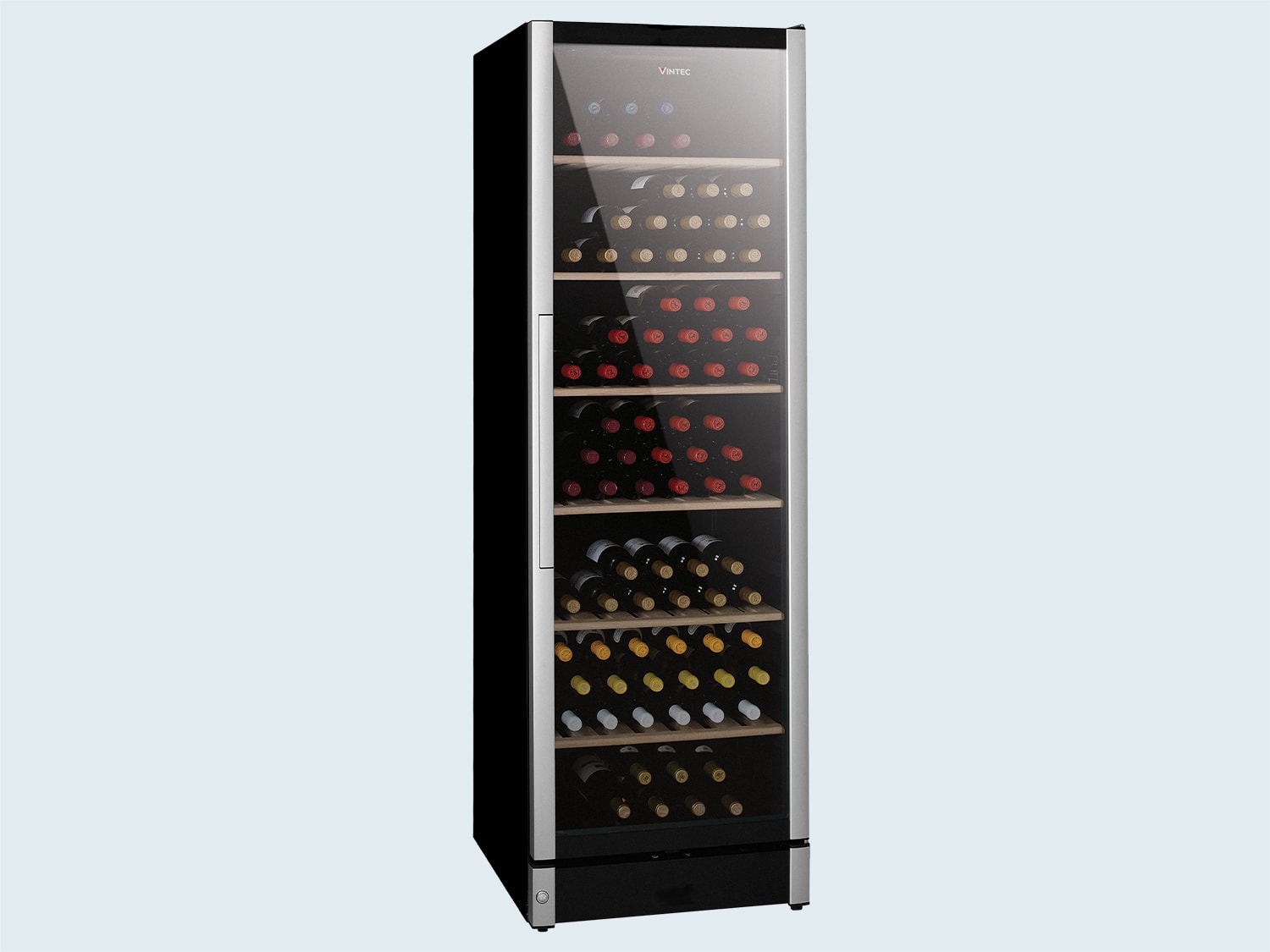 Ran out of space in your current wine chiller and looking to store all your wines in one chiller instead of separating them into two? Have a nook to spare in your living room? This handsome chiller from Vintec, which holds up to 198 bottles, may be your answer. The cabinet offers multi-temperature zones for various wine styles as well as a flexible shelving that lets you store bottles horizontally. Download Vintec's Oeno Virtual Cellar Management App to keep track of your wine collection and access recommendations by sommeliers.
Dimensions: 595mm(W) x 1850mm(H) x 595mm(D)
S$4,449, from Grand Vin