Post-pandemic, here's what Singapore homes of the future will look like
Will the pandemic spur a change in home design and property offerings? Here's how Singapore's property developers are rethinking the future of homes.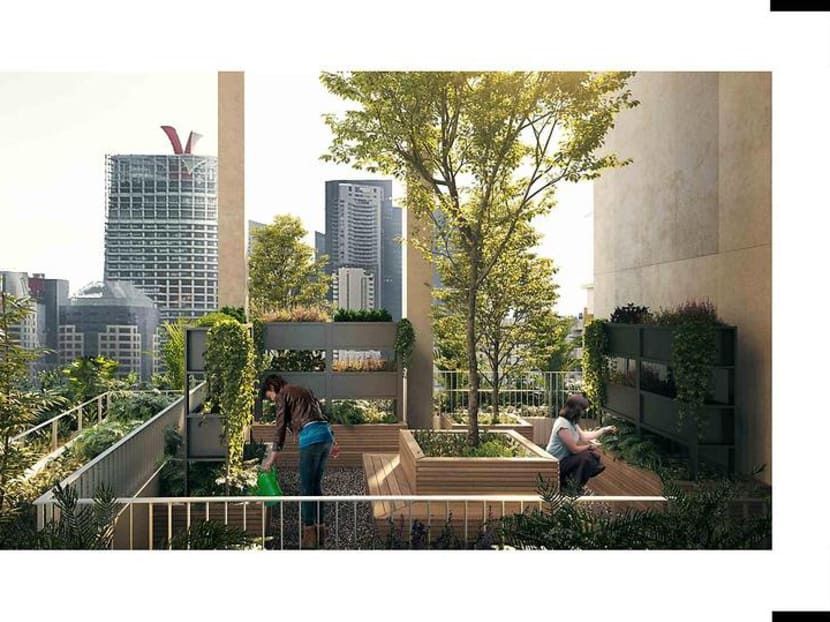 With the COVID-19 pandemic forcing people all around the world to shelter in place, it brought about a revolution in how we think about our homes. Never before had we spent so much time indoors, turning our homes into a makeshift office, school and even a gym.
Though Phase 2 is well underway, it is evident that life will not go back completely to how it was pre-pandemic. For one, the work from home (WFH) trend looks likely to stay, even when the COVID-19 pandemic fades.
With this new lifestyle, the needs of homebuyers are also changing. "As WFH arrangements become the new norm, homebuyers are likely to consider merging a conducive working environment and comfortable living space into their homes, for their family and themselves," said Linda Chern, Head of Residential Project Marketing, Prime Sales and Leasing at Knight Frank Singapore. 
"As such, homes with well-designed layouts that incorporate study and work areas, coupled with spaces for relaxation and exercise will be placed in higher priority in the immediate term." 
Here, Singapore's property developers share the trends we're likely to see. 
MORE FLEXIBLE SPACES
The WFH term may have become a buzzword of late, but remote working has been on the radar for property developers in recent years. The concept of flexible spaces, where spaces are designed for multiple uses, is set to stay post-pandemic.
"It's not like we were planning for a pandemic to happen," said Dora Chng, General Manager (Residential) of GuocoLand. "But in the last two years, we have noticed a trend amongst our buyers. They're working longer hours and with the introduction of smart devices, they bring work home very often. Because of this change in lifestyle and habits, when we were designing our developments, we included facilities to allow working from home." 
For GuocoLand, thoughtful design means incorporating flexible spaces designed to accommodate both a home office and a living area if necessary. "When we were designing a residential unit at the upcoming Midtown Bay development, we were designing it with the WFH concept in mind. So we purposely made the living and dining space bigger so there is flexibility to convert the space if need be," shared Chng.
Balcony floors are flushed with that of the living room, allowing the dining table to be placed in the balcony space. This frees up space in the living area for the homeowner to create a work station.  
Another solution offered at Midtown Bay is two-bedroom and three-bedroom duplex units. With duplex units, the lower floors can be used as a home office, while the upper floor is used for residential living.
Notably, within the units, the colours chosen are neutral. "The finishes of the wardrobe and the kitchen cabinet are all designed to be very neutral. So if you are using the unit as an office, it doesn't feel too residential," said Chng.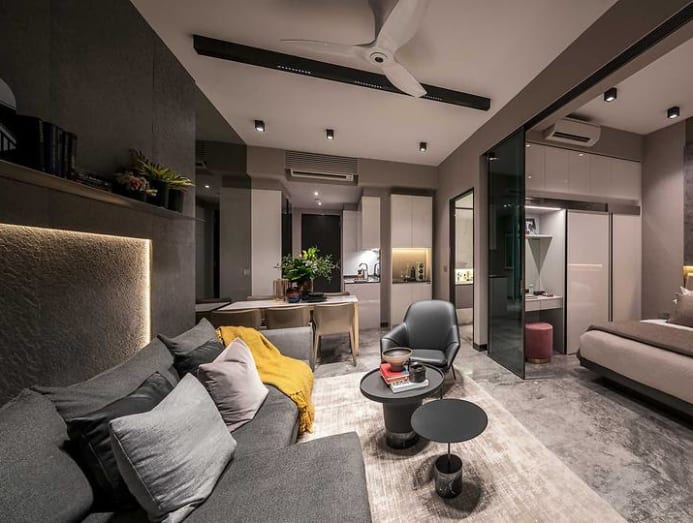 "If you have guests coming to see you, the space will have a more corporate feel. Even if you have a meeting on Zoom, no one will know that you're home," she added.
EMPHASIS ON ENTRANCES
Indeed, from time to time, homeowners working from home will have to meet with colleagues and business associates, or even receive deliveries from the office. With this in mind, designing a hotel-like lobby is likely to be a priority.
"As more people WFH, they would need to receive guests or packages from the office. However, they may still want to maintain their privacy by not receiving their guests in their homes," said Lim Yew Soon, Managing Director of EL Development.
EL Development's upcoming branded freehold development, Pullman Residences Newton, will have a concierge that can receive packages on behalf of residents. The lobby is also designed to be conducive for residents to hold business meetings. "On top of the usual clubhouse that already exists in most condominiums, Pullman Residences will also have a hotel-styled lobby with cosy seating, WiFi and drinks for residents to hang out, or to receive their guests," shared Lim.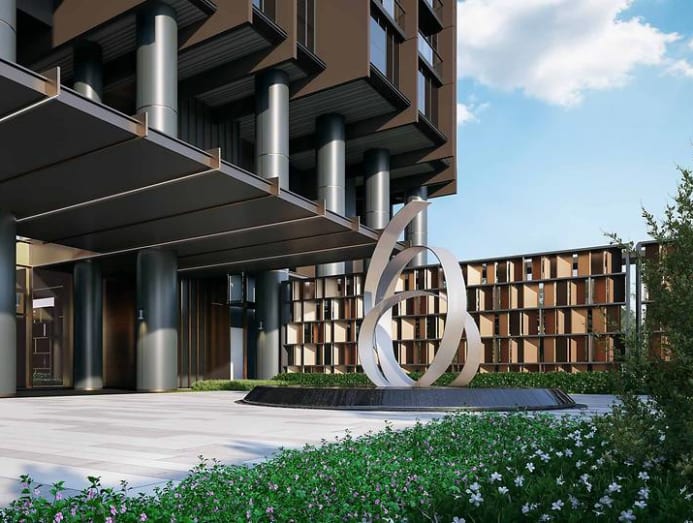 In the future, new facilities such as meeting rooms, conference rooms and a business centre that offers printing and fax services may also be introduced as additional services to support residents who WFH, Lim said.
OUTDOOR AND WELLNESS SPACES
After being cooped up at home, more homeowners will likely desire more outdoor spaces for a breath of fresh air. "Balconies have become a popular feature of high-rise living as they provide city dwellers with access to fresh air and the outdoors," a spokesperson for CapitaLand said.
At the upcoming One Pearl Bank residential development, almost all units come with a balcony which homeowners can use as an extended workspace. Additionally, the developer's solution to offering more outdoor and wellness spaces is to incorporate biophilic design into its residential buildings, where residents are connected closely to nature.
One Pearl Bank will feature the world's first vertical sky allotment gardens in a residential development. It will feature a total of 18 sky allotment gardens, offering close to 200 plots where residents can grow their own herbs, fruits and vegetables.
"Urban farming has been gaining popularity among city dwellers, providing an additional source of food, while integrating nature to enrich residents' quality of life through gardening. The sky allotment gardens provide residents with the space to enjoy some tranquillity after a day of working indoors, and promote community bonding too," CapitaLand said.
"In future projects, we are also evaluating amenities such as individual work or study pods in common areas, or equipping spaces for social functions with power and Internet connectivity for residents to host small-scale meetings. Residents can have the flexibility of working outside of their homes, while staying within the compound of their residential development."
WORK FROM HOME HERE TO STAY
All in all, Singapore's property developers believe that in some form or another, the WFH trend is here to stay. "Work will likely entail a combination of both home and office spaces as some collaborative work activities will still need to be conducted in offices," said CapitaLand.
This is a similar sentiment echoed by GuocoLand. "Moving forward, it is unavoidable that we have to WFH. But it will not diminish the importance of offices. It will likely be a hybrid between WFH and the office," said Chng.
But while catering to this new trend is important, EL Development's Lim believes that homeowners will still prioritise location and pricing when it comes to buying decisions. "Buyers would still want homes in good locations at affordable prices," he said. "Certain attributes such as flexibility, efficient unit layouts and good facilities would be a bonus to them, but their key consideration would still be location and pricing."
"Certain attributes such as flexibility, efficient unit layouts and good facilities would be a bonus to (homebuyers), but their key consideration would still be location and pricing." – Lim Yew Soon