How to create a spa-like bathroom where you can relax and decompress
With spas still shut, you need a place to relax and recharge. Here's how to achieve such a space – right in your own home.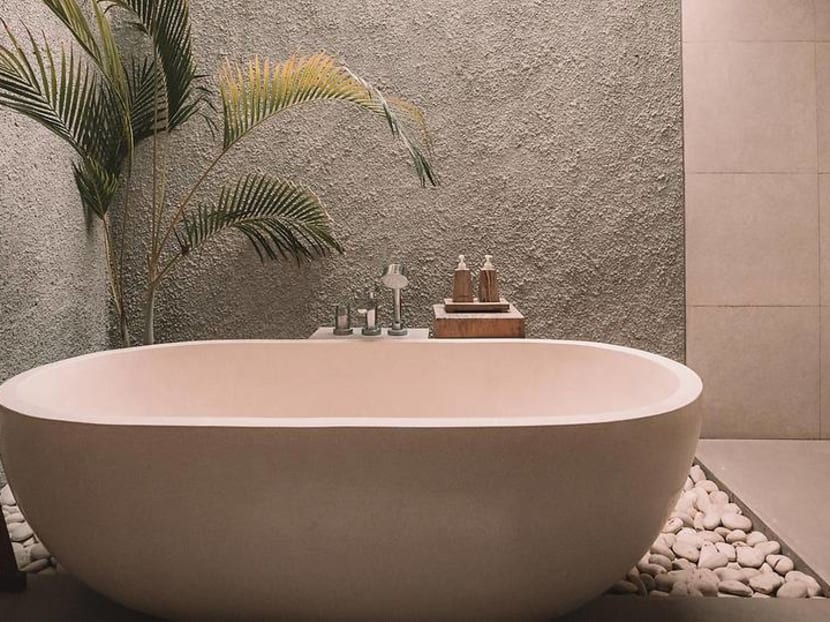 When a barrage of bad news, glitchy videoconferences and close-quarters living propel stress levels to new highs, it helps to have a place to recharge.
For some, that has traditionally been the spa. But with many spas temporarily closed and safe distancing measures in place, that option isn't as easy, or appealing, as it once was.
A spa-like bathroom at home can provide a similar sense of relief. Sure, it doesn't come with expert massages or facials, but it can offer a serene place to shower, soak and unwind – and it's always there when you need it.
"Bathrooms are where you hide," said Sarah Zames, the founder of the New York-based design firm General Assembly. "I think everyone is currently spending a lot of thoughtful time in there, either on conference calls or for a Zen moment."
And if the goal is to make your bathroom truly restorative, she said, "there are so many things that can make it a special, spa-like space."
Whether you're doing a full-scale renovation or just want to make a few changes, here's what the designers we talked to suggested.
CHOOSE THE FEATURES YOU REALLY WANT
If you're planning to renovate your bathroom, you don't need to use the same types of fixtures in the same places they were in the old layout (although existing plumbing lines may dictate the placement of drains in some homes). Consider it an opportunity to customise the bathroom to the way you use it.
"Everyone has assumptions like, 'Oh, I need to have a bathtub for resale value,'" said Kathleen Walsh, an interior designer in New York. "But if your intention is to stay there for another 15 years, what on earth does resale value have to do with anything?"
If you're the kind of person who loves a long soak, splurge on the largest, most luxurious bathtub you can fit into the space. (When plumbing showrooms are open, Walsh usually recommends sitting in dry tubs to test them for comfort.)
But if you rarely take baths, reclaim the space where the tub used to be.
"Give yourself the luxury of that extra-large shower that you'd really like to have," Walsh said, and think about adding a rain-shower head, body sprays, a built-in bench and a steam unit. "Or incorporate a sauna into the bathroom."
If you plan to keep an existing shower enclosure but your shower head delivers a weak stream of water, look for a replacement capable of providing a satisfying blast.
REFINE THE MATERIAL AND COLOUR PALETTE
Choosing a limited range of materials and a subdued colour scheme is a good way to bring calm to a bathroom.
"The more neutral the palette in the bathroom, the better," said Timothy Brown, a New York-based designer who likes off-whites, soft greys and pale blues. "You don't want too much craziness going on, because it's the place where you start and end your day."
That doesn't mean it has to be boring. Some designers choose a single signature material to create a standout feature in the room.
"We try to create visual interest by doing feature walls, rather than having the whole thing be visually too much," said Francis Nicdao, a design director at Pembrooke & Ives, in New York.
In a bathroom for a home in Palm Beach, Florida, for instance, Nicdao's firm added a curved wall with an ombre mosaic around a free-standing bathtub. And General Assembly used slabs of Bianco Fantastico marble with dramatic grey, red and pink veining for the tub surround and shower wall in an otherwise minimalist bathroom in London.
CONTROL THE LIGHT
When you want to create an inviting vibe in a bathroom, lighting is crucial. Most designers use numerous fixtures to bring light exactly where it's needed. And they put all of those fixtures on dimmers, so clients can adjust the brightness throughout the day.
Most important is lighting around the mirror, where faces can be illuminated with a pair of sconces or pendants at eye level, or a single light centred at the top of the mirror. Nicdao often adds a pullout illuminated magnifying mirror.
For the rest of the room, he usually employs a mix of recessed architectural lighting and decorative fixtures. "The architectural lighting is for the overall lighting, and there's usually some detail lighting for highlighting certain things," he said, like light coves that illuminate feature walls.
"The decorative lighting, we use kind of like jewellery," he added, to introduce a sculptural note and a little sparkle.
Even if you're not renovating, swapping out a nondescript, flush-mount ceiling fixture for a chandelier can have an outsize effect on the feeling of the room.
BRING IN FURNITURE
If you have the space, adding a small piece of furniture – a stool or side table – can make your bathroom a more inviting place to spend time.
"It makes it feel more like a living room than a toilet room," Brown said. "Bring in a small table to place near the tub to hold the essentials you'd find in a spa: Beautiful bath products, a great candle and your preferred aromatherapy."
In larger bathrooms, you can go bigger. "A lot of people want a chair or chaise longue," said Walsh, who recently installed a tufted, upholstered armchair in a home in Pound Ridge, New York. "And why not? You're supposed to be able to close the door and escape."
But to keep the experience stress-free, she said, use materials that are easily cleaned, like indoor-outdoor fabrics.
PLAN FOR STORAGE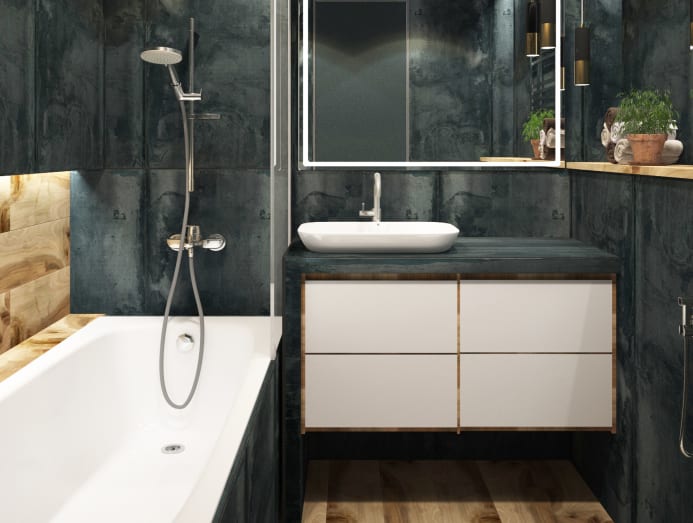 Cluttered spaces rarely feel relaxing. To keep toiletries in order, create a convenient place to store them. During a renovation, it's possible to add drawers to a vanity or, even better, to make use of unused space between wall studs by installing a recessed medicine cabinet.
When Pembrooke & Ives puts recessed medicine cabinets in a bathroom, Nicdao said, the designers try to make the cabinets extra functional by including dividers to keep hair products separate from things like toothpaste, and by installing outlets for hand-held appliances like hair dryers and electric toothbrushes.
In any bathroom, wall shelves and baskets are an easy way to increase storage. When Stacy Stone, of the San Francisco-based firm Stone Interiors, designed a bathroom with Walker Warner Architects for a house on Kauai, Hawaii, she installed open shelves and numbered rope baskets for multiple users instead of putting drawers under the vanity.
"It's almost like going to a spa, where you can check in and put all your things away," she said. "It was all about being organised and having a place for everything."
FINISH WITH ACCESSORIES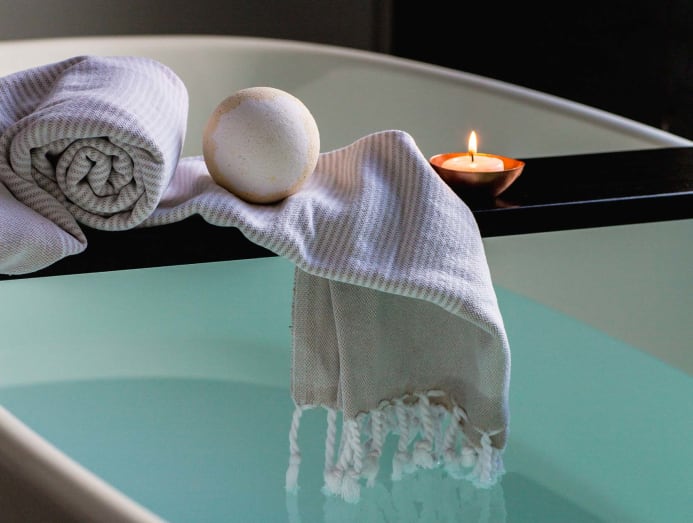 One of the easiest, least expensive upgrades you can make to a bathroom is replacing tired towels with new ones. "By all means, have a big, fluffy towel and robe within reach for when you step out of the tub," said Brown, who also suggested investing in a soft bathmat.
For toiletries that will be left out on the top of the vanity or the edge of the tub, Stone recommended finding appealing containers. "Use beautiful urns and vessels to hold your daily items," she said, noting that they don't have to be purpose-built for a bathroom – any appealing ceramic, glass or rust-resistant metal pieces will do.
Then think about how to bring in a favourite scent, she suggested – "whether that's with flowers or a candle" – because fragrance can have a powerful effect on behaviour and mood.
Finally, follow the lead of most spas and add sound with built-in or portable speakers.
"You could pipe in nature sounds or music," Stone said, "to bring you to another space and help heighten the experience."
By Tim McKeough © 2020 The New York Times