Why this new Hublot Big Bang timepiece will make others green with envy
Instantly recognisable by its Kryptonite-like hue, the limited edition Hublot Big Bang MP-11 SAXEM boasts a case made from a high-tech material used in the construction of satellites.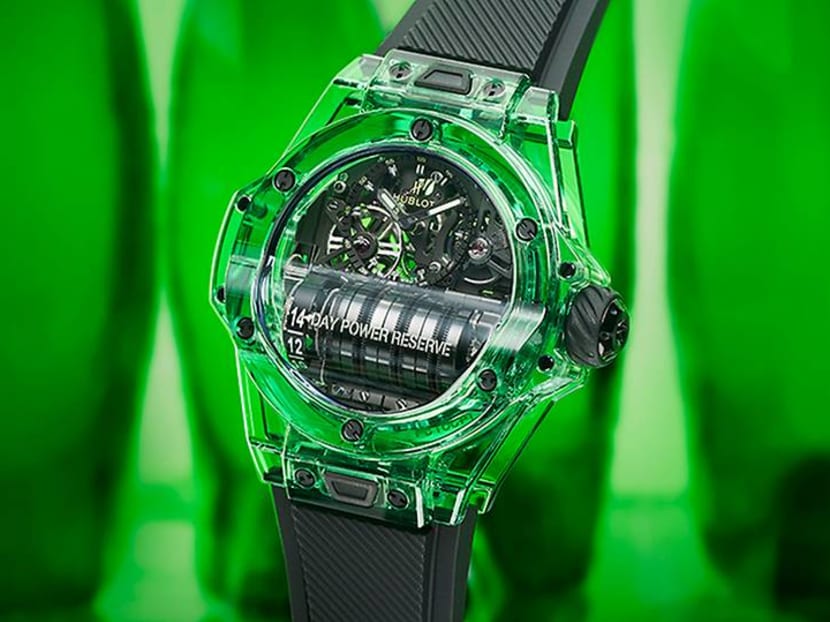 The world of horology is one where tradition and cutting-edge technology exist in a delicate equilibrium. A beautiful contradiction, if you will, where centuries-old skills and techniques are still relied upon to set the groundwork for the future. Regardless, the amalgamation of heritage and science has ushered the art of watchmaking into a new age. And Hublot's newest iteration of its best-selling timepiece, the Big Bang MP-11 SAXEM, is the latest proof of that artistry.
Instantly recognisable by its Kryptonite-like hue, the limited edition Big Bang MP-11 SAXEM is a game-changer that fully embodies Hublot's "Art of Fusion" motto – a philosophy that has propelled the brand to the front of the pack when it comes to the field of material engineering for watches. That sense of innovation is noticeable in the clear case of Hublot's latest masterpiece, which is made from a high-tech material it calls SAXEM (hence the watch's unique moniker).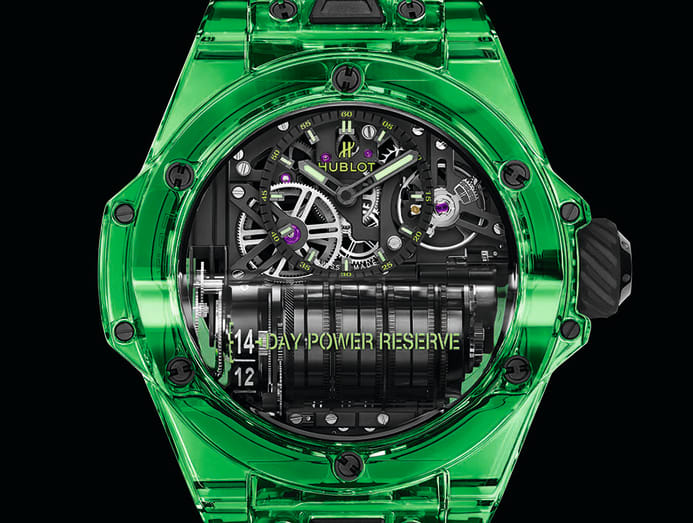 Ricardo Guadalupe, Hublot's CEO, considers the watch a feat of technical mastery and aesthetics. "By offering those that seek accomplishment a state-of-the-art material used in very high-tech applications, particularly in satellites, and by combining it with a manufacture movement with levels of performance that will go down in history, we are changing the face of our art of fusion," he said in a statement.
An abbreviation for sapphire aluminium oxide and rare earth mineral, SAXEM is derived from mixing aluminium oxide with other elements such as thulium, holmium and chromium. It is tougher than emerald, and is said to possess a radiance that is a notch above sapphire's. There are other benefits to using SAXEM in the watch case, too: It offers greater stability during the shaping process, while the cubic crystalline structure of the matter ensures a consistent brilliance throughout the case.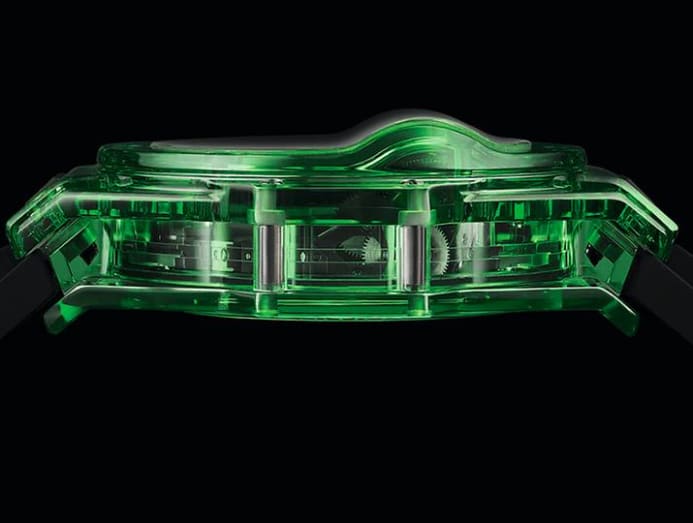 Even though the polished green case is the Big Bang MP-11 SAXEM's biggest selling point, its manual-winding skeleton movement – manufactured in-house – makes a very compelling point. Accentuated by a sleek shine, and beautifully framed for all to see, the HUB9011 calibre boasts a two-week power reserve thanks to the energy generated by the seven barrels it contains. Six polished black titanium screws that decorate the bezel, plus a black titanium crown with rubber inserts, add to the appeal of the watch.
The development of the Big Bang MP-11 SAXEM represents many things. Firstly, it marks a evolutionary step forward for the use of transparent sapphire watch cases, which has gained popularity in recent years because of its novel factor. Secondly, it's another breakthrough for Hublot – one that stays on course with its ethos of change and innovation. After all, since its founding in 1980 by Jean-Claude Biver, Hublot's fame and  ambitions have been powered by its quest to seek out new materials. It pioneered Magic Gold (a scratch-proof 18K gold alloy); didn't shy away from using a cement bezel; and is now adding a revolutionary take on sapphire cases to its growing list of innovations. The question on the lips of industry insiders and watch enthusiasts is: What's next?