Hublot's new all-sapphire Big Bang watch hides absolutely nothing
The watchmaker's material science department is back to excite those tired of steel bracelets.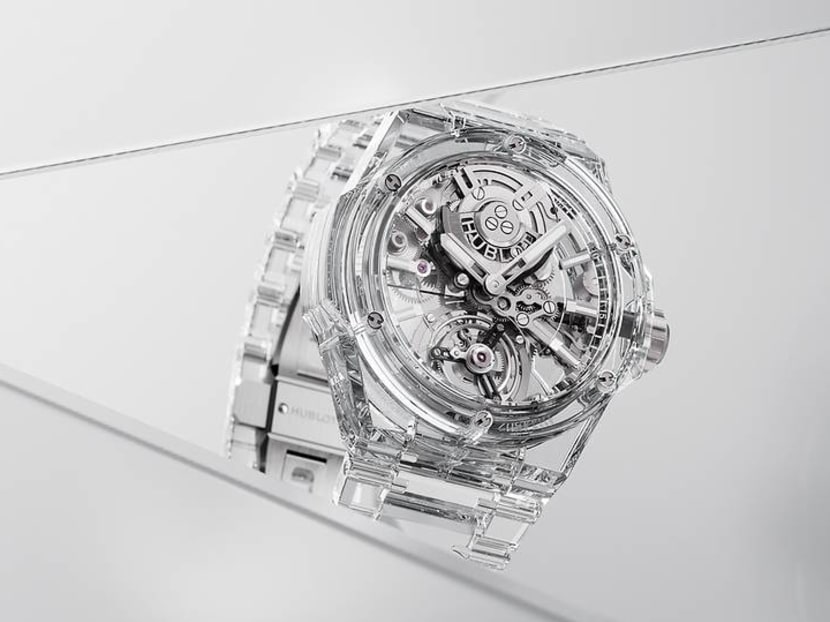 We can't judge the watchmakers that are playing it safe this year (or really, any other year). Sometimes, consumers just want more of the same thing in slightly different colours, sizes and materials, and watch brands are rightfully trying to sate these highly particular – if utterly unexciting – demands.
But there are rebels in every fan base and in the world of haute horlogerie, Hublot and its fans count among them. Whether it's debuting the world's first brightly coloured ceramic cases or boldly releasing watches that are deliberately hard to read, Hublot ensures there's never a dull year.
This doesn't mean Hublot ignores trends. It released the Big Bang Integral last year in response to the rise of steel watches with integrated bracelets. The follow-ups however, are usually far from conventional. After a trio of coloured ceramic variants launched this January, the Big Bang Integral announced its most ambitious reference at this year's Watches & Wonders: The Big Bang Integral Tourbillon Full Sapphire.
This isn't Hublot's first sapphire watch (that would be the Big Bang Unico Sapphire from 2016) but it is the first to use this much of the fussy material. The case is made from 37 components, five of which are in sapphire, and out of the 165 components that make up the bracelet, 22 are in sapphire. The brand also had to develop titanium inserts specially for this bracelet, and these were machined in such a way that they don't protrude on either side of each bracelet link.
Possibly in an attempt to one-up Chanel's J12 X-Ray, which was the first fully sapphire watch when it was unveiled last year, Hublot's contender features a flying tourbillon at 6 o'clock. The automatic HUB6035 also features three sapphire bridges, and a platinum micro-rotor positioned at 12 o'clock for a bit of pleasing symmetry. It operates at 3Hz with a power reserve of 72 hours, and has a water resistance of 30m.
The Big Bang Integral Tourbillon Full Sapphire's overall case design and size (43mm by 15.25mm) also makes this a more rugged alternative to Chanel's 38mm J12 X-Ray, but you'll have to move fast because it is a limited edition of only 30 pieces.