Hublot debuts Takashi Murakami collaboration plus world's first orange sapphire watch
The Swiss watchmaker unveiled a slew of novelties at LVMH Watch Week, including an all-black Takashi Murakami-designed timepiece; the world's first orange sapphire watch; and a slender Big Bang with interchangeable straps.
On Mon, Jan 25, LVMH watch brands kicked off the new year with LVMH Watch Week, an online presentation of new watches from Bvlgari, Hublot and Zenith. It's the first watch trade show of the year, taking place digitally as physical watch shows remain a thing of the past, at least for now.
As part of the novelties presented by Hublot this year, the watchmaker unveiled a partnership with Japanese pop artist, Takashi Murakami. Also part of the line-up was the Big Bang Tourbillon Orange Sapphire, and the Big Bang One Click 33mm.  
Here's a closer look at the timepieces.
CLASSIC FUSION TAKASHI MURAKAMI ALL BLACK

Renowned artist Takashi Murakami is known for his colourful artwork, strongly rooted in anime, manga and Japanese culture. It was a surprise, then, that for his first collaboration with Hublot (in fact, his first collaboration with a watchmaker ever), the artist chose to go pitch black. 
"This was because the very first impression I had when I learned about Hublot was its signature black rubber belt," Murakami explained.
Murakami's iconic flower graces the face of the watch, featured in an all-black ceramic case and bezel. The petals are set with 456 black diamonds, while the smiley face (which sits above the sapphire crystal in a dome) is set with 107 brilliants. Thanks to a ball-bearing system created by Hublot's engineers, the petals can spin, following the movement of the wearer's arm.
A collector's edition, this timepiece is limited to only 200 pieces.
BIG BANG TOURBILLON ORANGE SAPPHIRE
Hublot's array of sapphire-cased watches now has a new colour. Making its debut at LVMH Watch Week was the Big Bang Tourbillon in orange sapphire, a world-first. This unique amber hue was achieved by combining titanium and chromium, Hublot said in its press release.
The Big Bang Tourbillon Orange Sapphire is powered by a new tourbillon movement with a dial-side micro-rotor (featuring the Hublot logo) and three sapphire bridges. 
Hublot's signature open-worked movement design allows for nearly obstruction-free viewing at every angle. The watch is sized at 45mm, and is paired with a matching transparent orange rubber strap. Only 50 pieces are available.
BIG BANG ONE CLICK 33MM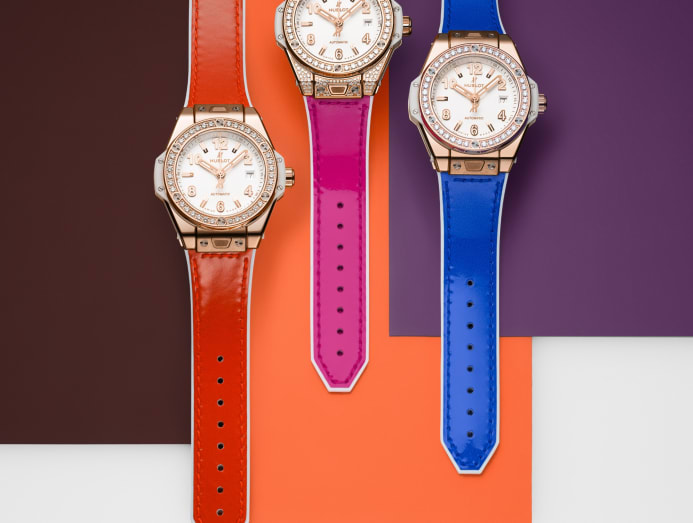 For the ladies, the Big Bang One Click 33mm is designed to wrap around slender wrists, available in either steel or pink gold. What stands out is the patented One Click interchangeability system that allows the wearer to change the strap easily. 
An array of colours are available for the strap, changing the character of the timepiece to match with any outfit or occasion. Watch enthusiasts can also choose between a white or black dial, as well as different diamond settings.