Which watchmaker doesn't care whether you can tell the time or not?
Hublot turns the big 4-0 this year. This audacious Swiss watchmaker has left an indelible mark on watchmaking through ferocious disruption – including by creating an all-black timepiece that cheekily reminded wearers how they're more likely to tell time using smartphones.
There are brands that do just the one thing exceptionally well, be it with many iterations of a popular design, specialising in a particular complication or by mastering the decorative arts. Then there are watchmakers that are jacks of all trades, with pockets deep enough to create something for everyone.
What makes Hublot special is that it lies somewhere in the middle.
It does do one thing very well, and that is to disrupt. With this as its ethos, Hublot's history has been peppered with all manner of weird and wonderful watches, and these milestones can be viewed through a virtual tour of the brand's anniversary exhibition set up at its manufacture in Nyon, Switzerland, and designed by British fashion and industrial designer Samuel Ross.
The "phygital" space is worth a look, because here are all the times that Hublot took the road less travelled.
IT WAS THE FIRST TO COMBINE RUBBER WITH A PRECIOUS METAL
Watches today no longer need to be in precious metals to denote luxury, but it was a much more peacocky time in the eighties. So the notion of a watch brand slapping on rubber with gold was akin to mixing soda with wine.
But Hublot boldly became the first to do so when it released its Classic Original in 1980. Designed like a porthole with exposed screws on its round bezel, the 37mm case was crafted in yellow gold with a black dial and paired with a black rubber strap. Thus, Hublot's "art of fusion" mantra came to be, and the Classic Original's design continues its legacy in the Classic Fusion series.
IT DOESN'T CARE WHETHER USERS CAN TELL THE TIME OR NOT
Time-telling isn't always a priority in fine watchmaking, especially when the focus is on a crazy complication or beautiful decoration. But when Hublot unveiled the Big Bang All Black in 2006 it was almost scandalous.
Black indices, numerals, hands and sub-dials on a black face in a black case with a black strap – it was the brand's cheeky way of acknowledging that the original purpose of a watch had long been usurped by smartphones.
The original model was a limited edition of 250 pieces and it sold out within days. Future editions continued to be popular, and the most recent incarnation is this year's Big Bang Unico Sang Bleu II All Black, a chronograph with a skeletonised dial designed by tattoo artist Maxime Plescia-Buchi and his creative agency, Sang Bleu.
IT CREATED THE WORLD'S ONLY SCRATCH-RESISTANT GOLD
There is no shortage of case materials that boast substantial scratch resistance. Popular options include ceramic, carbon fibre and tantalum, but they lack the luxurious glaze of precious metals, none of which are scratch-resistant. There is but one exception: Magic Gold.
Hublot partnered with the Swiss Federal Institute of Technology in Lausanne (EPFL) to develop an 18K yellow gold alloy that, thanks to an infusion of ceramic, surpasses the scratch resistance of regular gold, stainless steel and is almost as hard as ceramic.
The brand is also known for developing King Gold, which has a warmer hue than traditional red gold.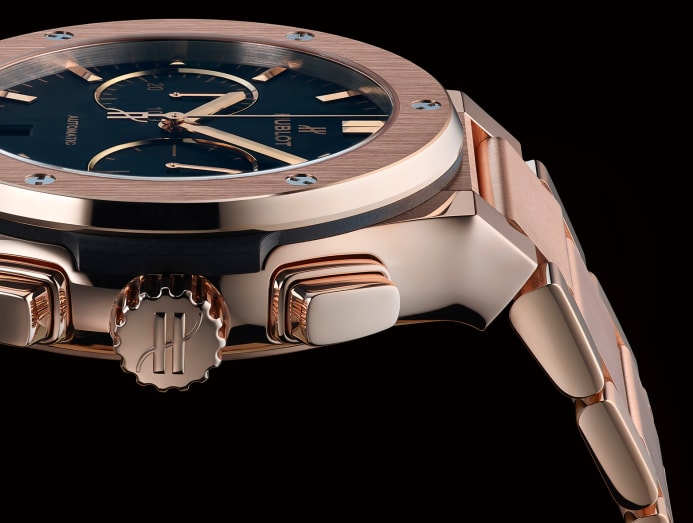 NO ONE MAKES BRIGHTER COLOURED CERAMICS
Ceramic's useful properties are many: It's hypoallergenic, virtually scratch-proof, lightweight, and its colour never fades. The only problem is that that colour seldom pops. The pigments in ceramic powder fade in the intense heat it takes to bake them, which is why many ceramic watches on the market tend toward more muted shades.
In 2018, Hublot revealed its solution. By developing a new manufacturing process that uses pressure rather than heat, it created the fiery Big Bang Unico Red Magic, where the 45mm case and bezel used this new patented red ceramic.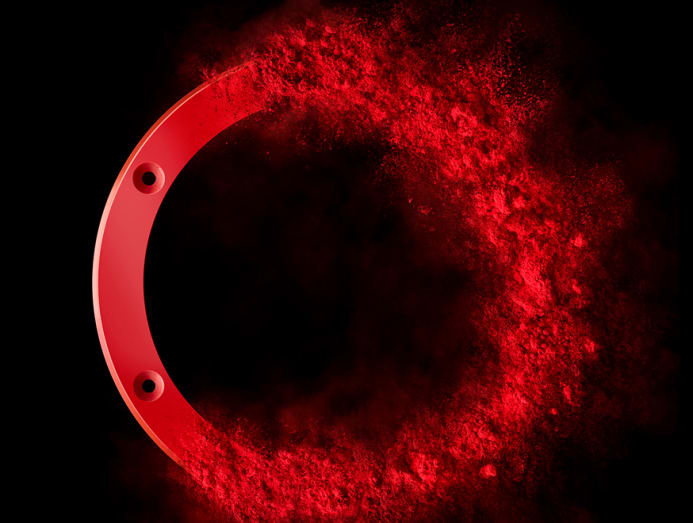 According to the brand, almost all Pantone colours will now be within reach, and it looks promising. This year saw the release of the Big Bang Unico 45 Sky Blue in a light and breezy case.
IT'S A MASTER OF SAPPHIRE CRYSTAL
Sapphire crystal cases are rare in watchmaking, due largely to the fact that they are annoyingly difficult to machine. But after Richard Mille proved it could be done, other adventurous watchmakers gave it a go, too. Hublot was among this handful, but took it a step further by pioneering the use of coloured sapphire crystal for its cases.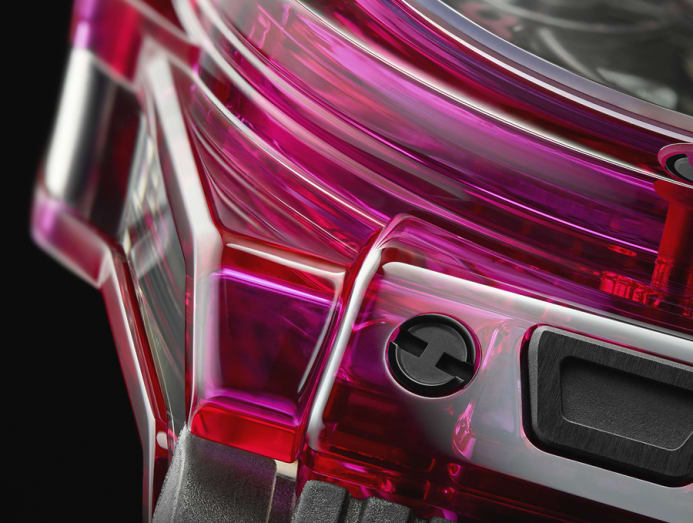 Hublot now has such cases in black, yellow, pink and blue. Sapphire crystal gains colour from impurities, so the Spirit of Big Bang Yellow Sapphire for instance, has copper and aluminium oxide to thank for its faint canary hue.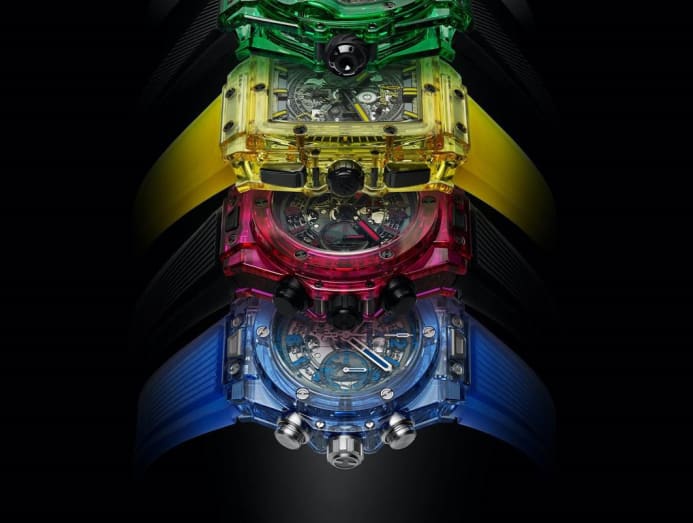 ITS COMPLICATED WATCHES LOOK NOTHING LIKE CONVENTIONAL TIMEPIECES
Hublot is perfectly capable of making ordinary, readily wearable mechanical watches. It's just more fun when it doesn't. The Masterpiece (MP) series is where Hublot really pushes the boundaries of what a watch is supposed to be.
The complications are unusual, such as the MP-02 Key of Time's ability to adjust the speed of time four times faster or slower than the actual rate of time, or the multiple calendars and celestial indications found in the MP-08 Antikythera Sun Moon. When the MP-05 LaFerrari made its debut at Baselworld 2013, it earned the world record for longest power reserve for a hand-wound tourbillon wristwatch, clocking an impressive 50 days.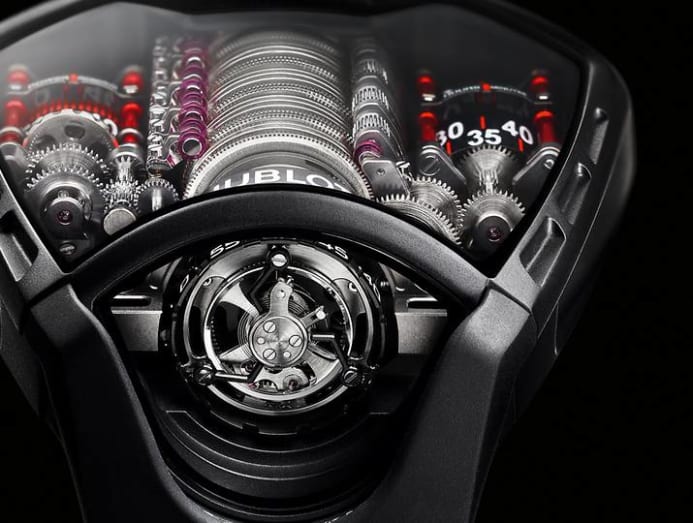 ITS PARTNERSHIPS ARE DIVERSE
Movie stars and professional athletes are the most common type of brand ambassadors you'll find working with watch brands. Hublot has those too, but the dizzying array of the brand's offerings also affords them the flexibility of a wide range of partnerships.
It was the first luxury watchmaking brand to enter the footballing world, and knows how to reach assorted demographics with a truly motley crew of brand friends, from musicians like Lang Lang to DJ Snake, and artists like Richard Orlinski to tattooist Maxime Plesica-Buchi.
You can take a virtual tour of the exhibition here