Inside a 3,500 sq ft Singapore apartment designed with a New York vibe
For the owner of this apartment – a bachelorette in her thirties who works in the finance industry – the rich textures and exquisite materials bring back memories of living in the Big Apple. 
There is an old-world charm to this apartment that is rarely encountered in Singapore where contemporary Scandinavian or Japanese interior design styles are more in vogue. Designed by Brewin Design Office (BDO), it puts emphasis on traits of a dwelling – a proper sense of arrival, sensible spatial arrangements, expressive materials and a feeling of permanence – that is commonly bypassed these days in the social media-driven visual deluge.
In other words, this is a home that feels as good as it looks.
The client moved to Singapore in 2012 but led a nomadic lifestyle. "Every time I left, for whatever reason, I've always returned. Therefore I decided to buy a place," shared the bachelorette in her thirties who works in the finance industry. She settled on this upscale condominium apartment in the central part of Singapore for its rational floor plan and ample 3,500 sq ft size.
"It's a perfect rectangle so there is no wasted space. The living and dining are centrally positioned while the balcony and rooms branch off to the corners and sides," she described. Despite this, there was still work to be done. The bathroom layouts were illogical and the interiors needed to be furnished.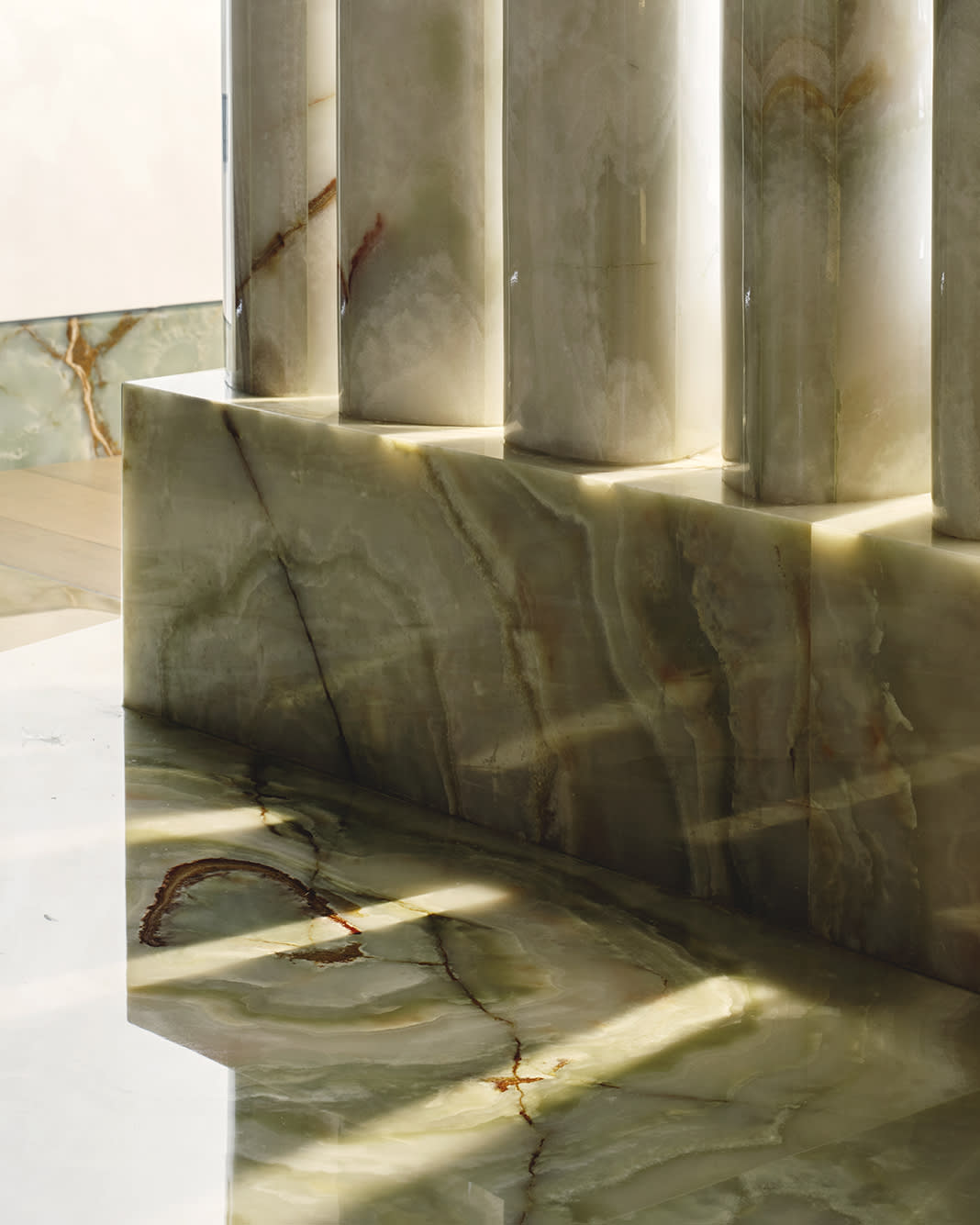 Regarding aesthetics, the client was drawn to the chic, cosy apartments in affluent parts of New York City. Having lived there, she wanted her home to emulate this ambience.
"Robert was given a blank slate so long as it was tasteful, warm, inviting and not ostentatious. He did an exquisite job," she said about Robert Cheng, the founder of BDO. Her architectural schooling demanded the highest quality with regard to design and detailing – a demand not unfamiliar to Cheng himself having been exposed from a young age to the tenets of good design.
His father, Edmund Cheng – the deputy chairman of Wing Tai Holdings – was an architect and developer so the young Cheng counted architecture greats such as Jean Nouvel and Paul Rudolph as family friends.
His craft-focused works include showflats for the Thomas Heatherwick-designed Eden residence and Park Nova – a newly launched luxury condominium by Shun Tak Holdings – as well as F&B establishments The Fat Cow and Blossom Restaurant in Marina Bay Sands. He also designed the Gallery Library and Archives at the National Gallery Singapore's Rotunda.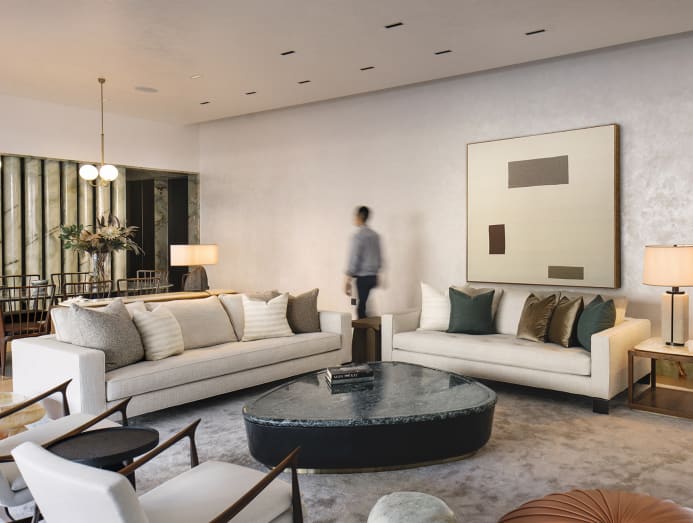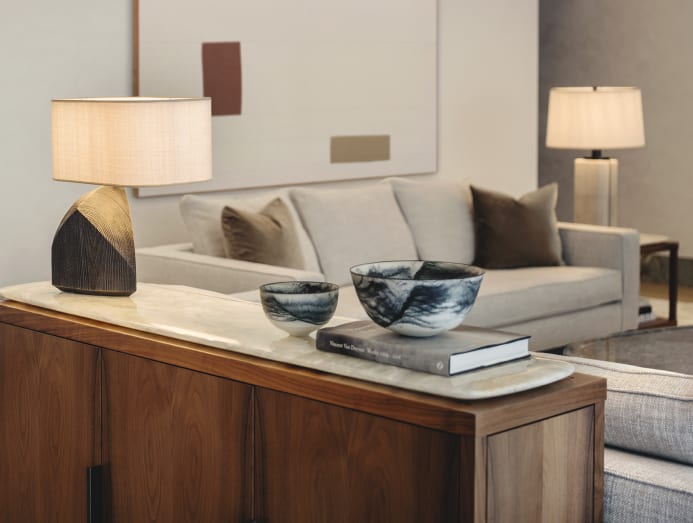 For this unit, Cheng knew exactly what the client desired when she referenced a Manhattan apartment, as he had lived in the city for six years while working for the renowned Tsao & McKown Architects.
"Oftentimes, one would see accents of bronze, incredibly fine workmanship in the joinery and carpentry, as well as a selection of old and new pieces of furnishing that gives a home character," he articulated.
Cheng grounded this textural richness in its context of being situated near the Botanic Gardens, as well as the estate's lush landscaping. The colour green is thus the most distinctive colour in the home, manifested through the employment of luxurious and refined green onyx.
The material's translucency when met with light evokes poetry and sensuality. It wraps the foyer's walls, and is also expressed as a colonnade that screens the arrival space from the living and dining. The stoic, rhythmic arrangement alludes to the grandeur of classical structures, albeit in miniature.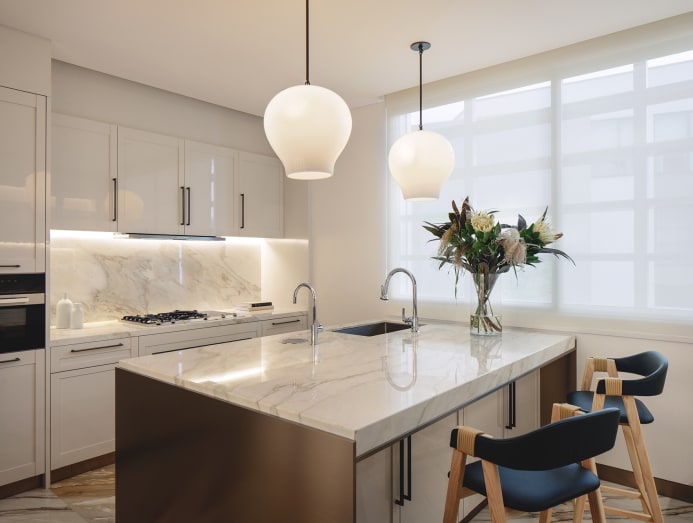 "Robert was given a blank slate so long as it was tasteful, warm, inviting and not ostentatious. He did an exquisite job. The apartment is beautiful, feminine and timeless." – The homeowner
"We wanted a very dramatic entry – a gallery of natural materials made of the most precious stone and carefully selected veneers. Green onyx seemed appropriate here. Its tone is warm and green, at times yellow or gold, blending into the ivories. The materials are rare and very hard to find in bulk," shared Cheng.
Handsome American Walnut-veneered walls balance the abundance of green onyx. "This dark tone of brown is more commonly used in the West. The feeling in the interior when a good percentage of hallways are clad with this timber results in a sophisticated and 'matured' look associated with my memories of New York," said Cheng.
The green onyx's tonality is matched by a raised canopy coated in pastel-green Venetian plaster stucco – a combination repeated in the adjacent shoe and bag room. "The canopies are designed like pyramid structures, tapering upwards from four edges to a raised flat segment," described Cheng. Solid bronze trims join walls and ceilings, while sliding doors forge a fluid sense of movement through the home.  
The lofty 3.5m ceilings were a result of rerouting air-conditioning equipment to the sides. This gave the space an additional half-metre of vertical expanse, which extends to the living and dining areas. The spatial generosity is matched with abundant light coming from the nine-metre-long balcony that accentuates the subtle silvery glimmer of the ivory stucco wall.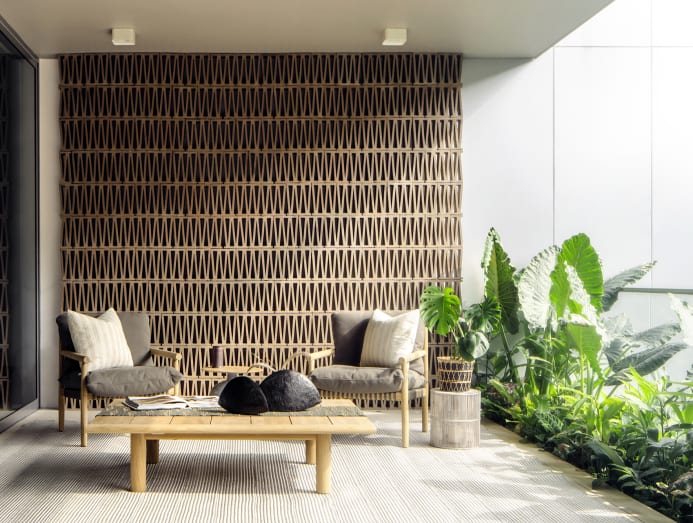 In the balcony, Cheng levelled the existing sunken reflective pool to make it a more usable space. "We felt that it was too small to be impactful, especially in relation to the living room and balcony sizes. It was an awkward gesture that was more a selling perk than something that made a permanent difference to a resident's experience," he commented.
He changed the original artificial timber floorboards to outdoor bleached teak that matches the living and dining's White Oak timber flooring. At the edge of the balcony, a new 60cm-wide trough is deep enough to grow taller plants for a natural privacy shield.  
The original plan features an enfilade of three bedrooms, as well as a separate master bedroom. Cheng turned one bedroom into the study lined with American Walnut timber bookshelves. Another bedroom became a guest room while the third was made into a conducive, rectilinear yoga room by reconfiguring the attached bathroom.   
In the master bathroom, Cheng reduced the toilet and shower footprint, and clad their surfaces in Calacatta Gold marble for a jewel box effect. It is encountered like a surprise at the end of a trio of spaces comprising the master bedroom, the darkened walk-in wardrobe clad in American Walnut veneer and the bathroom.
The furniture is a mix of old and new, featuring classics and custom-designed pieces under Cheng's bespoke Brewin Collection brand. For example in the dining area, Giuseppe Scapinelli-designed chairs with lithe spindle backs and tapering legs on toes of brass surround a robust table he designed.
"I like how these chairs remind me of townhouses in uptown New York City furnished by celebrated decorators, who often use antiques as much as new furniture to bring character into a home," said Cheng. There are also Danish mid-century modern chairs, and onyx and marble sculptures by American sculptor and designer Ian Collings that bridge art and function. "The golden onyx piece can also be used as a side table," highlighted Cheng.
In the kitchen, two glass light pendants by New York-based designer Lindsay Alderman float above a Calacatta Gold marble-clad island counter. Cabinetry doors are detailed with borders and in-steps in line with the look of classic American kitchens.
"I love being in the kitchen, which is warm and inviting," said the client, who moved in in May. "I appreciate the details that you won't see or experience in pictures. The living room is extremely pleasant to be either alone or with friends, as well as to pass through especially with the [lovely] balcony and its full-length windows. The onyx foyer keeps the area cool and is always beautiful to look at. The apartment is beautiful, feminine and timeless."