Home interior design: What will be trending in 2022?
Reinventing your home for the year ahead? Singapore design experts weigh in on what's hot this year.
In the past few years, we've paid more attention to our homes than we did in possibly the last decade. Thanks to the pandemic, we were forced to slow down and spend more time indoors, and for many of us, this was motivation to revamp and reinvent our living spaces.
When it came to interior design in 2021, it was all about biophilic design, luxurious minimalism and flexible spaces that accommodate working from home. But as the pandemic drags on, what's in style for 2022? Here's what Singapore design experts have to say.
MINIMALISM IS HERE TO STAY
In the year ahead, minimalism will continue to be a reigning trend as homeowners seek to lead a clutter-free life that is both soothing and relaxing. "We believe that, moving forward, homeowners will seek a calming, therapeutic and comforting environment," shared Terence Neo, founder of EightyTwo.
"The desire for a personal and luxurious sanctuary will be at the forefront of home design in 2022. [Homeowners will embrace] the idea of minimalism by incorporating organic shapes, natural materials, neutral colours and indoor plants to accentuate an overall calming ambience."
Eloycois Er, founder of Er Studio, concurred: "Minimalism will remain popular as it is a timeless, safe and classy choice. However, curved silhouettes, arches and patterns with a focus on geometry will blend its way into designs. Perhaps after the tough times of the pandemic, people are drawn to the soft and comforting look of curves as opposed to hard lines."
When it comes to colour palettes, "white will emerge as the crisp and calm backdrop for interiors, infused with pale blue and soft green colours that will provide visual comfort," said Deepu Mahboobani, vice president of Wimberly Interiors.
"The serenity of the space can be punctuated with a spectrum of deep blues, greens and purples derived from the ocean and biophilic landscape that surround us. This soothing interior colour palette diffuses anxiety, induces positivity and harmony thereby encouraging wellbeing."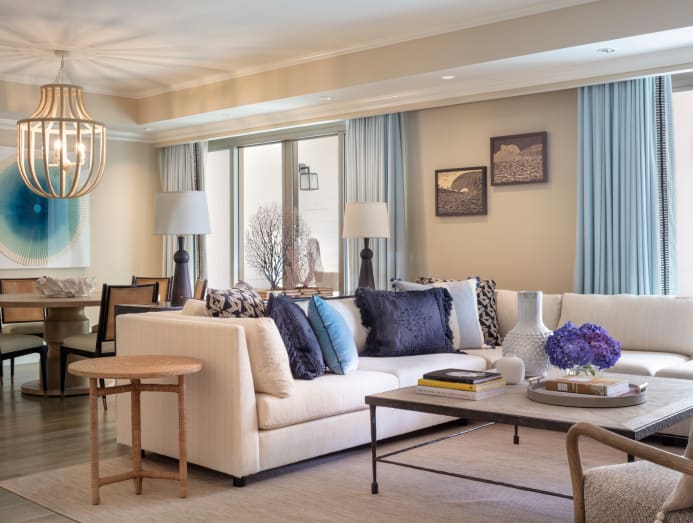 FOCUS ON MULTIFUNCTIONAL SPACES
The pandemic has proven that single-use spaces are now a thing of the past, as hybrid work arrangements have necessitated the need for spaces that can easily accommodate a home office. This too is here to stay for 2022.
"For a start, we're seeing our clients invest in bigger properties because they need their homes to fulfil multiple functions simultaneously – entertain, play, rest and work from home. Even though many are returning to the office, they still prefer to have a space or spaces that can easily revert to a work-from-home set-up," commented Victor Loh, design director of Design Rebirth.
"With bigger families, the preference is to have separate workspaces for the husband, wife and children so that home-based learning isn't happening right on top of Zoom meetings with colleagues and clients."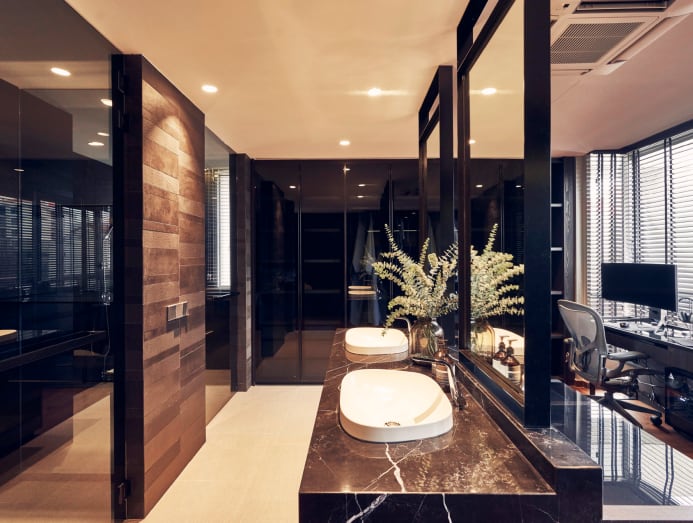 EighyTwo's Neo also echoed similar sentiments. "As working from home becomes the new norm, we will see the emergence of a new design landscape that focuses on spatial relationships. Homeowners will begin to explore living spaces that combine work and play while offering respite," Neo said.
As we spend more time in our homes, architect Rene Tan, founder of RT+Q Architects, believes that "design with more flexibility, which ought to have been the way in any era", will become more prominent. "As humans, we are all subject to the vagaries of expectations, mood, needs, behaviour and more, at least in the way we inhabit and occupy space."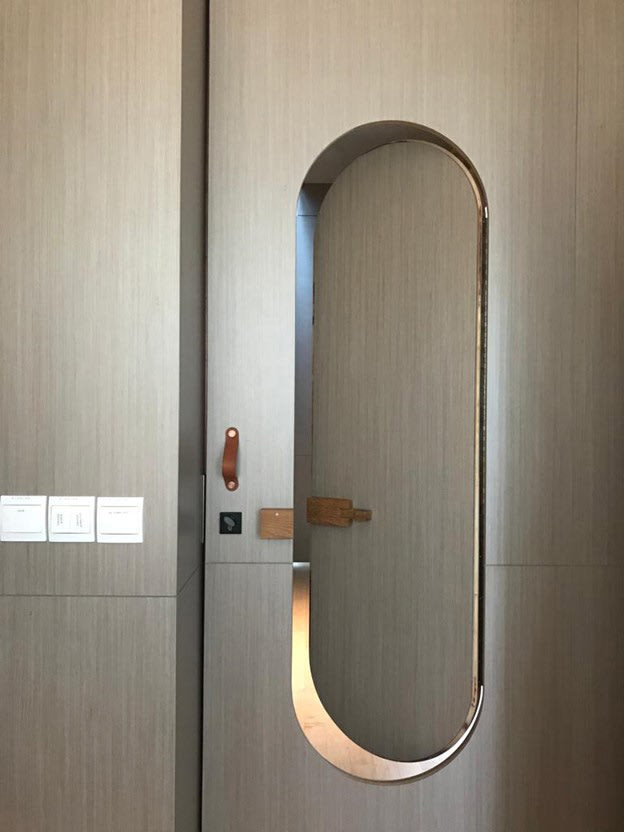 With social gathering limits still in place, aside from having a home office or study room, Shermaine Ong, principal designer at Mosh Interior, believes that more homeowners will desire an entertainment room or area. "For example, entertainment rooms with KTV, a game room or a home movie theatre with projection screen. A gym room or corner is another additional trend that we are seeing as well," said Ong.
MORE ATTENTION TO CRAFT AND DETAILING
Koh Kai Li, architect at RT+Q, believes that "as we continue to spend more time in our homes in 2022, the focus may shift from broad aesthetic styles and themes to an emphasis on sensitivity to craft and details".
This is a way to incorporate uniqueness and personality into a space. "These are the finer aspects of our home environment which we pay attention to while going about our daily routines, as they engage with our visual and tactile senses. The right details can add depth and personality to a space," said Koh.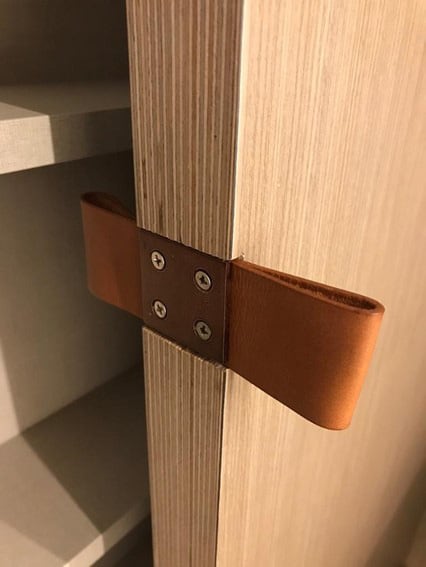 When it comes to furnishing a space, homeowners will be inspired to go for the best of the best. "Interior design trends will be influenced by the sheer amount of time people spend at home nowadays and you would see it reflected in the more luxurious choice of furniture and accessories with all the frills, such as natural stones, velvets, linens, fringes and textures," said Er of Er Studio.
THE RISE OF 'HEALTHY' HOMES
Throughout the pandemic, cleanliness and hygiene have taken centre stage. In this line, "'healthy' homes could become a greater focus for many homeowners, especially those with young children," said Loh of Design Rebirth. "We're talking about materials with anti-bacterial properties, low or no VOC emissions. This may lead to an increased preference in using hardwood flooring versus vinyl; linen and cotton fabrics over polyester for curtains; and even plants with air-purifying abilities.

Having spent so much time at home in the past two years means your furniture and furnishings have experienced quicker wear and tear. This may spur homeowners to select better quality pieces and materials that will stand the test of time and higher frequency of use," Loh added.
INCORPORATING A SENSE OF HOLIDAY
While travel is slowly making a return, packing our bags and hopping onto a flight overseas is no longer a simple or straightforward affair. Whether in big or small ways, homeowners will desire to weave reminiscences of their time abroad into their homes.
Ong of Mosh Interior has seen increasing demand for interior styles such as Hamptons-inspired, Parisian chic and mid-century modern. "All these have similar characteristics, for example, herringbone timbre flooring, French doors, wainscoting panels, a white base paired with earthy tones such as walnut wood and more," Ong said.
"Personally, I feel that travel restrictions have inspired clients to desire a home that allows them to feel like they are overseas. It also makes them feel more relaxed after a long day or work, whether at home or in the office."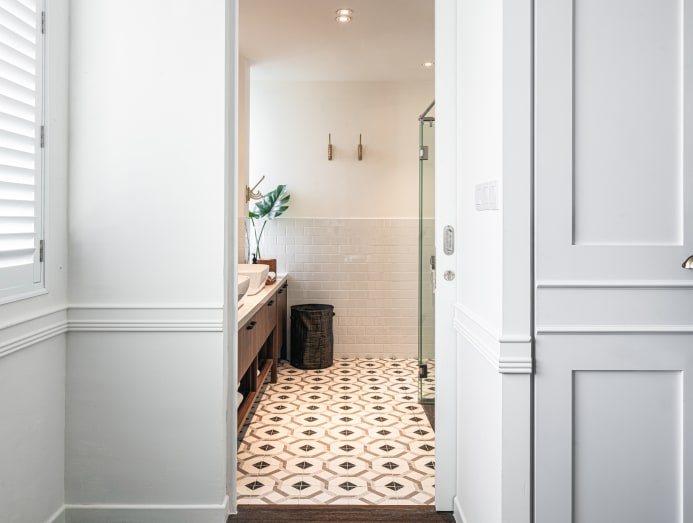 3 TIPS FOR HOMEOWNERS
1) "Consider incorporating peaceful sanctuaries or retreats within your home such as a balcony garden filled with lush greenery or a 'pause pod' with soft lighting and plush leather armchairs where one can relax and recharge. These breakout spaces will enable you to regain your headspace, find balance and enjoy an escape from your day-to-day." – Terence Neo, EightyTwo
2) "Embrace nature, natural materials, forms, patterns and textures in your home design as these create harmony. Focus on being eco-friendly by reusing or upcycling materials, objects and products. If you want to make a statement, consider adding a contrasting feature wall panel, furniture in dark or black wood, art or decorative light fixtures in dark metal." – Deepu Mahboobani, Wimberly Interiors
3) "User experience is important. When you've spent so much of your time at home, you may identify certain design elements that don't work so well for your lifestyle. It is also likely that the way you live now compared to three years ago (pre-COVID-19) has changed. Clear communication with your designer can enable them to customise some design solutions to maximise the efficiency of your home." – Victor Loh, Design Rebirth