Step inside British designer Katharine Pooley's country home — the epitome of cottagecore chic
Award-winning interior designer Katharine Pooley opens the doors of her beautiful Oxfordshire home to CNA Luxury and shares a peek of her idyllic life in the English countryside.
Raise your hand if you've ever dreamt of escaping the urban grind and moving to a quiet place surrounded by sweeping meadows and rolling hills. During the pandemic, some took the leap and moved to rural locations full-time or bought second homes to get a taste of the slow life. For award-winning interior designer Katharine Pooley, the call of the countryside came 20 years ago when she stumbled upon this magnificent Georgian property nestled in lush gardens and parkland in Oxfordshire. Pooley felt an instant attraction to The Coach House's colourful history, but most especially its setting thriving with wildlife. "It's the perfect countryside escape, and as a nature lover it is my own personal paradise," she says.
The Coach House feels like miles away from civilization even though it's not far from the main thoroughfares of Oxford. Driving up the pebbled path to her house feels like being in a scene of The Crown — awash with elegance but without the stiffness or royal drama. The warmth of Pooley's home is palpable as you enter the double doors and welcomed into the light-filled foyer. While the interior looks like it sprung out of the pages of Architectural Digest, you can see and feel that it's genuinely a family sanctuary. Here, Pooley talks about the recent renovation of her home, why nature is so important to her as a designer, and how she continues to infuse elements inspired by her time living in Asia into her work.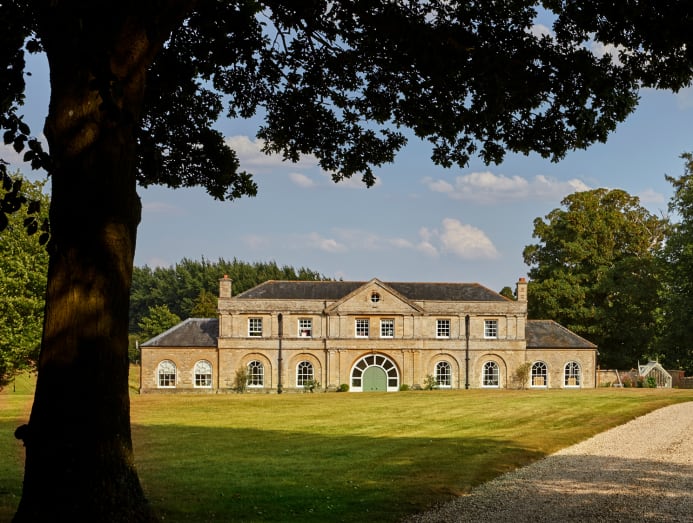 Can you share with us the process of renovating and decorating The Coach House?
My home has an ever evolving interior as I continually add to my collection of art, antiques, and unique objects from my travels. I like to think it's a balance of English eclecticism and unusual statement pieces from further afield, especially from parts of Asia collected during my time living in Hong Kong and Singapore.
For this recent renovation, I decided to refresh three of the most important spaces: The dining room, drawing room and my master bedroom, all with the new wallpaper I designed with Fromental called An English Butterfly Garden. The Coach House is listed as being "of historical importance" so any changes have to be carefully undertaken. Mixing in a new statement chinoiserie wallcovering was a wonderful way to completely alter the space without any structural changes.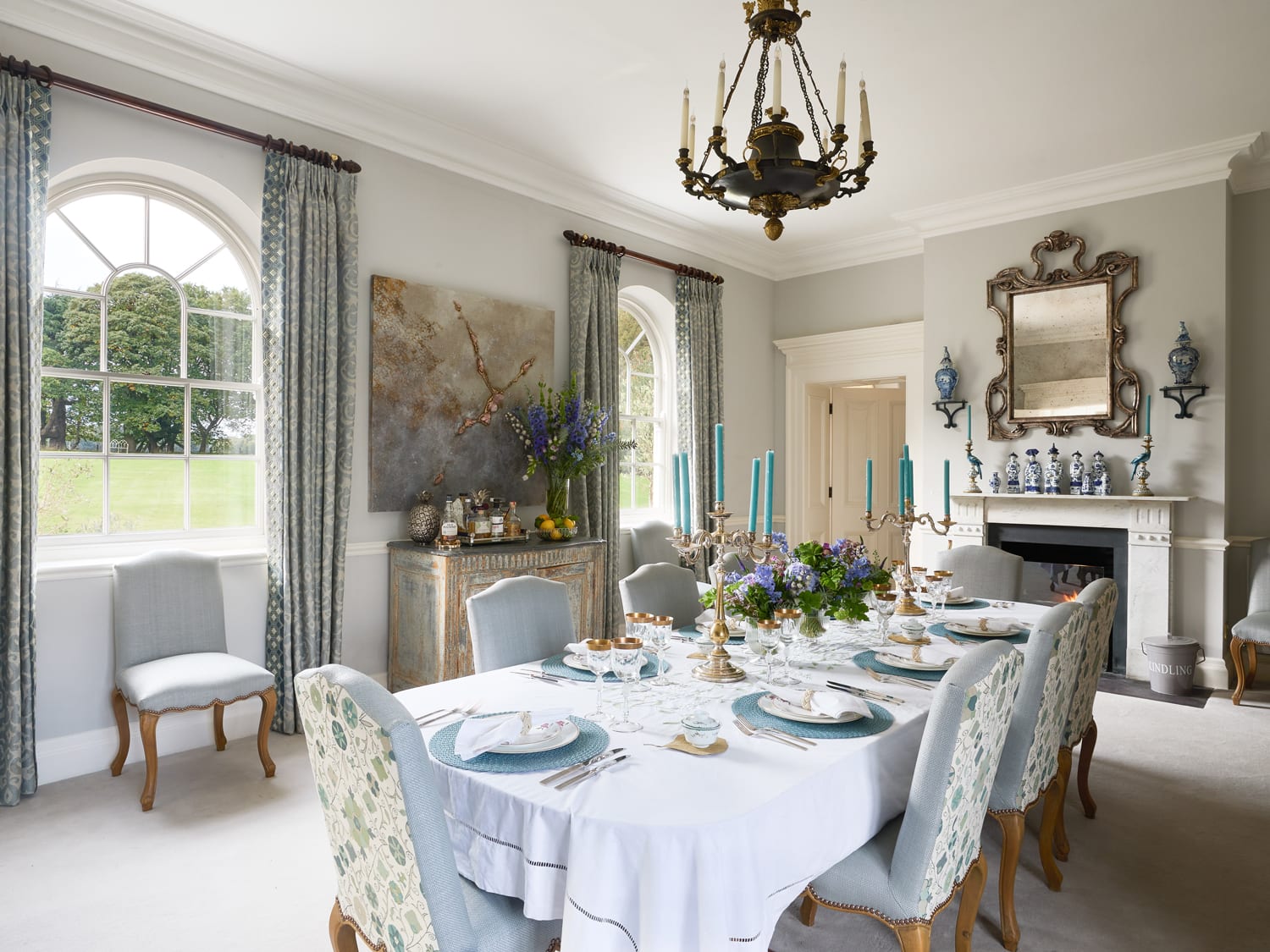 How did you balance your signature elegant style in this rustic location?
The verdant backdrop of The Coach House is a clear inspiration for the refreshed interior. The wallpaper reflects the flowers and wildlife in my garden, and my favourite animals feature in the design such as dragonflies, hedgehogs, and the beautiful butterflies after which the collection is named.
A chinoiserie wallpaper was the perfect choice as it combines my love of Asian art and design with a layered, classical English style. Pieces I have had for many years, like my turquoise chinoiserie desk, are reinvigorated by the new backdrop, especially in the dining room where the primrose yellow silk wallpaper creates a wonderful statement when juxtaposed with my collection of gilt Burmese statues and antique blue and white Chinese pots. 
A grand house in the English countryside have certain attributes like marble mantelpieces, a statement staircase in the entrance hall and period detailing. For this redesign, I enjoyed balancing the traditional architectural details with fine interior finishes and decor. I added an antique late 17th-century French Louis XVI mirror from MacKinnon Fine Art to the dining room, as well as an exquisite woven patterned fabric to the dining chair back and divine fabrics for the curtains.
Tell us about your favourite parts of the house and why you love them.
It has to be the beautiful windows and the views of my gardens and the surrounding parkland. The architectural style of the building reflects its original use as a coach house — it has fabulous large arched windows and doors where the horse-drawn coaches would originally have resided. The garden is one of my happy places and almost all of the rooms look out into it. It is a constant inspiration and changes beautifully with the seasons.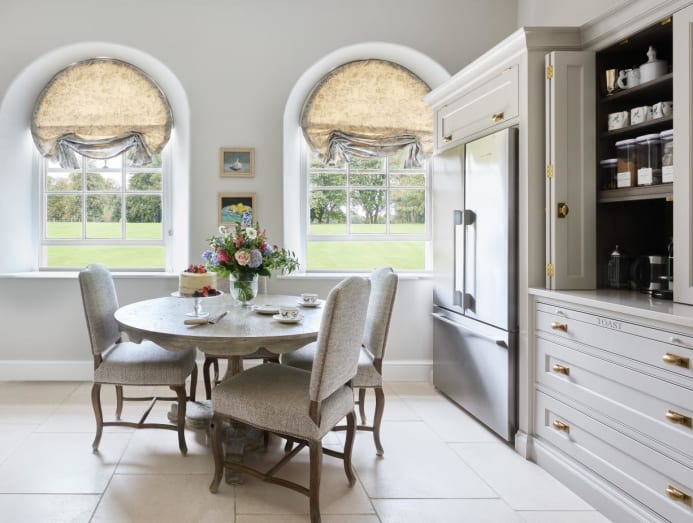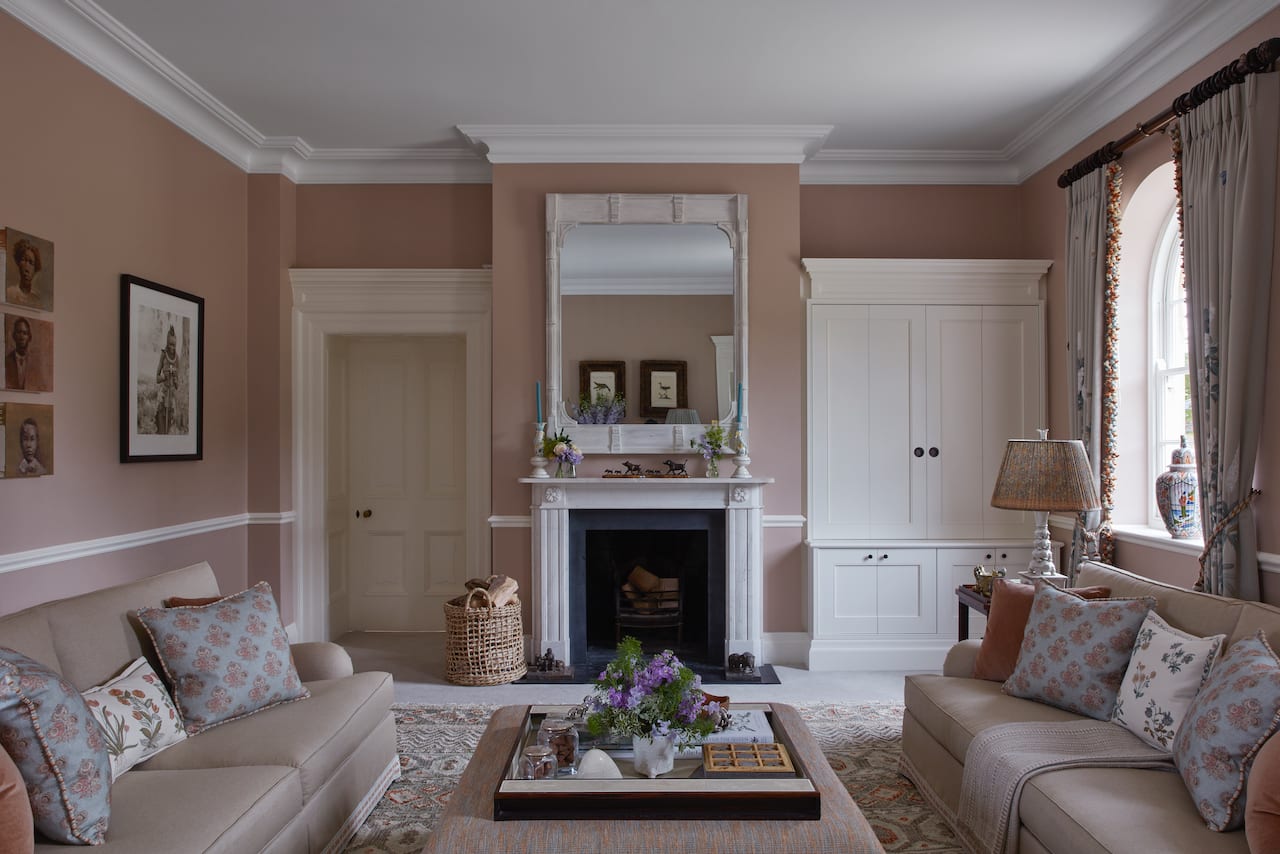 Another room I love is my drawing room. For the redesign, we introduced a soft blush hue to the walls and picked floral fabrics combined with beautiful trims and classical furniture shapes. The curtains are the real star of the space and were hand-painted by Fromental's artists to match the botanical chinoiserie design in the dining room. I chose my favourite signature armchair design from George Smith and adorned them with wonderful embroidered cushions from Chelsea Textiles and trims from Samuel and Sons.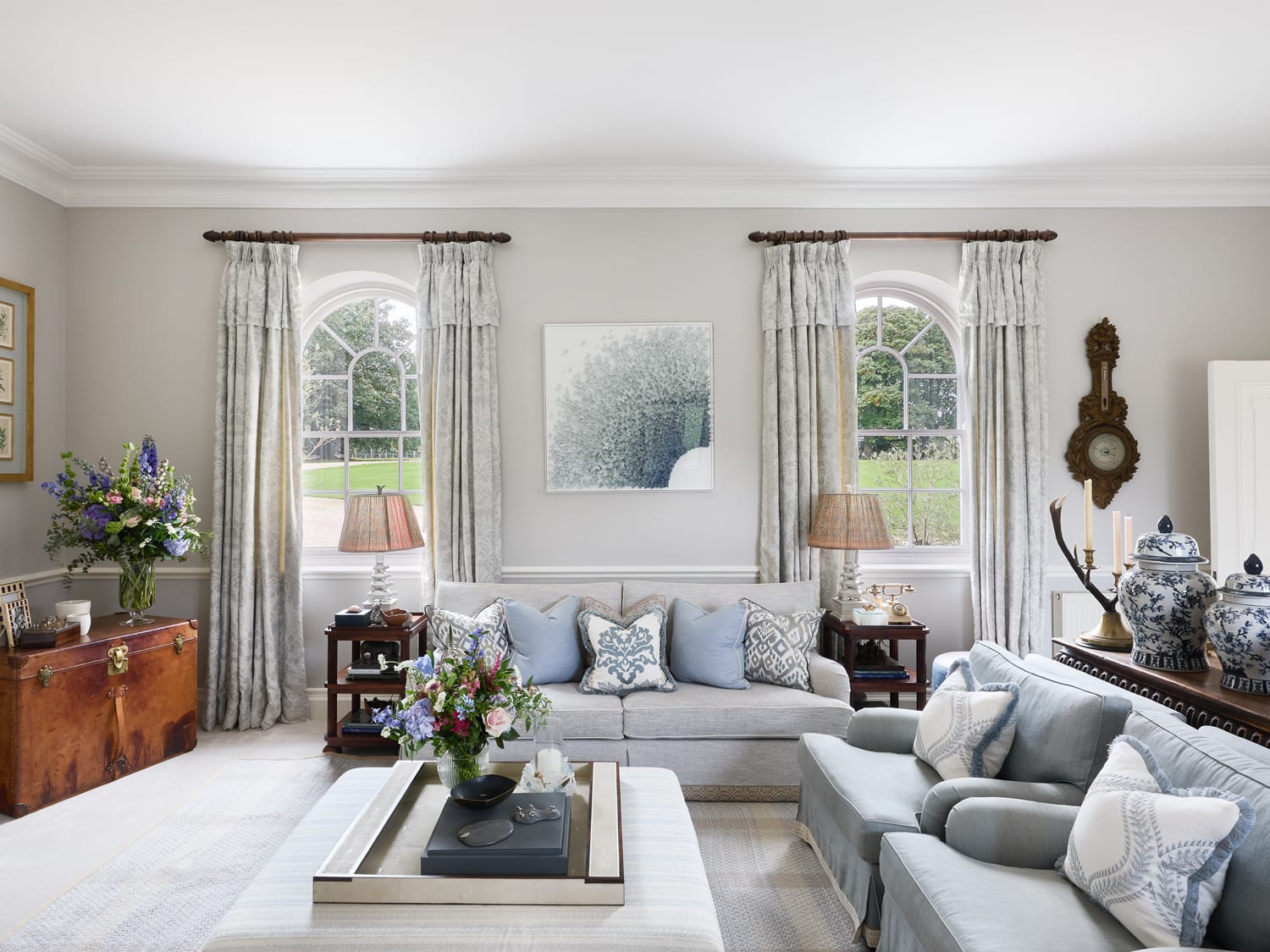 The design of this space was a big departure for me as the room was previously mostly blue in colour. With two sons, I was mindful of their preferences and mostly used cooler tones to avoid an overly feminine feel. This new design is pretty, light and incredibly calming — we all really enjoy spending time together as a family chatting and reading in front of the fire surrounded by our dogs who love it, too!
What would you say is the greatest appeal of living in the country?
There is something wonderfully cocooning about the best country interiors. They're usually layered, full of colour, and feature a wonderful mixture of prints, finishes and details. There is a natural perennial elegance to the architecture, and the landscape setting of a traditional English garden is simply captivating.
There is also a freedom to countryside living — the spaces are usually bigger and so there's a greater chance to experiment with more interesting fabrics and artwork as well as make more personal design choices.
Fromental features a lot in this renovation and you recently released a collection with them. How did the collaboration begin?
I commissioned Fromental to create a number of beautiful hand-painted wallpapers for a grand Chateau in the south of France we were redesigning. From this wonderful experience with them, I was drawn to the idea of creating a wallcovering collection that celebrates the charm of a quintessential English garden in full bloom for my own home.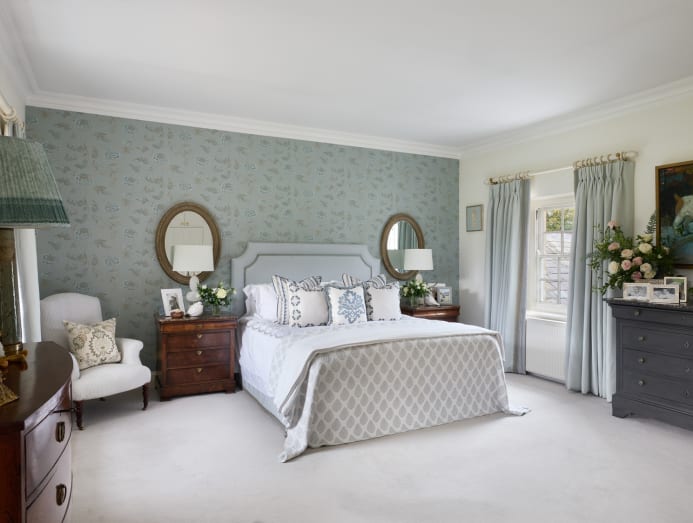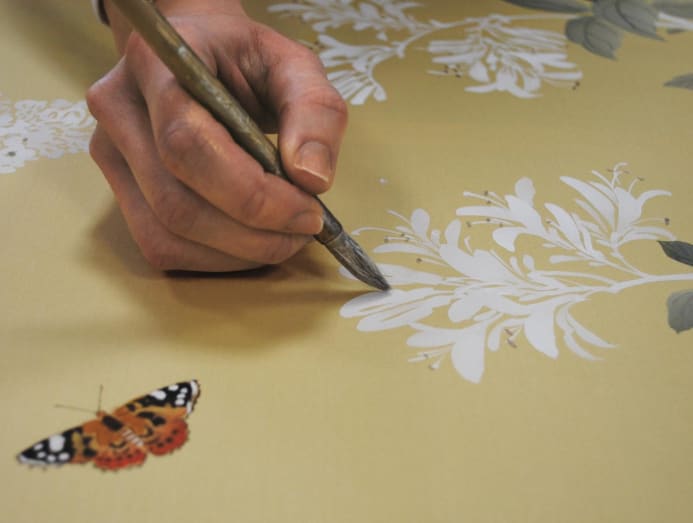 I have been delighted to see how the story of my garden has unfolded so beautifully 'stroke by stroke' and 'stitch by stitch' by Fromental's meticulous atelier of artists. Together we have created a whimsical scene, as if one has accidentally wandered into a secret English garden full of beauty and intrigue. It's been a very personal project and one I'm so proud to now be sharing with the world.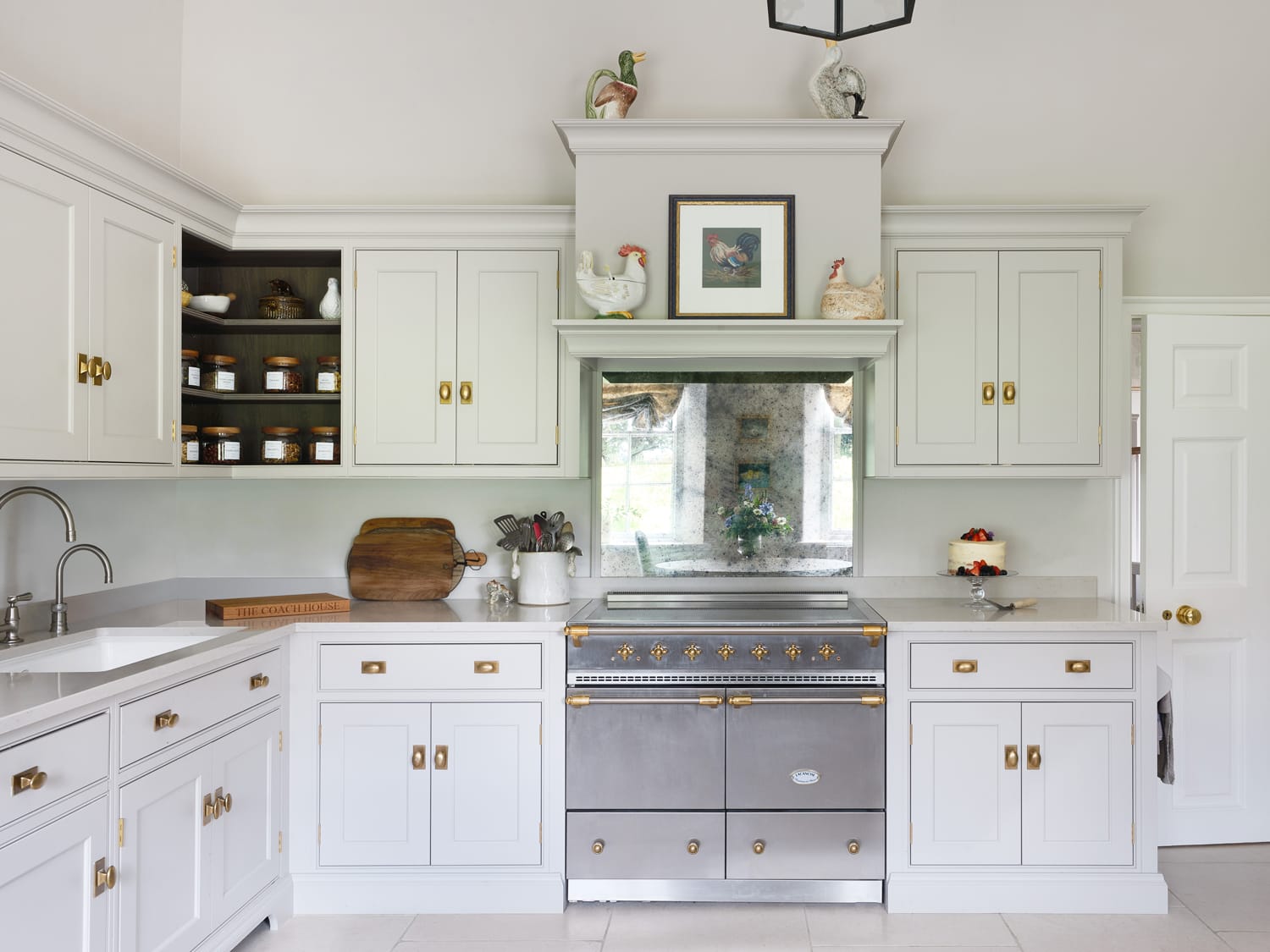 Sustainability is incredibly important to discerning consumers today. As a nature lover, how did you address this in the collaboration?
I love watching butterflies flit about the flowers in my garden. For me they symbolise a much greater story — both iconic beauty and environmental fragility. I'm passionate about British butterflies, which are sadly declining in number, and this wallpaper collection is a wonderful chance to spotlight and support the work of Butterfly Conservation, who really make a difference in protecting these beautiful creatures.
Sustainability is in all our minds and as designers we have an immense opportunity to guide our clients towards products and designs that minimise environmental impact and support suppliers and charities who actively make a difference in the quest to live more sustainably.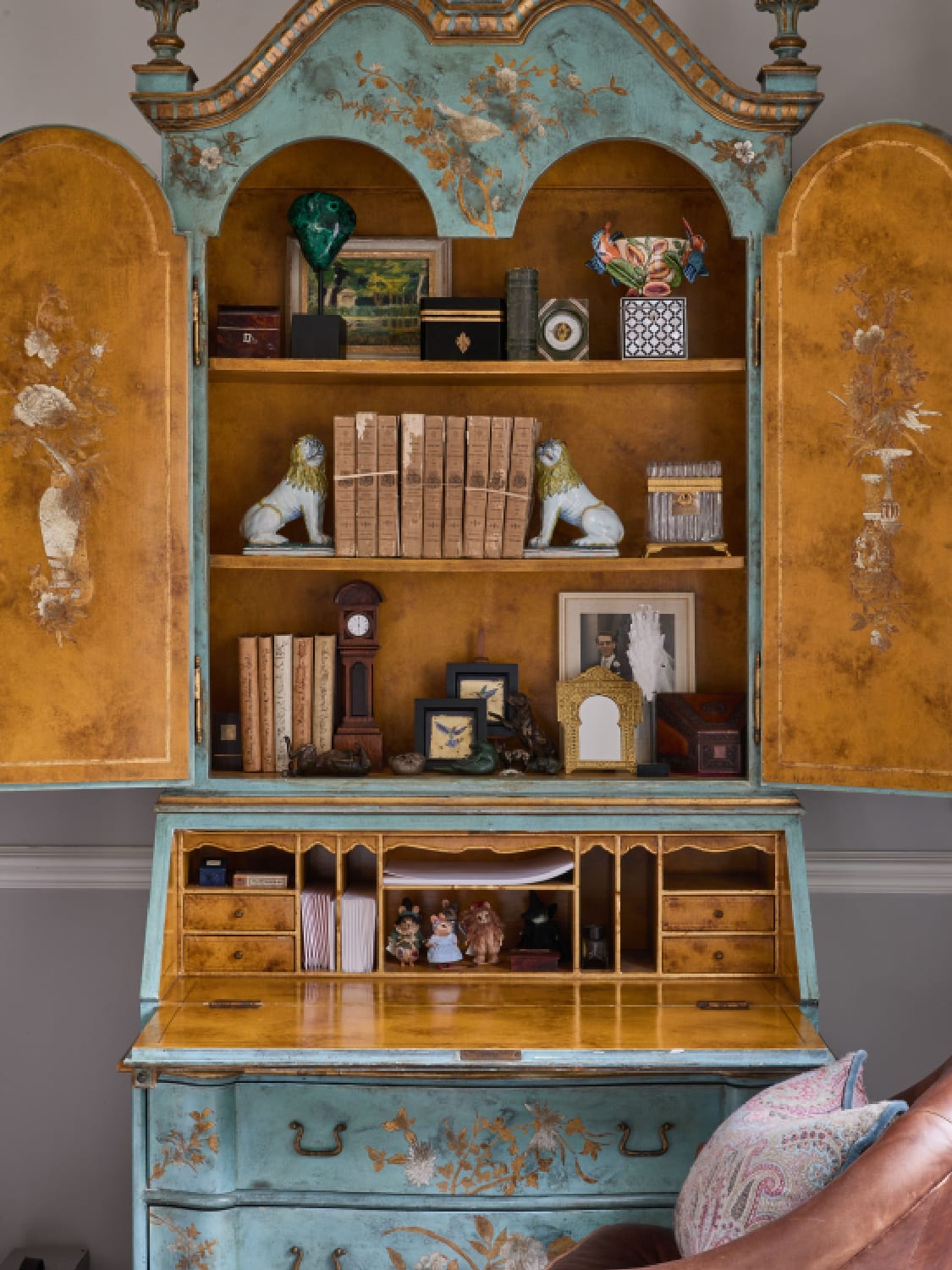 Lastly, can you share a secret place we should visit when we go to Oxfordshire?
Oxfordshire has such a wonderful selection of historic houses with special gardens that are open to the public. The Oxford University Botanic Gardens houses a vast world-leading plant collection but my favourite garden is probably William Kent's masterpiece at Rousham Park, which is very striking.