Inventing Anna and 'fake it till you make it' fashion
The Netflix show's co-costume designer Laura Frecon tracked down scam artist Anna Sorokin's outfits on Instagram.
From Billy McFarland, co-founder of the ill-fated Fyre Festival, to Theranos' Elizabeth Holmes and The Tinder Swindler, popular culture is often mesmerised by confidence tricksters. Now, the spotlight is on Anna Sorokin, also known as "the fake heiress" or "the Soho grifter".
From 2013 to 2017 Sorokin convinced Manhattan society she was a wealthy heiress named Anna Delvey, staying in hip hotels, eating at the hottest restaurants, flying by private jet and seeking investment for an elite arts foundation. However, she couldn't pay her ever increasing bills and in 2019 she was found guilty of theft of services, grand larceny and attempted grand larceny and imprisoned. Her story has now been adapted into a fictionalised Netflix drama called, created and written by Shonda Rhimes.
Just as the Steve Jobs-inspired polo necks worn by Elizabeth Holmes projected gravitas so designer clothes helped Sorokin build a persona, and seem like she really did have a multimillion-dollar trust fund.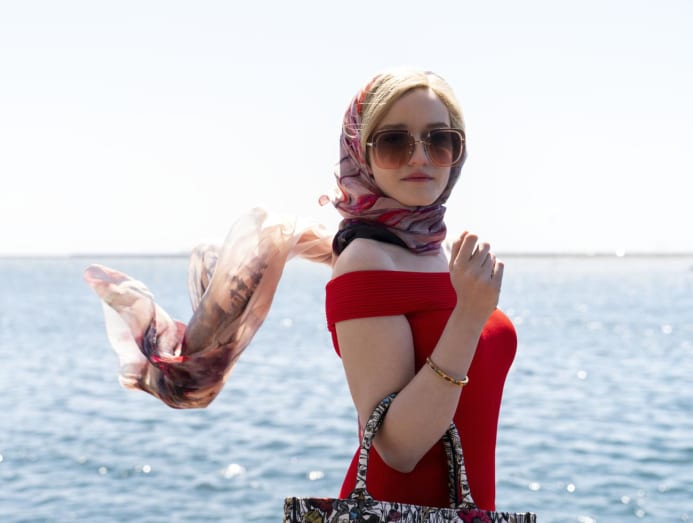 By the time her case came to court she was already notorious and enlisted a stylist, Anastasia Walker, who told Elle magazine, "I selected some timeless pieces, given that everything is so public today and [trial] photographs can be saved, potentially, forever." Her trial outfits spawned endless commentary on her appearance: Elle even ran a tongue in cheek-ish article about how to get "scammer eyeliner".
The Netflix series' co-costume designer Laura Frecon, whose credits include Mad Men and Kong: Skull Island, believes fashion and image was essential to Delvey's effectiveness in duping individuals and institutions alike. "How Anna did what she did is beyond me," she told me on a call, "but I don't think it would have worked if she hadn't looked the part through her clothes, her jewellery, her glasses. She needed to sell that story and say, I am wealthy. I am a German heiress."
Frecon, who worked with co-costume designer Lyn Paolo (TV shows Little Fires Everywhere, Scandal) aimed to recreate many of Anna and the other characters' looks exactly, which required detective work. "We started by going to Anna's Instagram," she recalled, "We would look at the pictures and say, 'who is that person next to her?' and of course they were all tagged so then I would go down that person's Instagram and then that person's Instagram, and we just dove deep into who they were."
Frecon and Paolo also aimed to match the clothes Delvey wore for her 2019 trial. (Of course there's an Instagram account called @annadelveycourtlooks, because anything that's anything gets its own account now: Call it a virtual blue plaque.)
Her courtroom-as-catwalk ensembles included her signature baby-doll dresses in black, swiss-dot cream cotton and snake print; a black pencil dress, and black trousers with a beige jumper, mainly accessorised with an oddly Victorian black ribbon choker and heavy black Celine glasses.
While Frecon and Paolo wanted to recreate many outfits exactly, Frecon says she also wanted to "elevate" the overall style and that Anna's wardrobe becomes more sophisticated as she emulates the different people she is using for money or connections.
She said "the real Anna wore a lot of street style and Rick Owens, and a little leather bomber jacket, and at the start she wears a lot of baby-doll dresses. However, [in the drama] when this wealthy older character Nora takes her under her wing, and introduces her to powerful friends with amazing careers and super high fashion, she steps up her fashion game."
Nora wears a camel cape by Celine that radiates old-money, plush privilege, so Anna dons a checked Valentino cape teamed with leather gloves. When Anna and her boyfriend jet-set around the world, Frecon says of Anna's wafty yacht-wear "it's that idea of faking it til you make it".
The wealthy wardrobes in Inventing Anna aren't of the "corporate, but make it cashmere", Loro Piana baseball caps and gilets variety you see in Succession. The aesthetic is conspicuously rich and jet-set via Valentino, Alaia, McQueen, Gucci and Dolce & Gabbana. One scene in particular delivers a vicarious fashion thrill, when Nora and her alpha friends take a private shopping suite in Bergdorf Goodman, and are handed swatches of leather to choose for their own customised bags.
Frecon says inspiration for how rich Manhattanites dress came from seeing them wafting around Bergdorfs and telegraphing their status "not so much in a label, as in how it's worn or carried. On the Upper East Side you can pick out those old money ladies who know where to shop, you can see the way the clothes are tailored or they are walking around in a shoe that a 'normal' person wouldn't be able to ride the subway in but these people have a driver."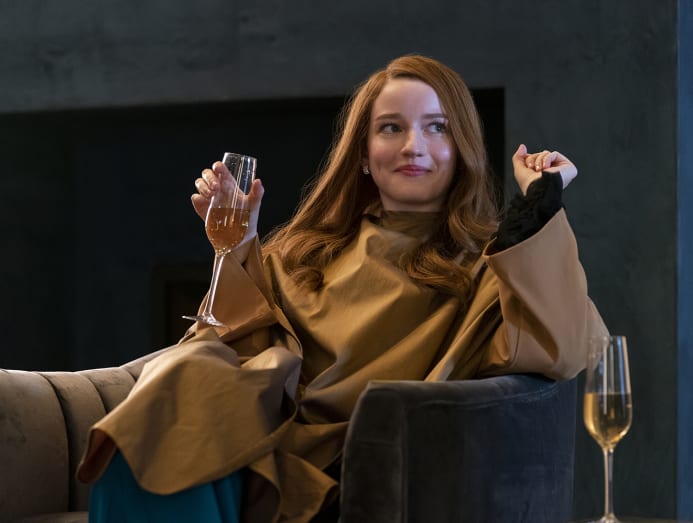 Unlike on a fashion shoot, where almost everything will be loaned, most of the garments on Inventing Anna were bought as they can get more wear and tear. But what happens to delicious pieces such as the red Alexander McQueen dress Delvey wears with a headscarf and oversized shades aboard a yacht? Or the camel cape? Netflix archives some of the most "quintessential" looks; many of the rest are being sold on high-end consignment platform luxury resale site The RealReal.
Frecon said, "We had a great budget in the millions of dollars for costumes, so we could buy the right clothes and jewellery and do it to the highest level. Shonda Rhimes really writes fashion into the drama. For anybody who loves fashion this show is like candy."
By Carola Long © 2022 The Financial Times
Source: Financial Times/st/ds