It's going to take a g-force of 30,000g to damage this watch
IWC's first experimental timepiece, the Big Pilot's Watch Shock Absorber XPL, is its toughest one yet.
The inside of a jet cockpit can be pretty brutal, which is why watchmakers like IWC have dedicated a large chunk of their know-how to making its pilot's watches extra durable with proprietary case materials like the lightweight, hard and scratch-resistant Ceratanium (a patented material made of ceramic and titanium). 
With the exterior taken care of, it was time to look inwards, and after eight years in development, IWC's answer to that is finally here in the form of the Big Pilot's Watch Shock Absorber XPL.
Even in more civilised life, watches are prone to the accidental knock or drop, so IWC created a new, patented shock absorber system dubbed the "SPRIN-g PROTECT". It uses a cantilever spring (the part coloured gold) to suspend the movement inside the case, and is made out of Bulk Metallic Glass, a material manufactured to be much more elastic than conventional metals. The crown's winding stem was also engineered to allow the movement to displace independently of the case and spring.
"When a watch suffers an impact, the movement and its components are subjected to high g-forces. If a pilot accidentally hits his watch against a hard surface in the cockpit, for example, accelerations are in the range of 300g to 1,000g," explained Dr Lorenz Brunner, IWC's department manager of research and innovation. "Our shock absorber system protects the movement so efficiently that it survived accelerations in excess of 30,000g in impact tests." 
These tests were conducted by the Fracture & Shock Physics group at the Cavendish Laboratory of Cambridge University, so you could probably get away with hurling the watch Richard Mille-style onto the ground as a party trick without worrying about damaging the movement.
To reduce the weight and mass that the shock absorber has to hold, the Big Pilot's Watch Shock Absorber XPL uses a titanium casing ring for the system, and runs on a lightweight version of IWC's 32000 movement series created specially for this watch.
The in-house 32115 calibre uses a base plate made of aluminium alloy, but aside from that you'll find all the other specifications familiar: 4Hz frequency, 120-hour power reserve, 100m-water resistance and bidirectional-pawl Pellaton winding system.
Despite being the first watch out of the IWC Experimental engineering division (the "XPL" in the name stands for "experimental"), the design is fairly traditional. The 44mm Ceratanium case is dressed in a matte black finish and encloses a simple black dial with uncharacteristically small Arabic numerals.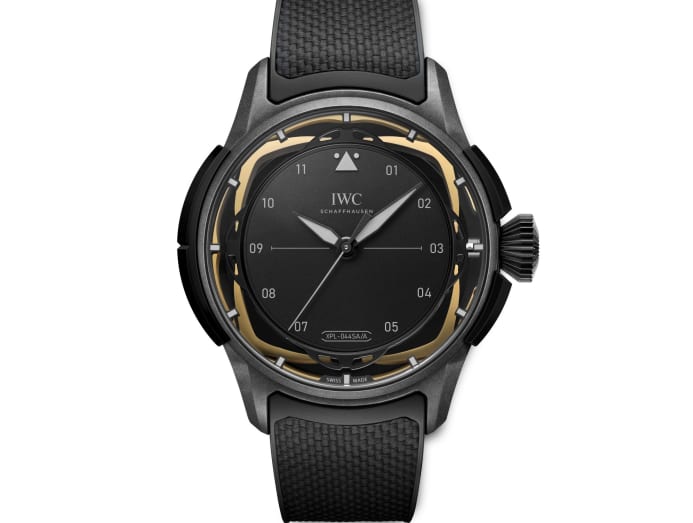 Only 30 pieces will be made, with 10 pieces released a year, and will be available exclusively at IWC boutiques or through its concierge service.