Get a glimpse of watches from the 1930s at a new exhibition in Singapore
The exhibition, titled IWC Portugieser – Navigating Through Time, will be held from Oct 17 to Nov 8 at IWC's ION Orchard and Marina Bay Sands boutiques.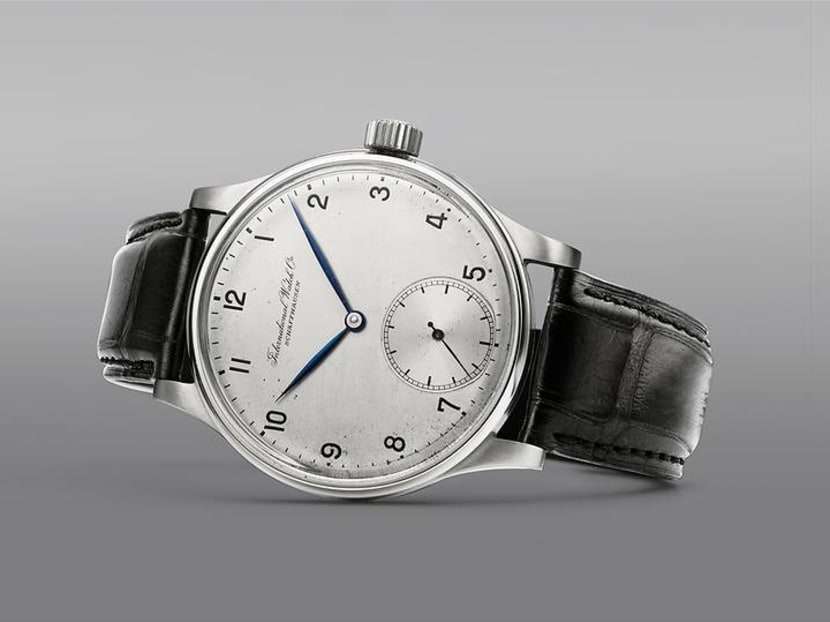 If you're a fan of vintage watches, you're in for a horological treat. This month, Swiss watchmaker IWC Schaffhausen will unveil its broadest display of historical Portugieser timepieces in Southeast Asia to date.
The exhibition, curated by the IWC Museum in Schaffhausen, will be held from Oct 17 to Nov 8 at IWC's ION Orchard and Marina Bay Sands boutiques.
Visitors can expect to get up close with nine striking IWC creations that have marked defining moments in the lineage of the Portugieser family. 
The Portugieser (then known as the Portuguese; the name was changed to its Germanic form in 2015) was born in the 1930s, when a pair of Portuguese collectors commissioned what was an unusual timepiece from IWC at the time. They wanted a wristwatch that ran like a marine chronometer, resulting in the creation of a large, legible stainless steel watch, equipped with a pocket watch movement.
Back then, the timepiece, measuring 43mm, was considered unusually large. Its simple design was also a breath of fresh air from the extravagant Art Deco watches of the era.
On show for the first time in Southeast Asia is an observation watch IWC had built for the British Royal Navy in 1943. Worn by officers on the decks of warships, submarines or aircraft carriers, the observation watch served as inspiration for the clean and functional look of the iconic Ref 325, the first IWC Portuguese wristwatch from 1939.
"The Portugieser's beginnings in sailing and navigation paved way for IWC to develop a watch family which, today, incorporates so many of its technical facets of haute horlogerie that our company is known for," said Stanislas Rambaud, Managing Director of IWC Southeast Asia. 

"Over 80 years on, the Portugieser continues to exude the same classic, functional appeal that first got it noticed. It is that timeless modernity which we invite visitors to discover at the exhibition, as they trace the roots of this extraordinary collection."
From 1939 to 1993, IWC produced very few Portuguese watches. It was only when IWC's legendary watchmaker Kurt Klaus noticed a customer wearing a Ref 325 in the early 1990s that he thought the line should be revived. 
On display at the exhibition is the 1993 IWC Portuguese Hand Wound Special Edition 125 Years that brought the timepiece back to life in a new, limited edition. A thousand pieces were made in steel, 500 in red gold and 250 in platinum. A transparent sapphire case base provided a view of the watch's movement.
Modern day timepieces exhibited include the 2003 Portuguese Perpetual Calendar. It was based on the automatic calibre 5000, fitted with a perpetual calendar module designed by Klaus. This timepiece also feature's the world's first double moon phase display, which IWC registered for patent.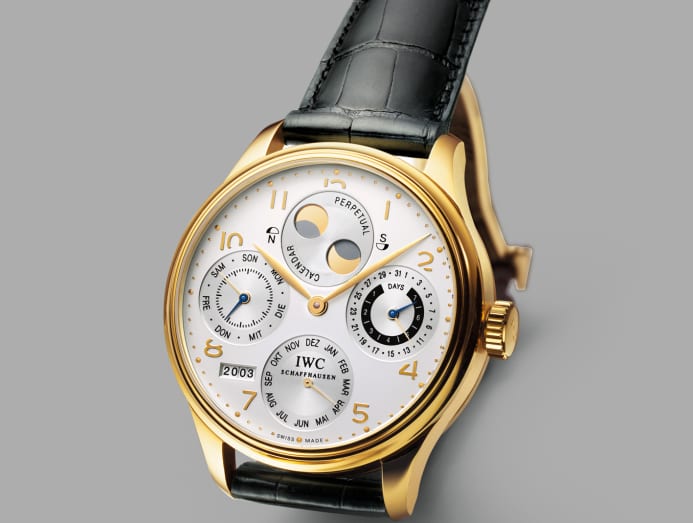 The IWC Portugieser – Navigating Through Time exhibition will be held at the ION Orchard boutique from Oct 17 to Oct 25, from 11am to 9pm. From Oct 26 to Nov 8, the exhibition will be held at the Marina Bay Sands boutique, from 12pm to 9pm.
Private walkthroughs are strictly by appointment only. Click here to make a booking