Why is Jaeger-LeCoultre's Reverso one of the most beloved dress watches around?
The Reverso (and all its incarnations) is 90 years young but still going strong. One reason could be its double-sided construction, which makes each option like having two watches in one.
In partnership with Jaeger-LeCoultre.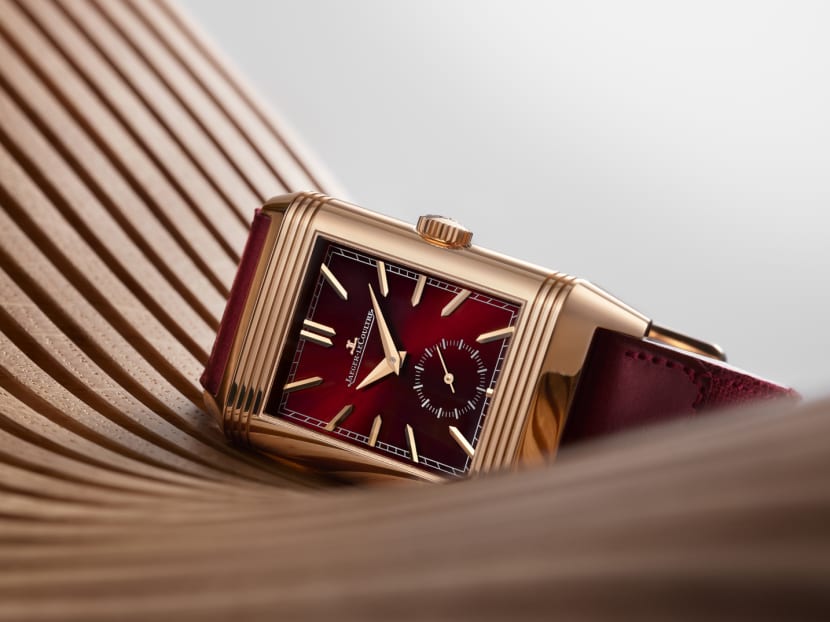 In the 90 years since Jaeger-LeCoultre first released its polo-friendly Reverso, technology has advanced to a point where we now have watches that could probably endure the apocalypse even without the need to hide their faces from impact.
Also, nobody really plays that much polo anymore. Even so, the swivelling Art Deco-style watch is still one of the most beloved dress watches available today.
The Reverso's famous case has since evolved to have a different kind of practical use. Rather than play a protective role, the modern Reverso is all about showmanship, its two faces offering the watchmaker an extra canvas upon which to lavish decorations and complications.
The four-faced Reverso Hybris Mechanica Calibre 185 Quadriptyque that was unveiled in 2021 was a phenomenal culmination of Jaeger-LeCoultre's technical skill and a fitting anniversary novelty, but it shows but one (very fancy) side of the Reverso personality. The other is practical elegance combined with craftsmanship, which these latest releases prove.
REVERSO TRIBUTE SMALL SECONDS IN GREEN
Watches in the Tribute collection are the largest in the Reverso family (which comprise the Reverso Classic and the ladies' Reverso One), and are obviously named for design elements borrowed from the 1931 original.
The extra wrist presence is ideal for cramming in complications or, in this case, showing off radiant colour. Measuring 45.6mm by 27.4mm with no secondary dial, this is the purest expression of a Reverso Tribute this year.
Its trendy green dial and matching strap are supposedly inspired by the forests near the brand's manufacture in Le Sentier, Switzerland, but perhaps the more exciting point is that a green Reverso is rare – the only other one was the Grande Reverso Ultra Thin 1931 London Edition in British racing green from 2015, and that was exclusive to the brand's London flagship.
The manually wound calibre 822/2 ticks under the dial, on which you will find signature Tribute features like the faceted baton hour markers, dauphine hands and small seconds at six o'clock. Like all "monoface" Reversos, the solid case back can be personalised. Limited to 10 pieces.
REVERSO TRIBUTE DUOFACE FAGLIANO
Argentine bootmaker Casa Fagliano has been honing its craft for 189 years, and has lent a little of its expertise to Jaeger-LeCoultre by making the latter's watch straps since 2017. This year, the partnership has extended to a limited edition design in a richly hued burgundy and red gold Reverso.
The red lacquered dial offers a truly arresting contrast against the red gold case and indexes, but the flip side is more subdued, with a silver clous-de-Paris guilloche dial. As a Duoface, the watch allows wearers to set the times on either side independently, essentially making it a dual time zone watch with a day/night indicator on the second face. This 190-piece limited edition is powered by the manual-winding calibre 854A/2, with a 42-hour power reserve.
The strap is a combination of cordovan leather and canvas in wine red, but if that's not to your liking, Casa Fagliano has also recently released four additional straps – in sandy beige, light tan, pale blue and mid-grey – in two sizes. These can be used on all models from the Reverso Tribute collection, as well as the Reverso Classic Medium and Reverso Classic Large collections.
REVERSO TRIBUTE ENAMEL HOKUSAI "KIRFURI WATERFALL"
Having a dedicated metiers d'art department has its perks, and one of them is having the necessary talent to transpose one of Katsushika Hokusai's revered wood block prints onto a watch dial. Again.
Hokusai's most famous work is the The Great Wave off Kanagawa, and it has been recreated via miniature painting onto a Reverso back in 2018. This year, the brand has chosen his Kirifuri Waterfall for a second tribute. This piece was created in the early 1830s as part of a series of eight prints showcasing the different waterfalls of Honshu, Japan's main island. The original print measures 37cm by 24.5cm, making the enamel version a little less than a tenth its size to fit in the 45.5mm by 27.4mm case.
Tremendous skill was required to emulate the gentle gradation of colours in Hokusai's print, a feature made possible by the woodblock printing process. Enamel paints don't behave the same way, and still require multiple firings after painting to get the colours to pop, so the fact that each dial requires at least 70 hours of work is not only justified, but awe-inspiring.
The front side, while comparatively mellow, deserves credit as well. Sea foam-coloured enamel was applied in multiple fired layers over a wavy guilloche face, and even this process took about five hours. Understandably, only 10 of these watches will be made.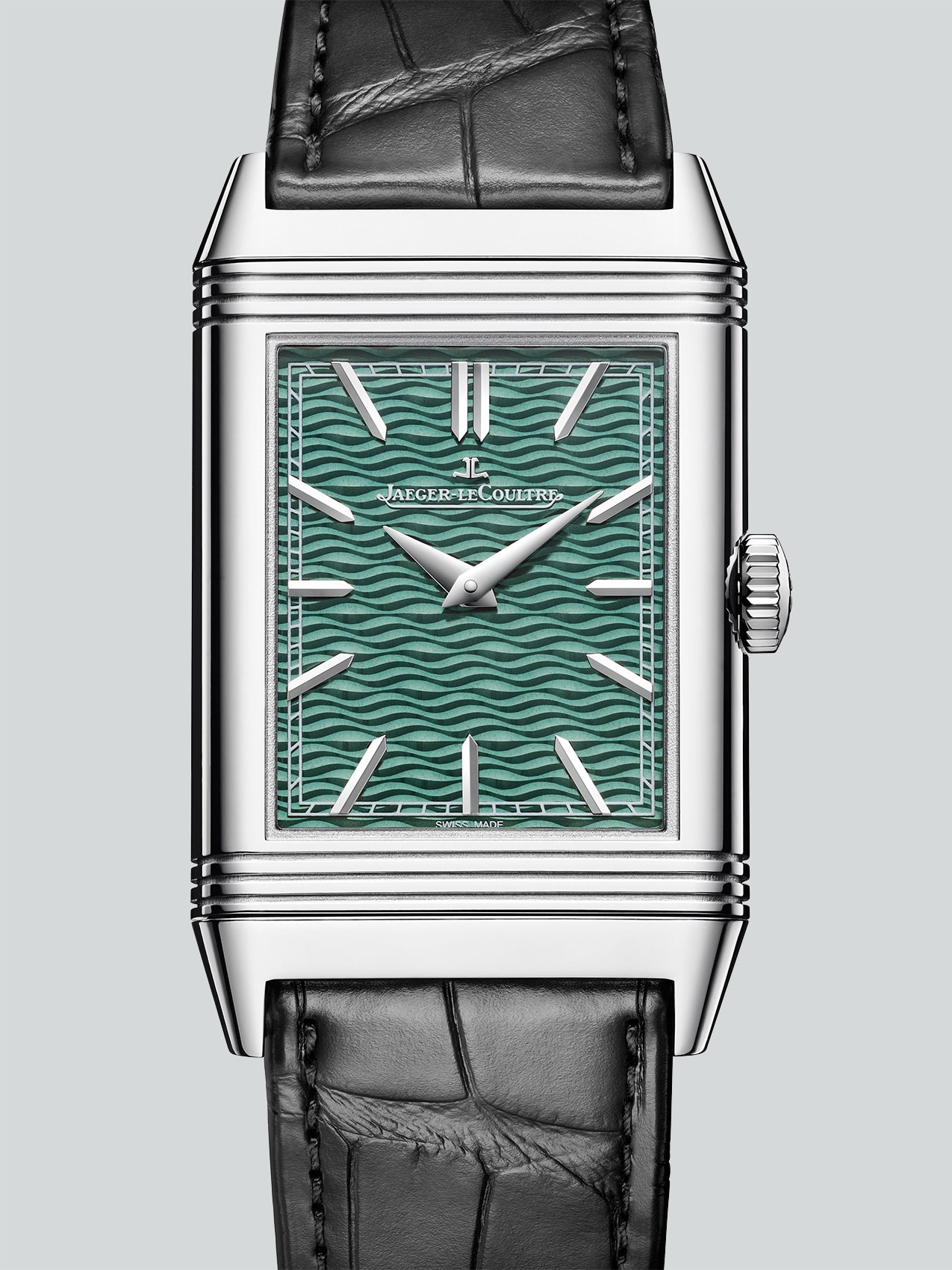 REVERSO TRIBUTE MINUTE REPEATER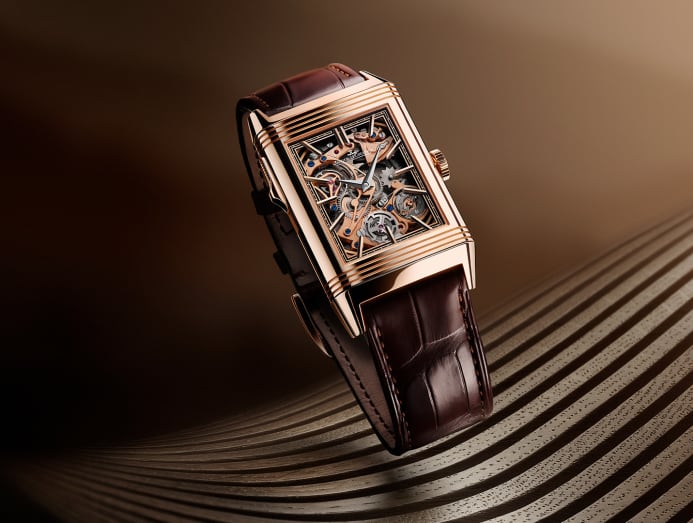 The brand has a long history of making chiming timepieces and its recent Sound Maker exhibition in September celebrated 150 years of making over 200 striking calibres.
When the first Reverso minute repeater was launched in 1994, it was also the world's first rectangular minute repeater. This year's offering doesn't reinvent the wheel, but given how rare these complications are, it's always delightful to see new interpretations. And in the case of the Tribute Minute Repeater, you get to see a lot.
It uses the same in-house calibre 944 as the Reverso Repetition Minutes a Rideau we covered before, only slightly reconfigured and without its fancy curtain-like activator.
Lacking a dial on the front side, wearers will be able see Jaeger-LeCoultre's patented, substantially sized trebuchet hammers between 1 o'clock and 2 o'clock striking gongs that are attached to the watch crystal. These hammers were designed to strike quickly and crisply, and bringing the gongs as close to the wearer as possible helps deliver clearer sound.
The other side reveals the back of the movement, which has been decorated with Geneva stripes and serves as a slightly less elaborate dial, though both faces tell the same time. This is the largest of the Tribute watches at 51.1mm by 31mm in red gold, but remains fairly slim with a height of just 11.41mm for a minute repeater. Limited to 10 pieces.
REVERSO CLASSIC MEDIUM DUETTO
As the popularity of the Reverso grew, so did Jaeger-LeCoultre's proficiency in inventive horology. By the 1990s, it took its reversible watch and added a second face to it, resulting in what we now know as the Reverso Duoface.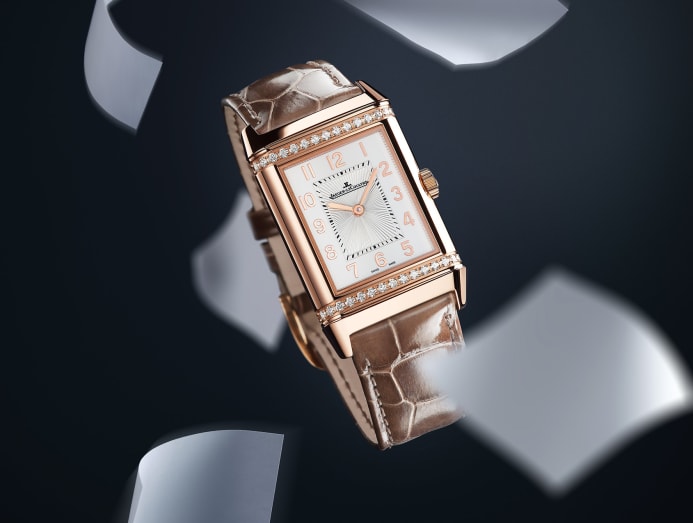 These made excellent travellers' watches since the reverse dial was able to display a second time zone and included a 24-hour sub-dial. Not long after, in 1997, the same concept inspired the Duetto for the ladies.
The emphasis for the Duetto however, was on form rather than function. Both faces tell the same time – just in two distinctly beautiful ways. As you can see from the collection's two newest references in stainless steel and 18K pink gold, the front dial features a classic layout using applied Arabic numerals on a clean white face with sunray guillochage in the central rectangle, while the reverse side has a darker, more modern execution with a lone numeral at 12 o'clock, short and sharp hands, and a small aperture in the centre that reveals the manufacture Calibre 968A's oscillating mass.
This side is a sapphire blue on the steel model, and black lacquer on the pink gold one. Both have 60 grain-set diamonds on the top and bottom gadroons totalling 0.85 carats, and alligator straps to match the dials.
To mark 90 years since the birth of the Reverso, Jaeger-LeCoultre will present a retrospective tracing the history of this remarkable timepiece for the very first time in South-East Asia, starting from Singapore at its Marina Bay Sands's boutique. The retrospective will then travel to Thailand and Australia.
The Reverso Stories boutique retrospective opens to public booking from Jan 23 to Jan 30, 2022 at Jaeger-LeCoultre Boutique Marina Bay Sands, Casino Level, B2M-240. From 11am to 8pm daily.
Admission is free. Guests are invited to register their attendance here.