3 glamorous new women's watches for your year-end festivities
The mood might be muted, but that doesn't mean you can't don choice accessories that spark joy. Enter Jaeger-LeCoultre's trio of tickers that shimmer with diamonds, mother-of-pearl and artfully rendered floral motifs. In partnership with Jaeger-LeCoultre.
Jaeger-LeCoultre has a lot going for it. It has years of marketable history, a reputation for superior movements, and it even has a few iconic designs under its belt. This year's feminine offerings showcase all of those things, but they also lean heavily into rare handcrafts to provide a generous helping of loveliness.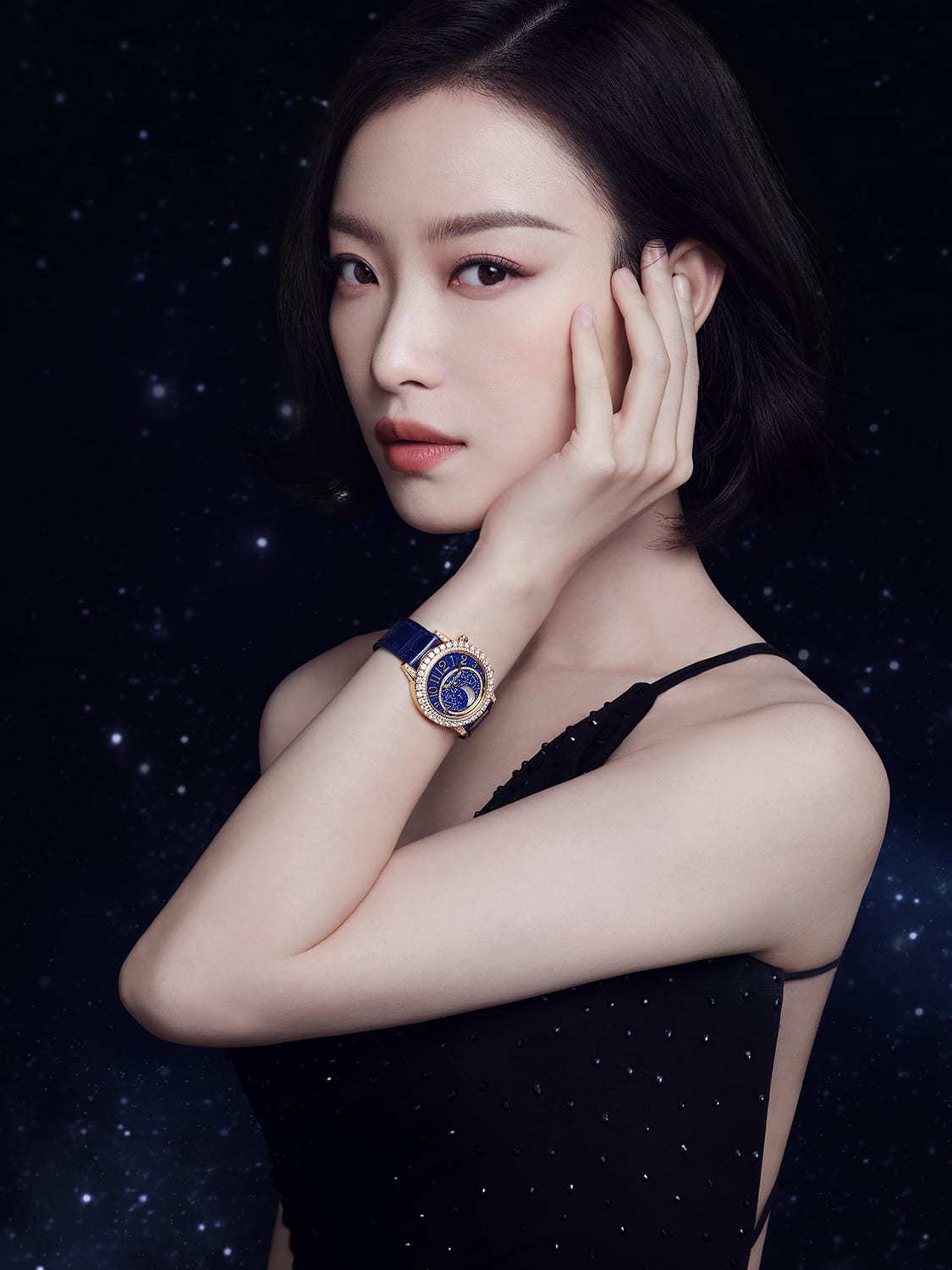 There have been so many variations of the Rendez-Vous Jewellery Moon watches that it's hard to imagine new ways for it to stand out. And yet somehow Jaeger-LeCoultre has managed to create the starriest one yet.
The Rendez-Vous Jewellery Dazzling Moon Lazura follows the same eye-catching template as its forebears, with dramatic, graduated numerals forming an arc over an extra-large moon phase display.
What makes this reference so breathtaking is its vivid lapis lazuli dial and an exceptionally brilliant bezel made of 36 larger diamonds on the outer ring and 73 smaller ones on the inside. This prong- and grain-set diamond bezel is what characterises the Dazzling models in the Rendez-Vous collection.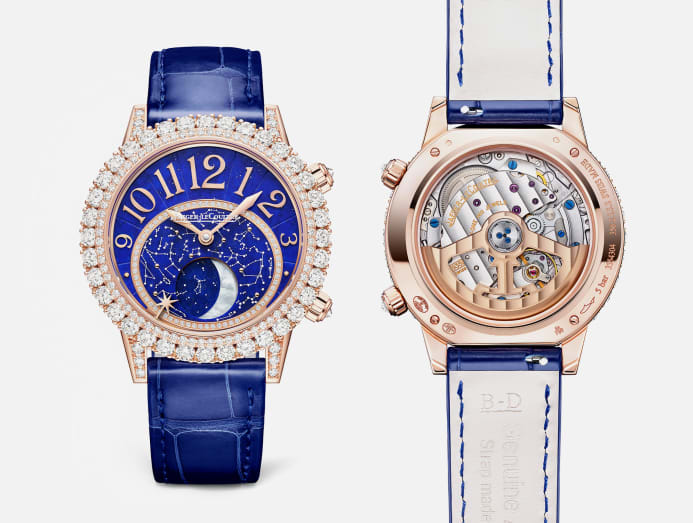 The rest of the sparkle comes from the 36mm rose gold case, gilt hands, numerals and constellations, and a mother-of-pearl moon. The moon phase isn't just impressive in size – it is also accurate for 972 years (the average in fine watchmaking is 122 years).
An additional hand-polished gold star, also known as the Rendez-Vous indicator, can be adjusted via the crown at 2 o'clock to mark the time of a special appointment. The manufacture Calibre 935 is self-winding, with Cotes de Geneve decoration on the plates and rotor.
IN THE LOOP
These days, with watchmakers touting the interchangeability of their straps and bracelets, the real novelty is a wristlet you don't want to swap out.
Back in the early 1930s, early examples of Reverso watches for women featured little silk ropes and leather cords to help fasten the watches to dainty wrists. These inspired the contemporary Reverso One Cordonnet watches, launched in celebration of the Reverso's 85th anniversary in 2016.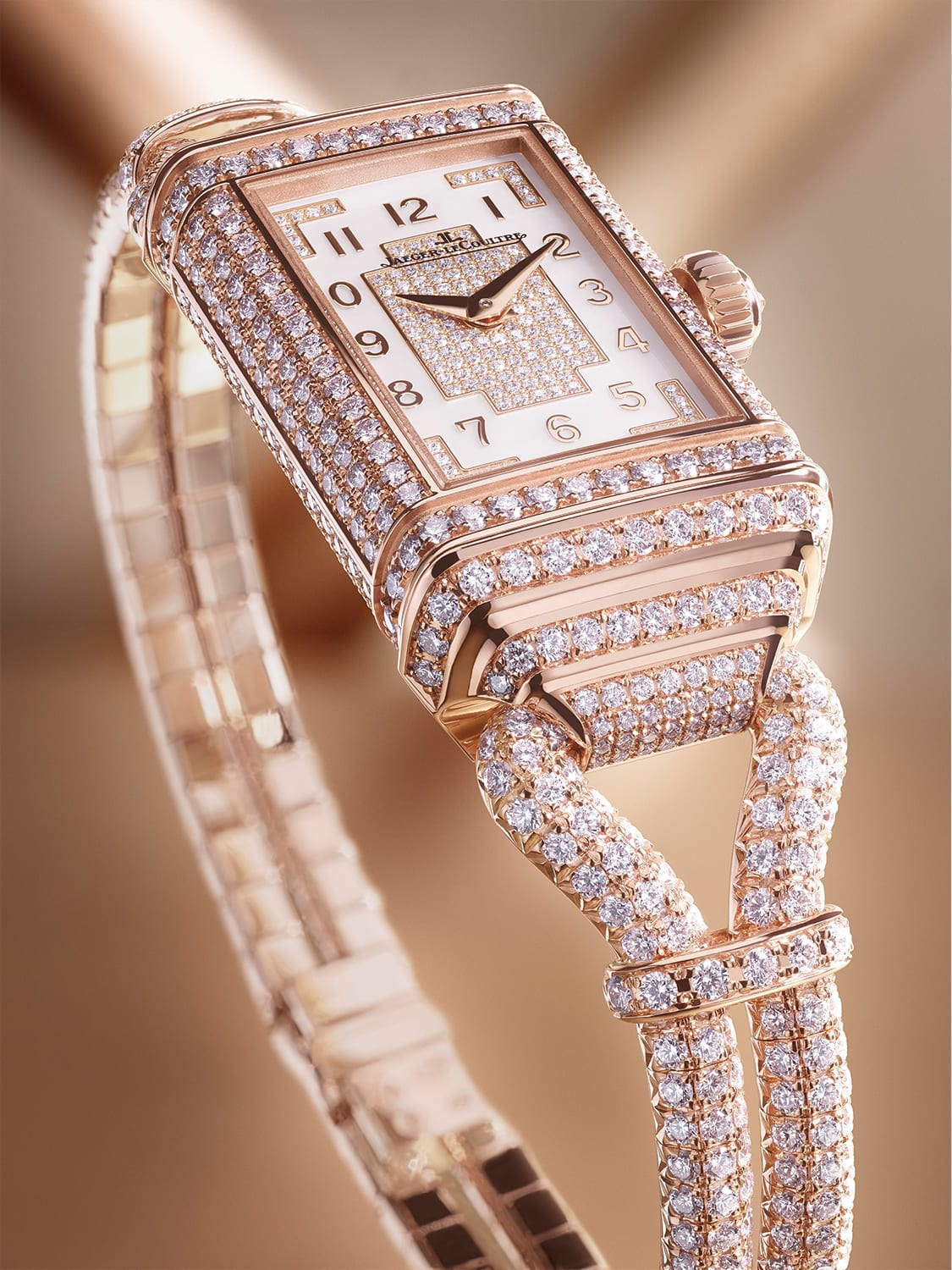 Cordonnet means "fine braid" in French, and for the collection's 90th anniversary this year, that braid has returned in a livery of gold and diamonds. The Reverso One Cordonnet Jewellery is encrusted with 1,104 diamonds totalling 7.84 carats. Grain-setting was used to set the stones in the case, a technique that uses tiny gold beads to hold the gems closely in place. Since Jaeger-LeCoultre has its own Ateliers des Metiers Rares (Rare Handcrafts workshop), it has access to artisans skilled enough to set the diamonds on the watch's many sloping sides.
The front-facing dial features gold Arabic numerals on a mother-of-pearl base, framed by diamond-set brackets and a geometric cut-out centre paved with even more diamonds. The other side has an onyx face and diamond-set sunbeams to act as hour markers. This petite piece is powered by the manually wound Calibre 844 with a 38-hour power reserve.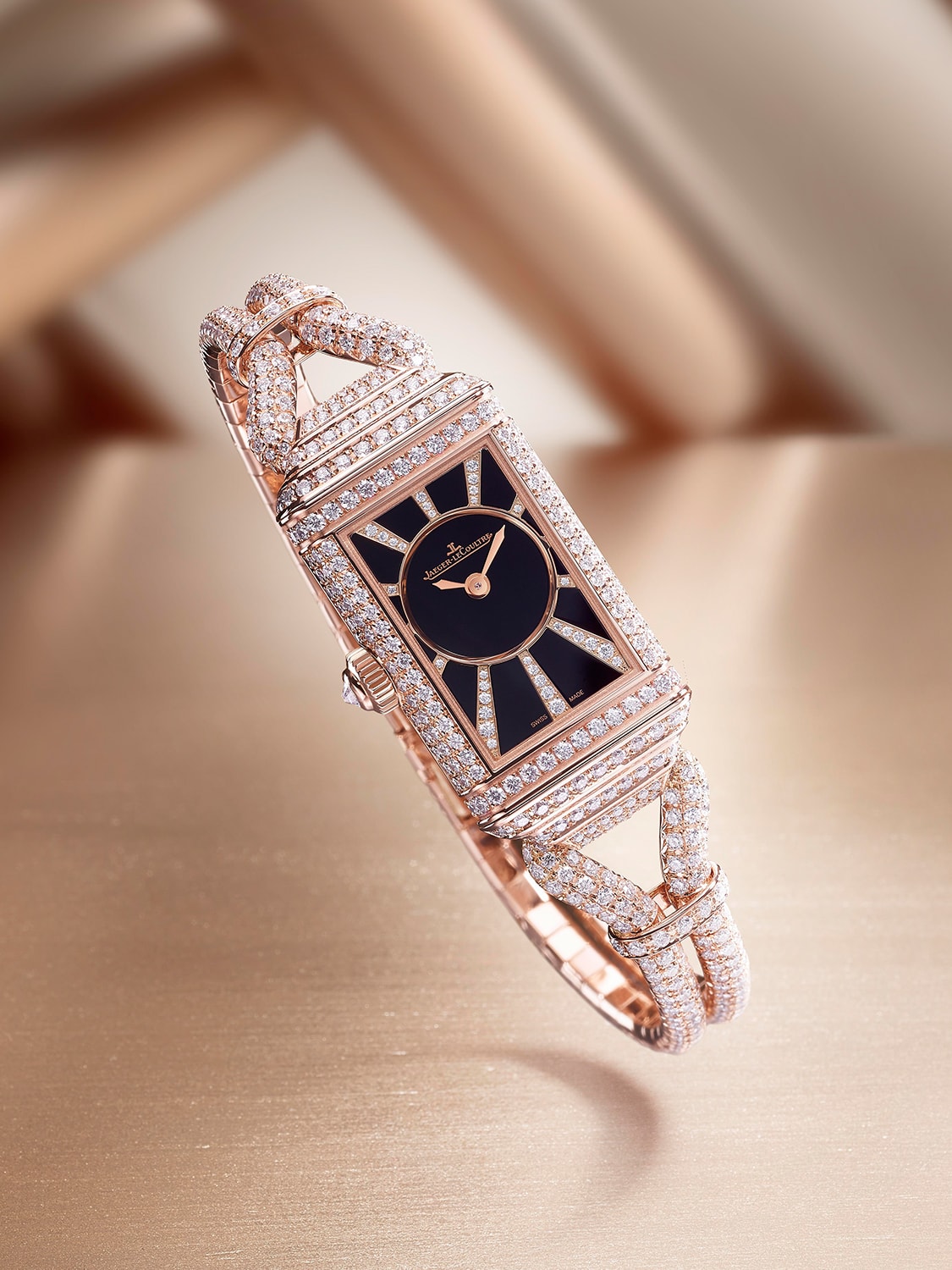 GARDEN PARTY
Like most metiers d'art watches, the Reverso One Precious Flowers series is a culmination of several artistic disciplines. This time, the Ateliers des Metiers Rares relied on engraving and enamelling on top of gem-setting to create the luscious leaves and petals of lilies and arums in four stunning models.
The two slightly less glittery models are the White Lilies in white gold and the Pink Arums in pink gold. For the White Lilies, the soothing shades of blue and white were achieved by filling the hand-engraved foliage with enamel, and filling the background with precisely cut slivers of mother-of-pearl.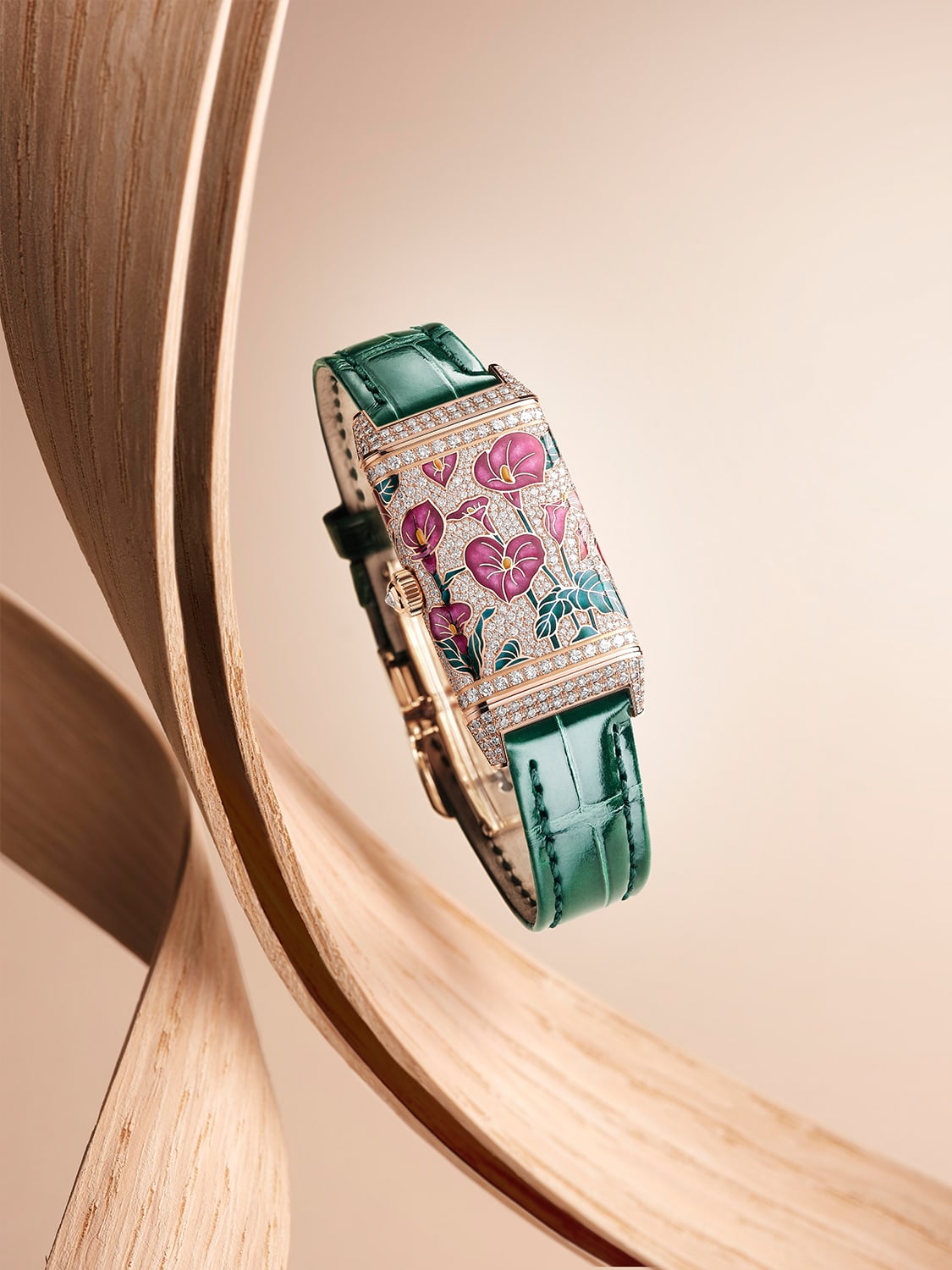 The petals of the Pink Arums are executed in the same way, but diamonds fill in its leaves and black lacquer was used to create its dramatically contrasting background. Both of these images are framed in grain-set diamonds that cover the entire case.
The Purple Arums and Blue Arums (in pink gold and white gold respectively) pile on far more diamonds. The flowers and leaves are engraved in relief and filled with richly coloured enamel, but the backgrounds are fully paved with snow-set diamonds. Because of how tedious the snow-setting technique is, where seemingly randomly sized stones fit snugly together for a shimmering blanket effect, the setting alone took 95 hours. And unlike the White Lilies and Pink Arums, these two references have floral designs that extend into the case sides.
Each version is a limited edition of 10 and uses the hand-wound Calibre 846.