Haven on Earth: In Johor, the sprawling home of a businessman and his family
Overlooking a golf course, this 16,000 sq ft multi-generational family home in Horizon Hills, Johor, is designed specifically around its occupants' personalities and needs.
In the last year, our definition of home has changed drastically. It is no longer just a place to return to at the end of a busy day; it's become our office, restaurant, gym and ultimate sanctuary.
For Dato James Ng and Datin Mary Ngooi, their new abode in idyllic Horizon Hills, Johor, was planned as a multi-generational family home where they could enjoy spending time with each other as well as entertain in style for business and pleasure. To this end, they enlisted Team BJ Design & Contracts (headquartered in Johor Bahru) to help them strike the right balance in functionality and aesthetics.
An established businessman in the construction industry, Ng met So-En Lim, design director at Team BJ Design, and her team while working on some projects for a developer.
Dato Ng and his family had outgrown their existing home and were moving to a two-storey, 16,000 sq ft bungalow overlooking the award-winning Horizon Hills Golf and Country Club with uninterrupted views of lush greenery and a serene lake.
The home also needed to accommodate Dato Ng's and Datin Ngooi's four children ranging in age and tastes, while having ample spaces for entertaining. While her clients had exquisite taste, they avoid ostentation, so Lim went with an overall concept of understated luxury but imbued it with a wow factor for occasions for when business associates visit, restrictions permitting.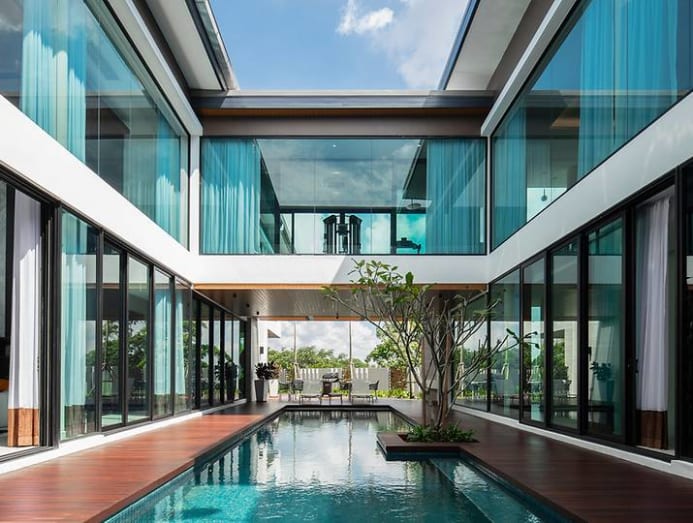 PUBLIC SERVICE
The ground floor of the sprawling bungalow is dedicated to public spaces. Taking centre stage is the grand living room with a soaring double-height ceiling, enhanced with a matching feature wall of snowy Alaskan marble.
Elegant Minotti furniture in precious finishes ideally suit this setting but the designer deliberately diffused formality by choosing low-slung sofas and tables. An adjacent second seating area offers more casual entertaining with a mix of sleek Minotti and Turri pieces. This area has access to the bar, where Dato Ng's substantial collection of fine spirits is stored. The bar top was equipped with hobs, in anticipation for evenings when private chefs come over to cook for dinner parties.

Just round the corner, the dining room continues the theme of low-key luxe with polished pieces from Turri. The curves of the dining set, vitrines and console were inspired by automobile design and were a nod to the clients' love for cars. These pieces were further customised to Asian proportions to ensure the composition fit perfectly within the space.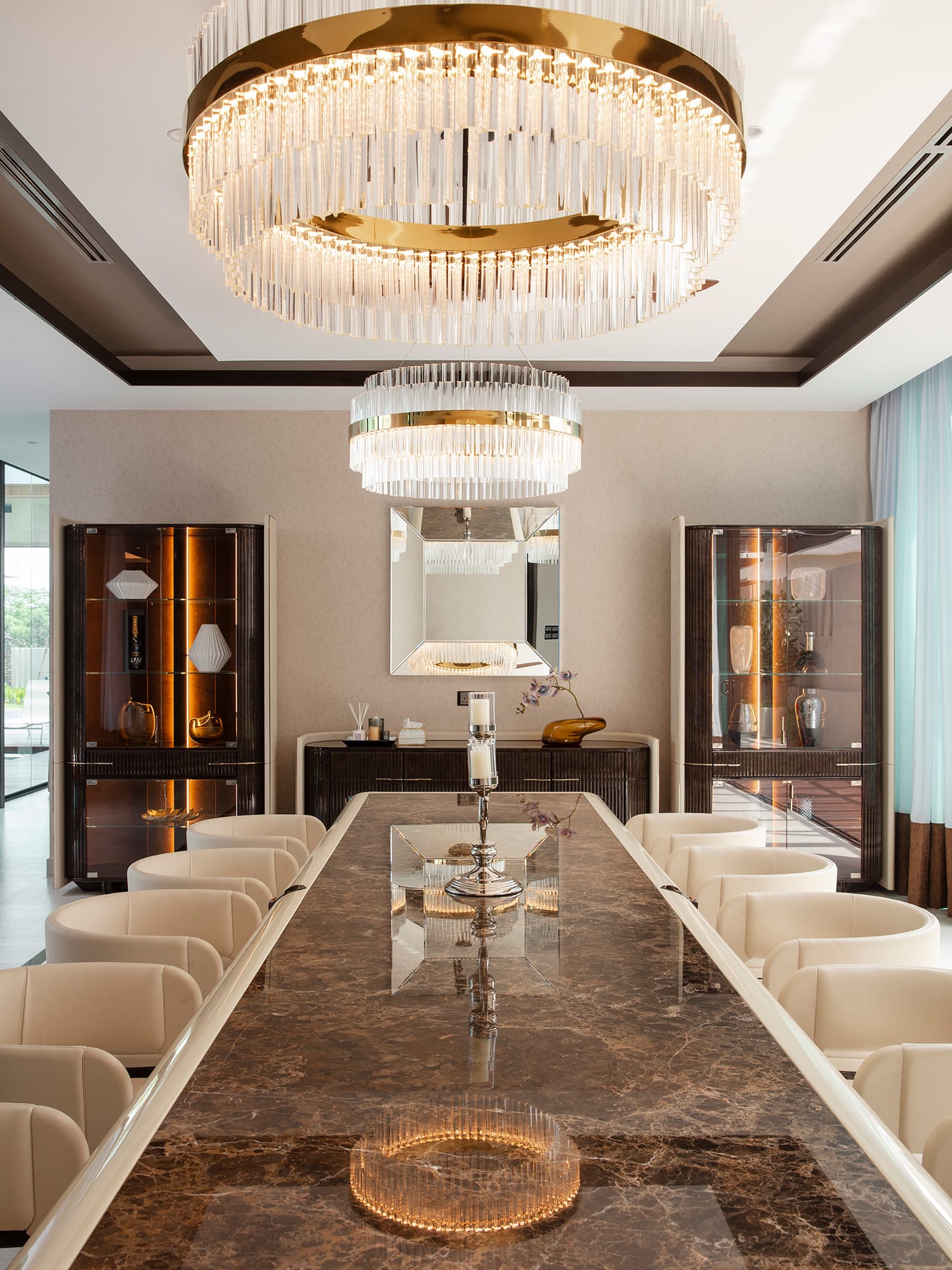 While the areas designed for entertaining have a more considered feel, the views are all oriented towards the inviting turquoise pool and landscaped courtyard. Soothing water and lush greenery lightens the mood and infuses the home with a sense of ease.
An AV room was particularly requested for the family to have movie nights and karaoke singalongs. The designer obliged with a well-appointed space outfitted with cosy modular furniture that can be moved around where required. A special feature of the AV room is the ceiling lighting which features a galaxy of stars. Sourced from Singapore, Thunderstone Technology's Starry Night Ceiling is not just beguiling to watch, it also improves the acoustics of the room.

Placed at one end of the house to give Dato Ng, an avid nature lover, a soothing view of the garden and pool, the study is also often used for meetings. To this end, the designer combined personal touches and formality in the space with exquisitely crafted Turri furniture featuring details like embossed leather and piano-finish surfaces.
While the powder room is often an overlooked space, Lim was just as meticulous in its detailing. Walls here were clad in gold-tinted stainless steel sheets beaten into a curved shaped, to imbue the space with a sense of the organic. Sanitary fittings are also top-notch with a freestanding pedestal sink and Philippe Starck's Starck V mixer from AXOR.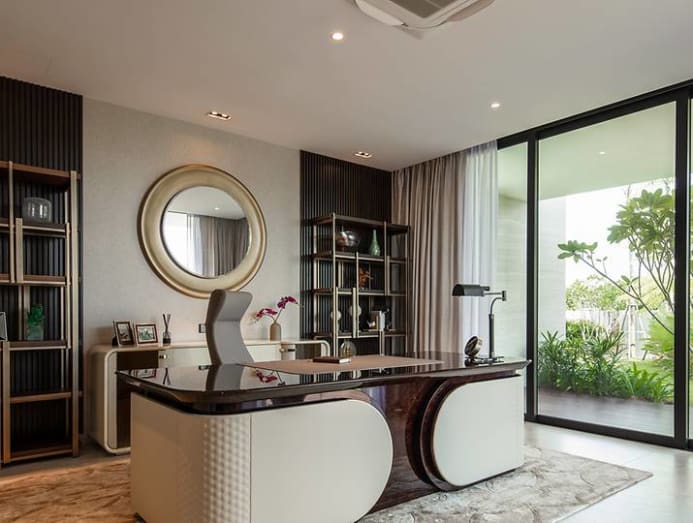 FULL OF PERSONALITY
While the ground floor was designed with the family's social life in mind, the first floor is an ode to each family member's individual personalities.
The designer was mindful to include design gestures that catered to each offspring's individual needs and tastes. The eldest daughter is a rock chick at heart so her room features pieces which are bolder in expression, yet still conform to the muted colour palette – like the wall sculpture of gold paillettes.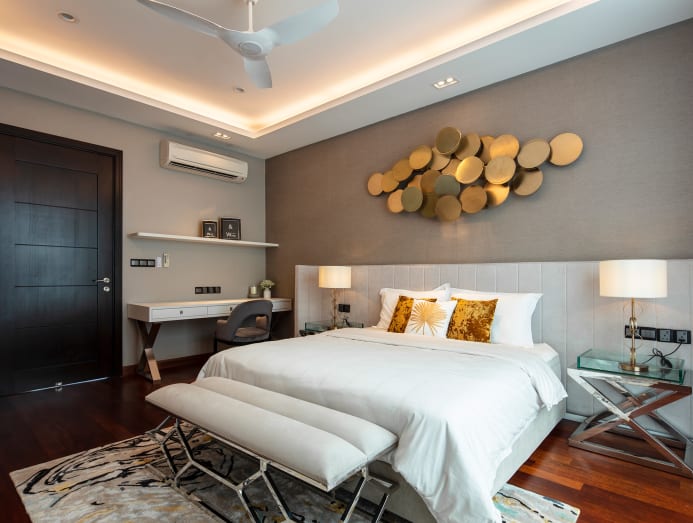 The third daughter, on the other hand, is a book lover, so her room has plenty of shelf space and corners to get lost in her favourite activity. The youngest and only son's room has a striking blue-and-red colour scheme with a gaming theme and while the style may seem like a departure from the rest of the house, it still conforms to the overall detail-centric style and emphasis on fine finishings.

A junior suite was prepared for the second daughter, who was about to give birth when the house was being designed. Described as a fashionista with a predilection for European designers, the designer incorporated couture details and lush fabrics into the space. One request was that the suite not look like a nursery and the designer delivered on this by concealing the bassinet in the walk-in wardrobe and maintaining a sophisticated colour palette of creams and dove grey accents.
One of the activities all the clients' children share is playing pool, so this was one of the spaces in their wish list. The designer obliged with a dedicated space in the landing between their rooms for easy access.

The designer pulled out all the stops in the master suite which was enlarged to capture a panoramic view of the golf course. Comprising a sitting room, bathroom, walk-in wardrobe, bedroom and outdoor terrace, the spaces were designed so that the client could conduct different activities in the same room together. Italian furniture was used almost exclusively and matched with built-ins made from precious materials and with refined workmanship.
A choice of spaces were planned for the family to spend time together. The family ares is populated with lounge-y furniture from Minotti and equipped with a bar so that the family can have drinks and snacks without having to go downstairs. One stretch of wall is outfitted with shelves as the family has a vast collection of books and spend evenings reading together.
The gym is located on the bridge overlooking the golf course. Equipped with state-of-the-art Technogym gear, anyone who works out is rewarded with fantastic views of the golf course.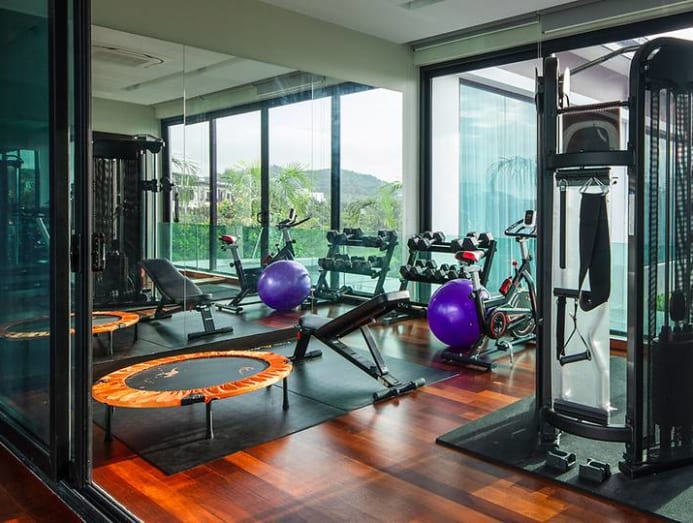 HOME SWEET HOME
Renovations were completed just before Malaysia entered its first lockdown in March last year and the clients reveal that the family has thoroughly enjoyed putting each area of the house to good use.
"I find myself swimming a lot more these days as compared to our pre-lockdown days. Also, I have been sitting in my study/office a lot, organising documents, reading newspapers and watching news videos on my phone," said Ng.
"My days are mostly spent in the karaoke room because I have been singing a lot. [I also spend a lot of time in] the casual living room/bar area where I watch dramas and attend zoom seminars, and the living room in my bedroom," Ngooi chimed in.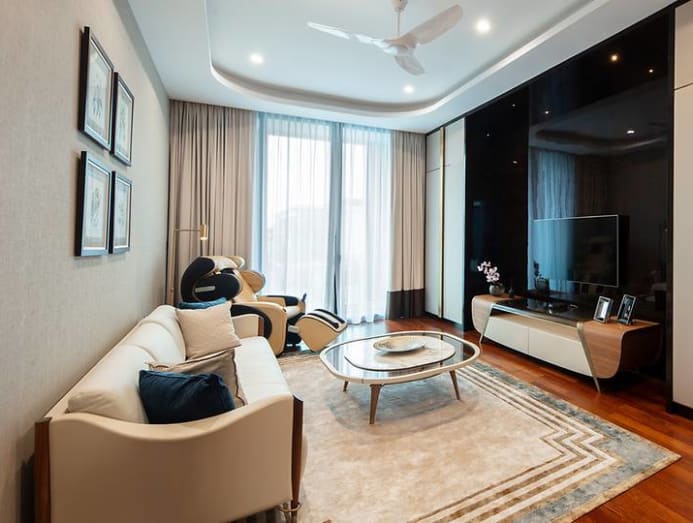 While it may seem like a pity that the numerous lockdowns have prevented the family from entertaining on a large scale in the well-designed public spaces, Ngooi said that that they managed to squeeze in a few small parties in between lockdowns: "We had quite a few gatherings and parties such as a gender reveal party for my eldest daughter. This was just for our family. We also invited a small group of friends over for dinner with a private chef," Ngooi said.
"It is definitely different though as there is a limit to the number of guests and what we could do. We have to be extra careful these days. We used to have friends over for tea or dinner, throw parties during the festivities and have big family events at our old house. These definitely cannot be done now."