Loud and lightweight: What it's like to test-drive this S$1.3 million Lamborghini
With its aggressive looks and ferocious power, the Lamborghini Huracan STO is a road-legal super sports car that's the stuff of racing dreams.
Lambos are loud. There's no doubt about that. Our Lamborghini Huracan STO arrived in a unique shade of bright, verde arise green paintwork contrasted with vibrant, arancio xanto orange livery, giving us some curious amphibious vibes.
Lamborghinis are, of course, also quite literally loud – and understandably so.
This naturally aspirated V10 is said to be the purest incarnation of Lamborghini's Squadra Corse heritage, a product of true racing pedigree.
The STO stands for Super Trofeo Omologata – a road-homologated super sports car – and is technologically inspired by the Lamborghini Squadra Corse's one-make race series with the Huracan Super Trofeo EVO, as well as the Huracan GT3 EVO, which won the 24 Hours of Daytona three times and was also placed first in the 12 Hours of Sebring race twice.
So here's a road-legal Lamborghini super sports car that's impossibly quick, and designed to deliver the raw emotion of a track experience on every road drive – by mirroring the excitement and exhilaration of Super Trofeo.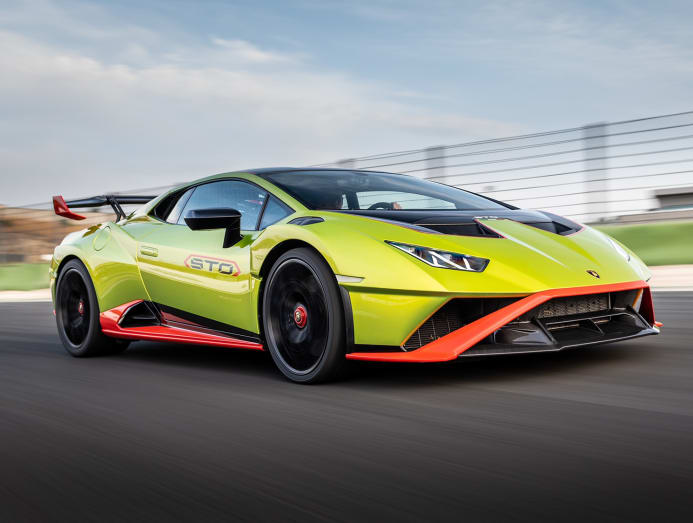 "Lamborghini doesn't follow trends, but sets trends," Francesco Scardaoni, regional director for Lamborghini Asia Pacific, told CNA Luxury.
"Lamborghini is also a company that is always consistent with its DNA, and our DNA is to always use the right powertrain for the right application. So while everyone is into turbo engines in the super sports car segment, Lamborghini is the last manufacturer to use a naturally aspirated engine. Because we believe that this kind of engine is still the best engine in terms of responsiveness and emotion, for a super sports car today," he continued.
What you get for this S$1.3 million ride (without COE) is therefore the same V10 aspirated engine of the Huracan EVO and Super Trofeo, generating 640 hp of power at 8,000 rpm and 565 Nm of torque at 6,500 rpm.
The 5.2-litre engine has been calibrated for a super sporty and responsive racing feel, with a direct pedal-to-throttle feeling, while rear-wheel steering matched with rapid gearshifts and stiffer suspension bushing all create the perfect conditions for a more intimate relationship between driver, car and the road or track.
AGGRESSIVE LOOKS, ASTONISHING POWER
Having test-driven its sister Huracan EVO RWD last year, it is immediately apparent that the mid-engined Huracan STO is a more superior performance powerhouse and a more aggressive drive – in looks, too. 
There's that unmistakable shark nose (inspired by the Lamborghini Miura and more recent Sesto Elemento) flowing on to a signature Lamborghini profile that's sportier than ever on this two-seater, two-door coupe.
It's said that races are won in corners rather than on straights, and the Huracan STO certainly triumphs in its ability to corner faster while maximising grip on exit – in all three of its drive modes.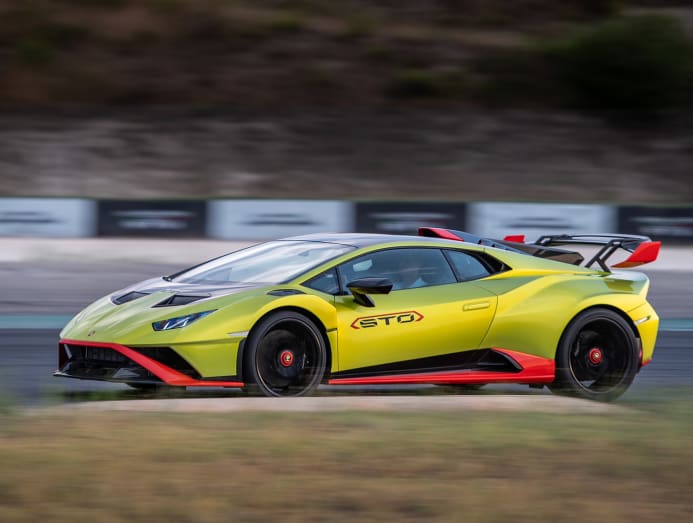 Besides the default STO mode, which is already amped up for high performance driving, there's Trofeo, which optimises all systems for dry asphalt and the fastest lap times on track, and Pioggia (rain) mode, which optimises traction control, torque vectoring, rear-wheel steering for driving on wet asphalt.
In the latter, traction control and the braking system are calibrated to minimise loss of grip and engine torque cut, with the Lamborghini Veicolo Dinamica Integrata (LDVI) vehicle dynamics system employing precise estimation to deliver only the torque needed in wet situations. The torque vectoring also adjusts to reflect the low adhesion conditions and ensures better cornering, while the suspension is calibrated to maximise grip in wet weather conditions.
Braking, too, is superb in all driving conditions, via Brembo CCM-R brakes that draw on materials expertise from F1 applications.
You'd never know all this is going on when you're at the wheel; all you feel is astonishing power that never diminishes, and remarkable surefootedness even in the sudden and heavy downpour the day we took her out for a spin.
OBSESSIVELY LIGHTWEIGHT
Lamborghini engineers were fixated on shaving weight off the Huracan STO. For aerodynamics. For performance. For speed.
At a dry weight of just 1,339 kg, the Huracan STO is 43 kg lighter than the already lightweight Huracan Performante.
More than 75 per cent of its exterior is clad in carbon fibre, and several of its complex structures are produced as one-piece components not only for increased integrity, but also to reduce the number of fixing points where even things like screws are taken into consideration – and taken out of the equation as far as possible.
Using its expertise in lightweight technologies, the rear fender, for example, has adopted a carbon fibre "sandwich" technique utilised in the aerospace industry, thus reducing the use of carbon fibre by up to 25 per cent while maintaining the same structural rigidity.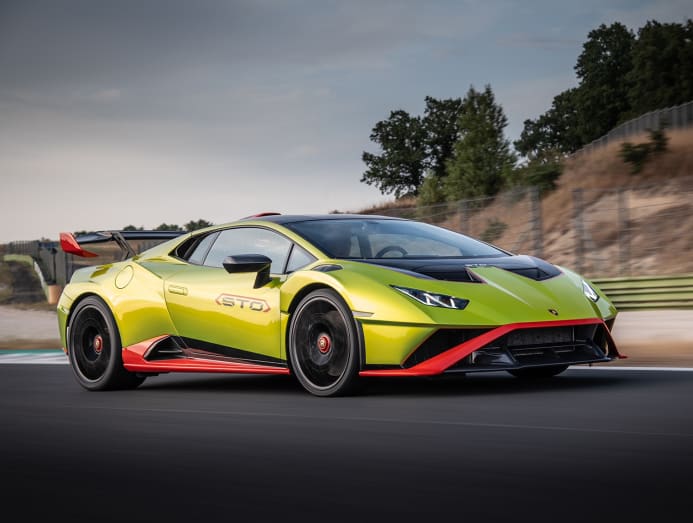 And its windscreen is 20 per cent lighter than that of the Huracan Performante, while magnesium rims are deployed instead of aluminium alloys for the highest strength-to-weight ratio without compromising on load factor. On the rims, bespoke Bridgestone Potenza tyres are fitted with two options: One for the road and the other for the track.
This obsession with saving weight continues in the interior of the Huracan STO via the extensive use of carbon fibre throughout the cockpit; carpets have been removed and replaced by carbon fibre floor mats, and, where instead of a standard door handle, you pull a sort of synthetic cord attached to the carbon fibre door panel to open the door from the inside.
All this, for the single-minded purpose of engineering a vehicle with the astounding ability to go from standstill to 100km/h in a mind-numbing three seconds.
ALL ABOUT THE AIRFLOW
With the Huracan STO, Lamborghini engineers also played the role of conductor, orchestrating airflow to achieve the holy trinity of aerodynamics, performance and speed.
Without getting too technical, this was achieved via new air ducts on the front bonnet that increase airflow, improve engine cooling and help generate downforce, plus a new rear fender (derived from the Super Trofeo EVO) that reduces drag while increasing rear downforce.
Meanwhile, the integrated "shark fin" on the rear bonnet further stabilises the incoming airflow when at a yaw angle particularly when cornering, which also increases wing efficiency during cornering.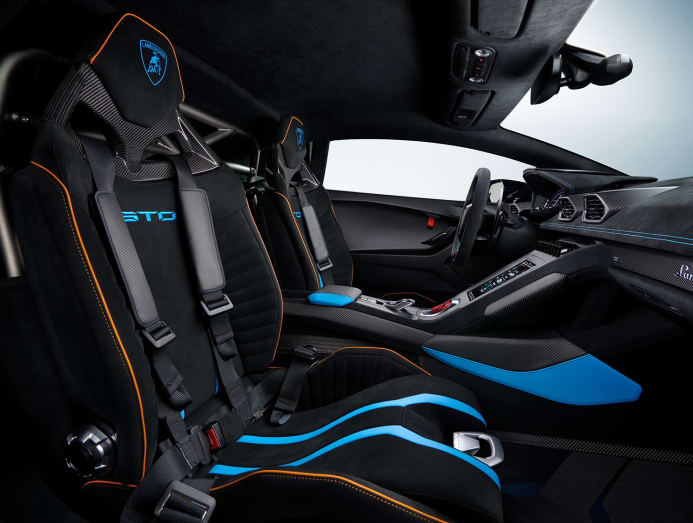 The result is a 37 per cent improvement in overall airflow efficiency, and a 53 per cent increase in downforce over the Huracan Performante.
What this means in real world terms is that this a Lamborghini that blasts the competition with the highest level of downforce in its class, with the best aero balance for a rear-wheel drive car.
And what this means for you as you take the wheel, is that you'll be commandeering one of the most dynamic drives of your life – without needing the qualifications of an F1 driver.
Should you wish to take the Huracan STO to the track, however, you'll be glad to know the car comes with a fully connected telemetry system that allows drivers to monitor and record their performance, as well as analyse the data via the Lamborghini UNICA app.
So now that Malaysia's borders are reopening and a trip to the Sepang circuit could indeed be a possibility, it might finally make sense again to buy a million-dollar supercar here.
LAMBORGHINI HURACAN STO SPECIFICATIONS
ENGINE: 5.2-litre V10 IDS+MPI dual injection
POWER: 640 hp at 8,000 rpm
TORQUE: 565 Nm at 6,500 rpm 
TRANSMISSION: 7-speed dual-clutch submission
ACCELERATION (0-100KM/H): 3 seconds
ACCELERATION (0-200KM/H): 9 seconds
TOP SPEED: 310 km/h
FUEL CONSUMPTION (combined): 13.9 L/100 km
PRICE: From S$1.3 million (without COE)