What it's like dune bashing in Dubai in the new Land Rover Defender 130
The Land Rover Defender 130 is arguably the best 4x4 that money can buy.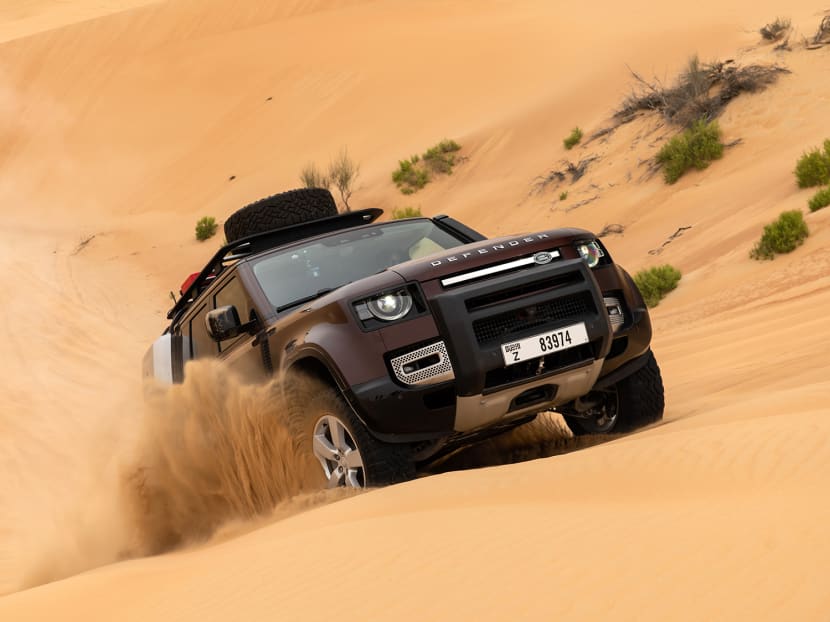 "Full gas, full gas!" my co-driver screamed excitedly from the front passenger seat of the Land Rover Defender 130 as I approached the apex of a sand dune.
The very first lesson you very quickly learn when dune bashing is that there is absolutely no room for hesitance. You've just got to slam down on the accelerator full throttle and hold on for dear life on the incline because you need all the momentum you can muster to conquer an almost vertical sand dune. Even when you have no clue what may lie on the other side of the steep drop that awaits.
Then, there's the constant fear of getting stuck in the sand – a fear that grips even the most proficient and experienced of drivers native to these desert lands. Google "How to avoid getting stuck in sand when dune bashing", and most articles are rife with tips on how to get unstuck, instead of offering the pre-emptive, preventive techniques you're looking for. Because it's almost guaranteed that you will find your sorry self get bogged in sand at some point during your Arabian desert adventure, as I did on my virgin dune bashing experience in the new Land Rover Defender 130.
One strategy to conquer that fear, as I inadvertently discovered, is to gamely be the first in your group to get your wheels well and truly wedged in soft sand
Sand driving is a baptism of fire, even for those of us with more than 20 years on our driver's licence. All it takes is a split-second to put a foot wrong, as the moment you start to feel the wheels stick, your instincts kick in and the tendency is to accelerate to get yourself out of the jam; any additional acceleration will simply bury you deeper.
Instead, the trick is to override the panic mode with a counter-intuitive approach: Ease off the accelerator immediately, regain your composure, and if the gods are kind, you might be able to very slowly, and very gently, navigate your way out of potential embarrassment. Else, someone will have to come pull you out with a snatch strap and rescue you.
And thus began my red-faced induction to dune bashing on the unforgiving terrain of the Al Marmoom Desert Conservation Reserve, a 40-hectare desert sanctuary about a 45-minute drive from Dubai city.
BIGGEST BADASS OF THE BROOD
Once you've found your footing, though, it's pure exhilaration demolishing the sand dunes in the Defender 130. The vehicle is, after all, arguably the best 4x4 that money can buy, built specifically for an occasion such as this.
The 8-seater monstrosity mercilessly endured our relentless barrage of savagery through the punishing terrain and was, remarkably, none the worse for wear.
You are advised, for instance, to pause at the peak of the dune, as carrying on the speed and momentum will quite certainly send your Defender soaring through the sky, in which case you can expect a very, very hard landing in the hulking 3-litre SUV.
This is not a mere ATV, UTV or dune buggy, you see.
The Defender 130 is the biggest badass to join the Defender family. It's massive – standing just under 2m tall, over 5m long and 2.1m wide; lording 340mm in length over the seven-seater Defender 110, and much mightier than the comparably diminutive two-door Defender 90. Its commanding presence, however, somewhat eclipsed against the expanse of the Arabian desert, with our band of merry dune bashers looking quite amusingly like ants in the sand from a distance.
As we "touched down" following our fleeting airborne stint, our vehicle – powered by 400PS and 550Nm of torque – simply continued on its merry way as if our regrettable transgression hadn't just transpired. It's a freak of nature, this car.
Truth be told, we were a little shook, but thoroughly impressed. And while it was beautiful to bear witness to the Defender 130's ability to handle such extreme maneuvering in its natural habitat, it did feel a little sadistic to subject the luxury SUV to such perversion given its half-a-million-dollar (without COE) price tag back home.
THE EPITOME OF RUGGED LUXURY
You will be doing none of that in Singapore, we assure you.
Land Rover has done a fine job of ensuring that the modern incarnations of the Defender sit at the very top of the totem pole when one contemplates rugged luxury.
But if jungle-rugged is what you're truly after, you'd best get after one of those vintage Defenders originally produced since the 1940s with that iconic boxy profile and bare-bones interior without all the bells and whistles – if you can find one in these parts.
Now the new Defender 130 may be equipped with some very sophisticated Terrain Response systems for a peerless off-roading experience, but the terrific irony is that you will be braving the elements ensconced in the finest luxury.
Let's start with the luxury of space. The Defender 130, though it shares the same wheelbase as the Defender 110, can seat a total of eight passengers comfortably (you can opt for a five-seat version and get even more boot space), with even those in the third row enjoying best-in-class legroom, as well as cup holders, armrests, and USB-C charging ports.
The sense of spaciousness is further amplified by the sliding panoramic roof that bathes the first two rows of seats in natural light while an additional glass roof, unique to the Defender 130, ensures passengers in the third row have the same authentic Defender experience as anywhere else in the vehicle.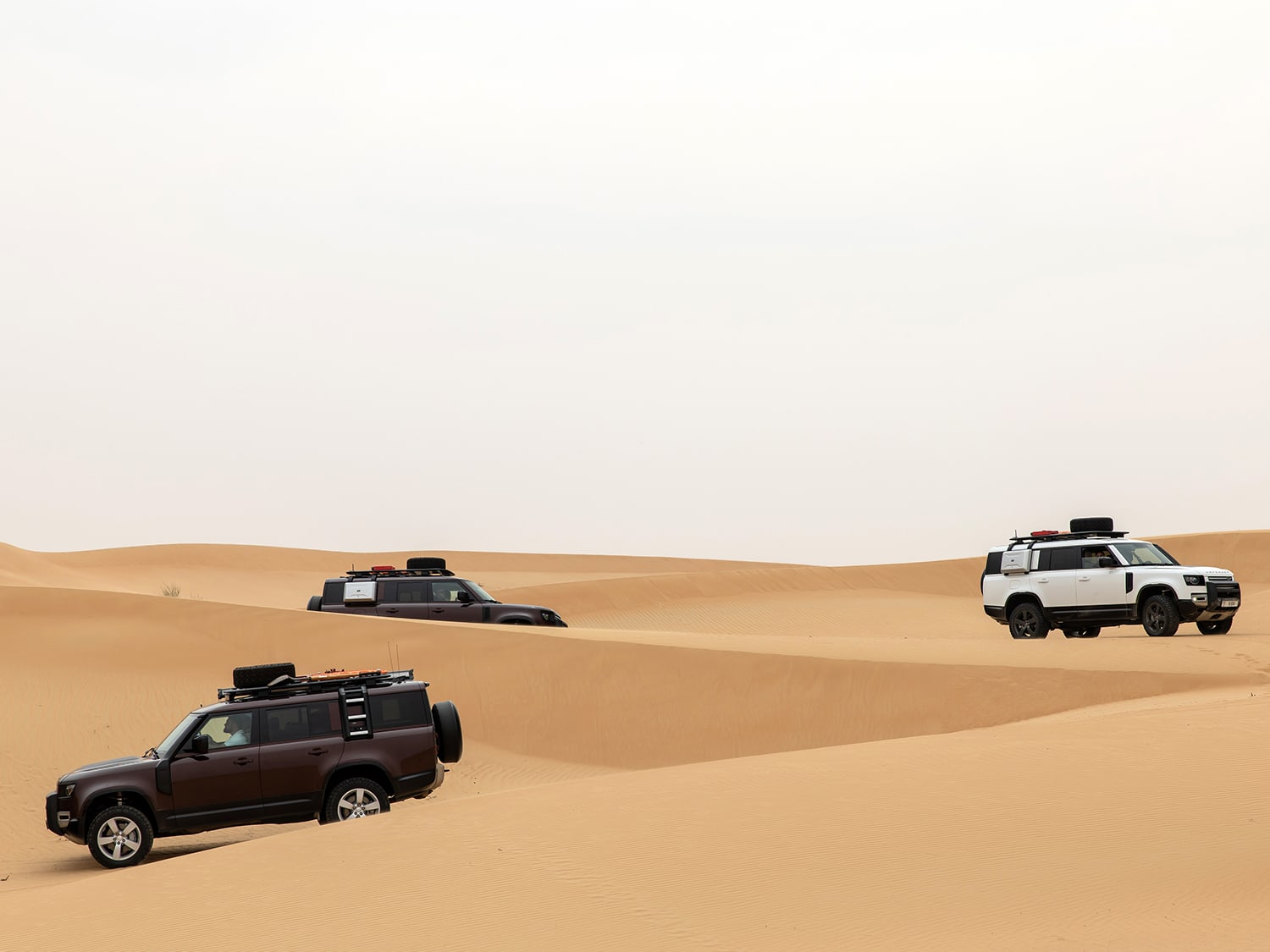 Not carrying such a heavy human load? Fold the third row and you get 1.232 litres of loadspace for your equipment and cargo.
There's also a Three-zone Climate Control feature that provides heating and cooling for all three zones while the (optional) Four-zone Climate Control offers independent controls across all three rows of seating.
You may also enjoy the fact that its tough exterior makes way for a soft, luxurious leather interior with premium feels.
The console, anchored by a larger 11.4-inch Pivi Pro touchscreen infotainment system, is fairly spartan but with design accents such as satin chrome finishing and wooden veneer fastened with exposed bolts just to remind you that even though you now have a mortgage and rock a super neat side part, that edgy rebel still lurks within. 
This is a wonderful little paradox you will delight in, especially in the harsh desert climes. With no facilities for miles and miles, I had little choice but to stop to take a wee in the unpeopled landscape at some point, only to discover a herd of indigenous Arabian oryx auspiciously looking on. And there you have it, my friends, my virgin dune bashing exploits done and dusted.