What it's like test-driving the new S$600,000 Lexus LC Convertible
A powerful naturally-aspirated V8 beast poured into a sleek, elegant and graceful form, Lexus' first-ever LC Convertible is a bona fide attention-grabber. We took it for a spin to see how it performed on Singapore's roads.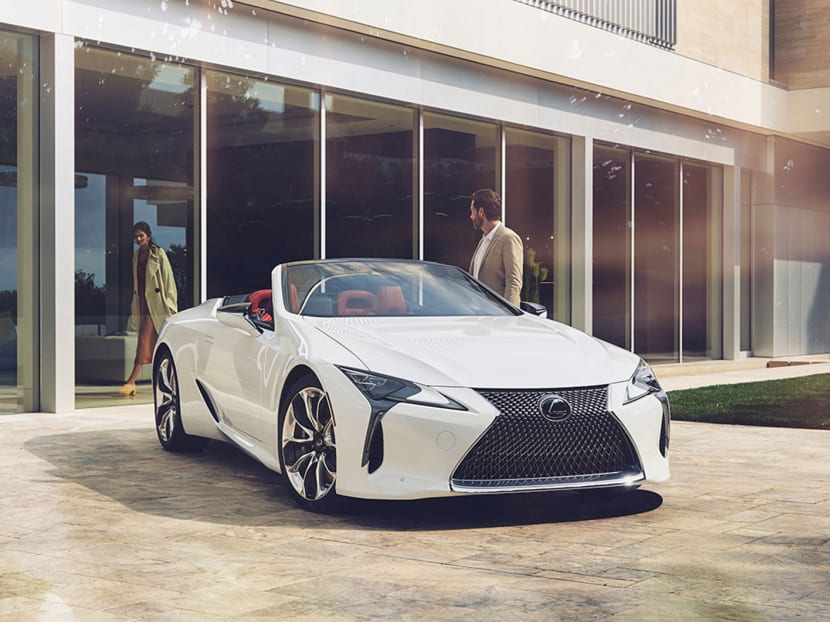 It's a special kind of feeling when you meet a car first as a prototype before it goes into production and then get to drive it two years later.
It was December 2019 that I first laid eyes on the Lexus LC Convertible in person, when I serendipitously found myself a guest of Lexus at Design Miami; the only Singapore journalist flown in to attend the influential global forum for design by its official automotive partner.
There, the LC Convertible was presented as a concept car, showcased within an immersive installation capturing the beauty of sunshowers, which describes a naturally occurring phenomenon in which rain droplets fall amid the sun's rays and often leads to the appearance of a rainbow.
The artistic display represented the interplay between the inside and outside, the indoors and outdoors, evoking the Japanese architectural concept of engawa while capturing the essence of the LC Convertible.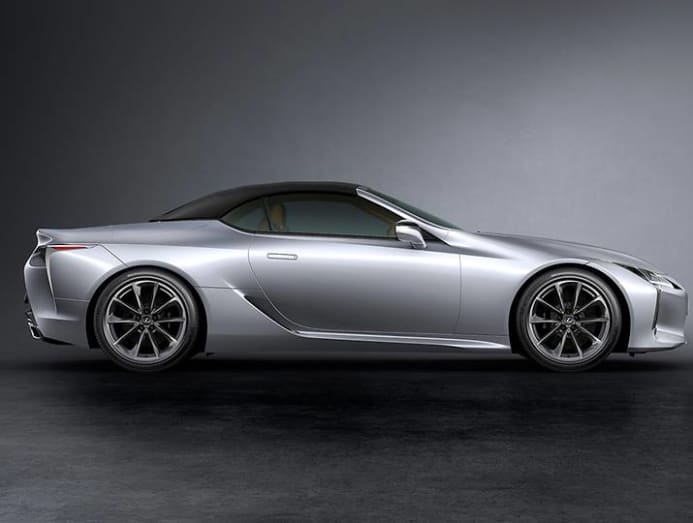 Much of Lexus's philosophy is highly conceptual and it was at Design Miami that I had the opportunity to meet and speak with its chief designer Tadao Mori on the inspiration and design thinking behind the carmaker's stunning new halo model.
For the Japanese designer, it all begins and ends with beauty. "But beauty has to have a right function," he said.
Complementing the coupe's sleek silhouette, for instance, is the sophisticated engineering behind the hydraulic-operated soft-top roof inspired by the traditional art of Japanese calligraphy and the movement of the ink brush expressing itself on paper, with attention even paid to the pause between strokes. The mechanism is exceedingly elegant and graceful when retracting or closing, like motorised origami, if you will, and rather mesmerising to watch.
The first-ever LC Convertible oozes charisma and we guarantee all eyes will be on you on the roads, especially when you're stopped at a traffic light and decide to drop your top, as we certainly did on our recent test-drive.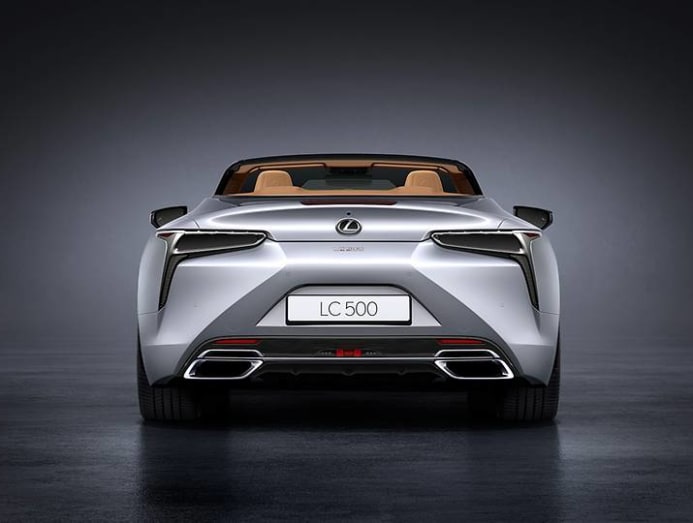 With the LC Convertible's muscular proportions, huge spindle grille set between sharp, slender lights and overall sexy styling turning up the heat wherever you go, you can't be shy about all the attention you get driving this 2+2 coupe – that's a big part of the joy of a cabriolet.
And at an eye-watering half a million bucks, you'd probably want the world to know you've got good taste (and cash to burn).
DROP-TOP DREAMS ARE MADE OF THESE
The soft-top folds back (or forward) in 15 seconds flat and the rapid closure is especially appreciated when it begins to drizzle.
The four-layer canvas roof, made with aluminium and magnesium components, is thickly-insulated and you know Lexus has done a solid job and delivered peerless quality here as there's not a hint of flutter or rattle during the notably silent backward-forward exercise.
If you're going over 50km/h though, tough break if you're on the expressway and it begins to pour, as you won't be able to activate the mechanism due to a safety measure built-in.
One nifty safety feature I do like is that the buttons for retracting the roof are neatly concealed in a flip-top compartment in the centre console so you (or any passenger) can't accidentally activate it.
Getting the soft-top just right was the biggest challenge in designing the LC Convertible, Mori had told me two years earlier.
"The first round [we designed] was very bulky so I asked the engineer to push it down 30mm more because if it's too high, it's not nice," he had shared.
Good call, Mori, as we observed the soft-top pack nicely into the rear, without significantly intruding on the trunk and cabin space, as would be the case with a heavier, bulkier retractable hardtop.
And, most importantly, it doesn't compromise the convertible's sharp styling and sporty profile. Very nice indeed.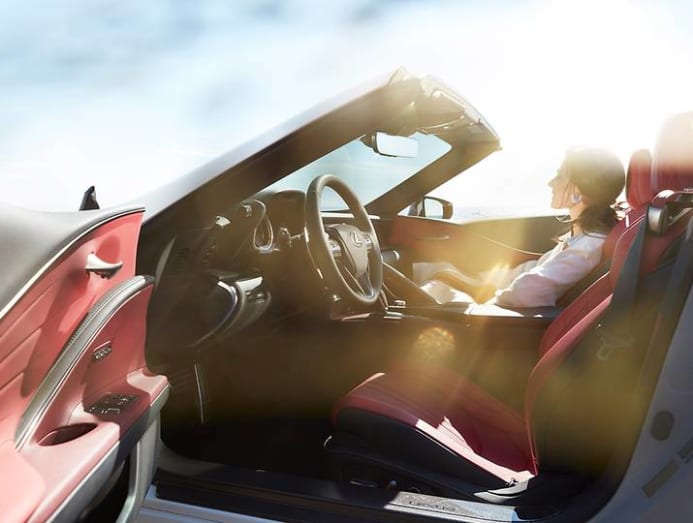 THE DRIVE: UNBEATABLY GLORIOUS, CRISP AND PRECISE
Having waited close to two years to get behind the wheel of the LC Convertible, the day could not come soon enough when I would pick up this highly-anticipated ride.
The LC 500 Convertible is an aspirational halo model of Toyota's luxury daddy. It's a topless variant of the LC 500 Coupe, and the grand tourer hits all the right spots inside and out.
It's a powerful beast with a naturally-aspirated V8 engine displacing 5 glorious litres for the convertible that pours down the road with 457hp on tap, with peak power coming in at a delightfully raucous 7,100 rpm.
Glorious really is the word to describe this magnificent drive. Response is instant and superb, and power delivery seamless. Steering is perfectly-weighted; light and precise, cornering effortless, and the LC Convertible handles beautifully and crisply, even at high speeds with the top down.
There are four drive modes (ECO, Normal, Sport and Sport S+), and the century dash is done and dusted in an exhilarating 4.9 seconds – impressive and extremely agile given its heft (just over two tonnes) – while the car can be pushed up to a top speed of 270 km/h on the track.
All in, the LC Convertible is an aggressive roadster that will really get pulses racing, turn heads, and fulfil GT ambitions with the wind in your hair.
SOUNDTRACK FOR THE AGES
We like that the mindful design even extends to calibrating the sound architecture for the driver's (and pedestrians) aural pleasure.
The multi-layered canvas roof, combined with sound insulation and absorption techniques, is designed to block out unwanted noise and unpleasant sound frequencies, and keep the cabin as free from outside noise as possible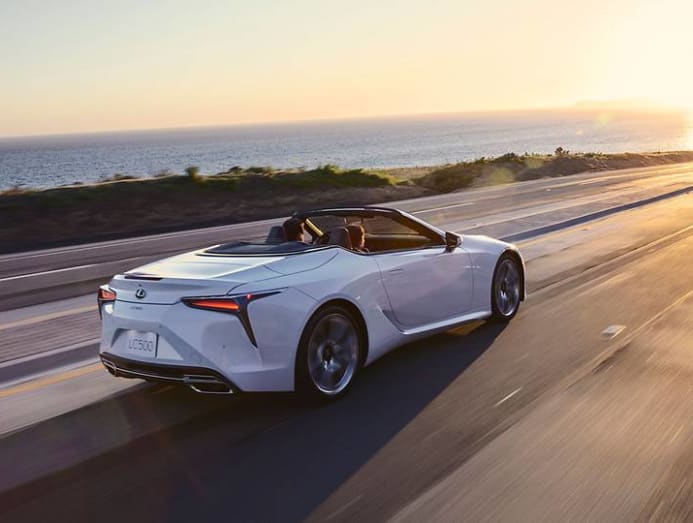 But you'd of course hear the patter of rain more so than in a regular hardtop vehicle – a small sacrifice to pay for the awesomeness of owning a droptop.
Much attention is paid to designing your sound experience in the cabin whether the driving with the top down or up. The transparent polycarbonate wind deflector, for instance, helps suppress wind flow within the cabin, enabling you to better enjoy your favourite tracks through the 13-speaker Mark Levinson Reference Surround Sound System when the top is down.
The system comprises an 11-channel amplifier and speakers embedded into the rear seat headrests that, altogether, work to replicate the precise sound stage that reproduces the position and depth of each instrument – though this might be an unnecessary luxury given that the back seats are unreasonably bolt upright that they're practically unusable unless you're so super fun-sized you make Hobbits look human. Still useful for extra stowage though, given the wee 149-litre boot capacity.
And when the top is down, the system automatically adjusts the sound architecture in real-time to deliver the audio quality you would enjoy with the roof closed in an effort to harmonise with the sound of the engine in an open-air environment.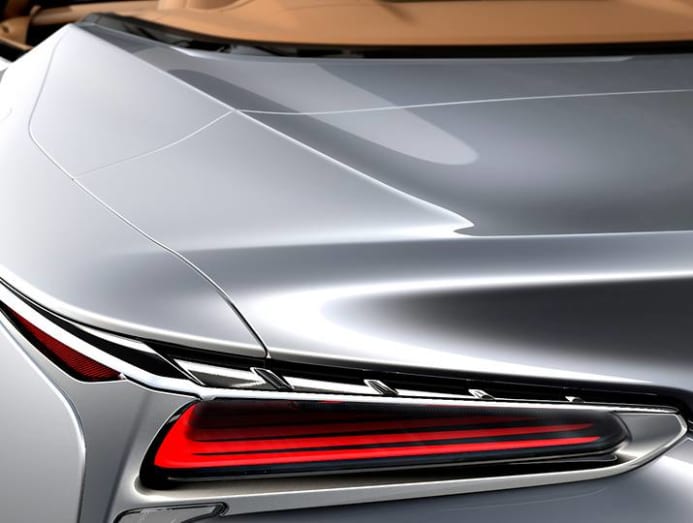 Now the fact that the V8 is naturally-aspirated – rather rare for new models coming onstream – is an added treat, as it means it revs faster and growls louder than your everyday turbocharged engines.
So you'll hear more of that powerful roar enhanced by an exhaust valve and made even more sensual through a sound generator on the dash panel when the top is down.
TOUCH & GO
Remarkably absent for a car that costs a cool half-mil is a touchscreen (so basic at this stage and segment) function for its 10.3-inch digital display. Instead, you have to operate it via a touchpad on the console below. It's kind of awkward, not as efficient and a tad old-fashioned.
Given the lack of touchscreen, what's nice though are the quick access buttons on the console for the media, radio and map, etc in lieu.
And here's that CD player again (it was also present in the Lexus IS 300), reprising its role like comfort food for those afraid of being left behind in a world subjugated by technology.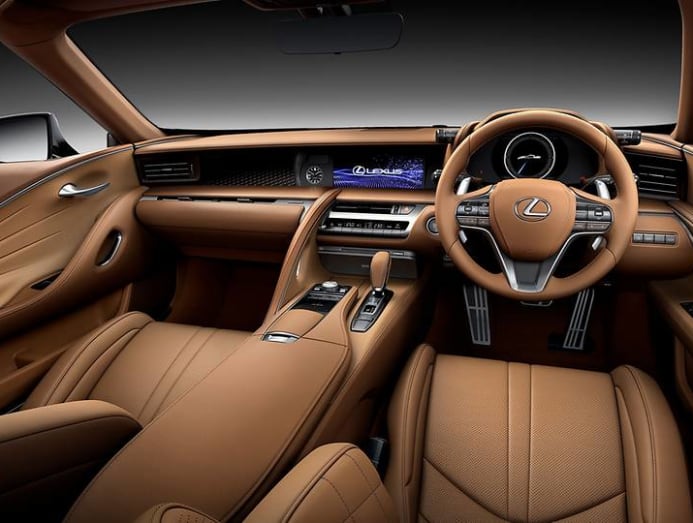 Well, at least the system can now sync up with your smartphone via Android Auto and Apple CarPlay, too. Although you may huff and puff your way through trying to play your Spotify playlists via CarPlay because the connection gets sketchy and your music constantly gets disrupted whenever you're charging your phone using a cable.
Firstly, it's not a first for a Lexus (why haven't they fixed it yet?) and secondly, it makes you wish even more that they had included a wireless charging feature on this model.
Things we were happy to see, though: An always-useful Head-up Display and, for kicks, a large, digital dial on the instrument panel that literally slides to the centre when you push into Sport mode.
Enjoying the wind in your hair and the envy of onlookers for distraction, it's easy to forgive the touchy media controls in this beautiful, sexy beast sitting on 21-inch rims.
Lexus has certainly done a spectacular job with the LC Convertible and its design alone will go a long way in uplifting not just the lucky one behind the wheel but its passenger(s) and everyone it rolls by, too.
As Mori put it, "Design can contribute to people's emotions and make them happy. If there's no design, everything is grey and there's nothing interesting; no distinctiveness, no emotion."
Well, we can say this much: The LC Convertible certainly made this writer's life that much more interesting – for two splendid days, at least.
LEXUS LC 500 CONVERTIBLE SPECIFICATIONS
ENGINE: 4,969cc V8
POWER: 470hp at 7,100 rpm
TORQUE: 540 Nm at 4,800 rpm
TRANSMISSION: 10-speed automatic with paddle shift
ACCELERATION (0-100km/h): 4.9 seconds
TOP SPEED: 270 km/h
FUEL CONSUMPTION: 12.7L/100km
PRICE: S$572,800 with COE