Loewe produces masks, donates almost S$800,000 to help vulnerable children
Joining its LVMH peers, Loewe is pitching in to the global fight against COVID-19 by producing masks and supporting vulnerable children affected by the crisis.
During this COVID-19 pandemic, fashion and luxury brands have stepped up their philanthropic efforts to fight the coronavirus. Loewe is now the latest to join the global efforts, pledging assistance to several institutions in a bid to alleviate the health crisis.
Taking a slightly different approach, however, the Spanish label is focusing its efforts on children in socially vulnerable groups affected by the outbreak. For every product purchased from the Paula's Ibiza collection in stores and online between May and August 2020, Loewe will donate €40 (S$61.70) to educational projects, starting with an initial donation of €500,000 (S$771,727).
To achieve this, Loewe is collaborating with Plataforma de Infancia, a Spanish alliance of social organisations that works to protect children and adolescents' rights, to launch a series of summer educational programmes which aims to reduce inequality and school dropouts.
In addition, the house is also supporting frontliners fighting the pandemic. Loewe is donating 100,000 masks to the Spanish Red Cross. The company has also started producing non-surgical masks in its factory in Getafe. The masks will be distributed to volunteer workers, Loewe employees and their families.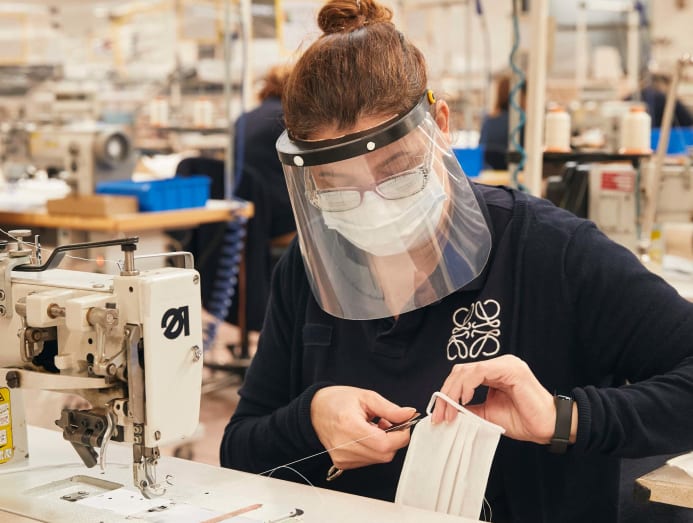 As of April 23, Spain has the second highest number of coronavirus cases, after the US. The country has reported 208,389 cases and 21,717 deaths.  
With its efforts, Loewe has joined the ranks of its LVMH peers that are providing aid. Louis Vuitton previously announced the production of masks and hospital gowns. Several brands under the LVMH umbrella are also producing hand sanitisers, including Bvlgari, Dior, Givenchy and Guerlain.